Josh Riddell
After being named to the Big East All-Rookie team as a freshman, DePaul's Tommy Hamilton took another step as a sophomore and looks poised for a breakout junior season. The Blue Demons haven't made the NCAA Tournament since 2004 and will be hoping the hometown Chicagoan can put the team on his shoulders and improve their win total under new head coach Dave Leitao.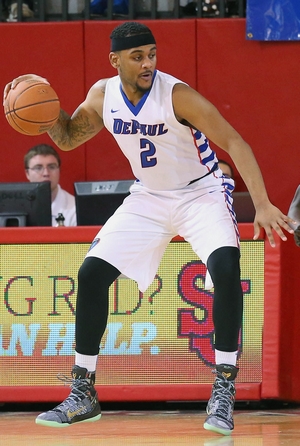 Hamilton measured at 6'10" in 2010, although he looks to have grown an inch or two since that time. At the same time, he measured just an average wingspan at 6'10.5" and will have to find a way to overcome his lack of length against professional caliber interior players. He has solid upper body strength, but he will need to improve his lower body strength, as he has a tendency to get pushed around at times around the rim. He does have good agility for a player of his size and looks to be able to hold his own physically against NBA centers, although he doesn't possess any elite athletic traits, and has struggled with his conditioning throughout his career thus far.
Hamilton took a giant leap in efficiency from his freshman to sophomore season, thanks mainly to an increased ability in finishing around the rim. He shot a below average mark of 45.6% his freshman year but he jumped all the way up to 67.2% his sophomore season. He was much improved at finishing through contact and displayed a nice combination of touch and toughness around the rim. He'll need to have another season where he shows he can finish around the rim and prove he is the type of finisher that he showed in his sophomore season.
Mainly a back to the basket player with 35% of his offensive possessions ending in post-ups, Hamilton has displayed some success at the collegiate level, but it is unclear whether this success can translate when matched up against NBA defenders. Hamilton can read the defense well and make the right move to the basket but doesn't always have the footwork to beat his defender. He doesn't command a double team and will need to improve his arsenal of moves to become a better player on the block. He's not a dominant post player, which does make it hard to project him to have the ability to score in the NBA without major improvement.
One of the more interesting aspects of Hamilton's game is his jump shooting. He flashed some potential to step outside the arc as he converted 46.9% of his 49 three point attempts and 44.6% of the 56 jump shots logged by Synergy Sports Technology. His three point percentage was the highest among centers in our database with at least 40 attempts. He has a smooth release and his shooting form looks like it could work over a larger number of attempts. If he can continue to shoot at this level, scouts could project a role for him at the next level as a big man who can play inside and out.
Defensively, Hamilton doesn't make a high impact for his team. He has had issues with conditioning and his work ethic in the past, and will have this aspect of his game scrutinized very closely moving forward. He will have to be matched up against post players, as he doesn't look comfortable stepping outside the paint and defending.
However, he will have difficulty defending NBA post players with his lack of explosiveness and poor length. When defending the post, he can get backed down under the basket and will need to add lower body strength to hold off his opponent. He also doesn't block many shots, just 1.2 per 40 minutes pace adjusted.
At the very least, scouts will want to see Hamilton become a better rebounder, to show he is capable of filling a role for a NBA team. His 5.8 defensive rebounds per 40 minutes pace adjusted is an average mark for a center, so he will need to show a more concerted effort this season, boxing out his opponent and chasing down loose balls.
Hamilton is the lone big man for DePaul, so they need him to play on the interior. However, he has displayed some perimeter skills and NBA teams may want to see him more of him from this part of the floor to see if he can be a floor spacer in the NBA, especially with his size. Showing some steady improvement leading to a big junior season could get scouts intrigued and cause them to take a closer look at Hamilton and his NBA potential.