Top NBA Draft Prospects in the Pac-12, Part Four
October 11, 2012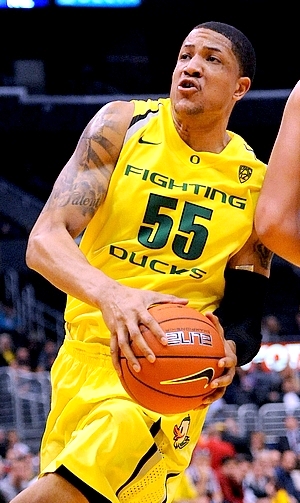 US Presswire



Kyle Nelson

Tony Woods has had a turbulent college career, leaving behind a promising career at Wake Forest after he pled guilty to assault. Two of the charges were dropped and Woods assumed full responsibility for the incident, but he nonetheless sought to transfer and was granted a letter of release. He eventually landed at Oregon, where he rebounded to help lead the Ducks to an NIT run. Now, a senior, Woods has the opportunity to live up to his reputation as a top-50 recruit in high school while helping the resurgent Ducks return to the NCAA tournament.

Woods possesses an elite physical and athletic profile for the center position, standing 6'11 in shoes with an excellent 250 pound frame and a 7'2.5 wingspan. Though he moves awkwardly at times, he is very strong and runs the floor well, showing solid lateral quickness for his size, and being capable of playing above the rim with ease. He certainly looks the part of an NBA center and will likely get extended looks at the professional level based on his physical attributes alone.

The problem is, however, that Woods hasn't improved much since his sophomore year. Never a particularly productive player, Woods averaged just 6.8 points per game and 14.8 points per 40 minutes pace. While this isn't necessarily bad Woods saw his shooting percentage drop significantly from an excellent 60.8% to 53.1%.

His lack of productivity is particularly problematic on film as he displays a very low skill level and awareness. Woods is still not much of a post-up threat and, though he can carve space out the block and can finish emphatically, he struggles to create shots for himself due to his raw footwork. Many of his 3.1 turnovers per game are travels and offensive fouls with his back to the basket. Similarly, his jump hook - his most reliable post move - is less effective because he tosses the ball at the basket with little follow through while showing a general lack of shooting touch. Synergy's Shot Attempt Breakdown is telling, therefore, as he sees nearly half of his shots while posting-up and makes only 41.4% of his attempts.

Where Woods remains effective, however, is as a finisher around the basket, typically off alley oops, offensive rebounds, cuts, and transition opportunities. He made an astounding 74.2% of these attempts and exploited his elite size and athleticism to his advantage. Once he gets off the ground, it is very hard to stop him and he draws plenty of fouls powering his way to the hoop. He was not as active on the boards as a junior, however, pulling down an exceptionally poor 4.7 defensive rebounds per-40 pace adjusted. This is particularly concerning at this stage in his development and considering his legitimate physical advantages at this level.

Woods has improved marginally as a shooter, as well, elevating his FT% to 58.1% from 48.1%, but is still limited by his lack of shooting touch. He continued to show flashes of spot-up shooting ability, but the results were mixed as he made just 27% of his 11 attempts while showing poor mechanics and lacking the necessary follow through in his release.

If there is one area in which Woods could possibly contribute at an NBA level, it's on defense. He continues to show promise while defending the rim, demonstrating improved instincts alongside his natural combination of length, size, explosiveness, and lateral quickness. He ranks as one of the NCAA's top returning shot blockers in our database, at 3.5 blocks per 40 minutes pace adjusted. As we wrote in the past, he holds his ground very well and does a solid job of using his body to prevent his man from getting to the basket. Also worth pointing out is that he looks more active stepping out and guarding opponents on the perimeter, even if his awareness on the pick-and-roll leaves much to be desired.

Turning 23 this January, scouts will be watching to see if he can further develop on both ends of the floor, particularly while showing renewed focus crashing the boards. After all, he has looked the part of an NBA center since he was a teenager. Furthermore, he'll have to prove to decision makers that ]his off-court issues are in the past.

That being said, there is a lot to like about Woods as a prospect in terms of his physical profile and defensive potential, and his senior year will be very telling for his NBA potential. Unlike last season, he has had a full off-season to recover from injuries and train with Oregon's coaching staff. A solid senior year and a strong showing at Portsmouth could help prove to NBA teams that he's worthy of a roster spot.

[Read Full Article]

---
Top NBA Draft Prospects in the ACC Part Two (#6-10)
October 21, 2009
Joey Whelan

The Demon Deacons will have no shortage of size next season with a trio of near 7-footers and standout sophomore Al-Farouq Aminu all returning to Winston Salem. While it was Aminu and the now departed Jeff Teague who introduced themselves to the national scene last year, this may be the season that sophomore Tony Woods starts to realize some of the potential that made him an elite recruit coming out of Rome High School in Georgia. Though he barely made a dent statistically with his 3.2 points and 2.6 rebounds in less than 11 minutes per-game last season, he showed loads of upside in brief flashes.

The first thing that stands out about Woods is his NBA-ready body. At nearly 6-11 with a massive wingspan and weighing in at nearly 250-pounds, the youngster has more than enough girth to handle playing in the post at the next level. He is an explosive leaper and finisher for a big man and has surprising agility as well, showing the potential to take defenders off the dribble in the future as his handle improves. While he doesnít always push himself, Woods certainly is a good open floor runner and could be a dynamic finisher in transition once he gets more comfortable in his body.

Itís no surprise that the sophomore attempted nearly two-thirds of his shots on touches in the immediate vicinity of the basket (according to Synergy Sports). Woods has the type of size and strength that when he begins to polish his post game he will be very difficult to stop in one-on-one situations on the block. He does an excellent job of establishing position, but once he receives the ball his lack of skill development quickly becomes evident. Woods looks very uncomfortable handling the ball in really any situation, not just the post, but he often turns the ball over in an attempt to get to the basket while operating on the block. His back to the basket game seems extremely basic at this point, relying mainly on strength to push defenders around, but on occasion he has shown the ability to seal on a nice drop step and finish. His ability to develop his offensive repertoire will be a major part of how he's percieved down the road.

When Woods gets the basketball around the rim either on dump offs from teammates or offensive rebounds, he looks to dunk everything. There is no question he is a powerful finisher, who with time could become a solid scoring option at the college level. However, to improve his NBA prospects, he needs to begin working on finishing in ways other than trying to power everything home. On the few occasions last season where Woods attempted short turnaround jumpers, he missed badly, often overshooting the basket completely. He hasnít shown much touch to begin with and his 45.5 percent free throw shooting numbers are certainly a good indication of where he stands in regards to his mid-range game.

Where there seems to be a great deal of potential for Woods is in his ability to attack the basket when stepping away from the post. He has shown the quickness to beat slower defenders off the dribble, but his terrible handles prevent him from being much of a threat right now. He is exclusively a straight line driver on the rare occasion when he does put the ball on the floor and it even appears as though he isnít entirely comfortable dribbling with his head up yet. Still, a player who is nearly 7-feet tall and displays his kind of quickness could become a weapon with additional polish.

Defense is where Woods has shown the most promise thus far, as is often the case with players his size at an early age. He is very tough to back down in the post and his length and leaping ability allow him to alter a tremendous number of shots in his area. He hasnít been challenged much yet away from the basket, but it will certainly be paramount for him to be able to guard somewhat quicker players away from the paint on occasion, as well as defend the pick and roll.

Woods is a very long way off from being NBA-ready as far as his game is concerned, but itís hard to not look at him and see a bright future if he puts in the work developing his skills. Physically the sophomore has the size and athleticism to play at the next level; he just needs to get comfortable in his own skin. Many times last year he looked awkward when operating on the offensive end of the floor, but every so often, he would be able to put it all together just long enough to make the kind of play that will catch the attention of more than a few scouts. With the great likelihood that he will receive significantly more playing time this year, it will be interesting to see how Woods has developed during the off-season.

[Read Full Article]

---
Jordan Brand Classic Games (Day Three)
April 20, 2008
Tony Woods had yet another solid performance here (8 points, 5 rebounds, 2 blocks, 4-6 FG, 17 minutes), showing off his developing coordination and post skillset, using up fakes extremely well to get his man off balance, and showing good counter moves, including a nice step through. He is not shy about dunking the ball and finishing hard at the basket, and despite his awkward demeanor in the post, he usually shows pretty good overall awareness, even if it doesn't always look pretty. His 15 foot jump shot, which looked pretty good in the open gym earlier in the week, didn't look good at all in the game, as he rushed his two attempts, missing one badly and getting lucky by banking it off the middle of the backboard on the other. He was also one of the few players putting in more than half-hearted effort on the defensive end, though his poor conditioning caught up with him late in the game, which was evident watching him.

[Read Full Article]

---
Jordan Brand Classic Scrimmage (Day Two)
April 19, 2008
Lastly, Tony Woods again showed some very nice flashes of ability, and is starting to look like one of the more intriguing players in this class, with his size, athleticism, and developing coordination along with post-up and face-up skills. His moves arenít always especially fast at this point, and his reflexes arenít great, but he occasionally gets into a zone where his instincts kick in, and he pulls off an incredible dropstep spin move with an athletic extension on the other side of the rim for a finish. He also showed some nice shot fakes in the post, and got out in transition to finish on some explosive dunks.

[Read Full Article]

---