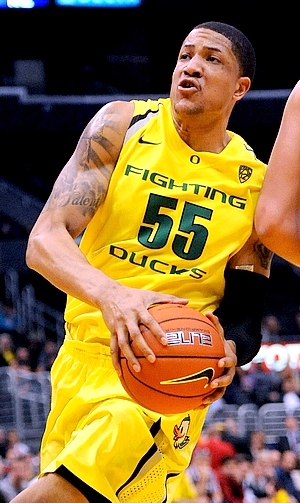 Kyle Nelson
Tony Woods
has had a turbulent college career, leaving behind a promising career at Wake Forest after he pled guilty to assault. Two of the charges were dropped and Woods assumed full responsibility for the incident, but he nonetheless sought to transfer and was granted a letter of release. He eventually landed at Oregon, where he rebounded to help lead the Ducks to an NIT run. Now, a senior, Woods has the opportunity to live up to his reputation as a top-50 recruit in high school while helping the resurgent Ducks return to the NCAA tournament.
Woods possesses an elite physical and athletic profile for the center position, standing 6'11 in shoes with an excellent 250 pound frame and a 7'2.5 wingspan. Though he moves awkwardly at times, he is very strong and runs the floor well, showing solid lateral quickness for his size, and being capable of playing above the rim with ease. He certainly looks the part of an NBA center and will likely get extended looks at the professional level based on his physical attributes alone.
The problem is, however, that Woods hasn't improved much
since his sophomore year
. Never a particularly productive player, Woods averaged just 6.8 points per game and 14.8 points per 40 minutes pace. While this isn't necessarily bad Woods saw his shooting percentage drop significantly from an excellent 60.8% to 53.1%.
His lack of productivity is particularly problematic on film as he displays a very low skill level and awareness. Woods is still not much of a post-up threat and, though he can carve space out the block and can finish emphatically, he struggles to create shots for himself due to his raw footwork. Many of his 3.1 turnovers per game are travels and offensive fouls with his back to the basket. Similarly, his jump hook - his most reliable post move - is less effective because he tosses the ball at the basket with little follow through while showing a general lack of shooting touch. Synergy's Shot Attempt Breakdown is telling, therefore, as he sees nearly half of his shots while posting-up and makes only 41.4% of his attempts.
Where Woods remains effective, however, is as a finisher around the basket, typically off alley oops, offensive rebounds, cuts, and transition opportunities. He made an astounding 74.2% of these attempts and exploited his elite size and athleticism to his advantage. Once he gets off the ground, it is very hard to stop him and he draws plenty of fouls powering his way to the hoop. He was not as active on the boards as a junior, however, pulling down an exceptionally poor 4.7 defensive rebounds per-40 pace adjusted. This is particularly concerning at this stage in his development and considering his legitimate physical advantages at this level.
Woods has improved marginally as a shooter, as well, elevating his FT% to 58.1% from 48.1%, but is still limited by his lack of shooting touch. He continued to show flashes of spot-up shooting ability, but the results were mixed as he made just 27% of his 11 attempts while showing poor mechanics and lacking the necessary follow through in his release.
If there is one area in which Woods could possibly contribute at an NBA level, it's on defense. He continues to show promise while defending the rim, demonstrating improved instincts alongside his natural combination of length, size, explosiveness, and lateral quickness. He ranks as one of the NCAA's
top returning shot blockers in our database
, at 3.5 blocks per 40 minutes pace adjusted.
As we wrote in the past
, he holds his ground very well and does a solid job of using his body to prevent his man from getting to the basket. Also worth pointing out is that he looks more active stepping out and guarding opponents on the perimeter, even if his awareness on the pick-and-roll leaves much to be desired.
Turning 23 this January, scouts will be watching to see if he can further develop on both ends of the floor, particularly while showing renewed focus crashing the boards. After all, he has looked the part of an NBA center since he was a teenager. Furthermore, he'll have to prove to decision makers that [url=]his off-court issues are in the past.
That being said, there is a lot to like about Woods as a prospect in terms of his physical profile and defensive potential, and his senior year will be very telling for his NBA potential. Unlike last season, he has had a full off-season to recover from injuries and train with Oregon's coaching staff. A solid senior year and a strong showing at Portsmouth could help prove to NBA teams that he's worthy of a roster spot.