Travis Leslie
Recent Tweets
All Tweets
DraftExpress: If you didn't see this dunk by Travis Leslie in France you'll probably want to. Worth it just for the commentator http://t.co/wBF1P1AuvM
2013-10-09 09:54:29
DraftExpress: CT beats DC 171-169. Josh Selby 48 pts, Sam Young 38, Tyreke Evans 38, Nolan Smith 35, Trey Thompkins 26 Wesley Matthews 25 Travis Leslie 25
2011-11-18 09:43:45
DraftExpress: Highest projected prospects on the board: Davis Bertans, Chandler Parsons, Travis Leslie, Darius Morris, Josh Selby, Jeremy Tyler Macolm Lee
2011-06-23 09:39:46
DraftExpress: DX: Evaluating the strengths and weaknesses of Travis Leslie w/the help of Georgia game film: http://bit.ly/iNvA5Z
2011-06-15 04:51:26
DraftExpress: 4th group scheduled for Minnesota workout tomorrow Charles Jenkins, Josh Selby, Shelvin Mack, Travis Leslie, Jordan Williams Michael Dunigan
2011-05-23 11:55:24
Team: Clippers College Team: Bayreuth
Physicals
Positions
Rankings
Salary
Misc
H: 6' 4"
W: 205 lbs
Bday: 03/29/1990
(25 Years Old)

Current: SF
NBA: SG
Possible: SG/SF

RSCI: 147

Agent: Andrew Vye

High School: Columbia
Hometown: Decatur, GA
Drafted: Pick 47 in 2011 by Rockets
Best Case: Tony Allen
Worst Case: Hassan Adams

Predraft Measurements
| Year | Source | Height w/o Shoes | Height w/shoes | Weight | Wingspan | Standing Reach | Body Fat | No Step Vert | Max Vert |
| --- | --- | --- | --- | --- | --- | --- | --- | --- | --- |
| 2011 | NBA Draft Combine | 6' 3" | 6' 4.25" | 205 | 6' 10.5" | 8' 7" | 8.1 | 33.0 | 40.5 |
| 2010 | Paul Pierce Camp | NA | 6' 4" | 200 | 6' 9.5" | NA | NA | NA | NA |



Basic Per Game Statistics

- Comprehensive Stats - Statistical Top 25s

Player Page&nbsp&nbsp| Player Stats | Mock Draft History | Related Articles&nbsp&nbsp| Add to My Draft Express&nbsp
&nbsp
Travis Leslie Video Breakdown
June 15, 2011
We take a look at the strengths and weaknesses of Travis Leslie, with the help of Georgia game-film from this past season.



Travis Leslie Strengths/Weaknesses Video







Watch in full screen mode by clicking button in upper right hand corner of video




[Read Full Article]

---
NBA Combine Interviews: Tristan Thompson, Faried, Harris, Leslie
May 20, 2011
[Read Full Article]

---
Trending Prospects (1/20/2011)
January 20, 2011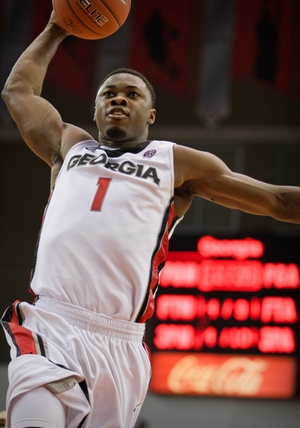 Icon SMI



Matt Kamalsky

When we last checked in on Travis Leslie back in the preseason, we had lofty expectations for the rising junior. Teaming with Trey Thompkins to form a potent combination in Georgia's frontcourt, Leslie seemed ready to take the next step as a NBA prospect. Though he's helped Georgia to a 13-4 record, we have yet to see the gigantic leap forward that would propel his stock up draft boards and solidify his candidacy for the 2011 draft.

One of the more unique prospects around, Travis Leslie could easily be called the best athlete in college basketball. He plays way above the rim whenever he has a chance to and does so effortlessly, despite standing just 6'4. Extremely strong and possessing elite explosiveness, Leslie is still the same largely raw forward in an undersized two's body that we wrote about last season.

Able to play significantly bigger than his 6'4 height, Leslie's most notable development this season lies in the way he's able to score inside the arc. Often struggling to get all the way to the rim as freshman, but doing a much better job going up strong around the basket last season, the Georgia native has developed an improved comfort level and slightly better touch in the paint this season. According to Synergy Sports Technology, he's shooting 58% in finishing situations this season. Accounting for more than half of his shots both this and last season, that's a significant improvement over the 50% he shot last year. At this point, he's backing up his one or two highlight reel dunks every game with rock solid efficiency, even if he's not getting to the free throw line quite as often as he did in the past.

Away from the rim, Leslie is largely the same player that he was last season. He's seeing fewer touches in transition this season and more in spot-up situations, which has limited his productivity to some degree. However, he is still extremely efficient in catch and finish situations resulting from cuts and offensive rebounds, which account for a large portion of his offense. His ball-handling and shot-creating abilities both appear slightly improved, but remain limited. He is able to rely on his lightning quick first step at this level to get his shot off, but his perimeter shooting has not taken a sizeable step forward as evidenced by his 16.7% shooting from three point range on a little over one attempt per-game.

Leslie is capable of knocking down some shots off the dribble from 17 feet, and has shown some flashes of potential pulling up driving left this season, but lacks ideal polish away from the rim. His mechanics seem a bit more consistent than they did in the past, and that has paid dividends from the foul line (83%), but the results just haven't been there in catch and shoot situations, where he's shooting just 24.2%. Much like we noted in our last report, if Leslie can consistently knock down spot up jump shots from the wings, he instantly becomes an extremely intriguing prospect.

Defensively, Leslie has all the tools to be successful on the NBA level, even if he is undersized. He shows active hands and solid lateral quickness, making him quite a pest in the college game. At this juncture, he needs to gain experience guarding the perimeter full time, as he still spends some time defending power forwards depending on who UGA is matching up with. With additional coaching, Leslie should become a very solid individual and team defender, only adding to his merits as a terrific rebounder for his size on both ends of the court.

A hard worker with a unique physical profile, Leslie remains a very likely future NBA player. If he improves his perimeter skill level and guard play, he's going to have the full attention of NBA decision-makers. It is really that simple for the young forward. He has the tools to be a NBA contributor down the road, but the timing of his development as a shooter will play a key role in how soon he takes that step.

[Read Full Article]

---
Top NBA Draft Prospects in the SEC, Part One (#1-5)
September 27, 2010
Jonathan Givony

A bit player as a freshman, Travis Leslie had a breakout season as a sophomore, and looks poised to emerge on the national level in this his junior season, which could very well be his swan song in college basketball.

Undersized for a wing player at 6-4, but sporting a phenomenal frame and wingspan to compensate, Leslie is arguably the most explosive player in the nation, showing a great first step, phenomenal speed in the open floor, NBA slam-dunk contest caliber leaping ability, and the willingness to make use of that on a regular basis.

Not a terribly skilled player offensively, Leslie sees the majority of his possessions in transition, cutting off the ball, and through his work on the offensive glass, where his outstanding athleticism gives him an incredible advantage at the college basketball level.

Seeing plenty of minutes at the power forward position, he's an incredible mismatch threat in the SEC, able to outquick and simply outwork most college big men, while not giving up too much on the other end of the floor thanks to his length, strength and aggressiveness. Leslie plays with a sort of reckless abandon that scouts love to see from a player with world-class athleticism, throwing his body around relentlessly and looking to dunk the ball anytime he even remotely has the opportunity to do so, which in his case is quite often.

Leslie's strong frame and tenacious nature makes him a major post-up threat, while his tremendous wingspan gives him terrific extension around the basket, allowing him to get his shot off in a variety of ways inside the paint. You often see him reversing the ball around the rim and using the glass, which is quite interesting. He doesn't have great touch at this stage, though, especially with his left hand, which is almost non-existent. His shooting percentages inside the paint are fairly average for that reason, under 50%, which is something to keep track of down the road.

Although not a superb ball-handler, Leslie gets to the free throw line at a great rate thanks to his sheer physical tools, and managed to up his percentages from the charity stripe from a dismal 57.5% as a freshman to a very respectable 73.5% as a sophomore. He still has plenty of work to do on his shot-creating ability from the perimeter, though, especially in terms of changing directions with the ball and operating with his left hand, things that he currently struggles with.

As a jump-shooter, Leslie is fairly limited, attempting just 11 total 3-pointers last season. This is likely the part of his game he needs to work on the most down the road, especially if he's to make the transition to the shooting guard position eventually, where his size indicates he'd be best served. His mechanics are somewhat crude and mechanical, featuring a fairly long wind-up, while his touch leaves something to be desired as well. He did show some potential in this area as the year moved on, though, which is something we'll need to monitor closely in this upcoming season.

Although a fairly raw player in many aspects, Leslie's passing skills and all-around basketball IQ are at least above average, as his solid assist totals from last season would indicate. That's a good sign for the future, especially when you consider his "late bloomer" status—not being considered a top 100 high school prospect by any of the major recruiting services.

Defensively is where Leslie might have the best potential as far as the NBA is concerned, as he has the physical tools needed to guard multiple positions (up to three) and be a real game-changer on this end of the floor with his length and lateral quickness. He's one of the best rebounders in the SEC already, offensively especially, and comes up with plenty of blocks and steals as well in addition to everything else he contributes.

With that said, Leslie's fundamentals and awareness on the defensive end leave a lot to be desired at the moment, as he's clearly getting by on his physical attributes. He often looks lost defending off the ball, relaxing in his stance, getting spun around aimlessly, biting on pump-fakes and swiping at the ball excessively. The fact that his team relies heavily on a zone defense doesn't help matters much, but Leslie still looks very far from reaching his potential on this end of the floor.

It will be very interesting to see what kind of season Leslie and Georgia are able to string together, as on paper they appear to be a pretty talented group, especially in the frontcourt. An NCAA tournament berth would likely do wonders for Leslie's draft stock, but that's not a sure thing if the preseason predictions are any indication.

[Read Full Article]

---