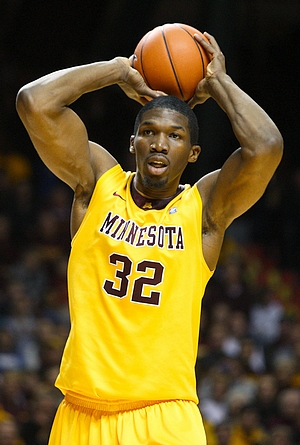 Matt Williams
When we last checked in our
Trevor Mbakwe
in January of 2011, he was averaging a double-double and in the midst of a breakout junior season that could accurately be characterized as his first full season at the Division 1 level. As we outlined in our last report, Mbakwe's career to that point had been
tumultuous to say the least
, marked by a miraculous recovery from preseason knee surgery during his 11 game freshman campaign under Tom Crean, a transfer from Marquette, an assault charge stemming from his time at Miami Dade Junior College, and ultimately, two full seasons without appearing in NCAA games.
The last year and a half has offered some solace on the legal front for the Minnesota native. Despite
violating the terms of a restraining order
just days after we wrote about him, he finally
pled no contest to the assault charges
in January, effectively putting an end to the case that had loomed large for nearly three years.
Amidst the challenges he faced off the court, Mbakwe managed to build a strong resume coming into his redshirt senior season. Suffering a torn ACL just seven games into the 2011-2012 campaign, Mbakwe was granted a rare sixth of eligibility. Recently returning to practice, the 23 year old (turning 24 in January) will look to be the leader many expected him to be for the Golden Gophers a season ago as he begins to rebuild his draft stock after playing just 49 official games in the past five years.
Where Mbakwe appears to be physically will have a lot to do with how he's perceived by the end of the year. An undersized power forward cut from the same mold as Morehead State product
Kenneth Faried
, Mbakwe stands 6'8 with a 7'4 wingspan. He was not as quick off the ground or quite as relentless as the Nuggets bruiser, but Mbakwe was a similarly effortless athlete with a penchant for rebounding out of his area and finishing emphatically above the rim before his injury. Mbakwe will need return to the form that made him
one of the top per-40 minute pace-adjusted rebounders in our database
if he is to reclaim the buzz he had generated among NBA scouts.
Mbakwe's rebounding and energy are the keys to his value at the NBA level at this juncture. A capable finisher thanks to his length and athleticism, Mbakwe is otherwise a mixed bag offensively. He was shooting a super-efficient 60.4% before his injury last season, and has proven to be a capable scorer at the college level, but is a limited shooter and unrefined back-to-the-basket scorer. He shows some promise in both areas, having improved the mechanics of his shot at the foul line and dropping in a deft jump hook on occasion. Despite seeing most of his touches in the post, but otherwise earning his points by playing with tenacity on the offensive glass and ducking in for catch-and-finish opportunities, Mbakwe's skill set seems to align itself well with the type of hustle-based role he'd likely be asked to play at the next level, but continued development as a shooter or one-on-one threat would add a dimension to his game.
Defensively, Mbakwe makes an impact with his length and leaping ability, but is still figuring out how to be a consistent presence on this end of the floor. He shows good quickness on the perimeter and has solid strength for his size defending the post, but looks most impressive when making the occasional highlight reel block or pulling down a rebound in traffic by virtue of his athleticism and length. The power forward struggles with bigger players who make it a point to pin him in the post and is still prone to his share of mental lapses. Making the most of his tools defensively and finding ways to better compensate for his lack of great bulk inside would help Mbakwe take his game to the next level on that end of the floor.
An undersized but athletic big man always has a place in an NBA rotation if he can rebound and defend at an elite level. Prior to his injury, Mbakwe seemed to have at least half of that equation figured out. His age is obviously a concern, as he'll be 24 years old at the time of the draft, but his health is a bigger factor. Teams will do their homework on Mbakwe's health and off-the-court incidents, but he's certainly a name to keep an eye on if he is the same prospect he was a season ago, as players with his motor and physical tools are always extremely coveted.