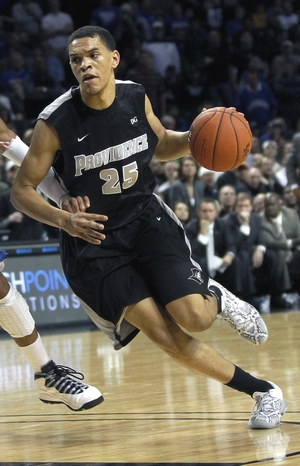 Josh Riddell
A key member of Providence's first NCAA tournament team since 2004, Tyler Harris returns for his junior season looking to help replace the production void left by graduating senior Bryce Cotton. The younger brother of NBA player Tobias Harris, Tyler Harris hopes to build on his successful sophomore campaign and put his name on the radar of NBA scouts.
Harris has nice size for a player of his skill set, as he is predominately a perimeter oriented player. Harris was measured at 6'9", 221 pounds with a 6'10" wingspan at the 2014 Nike Skills Academy. He is long and lanky for a perimeter player but doesn't possess above average speed or explosiveness. His overall athleticism isn't exciting but he does have some tools that if used correctly, could make him an intriguing prospect.
A transfer from N.C. State, Harris sat out the 2012/13 season but was able to face strong competition in the summer leading into the 2014 season by being invited to both the Lebron James and Kevin Durant camps. Harris averaged just under seven minutes per game in 19 appearances for N.C. State and made a much bigger impact in his first year with the Friars as he averaged 14.2 points and 6.3 rebounds per 40 minutes pace adjusted in 32.2 minutes per game.
A good amount of Harris' offense came from jump-shots, but he didn't show a consistent enough jumper to become noticed as a reliable shooter. The left-hander made just 32% on 90 three point attempts and will need to raise his average to become a more viable floor spacer—something that is imperative for him to play in the NBA. Harris did show he can find the open spaces around the perimeter to get good looks, now he just needs to complete the play by being able to finish the shot.
Elsewhere offensively, Harris didn't show any areas that could immediately translate to a professional level last season. When the defense took away his jump shooting, he didn't look confident creating off the dribble. He did show flashes when he was able to straight line drive to the rim, as his long strides allowed him to get a step on his defender, but he struggled when the defense rotated over to him, making a very poor 46% of his looks around the basket in the half-court.
Harris' lack of strength and explosiveness doesn't allow him to be a great finisher at the rim. He shies away from contact and is somewhat turnover prone, coughing the ball up on 20% of his possessions last season. Without a consistent 3-point shot, Harris' NBA prospects don't look very strong, as it's difficult to see him developing into a high-level shot-creator or slasher at the next level.
Defensively, Harris could provide some value with his excellent size, but has a ways to go before he could do so at a NBA level. He is a hard worker on this end and his length on the perimeter makes it tough to shoot over him. However, he doesn't have exceptional lateral quickness, which means he can get beat easily off the dribble. There is some potential for Harris to be a solid defender if he can learn how to better utilize his size on the perimeter, but he will have to improve his lateral quickness and toughness first.
Projecting forward, Harris has some major improvements to be made before he becomes a serious NBA candidate. He does have some interesting features but needs to become a more efficient player while developing a more complete game. Providence wasn't that deep of a team last season, playing only seven players, so it will be interesting to see how his role evolves now that he's forced to shoulder a heavier offensive load.
A key for Providence and Harris' development may be the health of point guard Kris Dunn. The highly touted, often injured Dunn was recently cleared for practice and may be ready to play in the season opener which will take some of the offensive burden off of Harris and let him be the complementary player that fits his skill set. Harris will be a valuable part of the Friars rotation and will have ample opportunity to show any improvement over last year. Showing marked improvement in some key areas, particularly as an outside shooter and defender, could help his name start to get mentioned as a draft prospect.