Matt Williams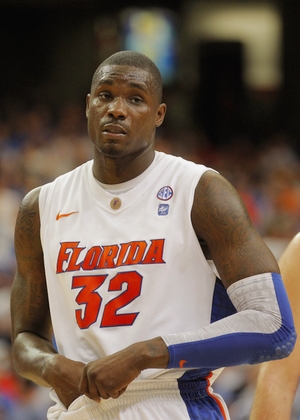 Enjoying a homecoming of sorts in his hometown of Portsmouth, Virginia,
Vernon Macklin
was one of the most productive players we saw at the PIT, and also one of the most physically impressive.
Macklin used a steady stream of post feeds and an occasional highlight reel dunk to do most of his damage offensively. While he relied on his right handed hook shot to score with his back to the basket, he flashed some potential with his left hand too. He struggled to convert when he couldn't get ideal position, but managed to get going in the second half of every game we watched and finished the PIT ranked third in points per-game.
Lacking much in the way of a jump shot as evidenced by the 4 total jump shots he took over the course of the 2011 season according to Synergy Sports Technology, Macklin is not a factor away from the rim, meaning his ability to develop counter moves and make plays on the offensive glass factor heavily into what he can bring to the table on the offensive end down the road. The former Gator is a terrific finisher, and is a nice target around the rim, but he would be well served to diversify the spaces he can occupy on the floor to help him on the next level.
On the defensive end, Macklin had some impressive moments using his near 7'4 wingspan to adjust shots around the basket, though he didn't come up with blocks. He's very good when he's dialed in, especially when defending the post one-on-one, but it would be nice to see him show more intensity on the defensive glass. Macklin averaged a respectable 8.0 rebounds over the week here, but seemed capable of more after looking terrific cleaning the boards in the first game. Mostly an area rebounder at this juncture, it would be nice to see Macklin show the aggressiveness on the glass that he showed on the offensive end this week.
Though Macklin's weaknesses are clearly defined, it was nice to see him try to assert himself offensively. The results were mixed early in games, but he was an impact player in this setting once he got going. If he fills in some of the gaps in his game, he could be well positioned for the future, but at 24 years old, he'll need to make those changes quickly to improve his short-term NBA prospects.