Roundup: Splitter Returning to Form
March 6, 2007
ÖVladimir Stimac, who is tearing it up for Lacplesa Alus in the Baltic League. This week, the Serbian big delivered a couple of superb performances leading his team to the victory. Against Atletas, he had 24 points, 18 rebounds and 4 steals; facing Panevezys, he produced 31 points, 17 rebounds and 3 steals. Stimac belongs to the Lithuanian powerhouse Zalgiris, but was loaned some weeks ago to Lacplesa Alus. Having already played five games there, he has enjoyed an immediate impact for his squad. Vladimir averages 22 points, shooting a ridiculous 76% from the field, and 13 rebounds, while Lacplesa Alus has gone 4-1 in the Baltic League since his arrival. Itís pretty impressive, regardless of the mediocre competition level.

Born in 1987, Vladimir is another member of that extremely talented Serbian generation, which weíve spoken of ad-nauseum, so deep that he has only played with the National Team in the 2005 U-18 Championship, where he was a secondary guy. Chances are his role with be significantly bigger this summer at the U-20 stage.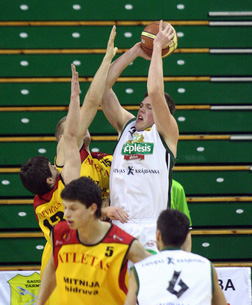 Photo: ELTA
Heís a 6-10 inside player who makes a living in the paint. Quite strong for his age, Stimac uses his big body perfectly in the low post, displaying nice moves and solid footwork, while enjoying an excellent ability to put the ball in the net around the basket, as he uses both hands and looks quite reliable with the semi-hook. Vladimir is a smart guy who makes good decisions and plays pretty well off the ball, while he enjoys good hands and shows a high level of activity on court. Thatís how Stimac makes up for his limited athleticism, trying to make the most out of it with intensity and aggressiveness, which helps him tremendously on defense and rebounding, areas where he shows good positioning and the attitude to get the job done.
However, if we talk about potential, his athletic shortcomings and the fact that heís an undersized center are not the most intriguing combination. In simple words, he doesnít look like an NBA prospect at this point at all. Still, his emergence in the Baltic League was too spectacular to ignore here.
[
Read Full Article
]