Wesley Saunders Updated NBA Draft Scouting Report
April 20, 2015
Josh Riddell

Wesley Saunders ends his collegiate career as part of the most successful Harvard class ever, as the Crimson reached four straight NCAA Tournaments in his time, including two NCAA Tournament wins. The 2013-14 Ivy League Player of the Year and a three-time Ivy League All-Conference First Teamer, Saunders now turns his eyes to his professional basketball career after a narrow first round NCAA Tournament loss to North Carolina. Saunders took on a heavy offensive load in his senior season and averaged 20.5 points and 5.2 assists per 40 minutes adjusted, to go along with 7.4 rebounds and 2.2 steals.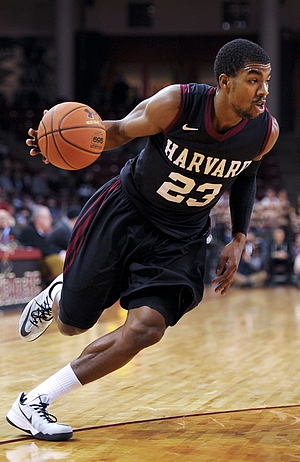 US Presswire
Measured at 6'4.5" without shoes with a solid 6'8.5" wingspan at the 2015 Portsmouth Invitational Tournament, Saunders has the size to compete on the wing in the NBA. He also has a solid 218 pound frame as well to help him be physical on the perimeter with opposing guards. All-around, he has solid athleticism although none of his individual physical traits stand out from the pack. While he was one of the most athletic players in the Ivy, he did not stand out physically against the elite-level competition of Virginia and North Carolina.
Saunders is a skilled shooting guard who proved to be very capable of handling the ball and being a primary facilitator in the Crimson offense. He was a capable pick and roll player and was able to use the ball screens effectively to get his offense. He was able to get into the lane and is able to pull up off the dribble, where he shot 37% according to Synergy Sports Technology, despite sporting lackluster mechanics on his shot. At times, he struggled to get all the way to the rim, especially against the athletic defenders he would face in the NBA, forcing him into a contested long two point attempt.
Saunders is not the most creative ball-handler around, relying heavily on his strength to overpower defenders in the lane, which can lead to some awkward shots just outside the paint or from the mid-range area when he can't get a step on his man.
However, Saunders has shown the ability to distribute and create offense for his teammates as well as just scoring, as he posted 5.1 assists per 40 minutes pace adjusted
fourth among shooting guards in our top 100 prospects
. He doesn't make flashy passes but he keeps his teammates involved and the ball moving within the Harvard offense.
When Saunders is able to get to the rim, he isn't a great finisher as he averaged just 49.5% on shots at the rim in the half-court according to Synergy Sports Technology. He is uncomfortable finishing with his left and almost always finds a way to get back to his right hand. His lack of explosiveness hurts his ability to finish around longer big men, so he counters this with an effective runner once he gets to the paint, which he uses well to convert at close range.
One area Saunders improved upon in his senior season was his perimeter shooting. Converting just 27.3% of his 33 three-point field goal attempts his junior season, Saunders shot 43.1% on 72 threes his senior season. The very limited sample size of just 2.6 attempts per game leaves a lot to be desired, though, and Saunders' highly inconsistent mechanics will likely be a hindrance in converting to the NBA 3-point line unless he is able to revamp his shot and find a more repetitive stroke. Saunders is a flat-footed jump-shooter, even in off the dribble situations, and sports a slow and deliberate release on his shot (sometimes with an ugly hitch) that will make it difficult to get off against better defenders. This is likely one of the reasons he attempts so few jumpers, despite his strong percentages as a senior. Showing that he can be a consistent outside shooter will be a major key to his draft stock and he'll have to do his best during pre-draft workouts to impress scouts.
Defensively, Saunders is a bit of a mixed bag and could turn into either an asset or a source of frustration at the next level. In on-ball situations, he can move his feet well laterally and use his strong frame to contain penetration, and his long arms to contest shots.
Off the ball, he anticipates passes and using his length to force turnovers, as he averaged 2.2 steals per 40 minutes pace adjusted,
ninth among all prospects in our top 100
. He's also an active rebounder, as his 7.3 total rebounds per 40 minutes pace adjusted ranked
third among shooting guards in our top 100
.
The problem is he doesn't always get in a stance, which can see him get beat off the dribble or caught in screens, taking him out of the play. When he is focused defensively, he can cut off dribble penetration, and get over the top of screens, but his energy level isn't always where it needs to be to get the job done consistently. Saunders generally seems to have a very laid back approach to the game, but when he's fully engaged and playing with aggressiveness, he can be quite a handful, on both ends of the floor.
Heading into the pre-draft process, Saunders will need to show he can be a consistent outside shooter to complement the offensive versatility he showed in his four years at Harvard. After laying a foundation for future success for the Crimson, he'll hope to become the first player from the Ivy League drafted since Penn's Jerome Allen in 1995. Even if Saunders doesn't get drafted, he should find numerous professional opportunities and may play his way into the NBA at some point during his career.
[
Read Full Article
]
Top NBA Prospects in the Non-BCS Conferences, Part 10: Prospects 22-25
November 10, 2014
Matt Kamalsky
The 2013-2014 season was a very successful one for a Harvard team that finished 27-5, won its 1st ever NCAA Tournament game, and appears to have emerged as one of the top low major programs in the country. One of the main protagonists of Harvard's rise to prominence has been senior forward
Wesley Saunders
, who averaged 14.2 points, 3.8 assists, and 4.6 rebounds per-game last season en route to earning All-Ivy League 1st Team honors for the second straight year.
A consensus top-150 recruit coming out of Windward HS (CA), Saunders spurned a number of high major offers to head across the country to play in Cambridge. Measuring 6'5.5 in shoes with a 6'8.5 wingspan and a solid 220-pound frame, Saunders has nice size for a wing player to go along with good strength for his position and solid overall athleticism. Able to play above the rim when given space, Saunders is mostly a below the rim player, but his size and physicality have made him a force in the Ivy League.
Offensively, Saunders is fairly unique commodity at the college level. A savvy, skilled wing who does much of his damage from the midrange in, Saunders is a versatile talent who contributed in a variety of ways for Harvard a year ago. Able to create his own shot off the dribble, make physical plays against smaller players around the rim, and set the table for others, Saunders was often the focal point of a balanced, efficient Harvard attack a year ago.
Despite his size relative to most plays operating in the two man game, Saunders saw most of his possessions handling the ball on the pick and roll a year ago according to Synergy Sports Technology, serving as a secondary ball-handler of sorts within Tommy Amaker's offense. Saunders may not have elite quickness or a lot of shake to his game, but he's a solid ball-handler with very good body control and vision.
There isn't a lot of flash to Saunders' offensive game, but he finds a way to consistently make plays by being decisive and aggressive. Able to use his strength to get the rim, Saunders struggled to finish as consistently last season as he did two years ago, seeing his finishing rate dip from 57% to 47%, but he continued to get to the line at a high rate and made a respectable 76% of his free throws.
An improved jump shooter from when he arrived at Harvard, Saunders made 43% of his perimeter attempts a year ago, the large majority of which came off the dribble and from the mid-post area. Shooting the ball with little elevation but improved touch and follow through, Saunders does a nice job staying on balance, allowing him to get his shot off from a variety of spins and pivots. Knocking down just 27% of his 1.1 3-point attempts per-game, Saunders is a threat from the perimeter, but proving his mettle as a catch-and shoot threat from beyond the arc would be a major addition to his resume from a NBA perspective.
More than just a scorer, Saunders averaged 4.5 assists per-40 minutes pace adjusted while posting the first positive pure point rating of his career as a junior, showing that he can make an impact as a passer as well. Showing a high basketball IQ making the simple play in transition and on the pick and roll, Saunders has a clear understanding of how to get his teammates involved within the flow of the Harvard offense. His unselfishness and decision-making are both impressive.
Defensively, Saunders plays with good energy and fundamentals, but lacks the type of lateral quickness that would give him significant upside on this end of the floor at the next level. A solid rebounder for a wing who does a very nice job reading the ball handler when defending off the ball, Saunders finds himself trailing behind plays a bit more often than he should when his man beats him off the bounce or is working off of screens.
Wesley Saunders
is a player to keep an eye on as he looks to repeat as Ivy League Player of the Year. His lack of consistent production as a spot-up shooter raises some questions about how he'd fit in as a roleplayer on the wing at the next level, but his progress as a shooter on the whole a year ago was encouraging even if his shooting at the rim regressed. A prime candidate for the Portsmouth Invitational Tournament, Saunders is a unique player worth keeping an eye on as Harvard figures to be on the best low major teams in the country. December match ups with Virginia and Arizona State will be worth watching in particular, as they'll rank among the biggest tests the Crimson will face until March.
[
Read Full Article
]