In the latest of ESPN's Old Spice Showcase series, Norcross High School from Georgia was pegged against Louisiana's Helen Cox High School. More importantly , the game placed two of the nation's truly elite forwards against each other, allowing
Al-Farouq Aminu
and
Greg Monroe
to duel it out on national television to show who the top perimeter oriented forward in the nation is.
Aminu ultimately got the best of Monroe, not only beating him on the stat sheet but also leading his team to a 59-48 victory. It was established from the tip that the Wake Forest commit had something to prove against Monroe, who has been hailed as the top player in the country for well over a year now. Below is a deeper look at how the two stars fared against one and other.
Al-Farouq Aminu, 6'8, Small Forward/Power Forward, Senior, Norcross HS (GA), Committed to Wake Forest
29 points, 13 rebounds
Al-Farouq Aminu
responded nicely after his relatively disappointing showing at the
Amare Stoudemire
Invitational, willing his team to victory against the consensus top player in the nation (according to the Rivals and Scout networks). Although he has faced Monroe a number of times on the Nike AAU circuit, it was clear that the Georgia native came out looking to disprove the notion that his Louisiana counterpart was hands down the top player in the country, and that he did.
From the tip, Al-Farouq made his presence felt through his vast array of physical talents. His long arms, quick leaping ability, and ability to run the floor enabled him to control the game on both ends of the floor. While he clearly leaked out for a few buckets early in possessions, Aminu ran the floor exceptionally well and was able to beat Monroe up and down the floor for a few of his countless dunks. Staying on the subject of his athleticism, his ability to get off the ground in a hurry allowed him to corral plenty of rebounds and convert those on the offensive end easily, getting the ball right back up to the rim instantaneously upon hitting the ground.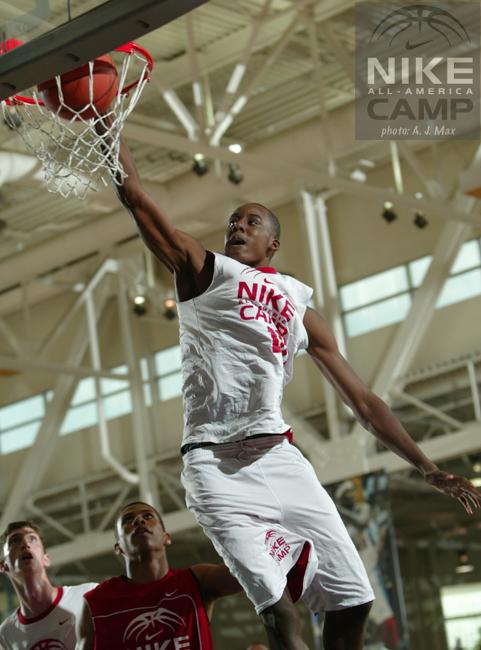 Aminu did a pretty good job of showing his full offensive repertoire, displaying the ability to score inside and out for a player standing a legit 6-foot-8. He handled the ball well in the open floor and stayed under control (unlike at the ASIC), making his potential as a combo forward clear to any onlooker. Showing off a nice first step he was able to make his way past the bigger Monroe on the baseline a few times, where he tried to punish the rim at every available opportunity. The future McDonald's All American put his mid-range game on display as well, converting on a couple of nice-looking pull-up jumpers off the dribble in the half court setting.
Just as impressive as Farouq's ability to score was his ability to contain Monroe on the defensive end, where he held his counterpart to a meager 8 points despite giving up 2 inches and 20 plus pounds. His length and refusal to back down seemed to frustrate Monroe, although he had plenty of help from his Norcross teammates. On the glass Aminu did an outstanding job of boxing out Monroe at times, trying his best to keep the freak from Louisiana off of the boards at every opportunity.
While it was an impressive game for Aminu, there were certainly some areas of his skill set that could use improvement. For starters, he must improve the consistency on his outside jumper if he hopes to play the wing full time at the next level. Showing the capability to shoot the ball out to three point range, he has seen mixed results in terms of accuracy. The younger brother of
Alade Aminu
could also tighten up his handle a bit, as he struggles to change directions on the fly and avoid traffic in the half-court. Blessed with a great frame, he could certainly add some more strength to his 210 pound body, which would allow him to play both forward positions on the next level consistently.
All of the raw tools are there for Aminu to eventually become an elite draft prospect. He will enter Wake Forest in as the centerpiece of an absolutely outstanding recruiting class, teaming up with elite seven footers
Ty Walker
and
Tony Woods
. With the considerable amount of improvement that Aminu has shown over the last few years and the upside he possesses, chances are that we will see him wearing an NBA jersey by the time it is all said and done.
Greg Monroe, 6'10, Power Forward, Senior, Helen Cox HS (LA), Committed to Georgetown
8 points, 7 rebounds, 3 blocks
In Monroe's second big name matchup in less than three weeks, he disappointed yet again when paired against a fellow top 10 member of the class of 2008. Similarly to his match-up against
Samardo Samuels
at the City of Palms Classic Monroe seemed to come out uninspired, showing very little desire out on the floor. Based on his body language, one could assume that he was playing against a local junior varsity team, not two of the nation's finest forwards.
Monroe's performance in these two marquee matchups has not accurately reflected the massive amount of upside that he has to offer as a player. At 6'10 and a sturdy 235 pounds, he already owns an ideal package of height and frame for an NBA power forward. He has the potential to bulk up more if he desires, but may not want to get too muscular if he hopes to continue as a face the basket power forward. Athletically he leaps both high and quickly, while also running the floor better than most big men (when he desires to do so). The Louisiana native's ability to handle the ball (both in the open floor and in transition), pass, and shoot the ball from mid-range are extremely uncommon for a player his size, and have left scouts drooling in the occasions that he does fully assert himself.
Unfortunately, his matchup with Aminu was yet another one of those cases where we were left imagining what Monroe could accomplish if he did assert himself. He came out with a lackadaisical approach to the game, looking as if he didn't even want to be out on the court. Showing very little of his offensive repertoire, he scored his points off of an amazing dunk over Aminu and a few inside shots. Fans weren't able to see any of his ball handling or perimeter skills for the most part, although Greg made it very clear that he has very good court vision for a player his size. He exhibited very soft hands in catching everything thrown to him, but struggled to finish in the paint (especially when forced right). As the game went on and Norcross began to take over, it was concerning not to see the acclaimed top player in the nation show any desire to take over the game on the offensive end. Instead, he opted to let his less talented teammates attempt to win the game against a more talented Norcross squad.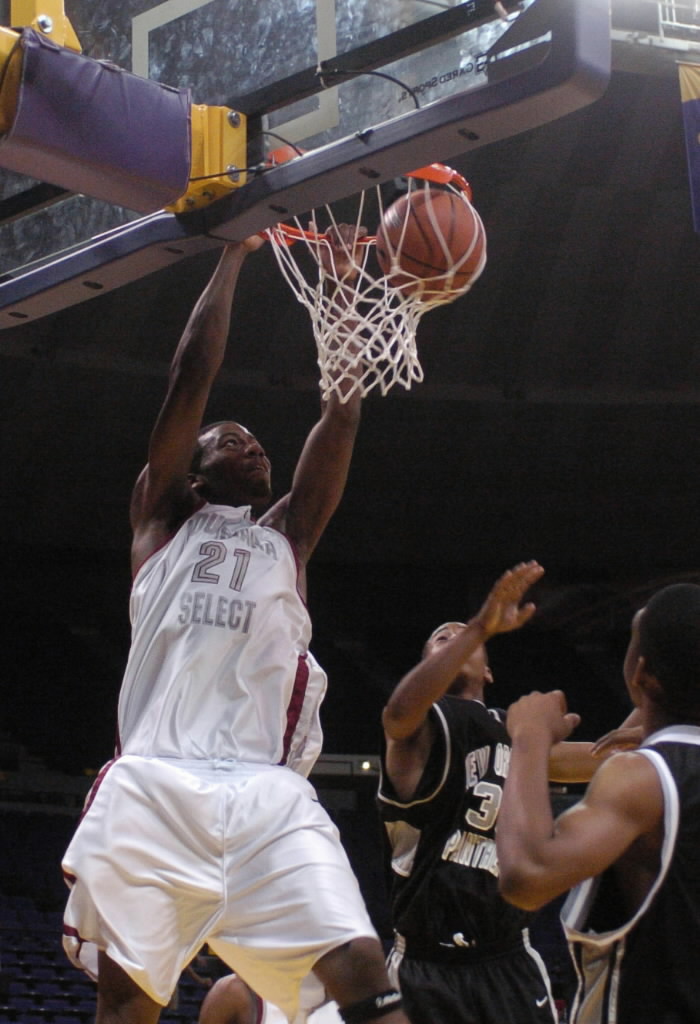 Monroe looked just as unfocused on the defensive end as he did on the offensive side of things. While the potential was there for him to completely dominate the game on the defensive end through his shot blocking and rebounding, he managed to snag only 7 boards and block 3 shots. The future Hoya did not have anywhere near the presence that he has shown at times on this side of things, and struggled mightily when guarding Aminu.
Although it may seem like we are being awfully critical of Monroe, it is only because he is such a talented prospect and has not came anywhere near maximizing his talents on the center stage this season. His inconsistent performances date back for years, and it's always a matter of which
Greg Monroe
you are trying to get. In terms of actual skill and upside, he is hands down the top player in the class of 2008 and has the most long term potential. Unfortunately, his production has not always followed while many other players (such as
Demar DeRozan
and
Samardo Samuels
) have continued to make a case for top player in the country.
Greg Monroe
will enter Georgetown as a perfect fit for
John Thompson
III's offense with his ability to play on the perimeter, and should play a role similar to that of lottery pick
Jeff Green
. If Thompson is able to get Monroe to play with a passion and anywhere near close to his capabilities, the lottery is basically a surety for the Louisiana big man. There are very few prospects that offer the size and skill of Monroe, so draft fans will just have to wait and see if he develops into the superstar he has the potential to be at the next level.