Greg Monroe
STRENGTHS:
- Decision making
- Excellent skill-level
- Executes offensively
- Versatility
- Ability to create own shot
- Ability to face the basket
- Excellent hands
- Basketball IQ
- Unselfishness
- Basketball instincts
- Left-handed
- Young for class
- Court vision
- Passing skills
- Coordination
- Fluidity
- Size for position
- Solid frame
WEAKNESSES:
- Turnover prone
- Ball-handling skills w/either hand
- Activity level
- Defensive Post Presence
- Man to man defense
- Consistency
- Mental/Physical toughness?
- College system makes him difficult to evaluate
- Unorthodox style
- Ability to finish w/either hand
- Average athleticism
- Inconsistent shooter
- Lacks great range on jumper
Recent Tweets
All Tweets
DraftExpress: DX Greg Monroe 2014 Free Agent Scouting Video http://t.co/HMqEJUrWoI (via @Mike_Schmitz)
2014-07-02 16:02:18
DraftExpress: DX Free Agent Scouting Videos Greg Monroe Isaiah Thomas Lance Stephenson Eric Bledsoe Carmelo Anthony LeBron J http://t.co/V7lvIsPumz
2014-07-02 11:10:19
DraftExpress: New on DX Greg Monroe Free Agent Scouting Video http://t.co/HMqEJUrWoI - Is Monroe the missing piece for some team or an overrated tweener?
2014-07-02 11:08:28
DraftExpress: Why stop there? At minimum, he's Patrick Ewing. RT @marlostatus: U think Henry Sims has more potential than Greg Monroe? @DraftExpress
2012-03-08 04:48:55
DraftExpress: Quinton Ross, Greg Monroe too. RT @CoupNBA: Lots of noise in the study, but Robert Horry is listed as another clutch player. #ssac
2012-03-02 01:24:56
Top 25s - Full List
Team: Bucks
Physicals
Positions
Rankings
Salary
Misc
H: 6' 11"
W: 247 lbs
Bday: 06/04/1990
(25 Years Old)

Current: PF/C
NBA: PF/C
Possible: C

RSCI: 6

Agent: David Falk
Current Salary:$5,479,934

High School: Helen Cox
Hometown: New Orleans, LA
Drafted: Pick 7 in 2010 by Pistons
Best Case: Brad Miller
Worst Case: Josh McRoberts

Predraft Measurements
| Year | Source | Height w/o Shoes | Height w/shoes | Weight | Wingspan | Standing Reach | Body Fat | No Step Vert | Max Vert |
| --- | --- | --- | --- | --- | --- | --- | --- | --- | --- |
| 2010 | NBA Draft Combine | 6' 9.75" | 6' 11" | 247 | 7' 2.25" | 9' 0.5" | 11.2 | 25.0 | 29.0 |
| 2009 | Amare Stoudemire Camp | NA | 6' 11" | 243 | 7' 2" | NA | NA | NA | NA |



Basic Per Game Statistics

- Comprehensive Stats - Statistical Top 25s
| Year | League | Name | GP | Min | Pts | FG | FGA | FG% | 2Pt | 2PtA | 2P% | 3Pt | 3PtA | 3P% | FTM | FTA | FT% | Off | Def | TOT | Asts | Stls | Blks | TOs | PFs |
| --- | --- | --- | --- | --- | --- | --- | --- | --- | --- | --- | --- | --- | --- | --- | --- | --- | --- | --- | --- | --- | --- | --- | --- | --- | --- |
| 2015/16 | NBA | Greg Monroe | 18 | 31.0 | 15.8 | 6.6 | 12.9 | 50.6 | 6.6 | 12.9 | 50.6 | 0.0 | 0.0 | &nbsp | 2.7 | 3.8 | 72.1 | 3.1 | 6.4 | 9.6 | 2.7 | 1.2 | 1.0 | 1.7 | 2.4 |

Player Page&nbsp&nbsp| Player Stats | Mock Draft History | Related Articles&nbsp&nbsp| Add to My Draft Express&nbsp
&nbsp
Greg Monroe 2014 Free Agent Scouting Video
July 2, 2014
Analyzing the strengths and weaknesses of restricted free agent Greg Monroe, one of the best big men available on the market.


---
More Free Agent Videos:


-Isaiah Thomas
-Lance Stephenson
-Eric Bledsoe
-LeBron James
-Carmelo Anthony

All of our video scouting reports can be found here

[Read Full Article]

---
NBA Draft Media Day Interviews: Turner, Udoh, Aminu, Monroe, Henry,etc
June 24, 2010
[Read Full Article]

---
Situational Statistics: This Year's Center Crop
June 16, 2010
Greg Monroe's versatility hurt his numbers from a situational perspective, but make him a potential cog in many systems.

Monroe's role as Georgetown's primary option is clear in his 3rd ranked 17.2 possessions per-game. His 0.91 overall PPP is below average, and his high 19.1% turnover percentage is a product of how frequently he put the ball on the floor in comparison to the other players in our center rankings. His 1.5 possessions per-game in transition (3rd) makes Monroe appear like a strong candidate to make an impact in an up-tempo system on the next level.

In post up situations, Monroe didn't stand out in efficiency (0.933 PPP), but he didn't turn the ball over at a high rate either (12.9%). Clearly, his turnovers weren't a byproduct of back to the basket situations.

Monroe didn't really stand out in terms of his raw scoring tools. Monroe took the third most jump shots of any player in our sample (1.5 Shots/G), but made just less than 25% of them. A simply below average finisher (1.26 PPS) due to his lack of explosiveness, Monroe's value proposition doesn't reside solely in his ability to put the ball in the basket or dominate in one situation.

Monroe's savvy offensive game gives him the ability to create for his teammates and generate some easy looks for himself. Monroe was one of the top finishers in our sample in basket cut situations, scoring 1.41 PPP despite not possessing great athleticism. Obviously, Monroe does a good job of moving into the open area at the right time and making some smart plays on the offensive end.

[Read Full Article]

---
Analyzing the NBA Combine Measurements
May 22, 2010
Greg Monroe not only has the size, girth and length to play the center position (at 6-9 ¾ without shoes, 247 pounds and a 7-2 ¼ wingspan), that may be his optimal position. He's a unique player when taking into account his dimensions, basketball IQ and passing ability. He looks like a pretty safe bet to be picked in the top 10. The only concern is his (slightly) higher than normal body fat percentage (11.2%), which probably wouldn't be an issue if teams didn't already have reservations about his passion for the game.

[Read Full Article]

---
NBA Combine Video Interviews: Wall, Favors, Monroe, Udoh, Orton
May 21, 2010
[Read Full Article]

---
NCAA Weekly Performers, 3/18/10
March 18, 2010
Joseph Treutlein

Over the course of the season, Greg Monroe has slowly but surely risen up the draft boards of scouts and executives across the country, as he's played excellent all-around basketball for the Hoyas, showing a level of assertiveness in all areas of the game so many felt was absent last season.

On the offensive end, Monroe frequently calls for the ball in the low and high post, while fighting consistently for position and moving off the ball to get open. With the ball, Monroe can hurt the defense in a variety of ways, but his best skill is undoubtedly his passing ability. Showing excellent court vision and instincts with the ball in his hands, Monroe makes a variety of outstanding passes from the perimeter, high post, and low post, finding open shooters and slashers alike. From the first day he steps onto the court in the NBA, there's little doubt that he'll already be among the league's elite passing big men.

Beyond his passing, Monroe has a variety of effective tools at the college level, starting with his back-to-the-basket game. In the post, he shows excellent coordination and footwork, along with strong finishing ability with his left hand. He mixes in a good variety of power and finesse while using fakes and counter-moves pretty well to get his man off balance.

That said, there are a few notable problems with Monroe's post game, most importantly his complete and utter lack of a right hand, along with any finesse moves off his left shoulder in general. When defenders force him to turn left shoulder, Monroe is incredibly inefficient, relying mainly on an inaccurate right-handed hook shot, but more often than not forcing his moves to the right shoulder instead, leading to more low percentage attempts. This has been a problem since he walked onto campus at Georgetown, and despite his improved overall play this season, this still remains a significant weakness.

Aside from his problems with his right hand, Monroe's post game has other problems projecting to the pros, as he's not an especially explosive player, while having a low release point on the majority of his shots out of the post. He lacks anything even resembling a turnaround jumper off either shoulder, and the rest of his moves don't generate much separation in the post, which could lead to major problems against longer, more athletic defenders in the pros.

On the bright side, Monroe has become a much tougher player in the painted area this season, getting to the line at a high rate and not shying away from contact much, but he doesn't finish through contact especially well, and it's questionable how often bigs will need to foul him in the pros, given his other limitations.

Monroe also spends a good number of his possessions attacking off the dribble, showing very good body control and coordination in this regard, flashing impressive moves fairly often, showing himself capable of finishing on high difficulty spin drives for example. That said, Monroe is incredibly inefficient in these situations, showing average ball-handling skills going in either direction, though his problems are certainly magnified when going right.

According to Synergy, Monroe is scoring at a dreadful rate of 0.39 PPP going right out of isolations, and not much better at 0.57 PPP going left. The biggest problem here is in the turnover department, as he's frequently called for travels or just outright loses the ball with his shaky control. Going right, he turns the ball over on 33% of his possessions, while that decreases to a still high 21% when going left. While increased spacing in the pros could help Monroe's face-up game some, it will probably be offset when you consider the type of athletes he'll be going up against at the power forward position on a nightly basis.

Beyond that, another highly concerning area for Monroe is his complete lack of a perimeter shot, not being reliable at all from the mid or long range spotting up. He's converted just 11 of his 45 jump-shot attempts (24%) this season according to Synergy, struggling in both catch and shoot and off the dribble situations. While he occasionally will show mechanics that look decent or better, he too often doesn't hold his follow through, doesn't square his body to the basket, and just doesn't show good control in general. Given the question marks surrounding the rest of his scoring game, developing this should be critical for Monroe moving forward, and it should be among his main priorities this summer.

Defensively is an area where Monroe has made significant strides this season, showing a much higher level of rotational awareness, even directing his teammates at times. He does a good job of rotating himself, however his lack of explosiveness hinders his ability to do much contesting around the rim, and he's probably not as assertive as he could be in this regard either.

In the post, Monroe has done a very good job developing his fundamental base and using his physical tools well, getting up into his man, extending his length overhead, and forcing the opposition into tough shots while not surrendering position easily. On the perimeter, however, Monroe looks awfully out of sorts, getting beat laterally very frequently, and not showing much effort moving his feet in general. His mobility does lend itself well to pick and rolls, however, where he hedges very well and recovers adequately also, and there's probably good reason to believe he can be a much better man-to-man perimeter defender than he currently is, if he puts in the work on his fundamentals and lateral ability.

Monroe came into this season very out of shape, and thus took time to shed some of the extra weight he was carrying and get himself into optimal condition. For a player who already struggles with heavy feet and a general lack of athleticism, he cannot afford to give NBA scouts the impression that he's not working that hard in the summer.

Looking forward, while there are major concerns about projecting multiple aspects of Monroe's game to the pros, his very high skill level, the learning curve from his freshman to sophomore year, his overall feel for the game, and his passing ability are all things teams will find very attractive. It's not a stretch to say that less athletic big men have certainly gone on to have great success in the pros, especially players like Monroe who have the size to play the center position. How Monroe adjusts his game to the higher level of competition in the pros will be critical, but his skill level has moved him up to the lottery on most people's boards.

[Read Full Article]

---
NCAA Weekly Performers, 12/10/09
December 10, 2009
Matt Kamalsky

The Georgetown Hoyas hadn't truly been tested up until their Wednesday night meeting with the Butler Bulldogs in Madison Square Garden in the opening game of the Jimmy V Men's Basketball Classic. However, even from the small sample of games he's had to work with, sophomore Greg Monroe has managed to show some incremental improvements in his game and had arguably the best outing of his young career in a victory of the Bulldogs. After opting to return to school despite being projected as a lottery pick following an up and down campaign last year, Monroe has made strides in some areas while having to make a number of adjustments as the successor to DaJuan Summers as Georgetown's featured scorer.

Often maligned for his lack of aggressiveness, below-average athleticism, and soft demeanor as a freshman, the biggest change in Greg Monroe's game from this season to last season has come on the defensive glass. While his numbers clearly suggest that he's done a better job rebounding the ball, (his defensive rebounding average is up to 7.0 per-game from just 4.5 per-game last season) John Thompson III's influence is apparent in his approach on the glass. Unlike last season where Monroe was purely a reactive rebounder, he now frequently makes an effort to find a man, box him out, and then secure the ball.

Not a good athlete by NBA standards, Monroe still has a lot of room for improvement, needing to do a better job pursuing the ball at its highest point and be consistent with his effort level as the level of competition increases, but he's already seeing clear results from the slight changes he's already made, as evidenced by his 15 rebound performance against Butler. Monroe isn't the type of player that will consistently rebound outside of his area, lacking the quickness, toughness and explosive leaping ability that prolific NBA rebounders possess, but the extremely early results so far this season indicate that there is reason for optimism here.

In addition to his improvements on the glass, Monroe has looked more assertive on the block too, establishing better position and showing off a nice drop step that allowed him to get to the other side of the rim on multiple occasions during his 24 point effort against Butler.

Lacking the quickness or explosiveness that would allow him to dominate games around the basket on the collegiate level, Monroe has had his share of issues from the inside this season. Though he certainly shows flashes of potential, often in the form of swooping hooks around the basket where he uses his length to his advantage, Monroe has struggled with turnovers in the early going, losing his balance when he doesn't beat his man with his initial move leading to travels and having an extremely hard time working through the double-teams that he's seen on a regular basis this season. Monroe has a very difficult time elevating off two feet in order to get a good shot off, something that will likely become far more of an issue at the next level.

Watching the way he is scoring inside the paint, it's hard not to question whether he'd be able to continue to do so against the far superior type of athletes he'd face in the NBA, but it's good to see a guy who is often been maligned for his lack of toughness at least try and use his height advantage for the betterment of his team.

While Monroe's comfort level dealing with double-teams on the block seems to improve on a game to game basis, the challenges he'll face in Big East play will provide a real indicator of his progress from this season to last. Monroe appears to have gained a degree of focus and intensity, but still seems to be coasting at times. Considering that he looks considerably slower than the majority of the other NBA draft prospects at his position, his effort level over the course of the season and his ability to maximize his physical tools will be a key component of his draft stock.

They will also play a key role in Monroe's ability to have an impact defensively. Though he seeks out contact once he sees a shot go up, he seems lost at times when defending off the ball and seldom makes the aggressive rotations that would allow him to block shots coming over from the weakside. He did register an emphatic rejection in the Butler game, but aside from one excellent play, he seemed indecisive and was often a step slow helping his teammates.

Projecting Monroe to the next level based on his performance through seven games would be foolish, but the small steps he's taken have been on display thus far and will be worth keeping an eye on as Georgetown moves into conference play. Monroe needs to continue playing well if he's to carve out a spot in the lottery, and will have to continue responding to the questions concerning his athletic limitations by performing like he did on Wednesday against Butler.

[Read Full Article]

---
NCAA Weekly Performers, 3/16/09
March 16, 2009
The last time we checked in on Greg Monroe in-depth, he had just posted an impressive performance against Hasheem Thabeet and the Connecticut Huskies, was a reason for optimism on a top-10 ranked Georgetown team that was in the midst of a seven game winning streak, and appeared to have all the makings of a one-and-done talent. While the latter observation may still be true, Monroe couldn't carry the Huskies through their Big East schedule as seamlessly as some had hoped, and has fallen under quite a bit of scrutiny as his team lost 13 of their last 19 games and barely made it into the NIT. Like other Big East prospects, the strength of the conference put him in the spotlight on a bi-weekly basis, making his strengths and weaknesses that much more apparent to NBA decision-makers.

Monroe's best asset moving forward is his unusual blend of size, versatility, touch, and instincts. Though he could stand to add some muscle to his frame to handle the rigors of the NBA, his body should be ready for the pro-level after a summer in the weight room. He's not a great athlete, but he demonstrates great fluidity in some aspects of the game, displaying a promising finesse game and some unique floor skills for a center. For a player as young as he is, Monroe has a good feel for the game as evidenced by his court vision, ability to finish with his left hand over and around defenders, and his ability to execute in offensive sets. Unfortunately, Monroe didn't always have the easiest time using these skills on a regular basis due to a handful a rectifiable flaws in his game.

The most apparent weakness Monroe has at this point lies in his lack of ball-handling and finishing ability with his right hand. He has proven capable of putting the ball on the floor to attack the rim off the dribble from the high post against slower defenders, but has an incredibly difficult time changing directions with the ball when his initial penetration gets cut off. His 2.5 turnovers-per game can be attributed almost entirely to situations where he was forced to crossover, attempted to take more than one dribble with his right hand, or tried too hard to come back to his left hand after initially driving right. Monroe's ability to improve his right hand should dictate how easily he is able to create match-up problems on the next level –which will be a key to his offensive development. He was able to score effectively in one-on-one situations essentially one-handed this season, but will find NBA defenses more proficient at keeping him out of the lane.

One of the other primary factors that prevented Monroe from having more success as a freshman was the lack of polish on many of his offensive tools. Though he made a handful of long jumpers this season, the mechanics on his jump shot are extremely inconsistent. He has some potential as a jump shooter, but will need a ton of reps to make it a useful part of his game moving forward. Down low, he was able to score at a solid rate with his back to the basket, but his moves are a bit methodical and he doesn't do the best job maintaining his body control when he gets bumped. Monroe's touch with his left-hand often bailed him out of situations where he was forced to shoot a hook moving away from the rim or found himself a bit out of position.

Monroe's struggles with physical defenders around the basket are indicative of the general aversion to physical contact that presents itself in some parts of his game. Though he does a nice job establishing position on the block and attacking his man's shoulder when he drives for the most part, Monroe looks tentative to go right at his man when attempting to score in the paint, and often lacks the explosiveness to go up and finish strong in traffic. The fact that he still manages to get to the line at a solid rate is a testament to just how easily he puts himself in position to score –not to how physically he plays. This ability to get by doesn't translate to his rebounding ability, where he ranks last in our database in rebounds per-40 minutes pace adjusted amongst centers and near the bottom amongst true power forwards. Monroe's lack of production is largely due to the fact that he doesn't make a great effort to rebound outside of area and has a hard time finish his box outs consistently.

The apathy that is sometimes an issue for Monroe as a rebounder is a big concern. Georgetown went 7-11 in Big East play, and Monroe seemed to be coasting at times. He doesn't impose his will on the game like he is capable of, seeming to lack the assertiveness and aggressiveness that his team desperately could have used down the stretch. This is especially concerning on the defensive end, where Monroe has the size and instinct to make a huge impact.

He puts up impressive defensive numbers –recording steals at an elite rate for a center and altering quite a few shots as well. However, he proves to be a poor one-on-one defender and only a mediocre stopper in the post. His instincts and hands allow him to be statistically productive, but his motor and tenacity against players attempting to back him down leave a lot to be desired. He also gets turned around too easily, having a tough time staying square to his man when he makes a move in the post. Some of Monroe's issues can be attributed to the fact that he is actively trying to stay out of foul trouble and just isn't that quick laterally, but he has never been known for having the toughness or mean streak that would make him an impact defender.

While Monroe obviously has a number of weaknesses as a player, the silver-lining is that almost all of them are correctable. Monroe is highly coachable on all accounts, and though John Thompson III no doubt took some time to tutor his star pupil, Monroe's problems couldn't be solved in a single campaign. Pegged as a major option on the a middle-of-the-pack Big East team out of necessity rather than preparedness, Monroe was not as ready (or possibly willing) to play the role of star that many of the players in the freshman crop that came before him had no trouble filling. This year's crop of freshman had no chance to live up to the expectations provided by their predecessors, and it wouldn't be surprising to see many of the players that return to school blossom with a year of experience under their belt.

This offseason should be a key to Monroe's long-term development, whether he be preparing for the draft or readying himself for another run in the Big East. At this point, he may be in position to be a lottery pick, and though he's a strong candidate to struggle through some growing pains at the next level, his progression could be accelerated significantly under the right coaching staff. Monroe could become an excellent role-player if he finds the right mentor, but his development into a bonafide star will be a tenuous one.

[Read Full Article]

---
Blogging through the Conference Tournaments
March 11, 2009
Pretty much the only reason we, and a host of NBA scouts and executives, decided to show up here was to take in possibly the last game of potential lottery pick Greg Monroe. As far as last impressions go, this couldn't have been any weaker. Monroe confirmed many of the concerns that most talent evaluators we've talked with over the last few months have cited. He looked soft and apathetic and did very little to help his team avoid being defeated for the second time in the past week. Monroe's athleticism looked particularly underwhelming, as he ran the floor awkwardly and struggled to finish around the rim, lacking strength, explosiveness, and toughness when trying to go up through traffic.

[Read Full Article]

---
College Road Report: UConn – Georgetown
December 31, 2008
Considering the way he's played this season, and the potential he shows, it's probably not a stretch to call Greg Monroe the best freshman prospect in America thus far. Monroe has stepped up and produced consistently from day one for Georgetown, establishing himself as arguably the most important player on this top-ten ranked team, while erasing many of the doubts we had about him from his high school days. In this particular game against UConn, he thoroughly outplayed projected lottery pick Hasheem Thabeet from start to finish on both ends of the floor, showing an incredibly versatile skill-set and a feel for the game unlike that of any big man in the college ranks.

Monroe was responsible for 13 of Georgetown's first 15 points, as the Hoyas jumped off to an amazing 15-1 start over the Huskies. Playing in his first ever Big East game, on the road, in a hostile environment, in front of over 16,000 fans, going up against the #2 ranked team in the country, the 18-year old freshman (who won't turn 19 until June) displayed incredible poise and maturity right from the opening tip.

Not a freakish athlete by any means, Monroe's game is all about timing, smarts and fundamental skills. He is not afraid of operating with his back to the basket, taking on last season's National Defensive Player of the Year Hasheem Thabeet one on one repeatedly, and consistently scoring on him.

Monroe has great hands and excellent footwork in the post, being extremely patient with his moves and fakes, and showing particularly nice touch on a variety of hook shots that are in his arsenal. A jump-hook, a swooping running hook off the glass, and even shades of a sky-hook—all moves that Monroe can go to, showing a very natural sense for creating space to get his shot off, even against a 7-3 long-armed monster like Thabeet. He is almost exclusively left-handed, looking highly uncomfortable going to his off-hand and often struggling to finish when forced to—something UConn did not look to exploit in this particular matchup.

Despite his ability to operate with his back to the basket, it's facing the hoop where he's really at his best, acting as somewhat of a point-forward in Georgetown's Princeton-type offense from the high post. Monroe can attack the basket off the catch with excellent ball-handling skills (again going exclusively left) or hit a spot-up jumper with range that extends beyond the 3-point line—as he showed in the UConn game knocking down a pair of threes when dared to by the flat-footed Thabeet.

Unlike most power forwards, Monroe can stop and start his dribble without getting out of control, something that gave UConn's defense fits all night long as he repeatedly used subtle hesitation moves to fake a drive and then find the open man on a backdoor cut with a gorgeous bounce pass. This ability to drive and dish is a real weapon considering how much of a mismatch Monroe is, and as he continues to expand his shot-creating tools—he already is capable of shaking his man off the dribble—he'll really develop into a unique threat. It's pretty amazing to see the poise he already plays with—he's already established himself as the top passing big man in our database for example, at just under 3 assists per-40 minutes pace adjusted.

Defensively, Monroe showed excellent tools in the UConn game, hedging a screen masterfully in one sequence going stride for stride with A.J. Price almost to half-court before picking his pocket and taking the steal back for an easy basket, and also playing strong defense on Thabeet in the post. He has terrific hands and excellent timing anticipating and jumping in front of post-entry passes in the paint—which helps rank him second in steals amongst big men in our database, and 16th in blocks.

Tall, long, with an excellent frame and very nice agility—he has all the tools to be a very solid defender if he puts his mind to it. He gets a bit lackadaisical at times, though—bringing back shades of his high school days with the lack of energy he shows—something that shows up most often on the glass, where he is doing a pretty poor job at the moment. Monroe ranks as one of the worst rebounders amongst all big men in our database, gathering a paltry 7.9 rebounds per-40 minutes pace adjusted, which is an extremely disappointing rate.

Often criticized for being soft or passive in high school, it's precisely this part of his game (his mental approach) that scouts will likely be following the most closely as the season moves on. Monroe will probably never be the toughest or most energetic player around, but it's crucial for him to show that he's capable of making some basic hustle plays. So far the early results look much more positive than initially anticipated—something that is likely in large part due to the program and coach he decided to play for. There could very well be some lingering doubts about his mentality moving forward, but for the most part Monroe has done a very good job addressing these issues thus far.

We will have to see how things look as the season moves on. Luckily for us, Monroe is playing in the toughest conference in college basketball, and just happens to be competing against one of the nastiest group of defenders you'll find anywhere—this Saturday against Pitt. Stay tuned.

[Read Full Article]

---
Jordan Brand Classic Games (Day Three)
April 20, 2008
The most significant development as far as the NBA draft is concerned, merely continuing what we had observed from the entire weekend as a whole, was clearly the "reemergence" of arguably the most talented big man in this high school class—Greg Monroe (13 points, 8 rebounds, 4 assists, 1 turnover, 6-10 FG, 23 minutes). Although this game's setting was never going to be all that well suited for a player of his nature, Monroe found ways to show off just how gifted a player he is on numerous occasions. Facing the basket from the perimeter, he was lethal putting the ball on the floor and blowing past players with his terrific first step, almost exclusively with his left hand. He hit a beautiful jump-hook in the lane, and showcased his outstanding basketball IQ repeatedly by making a number of fantastic passes. He again got outhustled a bit in the paint and on the glass, but still had a very impressive showing taking into consideration everything we saw. Although many are frustrated by the lack of intensity he displays and the way he apathetic manner in which he runs up and down the court—and rightfully so--it's impossible to ignore his incredible talent, and it's clearly too early to write him off just yet.

[Read Full Article]

---
Jordan Brand Classic Scrimmage (Day Two)
April 19, 2008
Greg Monroe again dropped some awesome glimpses of potential from the perimeter, knocking down two 3-pointers and making an incredible pivot move from the high post where and drained a spinning and extremely fluid turnaround jumper from the elbow. There are very few 6-10 players in college basketball right who can execute such an advanced move. Defensively and on the glass he offered very little, getting outhustled inside and showing very little intensity.

[Read Full Article]

---
Nike Hoop Summit Recap: Team USA
April 16, 2008
Monroe shows elite tools for a power forward, but again failed to produce as well as many people expected. If he didn't have a history of disappearing at times, this wouldn't be a big deal whatsoever considering the setting. Still, the future Georgetown Hoya showed off a very impressive skill-set in stretches throughout the game.

A legit 6'10", Monroe runs the court like a guard and shows nimble feet in the low post. On one possession with his back to the basket, the forward spun to his right hand and laid the ball high off the glass for a pretty finish while taking a foul. In half-court sets, he appears comfortable stepping out and shooting the 20 footer, and is a threat to drive to the hoop or post up. Monroe shows excellent footwork down low, but could really become more effective by improving his toughness going to the hoop.

Other than adding consistency, a few other areas of focus could help Monroe take his game to the next level. Defensively, Monroe must work on playing more physically, and his understanding of help-side rotations has a long way to go. Considering his tools, Greg Monroe could land in the top 10 after a lone season at Georgetown. Without working harder on the court, though, it's doubtful that he'll ever reach his full potential.

[Read Full Article]

---
Aminu Outshines Monroe on National Television
January 12, 2008
In Monroe's second big name matchup in less than three weeks, he disappointed yet again when paired against a fellow top 10 member of the class of 2008. Similarly to his match-up against Samardo Samuels at the City of Palms Classic Monroe seemed to come out uninspired, showing very little desire out on the floor. Based on his body language, one could assume that he was playing against a local junior varsity team, not two of the nation's finest forwards.

Monroe's performance in these two marquee matchups has not accurately reflected the massive amount of upside that he has to offer as a player. At 6'10 and a sturdy 235 pounds, he already owns an ideal package of height and frame for an NBA power forward. He has the potential to bulk up more if he desires, but may not want to get too muscular if he hopes to continue as a face the basket power forward. Athletically he leaps both high and quickly, while also running the floor better than most big men (when he desires to do so). The Louisiana native's ability to handle the ball (both in the open floor and in transition), pass, and shoot the ball from mid-range are extremely uncommon for a player his size, and have left scouts drooling in the occasions that he does fully assert himself.

Unfortunately, his matchup with Aminu was yet another one of those cases where we were left imagining what Monroe could accomplish if he did assert himself. He came out with a lackadaisical approach to the game, looking as if he didn't even want to be out on the court. Showing very little of his offensive repertoire, he scored his points off of an amazing dunk over Aminu and a few inside shots. Fans weren't able to see any of his ball handling or perimeter skills for the most part, although Greg made it very clear that he has very good court vision for a player his size. He exhibited very soft hands in catching everything thrown to him, but struggled to finish in the paint (especially when forced right). As the game went on and Norcross began to take over, it was concerning not to see the acclaimed top player in the nation show any desire to take over the game on the offensive end. Instead, he opted to let his less talented teammates attempt to win the game against a more talented Norcross squad.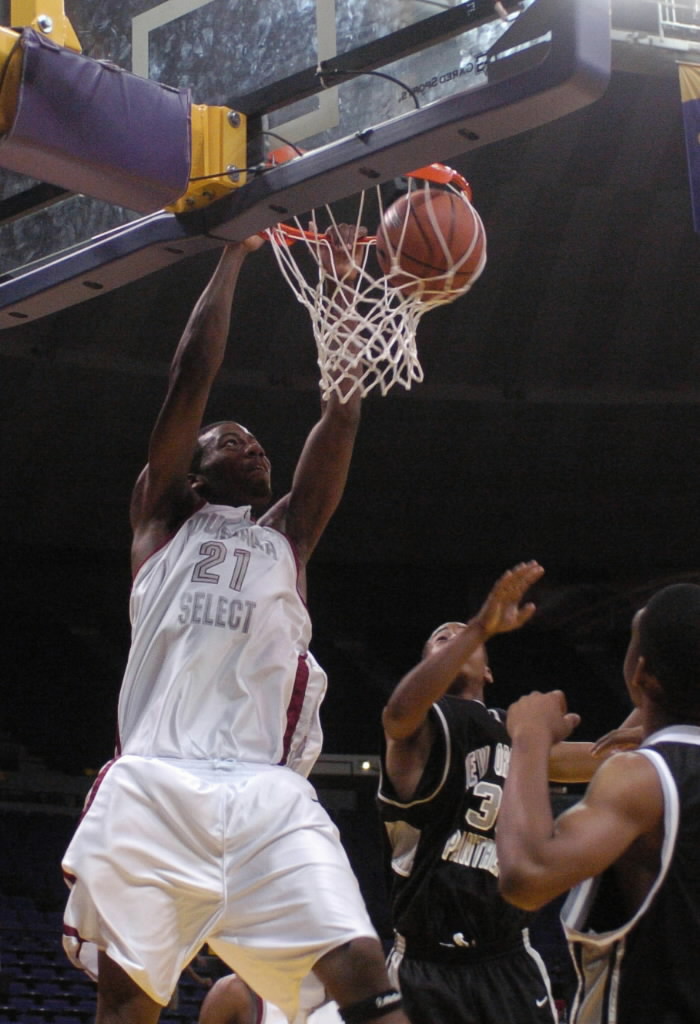 2 The Advocate



Monroe looked just as unfocused on the defensive end as he did on the offensive side of things. While the potential was there for him to completely dominate the game on the defensive end through his shot blocking and rebounding, he managed to snag only 7 boards and block 3 shots. The future Hoya did not have anywhere near the presence that he has shown at times on this side of things, and struggled mightily when guarding Aminu.

Although it may seem like we are being awfully critical of Monroe, it is only because he is such a talented prospect and has not came anywhere near maximizing his talents on the center stage this season. His inconsistent performances date back for years, and it's always a matter of which Greg Monroe you are trying to get. In terms of actual skill and upside, he is hands down the top player in the class of 2008 and has the most long term potential. Unfortunately, his production has not always followed while many other players (such as Demar DeRozan and Samardo Samuels) have continued to make a case for top player in the country.

Greg Monroe will enter Georgetown as a perfect fit for John Thompson III's offense with his ability to play on the perimeter, and should play a role similar to that of lottery pick Jeff Green. If Thompson is able to get Monroe to play with a passion and anywhere near close to his capabilities, the lottery is basically a surety for the Louisiana big man. There are very few prospects that offer the size and skill of Monroe, so draft fans will just have to wait and see if he develops into the superstar he has the potential to be at the next level.

[Read Full Article]

---
2007 City of Palms Classic: Greg Monroe vs. Samardo Samuels
December 24, 2007
Greg Monroe entered this past week as the #1 overall recruit on both Scout and Rivals.com, but after what he showed here, he might not be holding that spot for much longer. Monroe looked downright awful in the first game that we saw him, and then clearly got outplayed the second time around in the semifinals against Samardo Samuels.

Regardless of how Monroe looks on any given night at this point in his development, though, it's not hard to see why people like his potential so much. Standing 6-10, with an outstanding frame, a great wingspan, and all the athleticism you could hope for from a player his size, Monroe looks the part of a future NBA lottery pick, and then some. He's a smooth, fluid player at that too, with great coordination, but also an explosive first step and the ability to get off the floor with ease to block shots and finish around the rim.

Monroe has more than just the physical tools down pat, he also has most of the skills you look for in a prototypical modern day NBA power forward. Offensively, he loves to face the basket, where he does an outstanding job putting pressure on the defense creating his own shot with his excellent ball-handling skills and smooth body control. He uses jabs and can stop and go with some very nice hesitation moves (not common at all for a player his size), mostly preferring to go to his left (his natural hand), and serving as a tremendous mismatch threat in the process for opposing big men--something that will continue to hold true both in college and potentially in the NBA as well. He mostly goes all the way to the basket to finish with his left hand (his right hand needs work here), but can even pull-up off the dribble at times for a mid-range jumper or stop and pivot sharply to his opposite shoulder for a reverse layup to avoid oncoming traffic. These are raw moves for him at this point that clearly need practice, but show a great deal of promise.

Continuing with his work in the high post, Monroe can also pass the ball extremely well thanks to his high basketball IQ, or throw a nice outlet pass. He also has a good looking jump-shot that didn't fall as consistently as you might have hoped considering how much time he spent hanging out on the perimeter. His shot-selection was often poor and he clearly overdid it in this tournament at times, looking noticeably absent in the paint while there was plenty of action going on down there. Judging by the way he finishes his post-moves, he doesn't seem to be the most contact loving big man in the world at this point, and he clearly suffered when forced to get his shot off against fierce competition. He lacks some strength and polished footwork right now, sometimes just throwing the ball up at the rim while showing poor balance and an underdeveloped right hand.

Defensively, Monroe can make his presence felt at this level as a shot-blocker thanks to his combination of size, length, quickness, and timing. He's nowhere near reaching his full potential on this end, though, as his fundamentals are extremely poor, completely avoiding contact in the paint and giving his man way too much space to operate without opposition, even right around the basket. He got torn apart trying to play Samardo Samuels this way in the fourth quarter of the semifinals, and gave up easy basket after easy basket in the process. Monroe also gets outhustled for rebounds occasionally, not boxing out and really not showing enough desire either, despite the fact that he could be a real dominant force if he put his mind to it. His terrific second bounce, hands and touch (for tip-ins) allowed him to do so in stretches on the offensive glass for example, where he looks a bit hungrier.

Really the most concerning thing about Monroe is the fact that it's not quite clear how much he loves playing basketball at this point. In the first game we saw him, he was often spotted just walking up and down the court while everyone else on the floor was running, looking incredibly lazy, aloof and disinterested, pouting when things didn't go his way, and having no shame at all while every major recruiting service in the country took note of his apathy. He brought it a lot more for the Samuels matchup, but still showed a great deal of frustration with himself when things began to unravel for him in the fourth quarter.

His body language is really concerning for a player his age, looking as if he's already proven everything he needs to prove. That seemingly poor mental toughness combined with his already clear lack of physical toughness paints a pretty underwhelming picture for him as far as his character is concerned, and thus you have to question the likelihood of him actually achieving the incredible amount of potential that he clearly possesses. It could very well be that these issues will get resolved as he gets older and continues to mature (he's younger than most people in this class), so we'll have to wait and see before we make any final judgments. Right now, though, there seems to be a lot to be concerned about, as if the hype might have come a bit too early and already gotten in his head. It's a shame, because he really is a supreme talent.

[Read Full Article]

---
LeBron James Skills Academy Final Day
July 14, 2007
Monroe continued his relatively shy style of play, opting to play more of the role of distributor rather than scorer on the camp's last day. He did an excellent job of getting everyone else on his team involved, finished at the rim well with both hands, and leapt off the ground very quickly. He was solid rebounding the ball, while also making his presence felt on defense via his blocked shots. Overall it was the best performance of camp from the uber-talented Louisiana forward, but still not what you would hope for out of the nation's top rising senior.

[Read Full Article]

---
LeBron James Skills Academy Day Three
July 10, 2007
Monroe is an amazing talent, but has been unable to utilize his skills to their maximum potential throughout the first three days of camp. He showed dazzling footwork on the low blocks, finishing with both his right and left hands equally well. Monroe was money from 18 feet and in, and converted everything in transition. Still with all of these skills, he failed to take over the game we watched and was extremely passive. Greg is unselfish to a fault and while he is surely is the most talented player here at camp, by no means has he been the most dominant.

[Read Full Article]

---
LeBron James Skills Academy Day Two
July 7, 2007


Monroe showed every college coach in attendance why many compare him to a shorter Kevin Garnett, as he did a little bit of everything imaginable out on the court today. He shot the ball consistently from 17 feet and in, showed the ability to break down slower big men from the perimeter, and proved to be a force on the defensive end with his shot blocking ability. The best asset that the Louisiana big man brought to the table was easily his passing ability, given that he finished with at least 6 assists in the game that we observed and could have had countless more had his teammates converted. Not only did he do an excellent job of passing out of the double team, but he proved to be a more than adept decision maker in the open floor. While Monroe's immense talents were on display, he was not quite the dominant force that you would hope for out of the nation's top prep prospect. It would be refreshing to see a player with his abundant talents to be more dominant on the high school level, especially given the fact that he is an immediate candidate at the moment for the first player selected in the 2009 NBA Draft.

[Read Full Article]

---
Las Vegas AAU Summer Tournaments: Thoughts from Day Three
July 25, 2006
Greg Monroe is one of the hottest names on the summer circuit, and had a chance to prove himself against incumbent class of 2008 top dog Tyreke Evans and a loaded Team Final squad.. It may be hasty to come to any definitive conclusions about such a young prospect, but Greg Monroe was clearly the best prospect on the floor this afternoon.

At 6'10, Monroe is a freak athlete, gliding up and down the floor and getting off his feet incredibly quick. He looks great with the ball in his hands in the open floor, and his first step was good enough to get past whatever Team Final big man was attempting to guard him. His handle needs work, particularly with his much weaker right hand (his off hand), but one gets the feeling that it is only a matter of time before he is operating comfortably on the perimeter. But Monroe is far from your typical perimeter-oriented big man that shies away from contact in the paint. He can certainly bring more consistent effort on the block, but displays great footwork and the ability to create his own shot in a multitude of ways. He appears to be equally comfortable with his back to or facing the basket. Monroe is a phenomenal shot blocker, showing great timing, long arms, and incredibly quick leaping ability. In this game, Team Final apparently didn't prepare for his ability to alter shots, and continued to drive blindly into his reach. Monroe ended the game with at least 7 blocks, and altered countless others.

While the early review on Monroe is largely positive, it should be mentioned that his development curve is just beginning. Like many young bigs, Monroe still tends to focus on his immediate space when it comes to defense and loose balls, and clearly gets down the floor much more quickly on the offensive end than on defense. His hands are remarkable once he is executing a scoring move, but look a bit weaker when he is corralling a pass or going after a loose ball. Due to this and his insistence on operating on the perimeter, Monroe committed at least eight turnovers in this game. Body strength is an issue as well, though he is further along than plenty of big men at this stage. His footwork and understanding of how to get his shot off near the basket is outstanding, but he missed a lot of very makeable shots today. Experience and polish will clearly help with this.

After viewing several of the top prospects in the class of 2008 over the past several days, I was starting to wonder where the "wow" factor was in this rising junior class. However, Greg Monroe clearly fits the bill. He is still very raw, but the athleticism and feel are undeniable. Comparisons are difficult at the moment, as Monroe has the tools to develop into whatever type of player he wants to be. Monroe's recruitment is still in it's infancy, but he appears to be enjoying all the new-found attention. Plenty of heavy hitters (Rick Pitino and Louisville, John Brady and LSU, Mississippi State, Connecticut, North Carolina to name a few) were in attendance this afternoon, and Monroe is clearly going to be a priority for any high major that thinks they have a chance. Judging by today's performance, it won't be long before the name Greg Monroe is a staple in NBA Draft circles.

[Read Full Article]

---