Josh Riddell
Anthony Brown
has had an eventful collegiate career at Stanford, coming into to the program as the #60 RSCI recruit in 2010. Brown was not a major offensive player in either of his first two seasons, before sitting out the 2012-13 season following surgery on a congenital hip issue. After his redshirt year, Brown returned to the team as a lights out shooter and quickly turned into an important role player for the 2014-15 NIT champions.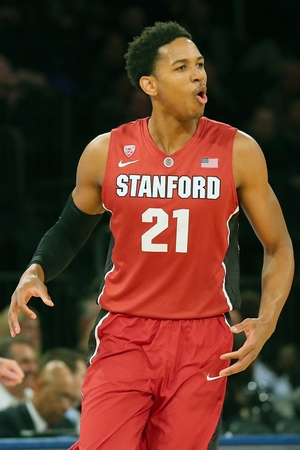 His production level in college wasn't off the charts, as he averaged only 16.2 points per 40 minutes pace adjusted, one of the lowest marks among our top 100 players. He was criticized at times for being somewhat passive, and not particularly reliable or consistent from game to game.
After shooting a combined 35.1% in his first two seasons with the Cardinal, he ended his college career shooting 45.3% and 44.1% in his junior and senior season. Demonstrating good fundamentals on his jump shot, Brown was able to show his junior campaign was not a fluke and that he has turned into a very consistent outside shooter, as he finished
second among small forwards in our top 100
in 3-point percentage.
(Video may not load with Internet Explorer. Use Chrome or Firefox)
Measured at a shade under 6'7", with a terrific 6'11.5" wingspan, Brown has prototypical size and length to play the wing position for a NBA team. He's a smooth and fluid, but not incredibly explosive athlete, with none of his physical skills being overly impressive, so he will need to prove he can match the NBA level of athleticism to create separation and get shots off at the next level. His speed in the open court is his best attribute, moving well in transition, and he can handle the ball at top speeds to get to the rim with long and fluid strides, often to finish with either hand.
Brown will need to make his living at the next level as a shooter, especially in catch and shoot situations, where he shot 45.1% in all such situations according to Synergy Sports Technology. His 1.31 points per possession with his feet set is the second best mark in this draft, and is a valuable skill when paired with his size, which allows him to get his shot off effectively against other players his height. He's also effective shooting off screens, as he prepares himself nicely for jumpers, gathering himself, catching and firing away in one smooth and fluid motion. He has excellent footwork and balance, squaring his shoulders nicely with strong fundamentals. He is improving at shooting off the dribble, best when he takes one or two dribbles to step past a defender closing out, instead of trying to get to the rim himself.
He has become more comfortable putting the ball on the floor and has shown the potential to utilize a quick first step and long strides to straight line drive to the rim attacking unbalanced defenses in closeout situations or coming off screens. He's also an unselfish player who finds the open man with a solid feel for the game. A decent amount of his offense even came in pick and roll or isolation situations this season, even if he saw mixed results in this area. His ball-handling skills have a lot of room for improvement, as he sports a very high and loose dribble that makes it difficult for him to change speeds or directions effectively.
(Video may not load with Internet Explorer. Use Chrome or Firefox)
More concerning is how poor of a finisher he was this season, as he converted just 43% of his attempts inside the paint this year in the half-court, as he lacks a degree of toughness and explosiveness and isn't a particularly crafty finisher. He tends to avoid contact at times, and needs to continue to get stronger and more physical around the rim. His 2-point percentage (42%) ranks 98th among DX Top-100 prospects, and very few players with that mark have been drafted in the last 15 years.
Brown does help his cause in his journey to the NBA by being a solid defensive player, although he has some room to improve to realize his full potential based on his physical attributes. At 6-7, with a 6-11 wingspan and a solid frame, he has the tools to guard either wing position, and even saw some time on point guards at times this past season. He pressures the ball well on the wing and has the lateral quickness to contain his man, the length to contest shots from distance, and a strong basketball IQ.
With that said, Brown was not always consistent defensively either, as his lack of toughness and strength could get taken advantage of, and he had a tendency to get pushed around at times despite being a fifth year senior. He hasn't made much of a defensive impact in the box score, generating the third fewest steals (0.8) and least amount of blocks (0.2) per 40 minutes pace adjusted among small forwards in our top 100, which is surprising considering his wingspan, even though it's likely partially due to the amount of zone defense Stanford played. With just seven blocks on the season, only a handful of players his size have blocked so few shots before being drafted, including
Doug McDermott
,
Ryan Gomes
and
Jason Kapono
, among others—which is a red flag statistically that different analytic-based NBA Draft models have picked at.
To help teams find a role for Brown, he'll need to focus on improving his defensive toughness and focus level on that side of the court. He can let his guard down while defending the ball and can lose concentration off the ball as well, causing him to miss a rotation.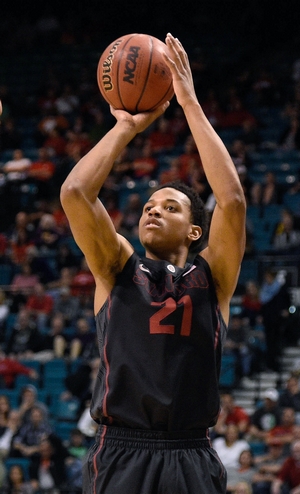 With his size and ability to knock down 3-pointers with great accuracy, Brown fits the mold of what NBA scouts are looking for from the "3 and D" position, and will get plenty of opportunities to play his way into a NBA roster. Already being a role-player in college, there won't be that big of a transition for Brown to make in the NBA, as he'll have to make very few adjustments in his style of play. Being an unselfish, team-oriented player with strong intangibles helps his cause, and despite redshirting a year, Brown is the same age as many other seniors at 22, turning 23 in October. In the right situation, Brown could easily find himself in a NBA rotation as he is exactly the type of player many teams are looking for right now.