Doug McDermott
Recent Tweets
All Tweets
DraftExpress: Nice to see @usabasketball rewarding Marcus Smart & Doug McDermott for past participation by inviting them to USA Select Team. USAB equity.
2014-07-18 18:19:18
DraftExpress: Denver will receive the #16 and #19 picks from the Chicago Bulls in exchange for the rights to Doug McDermott a source tells me.
2014-06-26 20:49:00
DraftExpress: With the #11 pick in the 2014 NBA Draft the Denver Nuggets select Doug McDermott
2014-06-26 20:42:13
DraftExpress2: RT @WojYahooNBA Charlotte remains focused on a shooter with No. 9. Doug McDermott is No. 1 choice Nik Stauskas Plan B sources tell Yahoo.
2014-06-26 17:37:33
DraftExpress2: Charlotte remains focused on a shooter with No. 9. Doug McDermott is No. 1 choice Nik Stauskas Plan B sources tell Yahoo.
2014-06-26 17:29:29
Team: Bulls
Physicals
Positions
Salary
Misc
H: 6' 8"
W: 218 lbs
Bday: 01/03/1992
(23 Years Old)

Current: SF/PF
NBA: SF
Possible: SF

Agent: Mark Bartelstein
Current Salary:$2,277,960

High School: Ames
Hometown: Ames, IA
Drafted: Pick 11 in 2014 by Bulls

Predraft Measurements
| Year | Source | Height w/o Shoes | Height w/shoes | Weight | Wingspan | Standing Reach | Body Fat | No Step Vert | Max Vert |
| --- | --- | --- | --- | --- | --- | --- | --- | --- | --- |
| 2014 | NBA Draft Combine | 6' 6.25" | 6' 7.75" | 218 | 6' 9.25" | 8' 7" | 7.1 | 28.5 | 36.5 |
| 2012 | LeBron James Camp | NA | 6' 8" | 223 | 6' 8.5" | NA | NA | NA | NA |
| 2012 | Amare Stoudemire Camp | NA | 6' 8" | 223 | 6' 8.5" | NA | NA | NA | NA |



Basic Per Game Statistics

- Comprehensive Stats - Statistical Top 25s
| Year | League | Name | GP | Min | Pts | FG | FGA | FG% | 2Pt | 2PtA | 2P% | 3Pt | 3PtA | 3P% | FTM | FTA | FT% | Off | Def | TOT | Asts | Stls | Blks | TOs | PFs |
| --- | --- | --- | --- | --- | --- | --- | --- | --- | --- | --- | --- | --- | --- | --- | --- | --- | --- | --- | --- | --- | --- | --- | --- | --- | --- |
| 2015/16 | NBA | Doug McDermott | 14 | 19.9 | 8.8 | 3.4 | 7.1 | 47.5 | 1.8 | 3.7 | 48.1 | 1.6 | 3.4 | 46.8 | 0.5 | 0.6 | 77.8 | 0.4 | 1.7 | 2.1 | 0.6 | 0.1 | 0.1 | 0.6 | 1.3 |

Player Page&nbsp&nbsp| Player Stats | Mock Draft History | Related Articles&nbsp&nbsp| Add to My Draft Express&nbsp
&nbsp
2014 NBA Draft Media Day Interviews: McDermott, Hood, Warren
June 26, 2014
[Read Full Article]

---
Situational Statistics: the 2014 Small Forward Crop
June 20, 2014
Doug McDermott had one of the best statistical seasons as a scorer in NCAA history. He ranks 2nd to only T.J. Warren using 22 possessions per-game and leads all players in this draft class regardless of position scoring a tremendous 1.18 points per possessions. His 8.1% turnover rate is the lowest in this group despite his onerous role, while his 52.2% overall shooting from the field in the half court (1st) evidences how difficult he was to contain all year long.

McDermott scored from all over the floor in virtually every situation imaginable. He ranks 1st in this group using 24.7% of his possessions in the post, but also ranks above average in the proportion of his possessions coming on cuts and off screens, as his father drew up plays to get him open by any means necessary. He ranks below average in spot-up and isolation usage, but ranks in the middle of the pack in the overall number of possessions he used in nearly every playtype.

McDermott's efficiency was also extremely well-rounded. He ranks as the most efficient off-screen and isolation scorer, while ranking in the top-3 scoring off put backs, post ups, and cuts. His multi-dimensional scoring ability is thanks to his tremendously high skill level. Ranking 1st or 2nd among small forward prospects scoring 1.37 points per shot around the rim, 1.15 points per pull up jump shot, and 1.31 points per catch and shoot jump shot, McDermott is a plug a play type offensively at the next level. His lack of athleticism may limit him to some degree around the rim (and we haven't discussed his defense), but his feel for thegame and high level shot making ability should help him make an impact for a team offensively sooner rather than later.

[Read Full Article]

---
Doug McDermott vs NBA Length Video Analysis
May 30, 2014
A detailed video analysis by Mike Schmitz of how Doug McDermott performed in his match ups against the NBA-caliber length and athleticism.

---
More Situational Videos from Mike Schmitz
Joel Embiid vs NBA Caliber Centers Video Analysis
Julius Randle vs NBA Length
Andrew Wiggins vs Marcus Smart
---
Take a look at our brand new video section for a compilation of all the videos we've produced this year.
[Read Full Article]

---
Doug McDermott 2014 NBA Pre-Draft Workout and Interview Video
May 19, 2014
We joined Doug McDermott as he works out in preparation for the 2014 NBA Draft, and discussed a number of topics with him, including what he's trying to improve on in the short and long-term, adjusting to the NBA 3-point line, other sports he played growing up, NBA players he watches, how he can help himself in private workouts, his dunking ability, what he can bring a NBA locker room, and more.



Video produced by Tad Hathaway of 312Media



Previous 2014 NBA Draft Workout Videos


-Nik Stauskas
-Adreian Payne
-K.J. McDaniels

[Read Full Article]

---
2014 NBA Combine Interviews: McDermott, Brown, Christon
May 18, 2014
[Read Full Article]

---
2014 NBA Draft Combine Measurements Analysis
May 15, 2014
Doug McDermott: McDermott didn't exactly help himself measuring only 6-6 ¼ without shoes, 218 pounds and an average 6-9 ¼ wingspan. McDermott already struggles athletically and has some serious tweener concerns on the defensive end. Although not quite as long, McDermott compares physically to Tobias Harris (6-6 ½ no shoes, 223 pounds, and a 6-11 wingspan). NBA Teams expressed some concern about McDermott's ability to spend time at the power forward position due to his underwhelming measurements.

[Read Full Article]

---
Doug McDermott Scouting Report and Video Breakdown
March 31, 2014
Doug McDermott will go down as one of the best scorers in college basketball history, but his defensive and athletic shortcomings raise some question marks about his potential at the next level. Now that his college career is over, we can now take a step back and conduct an inventory of everything he displayed this season as an NBA prospect, as well as the things he still has to improve on.
---
-Andrew Wiggins Scouting Report and Video Breakdown
-Elfrid Payton Scouting Report and Video Breakdown
-Marcus Smart Scouting Report and Video Breakdown
-NBA Draft Prospect of the Week: C.J. Wilcox (Video Scouting Report)
-NBA Draft Prospect of the Week: T.J. Warren (Video Scouting Report)
-NBA Draft Prospect of the Week: A.J. Hammons (Video Scouting Report)
-NBA Draft Prospect of the Week: K.J. McDaniels (Video Scouting Report)
-NBA Draft Prospect of the Week: Deonte Burton (Video Scouting Report)
-NBA Draft Prospect of the Week: Noah Vonleh (Video Scouting Report)
-NBA Draft Prospect of the Week: Nik Stauskas (Video Scouting Report)
-NBA Draft Prospect of the Week: Aaron Gordon (Video Scouting Report)
-NBA Draft Prospect of the Week: Clint Capela (Video Scouting Report)
-NBA Draft Prospect of the Week: Thanasis Antetokounmpo (Video Scouting Report)
-NBA Draft Prospect of the Week: Shabazz Napier (Video Scouting Report)
-NBA Draft Prospect of the Week: Bogdan Bogdanovic (Video Scouting Report)
-NBA Draft Prospect of the Week: Joel Embiid (Video Scouting Report)
-NBA Draft Prospect of the Week: Julius Randle (Video Scouting Report)
-NBA Draft Prospect of the Week: Jabari Parker (Video Scouting Report)
-Revisiting Giannis Antetokounmpo (Video Scouting Report)
-Revisiting Damian Lillard (Video Scouting Report)
-Revisiting Nikola Mirotic (Video Scouting Report)
-Revisiting Alexis Ajinca (Video Scouting Report)
---
McDermott was born to score, as its something he simply has an unbelievable knack for. He is the fifth best all-time leading scorer in NCAA history, and indeed led the nation in that category in each of the past two seasons. McDermott's scoring rate is impressive not just in the context of the past few years, as his exploits this season ranks him as the best per-40 minute pace-adjusted major-conference scorer in the DraftExpress database, which dates back to 2001.

What's perhaps most impressive about McDermott is that he's not just a volume scorer, he's also tremendously efficient—his percentages: 57% 2P%, 45% 3P%, along with just 1.8 turnovers per game, are sparkling. Its virtually unprecedented to see a player score at the rate he does, and still remain that efficient. His true shooting percentage was 65% this season, third best among draft prospects (behind Stauskas and Embiid), but he carried a significantly heavier usage role than either, which makes his efficiency all the more impressive.

As a junior and sophomore, his true shooting percentage was even higher, at 68% both years, while he still managed to score over 28 points per-40 minutes pace adjusted. He's the only player in our database to accomplish that feat since 2001 even once, let alone twice.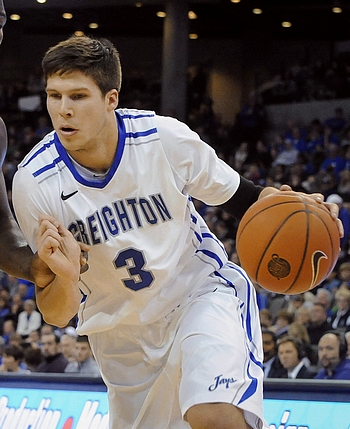 US Presswire



The area of McDermott's game that will translate most seamlessly to the NBA, right off the bat, without any questions asked, is his perimeter shooting ability. He has flawless shooting mechanics, deep release, and an incredibly quick release, to go along with deadly accuracy, as evidenced by his 49%, 49% and 45% 3-point shooting percentages the past three seasons. Catch and shoot, off the dribble, coming off a screen, you name it, McDermott can do it all from the perimeter. He knows how to create space, as he has multiple release points on his jumper and is as aggressive a scorer as you'll find, but still has impeccable shot-selection, often passing up good looks knowing he'll get better opportunities later in the shot-clock.

McDermott is more than just a one-dimensional shooter, as he gets his points in variety of ways, be it running the floor in transition, posting up thanks to his excellent footwork, driving to the basket with his left or right hand, or moving off the ball intelligently and diving to the paint with terrific timing. Only around 40% of McDermott's points in the half-court at the college level came off jumpers. He was surprisingly versatile with his ability to get to the free throw line and score inside the paint and from the mid-range as well. He converted a sky-high 67% of his attempts around the basket, so it will be very interesting to see how the non-shooting elements of his game translate to the NBA. He added new elements to his game every year in college, played with great intensity night in and night out, and should see even more things open up for him in the NBA with better teammates around him and less defensive attention.

On the downside, McDermott's average athleticism raises plenty of question marks about how his game will translate. He's a below the rim player who makes a living operating as a mismatch threat from the power forward position, and also doesn't have very long arms, which could hurt his finishing ability and defensive potential.

Is he quick enough to guard small forwards? Or big and strong enough to handle power forwards? That's the question every team picking in the mid to late lottery will be asking. He posted a career total of 34 steals and 15 blocks in 4636 minutes of action at Creighton, a historically poor rate, and also isn't a great rebounder. He is a very aware and competitive defender in space, but he could very well end up being a target of opposing coaching staffs in isolation situations if he proves to be unable to stay in front of his matchup on the perimeter.

McDermott will need to be drafted to the right team and coaching staff if he's to reach his full potential, as the question of situation and fit will be a big key. He played for his father at Creighton, so there could be somewhat of a transition for him in that regard as well. Will his new coach be willing to accept his limitations as a defender and utilize his versatility and skill-level offensively enough to make up for wha the gives up on the other end of the floor?

To McDermott's credit, he's proven to be an extremely hard worker who has added new things to his game and improved every year in college. He appears to be an extremely smart and unselfish teammate who did not let the incredible amount of attention he got in his college career go to his head and change the way he play, which bodes well for his NBA future. He was one of just two college players invited to USA Basketball's senior team mini-camp last summer where he competed with the cream of the crop of NBA players, and more than held his own according to all reports, upping his draft stock significantly in the process.

Matchups against the likes of Villanova, San Diego St., Baylor, Arizona St., Nebraska, George Washington, Providence, Xavier and others have given us ample opportunity to evaluate McDermott's very defined strengths and weaknesses as a prospect, which we've done in the following video scouting report, courtesy of Mike Schmitz.



All of our video scouting reports this season can be found here.

[Read Full Article]

---
Top NBA Prospects in the Big East, Part 1: Doug McDermott Video
October 7, 2013


Mike Schmitz is the video analyst for DraftExpress. Follow him on twitter and subscribe to the DraftExpress YouTube page. He will be breaking down the NBA draft in digital format all year long for us.

[Read Full Article]

---
Top NBA Prospects in the Non-BCS Conferences, Part Three
November 9, 2012


Mike Schmitz is the video analyst for DraftExpress. Follow him on twitter and subscribe to his YouTube page. He will be breaking down the NBA draft in digital format all year long for us.

[Read Full Article]

---
Trending Prospects (12/9/2011)
December 9, 2011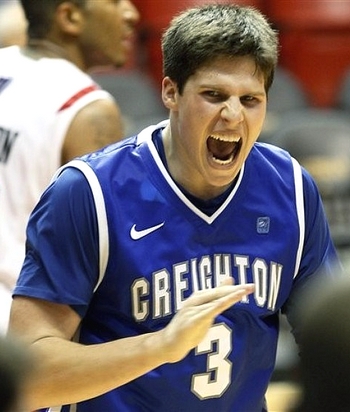 AP



Derek Bodner

After rumors that he would be redshirted his freshman year at Creighton, Doug McDermott exploded. The 6'7" forward averaged an efficient 15 points per game in route to earning the Missouri Valley Conference freshman of the year award, as well as being the first freshman in over 50 years to earn first team All-MVC honors.

Standing 6-7 and weighing a slight 210 pounds, McDermott plays primarily the power forward spot for Creighton. Despite his slender build, McDermott has expanded his post game to become an inside-outside threat. Through the early parts of the season, McDermott has shouldered an increased scoring load, seeing his scoring average increase from 20.5 points per 40 minutes to 33.4, which ranks #1 in our database thus far. He has been doing so at an astounding 71% true shooting percentage, a number that is unsustainable once his team starts playing actual competition, but provides a glimpse of the skill-level he possesses and the matchup problem he has become for defenders.

Operating from the post with more frequency -- his post game now comprises 39% of his half-court offense according to Synergy Sports Technology -- McDermott does a good job of working for position. While not very explosive vertically, he also does a nice job shielding the ball from defenders and going up quickly, catching defenders off guard and allowing him to get the ball up despite his size. He's showing an increasingly diversified set of counter moves with improved footwork, and has been doing a better job of recognizing the increasing amount of double teams he receives.

On the perimeter, McDermott is largely a catch and shoot player, rarely creating either for himself or for others off the dribble, and his ball handling and shot creating ability are clear weaknesses for a player who doesn't have the physical strength or length to play in the post at the next level. He does show excellent form on his jump shots, with a quick and high release that shows remarkable consistency. According to Synergy Sports Technology, he is shooting an incredible 1.826 points per possession on jump shot attempts so far this season, a number that once again will be virtually impossible to sustain, but is extremely impressive nonetheless.

Considering he shot 57% inside the arc and 40.5% from beyond the arc last season, this is obviously not just a fluke, and it appears he's improved even more this summer, making him one of the most potent scorers in the country.

McDermott also excels playing off the ball, giving consistent effort both on cuts to the basket and on offensive rebounds. The quickness he is able to get shots up around the rim once again aids him in scoring in the paint despite his slender build and below the rim game. He is also a weapon in transition, as he gets out early on the break and, while not being an exceptional overall athlete, is fairly quick running the floor.

One of the primary things that stand out, both when watching him play and when looking at stat sheet, is that McDermott does not get to the free throw line very often, as his 4.2 free throw attempts per 40 minutes ranks just average amongst power forward prospects. Part of this is due to style. His quick release and ability to shield the ball from defenders allows him to convert in the paint despite physical limitations, but it also limits his ability to get to the line. As he goes up against longer and more physical competition he'll need to improve his ability to get to draw fouls to maintain his terrific efficiency.

The defensive side of the ball looks to be the primary issue with McDermott when projecting his chances at the next level. His effort level appears to be adequate, but his physical limitations are evident. He doesn't have the size or strength to deny position in the post, and he doesn't have either the length or quickness off the floor to provide much if any weak-side help. On the perimeter, which is where he is more likely to play at the next level, his lateral quickness is a huge concern. He tends to give a large amount of space on the perimeter to combat his mediocre foot speed, both when defending isolation and pick and roll sets, a problem that is sure to become more pronounced the more he is asked to defend away from the basket.

McDermott does a solid job on the glass, as both his 3.8 and 8.8 offensive and defensive rebounds per 40 minutes are very good for a power forward. He once again overcomes his lack of size and explosiveness with good instincts on the glass and a very good effort level.

The son of Creighton head coach Greg McDermott, Doug McDermott plays the role of a coach's son. His excellent feel for the game and consistently high effort level allow him to maximize his physical attributes, qualities that are valuable when projecting a potential change in role from focal point of a team to role player at the next level. His excellent catch and shoot ability forms the basis of a good skill set for a role player, but he'll likely have to improve his defense considerably if he hopes to successfully make the transition to the NBA.

[Read Full Article]

---