Scouting Report by Jonathan Givony. Video Analysis by Mike Schmitz
While only 20 years old,
Chris McCullough
's career has been somewhat of a rollercoaster so far. Considered a top-10 recruit in his class early on in high school, his stock dramatically dropped among scouting services when his production failed to live up to his lofty potential, and concerns lingered about his lack of intensity and internal motivation. He bounced around three different high schools, and was dismissed from Brewster Academy prep school in the midst of his senior year, which prompted him to move to IMG Academy, where he was able to refocus, become college eligible, and move back up the recruiting rankings.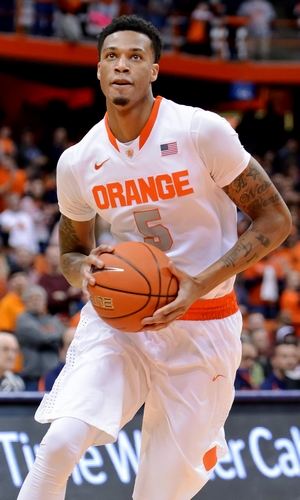 McCullough started the season in extremely impressive fashion, highlighted by a pair of strong outings at Madison Square Garden where he combined to post 32 points, 15 rebounds and 8 blocks in back to back nights against California and Iowa, with a bevy of NBA executives in attendance. He slowed down considerably after that, averaging just 4 points and 5 rebounds per game in his final eight games, before unfortunately tearing his ACL in mid-January, prematurely ending his freshman campaign.
He was widely expected to return for his sophomore season, but changed his mind (possibly thanks to a nudge from an unknown NBA team) and ended up entering the 2015 NBA Draft, despite not being able to participate in any workouts due to his injury.
(Video may not load with Internet Explorer. Use Chrome or Firefox)
McCullough has very good physical attributes for a NBA power forward, standing 6-9 ½ (possibly 6-10) in shoes, with a gigantic 7-3 ¼ wingspan and 9-1 standing reach. His body, at just 199 pounds, is fairly frail at the moment, particularly in the lower body, but has plenty of room to continue to fill out in time if he dedicates himself to adding bulk in the weight room. On top of that, McCullough moves extremely well for a player his size, showing excellent agility and fluidity, particularly getting out in the open court and making plays around the basket with his length and ability to elevate quickly and smoothly.
McCullough shows the framework of a versatile skill-set for a NBA power forward, with flashes of promise in a few different areas that can hopefully be developed into a complete package of skills down the road.
He has a very pretty shooting stroke, complete with a high release point, a smooth follow through, and soft touch. His range doesn't extend out to the 3-point line (1-1 3P, 6-17 on all jumpers according to SST), but can hopefully be developed in time, which will give him the potential to operate as a stretch power forward and make plays as a spot-up or pick and pop threat.
He also shows some crude ability to attack his man off the dribble, with long strides and rudimentary ball-skills, mostly in a straight line. He showed flashes of being able to execute fancy spin-moves, not very consistently, but again, something that can hopefully be developed into a real weapon down the road, which can be very dangerous with his size, length, developing footwork, and soft touch. He gets great extension around the basket with his 7-3 wingspan, which could potentially help him develop some type of post game to punish smaller defenders in time.
McCullough shows great instincts and anticipation skills for making plays on the offensive glass (3.1 per-40), as well as getting in the passing lanes (2.4 steals per-40) and blocking shots (2.9 per-40). Just 12 college players in the past 15 years have posted that same combination or better in the DX database, and among those, only two of whom (
Nerlens Noel
and
Danny Granger
) ended up being drafted.
He moves extremely well on the defensive end of the floor, covering ground gracefully and being quick off his feet to block shots on the perimeter or rotating from the weakside with impressive timing. Very few players in today's NBA show the quickness to step out onto the perimeter and contest smaller players, while still having the length and reach to protect the rim, and McCullough shows the raw tools needed to be that kind of player down the road.
(Video may not load with Internet Explorer. Use Chrome or Firefox)
With that said, McCullough still has a long ways to go before he can be considered an adequate defender at the NBA level. His rail-thin 199 pound frame hasn't developed much over the past few years, as he's added just four pounds of weight since the first measurement we have on him three years ago, which is somewhat concerning. His lower body in particular needs a lot of work, as he gets pushed around frequently on the interior, giving up deep position, and not looking overly physical or tough trying to deny stronger players from asserting their will on him inside the paint.
His fundamentals are just average, as he tends to stand straight up on defense and ball-watch. He plays off his instincts excessively at this stage, chasing steals and blocks wildly, biting on pump-fakes, and committing silly fouls. Playing in Syracuse's 2-3 zone probably didn't do much to prepare him for the bevy of man to man concepts he'll have to pick up on in the NBA, particularly on the pick and roll. McCullough's 6.5 defensive rebounds per-40 is a very poor rate, and it's indicative of his lack of discipline and propensity for losing focus, standing around and not boxing out.
With all the potential McCullough shows offensively, he was not particularly prolific (13 points per-40) or efficient (52% TS%), which both rank among the lowest rates in the draft, especially at his position. McCullough struggled to convert shots around the basket, hitting just 47% of his shots around the rim according to Synergy, a product of his lack of strength and toughness, as well as his propensity for shying away from contact. He got to the free throw line at a solid rate (6.2 per-40), but hit just 56% of his attempts once there, which shows that projecting him as a pure stretch 4 at this stage is definitely more of a long-term thing than an evaluation of his current skill-set.
Along those lines, McCullough is not a great passer at this stage either, as his 8% assist percentage and -5.04 PPR ranking among the worst rates for PFs in our Top-100. He doesn't have a great understanding of what his limitations are at this stage, as he shows poor decision making skills and regularly forces the issue trying to put the ball on the floor in traffic.
The fact that McCullough played only 16 games in college is also not ideal, as he not only lacks experience, but also was in the midst of a bad slump after starting off the season incredibly hot and then cooling down significantly. McCullough came into school with a reputation for being somewhat of an underachiever, and while that wasn't anywhere near as evident in college as it was in high school, he did show a fairly lackadaisical approach to the game at times. NBA teams can only hope that he decides to pursue his rehab from tearing his ACL diligently.
McCullough is a classic boom or bust NBA Draft prospect, whose risk becomes significantly lessened the further outside the Top-20 he gets picked. Power forwards who can block shots and make 3s are some of the rarest and most coveted prospects in today's NBA thanks to the versatility they bring offensively and defensively, and some team is going to draft McCullough in hopes that they can mold him into a valuable contributor from the end of their roster or on their D-League affiliate over the course of the next few years.