Nerlens Noel
Recent Tweets
All Tweets
DraftExpress: Top performers from the 2014 Orlando Summer league (PER) Mason Plumlee James Ennis Nerlens Noel Kentavious Caldwell-Pope Jordan Adams.
2014-07-12 22:39:05
DraftExpress: Top Performers at Orlando SL so far (50 total min+) in PER Mason Plumlee Kentavious Caldwell-Pope James Ennis Nerlens Noel Jordan Adams
2014-07-10 10:13:35
DraftExpress: RT @JayBilas Go to http://t.co/qpH4tNnIpH and type "Nerlens Noel" into upper right search box then hit enter. This comes up. http://t.co/u2026
2013-08-06 15:28:01
DraftExpress: Go to http://t.co/qpH4tNnIpH and type "Nerlens Noel" into upper right search box then hit enter. This comes up. http://t.co/7oSSTuVeiB
2013-08-06 15:03:31
DraftExpress: RT @WojYahooNBA Y! Sources Sixers deal Jrue Holiday to New Orleans for Nerlens Noel and a first-round pick. http://t.co/XzICcc8t1P
2013-06-27 20:55:29
Team: 76ers
Physicals
Positions
Rankings
Salary
Misc
H: 7' 0"
W: 206 lbs
Bday: 04/10/1994
(21 Years Old)

Current: C
NBA: C
Possible: C

RSCI: 1

Agent: Andy Miller
Current Salary:$3,315,120

High School: Tilton
Hometown: Everett, MA
Drafted: Pick 6 in 2013 by 76ers

Predraft Measurements
| Year | Source | Height w/o Shoes | Height w/shoes | Weight | Wingspan | Standing Reach | Body Fat | No Step Vert | Max Vert |
| --- | --- | --- | --- | --- | --- | --- | --- | --- | --- |
| 2013 | NBA Draft Combine | 6' 10" | 6' 11.75" | 206 | 7' 3.75" | 9' 2" | 4.2 | NA | NA |
| 2012 | Hoop Summit | 6' 10" | 6' 11" | 216 | 7' 4" | 9' 1.5" | NA | NA | NA |
| 2011 | LeBron James Camp | NA | 6' 11.5" | 201 | 7' 3" | NA | NA | NA | NA |
| 2011 | Amare Stoudemire Camp | NA | 6' 11.5" | 201 | 7' 3" | NA | NA | NA | NA |



Basic Per Game Statistics

- Comprehensive Stats - Statistical Top 25s
| Year | League | Name | GP | Min | Pts | FG | FGA | FG% | 2Pt | 2PtA | 2P% | 3Pt | 3PtA | 3P% | FTM | FTA | FT% | Off | Def | TOT | Asts | Stls | Blks | TOs | PFs |
| --- | --- | --- | --- | --- | --- | --- | --- | --- | --- | --- | --- | --- | --- | --- | --- | --- | --- | --- | --- | --- | --- | --- | --- | --- | --- |
| 2015/16 | NBA | Nerlens Noel | 14 | 31.6 | 10.1 | 4.1 | 10.1 | 40.8 | 4.1 | 10.1 | 40.8 | 0.0 | 0.0 | &nbsp | 1.9 | 3.0 | 61.9 | 2.1 | 6.3 | 8.4 | 1.3 | 1.4 | 1.0 | 2.9 | 2.8 |

Player Page&nbsp&nbsp| Player Stats | Mock Draft History | Related Articles&nbsp&nbsp| Add to My Draft Express&nbsp
&nbsp
2013 NBA Draft Media Day Interviews, Part Three
June 27, 2013
[Read Full Article]

---
Nerlens Noel-Alex Len Head to Head Matchup Video Analysis
June 26, 2013
We take a look at Alex Len and Nerlens Noel's head to head match up that kicked off the 2012-13 NCAA season.

[Read Full Article]

---
NBA Combine Interviews: Noel, Porter, McLemore, Burke
May 17, 2013
[Read Full Article]

---
NBA Draft Prospect of the Week: Nerlens Noel
February 20, 2013
Scouting report by Jonathan Givony. Video analysis by Mike Schmitz

Nerlens Noel's season gruesomely came to an unfortunate end last week when it was announced he tore his ACL chasing down a blocked shot in the open floor against Florida. While it remains to be seen what affect, if any, the injury will have on his draft stock, NBA scouts should feel very comfortable by now with the body of work he's accumulated in the 24 games he played at Kentucky.



Video Analysis





Any discussion about Noel's potential as a NBA prospect should start with his phenomenal physical attributes. Measured at 6-10 without shoes, with a 7-4 wingspan and exceptional athletic ability, Noel is a rare specimen. He runs the floor like a guard, is extremely nimble and quick, and has pogo stick leaping ability. This allows him to cover ground unbelievably well both vertically and horizontally, which helps him impact the game in numerous ways. It's safe to say that, should he make a full recovery from his injury as expected, he'll be one of the most athletic big men in the NBA.

Offensively, Noel is a fairly limited offensive player at this stage of his career, both in terms of instincts and production. He was not a focal point by any means for a Kentucky squad that struggled badly to produce points in many key games this season, only using 18% of his team's possessions in his time on the floor, which ranked just sixth on a team that may not make the NCAA tournament.

Noel garnered around three possessions per game with his back to the basket, but only converted 45% of his field goal attempts once there, a relatively poor rate. His instincts inside the post look fairly crude, as he lacks great balance and doesn't possess much in the way of footwork or counter moves, turning the ball over more often (16.4% of the time) than he draws a foul (15.1%). With his extremely narrow frame, he struggles to establish good post-position even against the relatively unimpressive slate of big men defenders he matched up with in the SEC. He's mostly relegated to shooting simple jump-hooks with either hand, but doesn't show very good touch on these types of shots, which, along with his poor lower body strength, makes it difficult to envision him developing into a prolific option with his back to the basket down the road.

When freed from the burdens of having to create his own offense, Noel absolutely shines. With his terrific height, long arms, and tremendous explosiveness, he's one of the best finishers in college basketball, converting an outstanding 64% of his attempts around the rim in the half-court. He shows great potential as a pick and roll finisher, being capable of finishing emphatically from extremely difficult angles and vantage points thanks to his long arms and how high he gets up in the air.

Interestingly enough, while not overly polished, Noel shows the willingness, and at times the ability, to use either hand equally well inside the paint, something that's fairly rare for an 18-year old big man. This is definitely something he can build on as he gets stronger and his touch around the rim hopefully improves.

He's also not a terrible passer, certainly not when considering his overall lack of polish and limited experience playing real half-court basketball, sporting a near one to one assist to turnover ratio.

One area where Noel might have more potential than he showed at Kentucky is with his ability to attack his man off the dribble from the high post. He possesses an extremely quick first step driving to his left, allowing him to be isolated against slower big men from 15 to 17 feet away and draw fouls. While the poor spacing of college basketball offenses (and especially Kentucky's with their extreme lack of perimeter shooting) didn't allow him to do this very often, it could very well be something he can build on in the future.

Noel didn't show any real semblance of a jump-shot in his time at Kentucky, and considering the poor touch he displays from different parts of the floor and his 53% conversion rate from the free throw line, that's probably not a fluke. He'll likely have to work very hard to add a mid-range jumper to his arsenal, which is a shot he could definitely use considering his limitations as a post scorer.

As raw as Noel looked at times offensively as a freshman, he was absolutely a game-changer for Kentucky on the other end of the floor. This was his reputation coming out of high school, and he did nothing to discourage that from what he showed this season.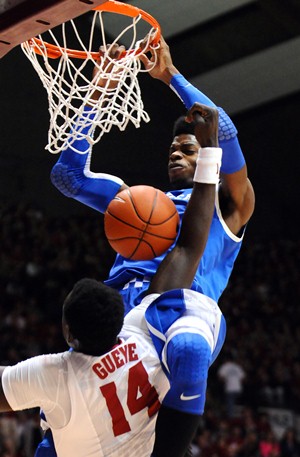 US Presswire



Noel possesses an exceptional combination of size, length, mobility, explosiveness and timing, which allows him to completely shut down the paint as a weak-side shot-blocker. He's extremely patient and under control with his rotations, as he can cover a tremendous amount of ground thanks to his sheer quickness, both laterally and vertically, once he commits to making himself part of the play. Noel blocks shots from well above the rim with either hand, often in demoralizing fashion, even if he can still do a better job of trying to keep his blocks in play as he matures rather than simply spiking them out of bounds.

In other aspects of defense, particularly in man to man settings, Noel still has plenty of room to grow. His fundamentals here are not the best, as he regularly allows opponents to establish deep post position on him, not bending his knees at all and playing completely straight up, letting his man catch the ball right underneath the rim. Noel has a bad habit of swiping at the ball from behind or waiting for the shot to go up instead of actively working to hold his ground and denying position. This worked for him in high school and against most players in college, but is certainly not a strategy most coaches would endorse against NBA-level big men. There's no doubt he will have to improve his lower body strength significantly to guard most NBA centers effectively, but considering his age, that's certainly not out of the question.

With that said, Noel does do an impressive job of coming up with steals by poking balls away from behind and anticipating entry passes. His 2.5 steals per-40 minutes ranks #1 amongst collegiate centers (and tied for top-10 in the past decade), showing how much his combination of quickness, length and instincts can translate to the stat sheet.

Noel shows great potential as a pick and roll defender, hedging screens on the perimeter and recovering in impressive fashion with his extremely quick feet. He shows the ability to stay in front of smaller players on the perimeter when his team decides to play a switching defense, denying penetration effectively.

Like many young players, he has room to improve on some of the nuances of the game, like getting a hand up on shooters, not biting on pump-fakes, and maintaining his focus through longer possessions, but that should come with added experience and solid coaching. Even when he makes a mistake and gets beat, he is so athletic that he often has no problem recovering and making a play at the rim. It's after all much easier to teach a player how to be solid on defense than it is to teach them how to block a shot with their elbow.

Noel is also a solid defensive rebounder, especially considering how active he is as a weak-side shot-blocker. He grabs 8.2 defensive rebounds per-40, which ranks fifth amongst top-100 center prospects. He gets pushed around at times by more physical players going after loose balls, but with his terrific combination of length, quickness, explosiveness and high motor, he can be quite a factor himself.

Noel did a good job of making subtle improvements on both ends of the floor as his season at Kentucky moved on, putting together a strong case for being considered the #1 prospect in the 2013 draft before his injury. As he is yet to undergo surgery on his knee, the full extent of his injury and recovery time is still unknown, but as long as there aren't too many long term concerns, it's difficult to see this setback knocking him very far down in the draft, if at all.

An NBA team that is interested in him would be selecting him with the goal of keeping him for at least the first nine years of his career (rookie contract plus restricted free agency), so not being able to play for the first month or two of his rookie season should not be a deal breaker. This study into the effects of ACL tears conducting by Kevin Pelton is fairly encouraging, as it indicates that a player of Noel's age and style is more likely to bounce back from the injury than others. Considering he's only 18 years old, there's still a long road ahead of him.

[Read Full Article]

---
2012 Nike Hoop Summit: USA Team Measurements
April 7, 2012
Nerlens Noel
Height without shoes: 6'10
Height with shoes: 6'11
Weight: 216
Wingspan: 7-4
Standing Reach: 9'1.5

Interview and Highlights:



[Read Full Article]

---
2011 National Prep Showcase: Elite 2013/2014 Prospects
November 29, 2011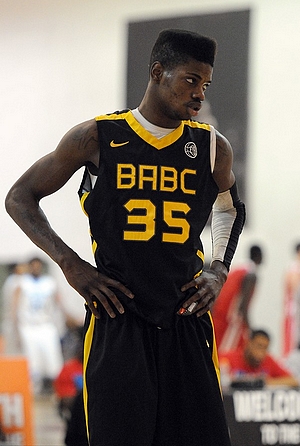 Icon SMI



Jonathan Givony

It's been a year since the last (and first) time we evaluated Nerlens Noel (#2 ESPN, #3 Scout, #3 Rivals) at this same event in New Haven, but our overall impression hasn't changed much.

Now standing close to seven feet tall, with a frame that continues to mature, a long wingspan, and tremendous athleticism, Noel looks every bit the part of a top notch big man prospect.

One of the best finishers in high school basketball thanks to his incredible combination of length and explosiveness, Noel is a phenomenal target around the basket. His ball-handling skills seem to be coming around as well, as he showed the ability to create his own shot from the perimeter or in transition with a quick first step and unbelievably long strides which big men at this level simply cannot stay in front of.

Not a threat at all to make shots from the perimeter (or sometimes even the free throw line), and pretty raw inside the post in terms of his footwork and touch, Noel nevertheless shows the ability to finish with either hand around the basket, and makes his presence felt through his work in transition and the offensive glass. He needs to continue to add strength to his frame, improve his feel for the game, and polish up his skill-level, but considering he's only 17 years old, time is on his side.

Noel's biggest impact is currently felt on the defensive end, where he often dominant at this level. He shows an ideal combination of size, length, athleticism, timing, and intensityŚchallenging every attempt around the basket and blocking shots with either hand. Unlike most big men, he seemingly has no problem stepping out on the perimeter and hedging screens on the pick and roll, as he moves his feet incredibly well and is extremely disruptive in the passing lanes.

Turning 18 in April, Noel reportedly briefly considered reclassifying to the 2012 class, which would make this his final season of high school basketball, but ultimately elected to stay in the class 2013.

He's already considered one of the top players in his class and will draw immediate attention from scouts as soon as he steps foot on a college campus.

[Read Full Article]

---
2010 National Prep Showcase: Best of the Rest
November 28, 2010
Jonathan Givony

One of the youngest players in attendance at the National Prep Showcase, Nerlens Noel (#3 ESPN) is already drawing accolades in recruiting circles as being one of the top prospects in his high school class. Noel was originally a member of the 2012 high school recruiting class, but elected to reclassify reportedly due to a knee injury

A legit 6-10, if not taller with his old-school flat-top, Noel has ideal physical tools for his position, with terrific size and length and a frame that should slowly fill out in time. He has an excellent upper body, but skinny legs that will need some work down the road. Already an outstanding athlete, Noel is an active, explosive big man who is quick off his feet and runs the floor extremely well.

Not a terribly skilled player at this juncture, Noel gets almost all of his offense with sheer hustle and desire. He has limited post moves, ball-handling skills and shooting range, but is able to make a significant impact on the game with his soft hands, ability to run the floor, explosiveness around the basket and activity on the offensive glass, not having any qualms at all about the type of player he is at this stage. He's a selfless teammate who moves the ball around the court intelligently and looks to have excellent intangibles, which is a great sign at this age.

Noel's best attribute right now has to revolve around his terrific shot-blocking instincts, as he has excellent timing to go along with his size, length and athleticism. He doesn't just rely on his physical tools to get the job done, as you regularly see him talking with his teammates on defense and already possesses a pretty good understanding of how to rotate on the perimeter and recover effectively. He puts a lot of pride into his work on this end of the floor, putting a huge effort into helping his team get stops, and pumping his chest after a big play, which really sets the tone for his teammates. It's not that often that you see a player this young so interested in playing defense, so it will be interesting to see how this continues down the road.

As exciting a prospect as Noel is right now, we must remember that he's still at a very early stage in his development, and still has a long ways to go on the offensive end in particular. If he continues to fill out his frame, improves his polish and plays with the same type of intensity he showed in New Haven, he's going to have an outstanding career.

[Read Full Article]

---