For the sixth part of our cross country trip, we stopped in at Basketball Results in Long Island, New York, where trainer Jerry Powell was working with
Danny Green
(UNC) and
Shan Foster
(Vanderbilt), two players hoping to make a splash at the NBA pre-draft camp at Orlando tomorrow. We checked in on the progress of Green and Foster by watching one of the intense workouts Powell has been putting them through for the past few weeks.
Powell, a former Division II player at Southern Connecticut State University, has been in the training game for over ten years, working out of a gym near his home in Long Island, New York. He's trained NBA players such as Jermaine O'Neal and recently worked with
Kobe Bryant
as a basketball instructor on a reality show he and Nike are launching in China. Powell has been working out with Foster since last summer, while Green, the local product, has been training with Powell since middle school, even before he'd built his NBA clientèle base.
For the workouts, Powell ran both players through a series of shooting and ball-handling drills using heavy balls (same size as an NBA ball but a little more than twice the weight), hand-eye coordination drills using one heavy ball and one regulation ball, and some intense two-on-two scrimmages with a few other players he had in the gym (Alex McLean of Liberty, Garnett Thompson or Providence, and Chris Sockwel who plays pro ball in Chile). Both Green and Foster look to have made some strides with their game, specifically in their areas of weakness, which Powell has been focusing on.
Workout Evaluations
Joseph Treutlein
Shan Foster: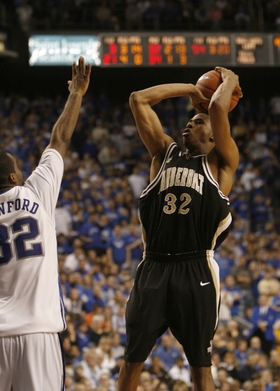 The first thing that was evident about Foster in the gym was the excellent physical condition he's in, with very little body fat on his long, lean frame. While not the thickest player in the world, his build is impressive nonetheless, and he's put on three pounds of muscle since being here. Athletically, Foster won't blow you away with his first step, which isn't especially quick, but here he showed some nice strides with his ball-handling and the ability to sell his moves by shifting his body weight in one direction and quickly coming back in the other, showing good change of speed and direction in the ball-handling drills and scrimmages.
Watching him partake in various drills using in-and-out, crossover, and behind-the-back dribbles, it's hard not to notice the increase in fluidity and comfort with his handle, which is pretty low to the floor. He looks competent with either hand, though is definitely better with his dominant right, but he did show some problems protecting the ball in the scrimmage against the aggressive Green. Foster also looked good in the hand-eye coordination drills, doing a good job dribbling the heavy ball, executing advanced moves such as crossovers and behind-the-back dribbles, while catching and passing the regulation ball to Powell, who was running with him as he went across the court.
In the shooting drills, Foster didn't excel quite as much as you'd expect, as this looked like an off-shooting day for arguably the best shooter in the country this season. Foster's shooting mechanics are not something he's worked on here, aside from putting in extensive repetition, as it's clearly something that doesn't need to be changed. Sporting an unorthodox release in the
Michael Redd
mold, Foster shoots the ball from over his head with a high, quick, and consistent release, slightly fading away on most of his shots as well, making it incredibly difficult to block. Aside from his arm drifting slightly to the right at times, there's very little to be concerned about here. In shooting from the top of the key and both wings from NBA three-point range, Foster hit 79-of-132 (59.8%) uncontested shots. This didn't seem to be his best shooting day, but that's of little concern, considering the high difficulty shots he's shown a propensity to consistently hit in college. It's also worth noting, though, that on most of his shot attempts, Foster was probably a foot behind the NBA three-point line.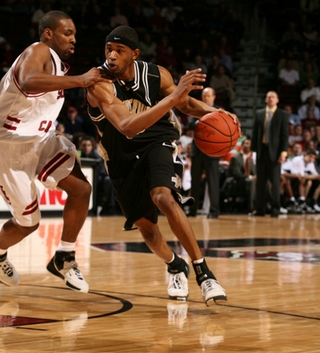 In the two-on-two scrimmages, Foster showed some good and bad, ultimately letting Green get the best of him on both sides of the ball, albeit by not a great margin. His shot wasn't falling consistently, being affected by Green's very aggressive on-ball defense, but he did have some nice hot streaks, and showed his well-known ability to hit tough shots on the move with a hand in his face. As he's shown in college repeatedly, he can hit shots equally well going in either direction, and here really did a good job pulling up while dribbling to his left, hitting multiple long-range shots in this manner. What really stood out with Foster, though, was how his ball-handling strides translated here, as he looked fairly comfortable taking Green off the dribble, even with his very aggressive defense. He did a good job selling his moves, crossing the ball over, and using his shiftiness and fluidity to attack the basket, showing some good creativity, using up-fakes, stop-and-gos, and finger-rolls in the lane. It is worth noting, though, that he had a few shots blocked by Green even after he got past him, with Green recovering from behind. Foster showed some nice ability as the ball-handler in the pick-and-roll as well, making good reads on his man rolling to the hoop. On the defensive end, Foster was solid but unspectacular, playing tough defense, moving his feet, contesting shots, and not making life easy for Green.
Foster is set to play at the Orlando pre-draft camp next week, where he'll look to show off his improved ball-handling and overall versatility, while still showing off his deadly shooting stroke. He's currently projected as an early-to-mid second rounder, but is somewhat of a sleeper and has a chance to move into the late first if he can impress scouts and executives over the next month. Breaking down his numbers from college, you immediately notice that he had a much better senior season (particularly as a shooter) than both
Jason Kapono
and
Kyle Korver
, two players who have found a great niche in the league thanks to their perimeter shooting and overall scoring ability. It wouldn't be a shock to see Foster develop similarly.
Danny Green:
Green, who has worked out with Powell since middle school, looked very comfortable in this setting, clearly familiar with the workouts he's participated in countless times. Playing with a sore left ankle, Green wasn't able to show off all of his explosiveness, but he did a good job making up for that with the rest of his game in both the drills and scrimmages. One point of emphasis for Green here is his ball-handling ability, which is showing some strides and looked pretty good from what we can tell. He did a good job in most of the drills, making few mistakes and showing good hand-eye coordination in the multiple ball drills. His handle could definitely get a little lower to the ground, and improved fluidity is something he'll need to work on in the future, as he looks a bit mechanical right now, but he's been effective in college picking his spots.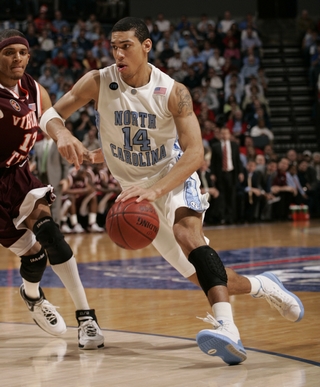 In the shooting drills, Green surprisingly out-shot Foster with the uncontested, spot-up shots from NBA three-point range, hitting 78-of-117 (66.7%) from the top of the key and both wings. Also not having the most orthodox shooting mechanics in the world, Green naturally doesn't extend his elbow far behind 90 degrees on his release, but his shot is quick, his elevation good, and his release point very consistent, so it's never been much of a problem. Still, to improve his effectiveness and raise the height of his release, Powell has been emphasizing an exaggerated extension and follow through for Green, which Green executed on about 80-90% of his shots in spot-up drills, and it's hard to argue with the results. This notable adjustment is still a work in progress, though, as changing muscle memory and tendencies that Green has been accustomed to for years can't be done overnight. When it came to pull-up shots off the dribble in drills and all shots in scrimmages, Green instinctually reverted to his usual form. On pull-up shots, Green doesn't look especially fluid, and his effectiveness seems to fall off some, with him still improving his ball-handling skills.
In the scrimmages, Green really impressed, getting after it on both sides of the ball, while his hot shooting extended over from the drills as well. He hit a plethora of spot-up and pull-up threes from college three-point range, with a few from NBA three-point range as well. Many of the pull-up shots came when he got some space coming around a high screen, but he also hit a few with a hand in his face and incorporated crossovers, step-backs, and fade-aways into his shots, sometimes in combination, hitting quite a few high difficulty shots off advanced moves. Green didn't have as much success attacking the basket, but given the way his shot was falling, he didn't really have to make much of an attempt to. Also, with his left ankle sore, he didn't have his usual explosiveness, and adjusted his game accordingly.
In the two scrimmages to 11, he took his man to the basket a handful of times at most, with limited success. He's probably more of a five-on-five player in regards to his slashing game, being more accustomed to using his high basketball IQ to catch the ball with his man out of position, facilitating his lane to the hoop. Green also looked good as a passer in the two-man game, mixing it up with backdoor and alley-oop assists, making good reads throughout the scrimmages. On the defensive end, Green really stood out, blanketing Foster the whole time, contesting all of his perimeter shots, and making a few nice blocks with his length and timing in the lane.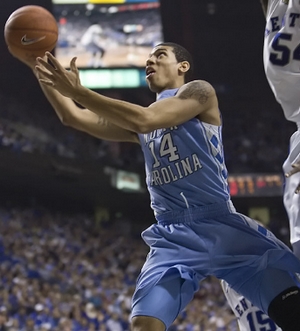 Green is also set to play at the Orlando pre-draft camp next week, where he will look to surprise scouts and executives, as he's not been someone who has been on the draft radar for this season, with most thinking he should go back to school for his senior year. Green's decision on whether he returns, he says, depends on his performance as well as what his teammates decide to do.
Interview with Danny Green:
Joey Whelan
DraftExpress:
Danny, how did the workout go today?
Danny Green:
It was hard, but today was a light day to show you what we do, but when you aren't here, it's killer. Seriously.
DraftExpress:
How long have you been here working with Jerry?
Danny Green:
I've been with Jerry since middle school, even before everyone knew him, when he was first getting started. Back then, me, my brother, and a few guys from our town used to work out of his backyard. Then a lot of other guys started coming through, so it's been real good for him.
DraftExpress:
How long have you been here working out since the season ended?
Danny Green:
It's been about two weeks now. I came back for a couple of days, then later for about a week to work out with him, but I had to head back down to school because at the time I wasn't sure if I was taking an independent study or not. I was going to fly out to Chicago and work out with [Tim] Grover, but I came here instead, it's right around the corner from me. Here I'm able to stay home with my family and work out with Jerry.
DraftExpress:
Have you ever worked out with anyone other than Jerry?
Danny Green:
Well down at college I workout with my trainer and the managers. I've worked with a couple of guys down south, but not really anyone well known.
DraftExpress:
What's it been like going through the draft process knowing you have the option to go back to school?
Danny Green:
It's been great; it's a win-win situation for me. I feel like I can show everyone what I can do, because I don't think people know exactly what I can do. I feel like people have seen a little bit, but outside of the system at North Carolina I think I can do a little more. Hopefully I can show all of that, so for the future I can make a living out of it. If I show off this year and people really like me, of course I'm going to stay in the draft. If it doesn't turn out the way I want it to, though, I can go back to school and I don't have to pay any fees or anything.
DraftExpress:
Is there anything specific that you think you can show off in Orlando?
Danny Green:
I think what people are looking for is to see if I can put the ball on the floor and shoot off the dribble; I think I'm known right now mainly as a spot up shooter. I can block shots, rebound, you know be that all-around guard, but no one really knows if I can handle the ball. I think I can show off my athleticism, not right now because I have a bad ankle; but hopefully I can show strength, athleticism and the ability to handle to ball a little bit. They know I can play defense, but I was told if you show defense, you'll be alright.
DraftExpress:
What are your feelings heading into Orlando?
Danny Green:
Of course I'm excited. I'm working out with Jerry, trying to get ready and hopefully show what I can do. Like I said, I'm in a win-win situation. I'm kind of under the radar so I don't think my stock can really drop; it's either going to go up or stay the same, and if it stays the same I always have another year to improve it. I'm just excited though, a little nervous too, but hopefully I can calm those nerves.
DraftExpress:
With the team that could potentially be coming back to North Carolina next year, how much does the possibility of a championship play into your decision to declare?
Danny Green:
I don't know; if everyone came back it would be great. But also just looking at the statistics, everyone that tests the waters at North Carolina doesn't always come back. So if everyone came back, with guys like Ty [Lawson] and Wayne [Ellington] I think we'd have a great chance to win a championship, but I just don't see that coming. Of course I want to win a national championship, but my decision is going to reflect a lot off of what their decision is also; but we'll see what happens.
DraftExpress:
Have you been getting any feedback at all from any teams yet?
Danny Green:
Nothing directly to me. They talk to my coaches, my dad, and my AAU coach, so they know more about it than I do. But they've really been keeping up with it. They've talked to me about what teams have contacted them and where I'm going to be working out. Miami talked to them, so hopefully I'll get to work out for Miami. Chicago might set something up but that isn't definite yet. I think Cleveland, Washington and San Antonio were the other ones.
DraftExpress:
Danny thanks a lot for talking to with us today.