Danny Green
STRENGTHS:
- Decision making
- Executes offensively
- Off-ball movement
- Ability to contest shots
- All-around defense
- Shot-blocking skills
- Intelligence
- Mental toughness
- Role-player potential
- Young for class
- Solid frame
- Wingspan
- 3-point range
- Improved perimeter shot
- Shooting mechanics
- Solid free throw shooter
WEAKNESSES:
- Ability to get to free throw line
- Ability to create own shot
- Ball-handling skills
- Limited upside?
- Positional versatility
- Ability to finish through contact
- Average athleticism
- Explosiveness
Recent Tweets
All Tweets
DraftExpress: Tons of interest in 20s. Early 2nd at worst. Danny Green-esqe role-player. RT @rodneylipps: Where do you see Darius Miller going? #dxchat
2012-05-26 09:55:05
DraftExpress: At Baruch college watching the Nike Pro City league. Whole bunch of random players, and Danny Green. No wonder NYC bball has the rep it does
2011-07-26 07:58:51
Top 25s - Full List
Team: Spurs
Physicals
Positions
Rankings
Salary
Misc
H: 6' 6"
W: 208 lbs
Bday: 06/22/1987
(28 Years Old)

Current: SG/SF
NBA: SG/SF
Possible: SG

RSCI: 18

Agent: Bill Duffy
Current Salary:$4,025,000

High School: St. Mary's HS
Hometown: North Babylon, NY
Drafted: Pick 46 in 2009 by Suns
Best Case: Francisco Garcia
Worst Case: Keith Bogans

Predraft Measurements
| Year | Source | Height w/o Shoes | Height w/shoes | Weight | Wingspan | Standing Reach | Body Fat | No Step Vert | Max Vert |
| --- | --- | --- | --- | --- | --- | --- | --- | --- | --- |
| 2009 | NBA Draft Combine | 6' 5.25" | 6' 6.5" | 208 | 6' 10" | 8' 7" | 5.6 | 29.0 | 33.0 |
| 2008 | NBA Pre-Draft Camp | 6' 4.5" | 6' 6" | 207 | 6' 10" | 8' 4.5" | 5.2 | NA | NA |



Basic Per Game Statistics

- Comprehensive Stats - Statistical Top 25s
| Year | League | Name | GP | Min | Pts | FG | FGA | FG% | 2Pt | 2PtA | 2P% | 3Pt | 3PtA | 3P% | FTM | FTA | FT% | Off | Def | TOT | Asts | Stls | Blks | TOs | PFs |
| --- | --- | --- | --- | --- | --- | --- | --- | --- | --- | --- | --- | --- | --- | --- | --- | --- | --- | --- | --- | --- | --- | --- | --- | --- | --- |
| 2015/16 | NBA | Danny Green | 17 | 28.6 | 7.8 | 2.8 | 8.4 | 33.8 | 1.2 | 3.4 | 35.1 | 1.6 | 5.0 | 32.9 | 0.5 | 0.6 | 72.7 | 0.5 | 3.7 | 4.2 | 2.3 | 0.6 | 0.6 | 1.5 | 1.4 |

Player Page&nbsp&nbsp| Player Stats | Mock Draft History | Related Articles&nbsp&nbsp| Add to My Draft Express&nbsp
&nbsp
Situational Statistics: This Year's Small Forward Crop
April 24, 2009
The immense amount of work Danny Green put into his jumper has shown this season, but some of his weaknesses continue to stand out.

Green spent last summer completely overhauling his shooting form, and he ranks as the fifth best catch and shoot player when left open in our sample at 1.34 PPP. Though his consistency dips to a questionable .85 PPP when he has a hand in his face, Greenís .91 PPP on pull-up jumpers help compensate for that. Playing for the best open-court team in college basketball obviously has its perks, his 105 transition opportunities (nearly 20 attempts than the next higher player) definitely jump off the page, although his average athleticism and ball-handling skills only allowed him to convert on 50% of his field goal attempts in these situationsówhich ranks amongst the worst in this small forward class. He struggles in isolation situations and running the pick and roll for these same reasons, and only converted on 71 of his 135 shots around the rim, for a dismal 53%. While his shortcomings are pretty obvious, he still brings quite a bit to the table in terms of his role-player potential, being able to make open shots and play lock-down defense, which is what heís most known for.

[Read Full Article]

---
NCAA Weekly Performers, 2/11/09
February 11, 2009
After a breakout junior season, Danny Green has once again taken his game to the next level as a senior, showing some nice increases in production and efficiency in many areas while playing the largest role heís ever played for UNC.

Green has made a few noteworthy improvements on the offensive end, something that isnít all too surprising given the way we saw him work out over the summer. The first thing to take note of is Greenís improved shooting from three-point range, up nearly 10 points to 47% (9th of all players in our database), doubly impressive given the increased length of the three-point line this season.

Looking at the mechanics of his shot, itís very encouraging to see the type of changes Green has made in such a short period of time, which is a testament to the work he mustíve put in over the summer. Green has always been consistent with his mechanics, but his form is now much closer to textbook form, boasting full straight-arm extension and follow through on nearly all of his shots, which is clearly making a strong impact on the results. In addition to that, Green shows good balance and squares his shoulders well when he isnít rushed, while getting solid elevation with a very high and decently quick release. Greenís mechanics can show some bad habits when heís rushed by a defender, and his results fall off in these situations as well, but itís not something that isnít fixable.

In addition to his good shooting form and the results heís been getting, there are many other reasons to be optimistic in regards to Greenís shot, namely the fact that he already shows NBA three-point range with his good upper and lower body strength, showing no change in form when shooting from past the line. Also, Green shows excellent awareness of floor spacing while doing a great job moving to open spaces on the floor, frequently getting open for good catch-and-shoot opportunities. His awareness and readiness are both top-notch on the offensive end, and many NBA teams will likely be attracted to the way heís spent four years excelling in his job as a role player in one of the best offenses in the country.

Aside from his jump shot, Green brings other things to the table on the offensive end, namely his ability to move without the ball, as alluded to above. In addition to doing a good job of maintaining spacing and consistently getting open for spot-up opportunities, Green reads and take advantage of cutting lanes exceptionally well also, doing a great job of slashing to the rim without the ball for the catch-and-finish. Green converts on these opportunities frequently in college, but in analyzing his game, some questions arise about how this ability will convert at the next level, as he doesnít have the explosiveness to power up over weak side help consistently, and his ability to score with finesse on lay-ups and floaters over help hasnít been consistently reliable in the NCAA. Working on his floaters and contested lay-ups in half court situations should be among his priorities in preparing for the draft, to better maximize his off-the-ball abilities.

As a ball-handler, Green seemed to be showing some progress in the offseason workouts we were privy to, but it hasnít really translated to his game yet, as he still looks uncomfortable when executing advanced moves and doesnít have the first step to get by his man with any sort of consistency. In isolation situations, Green is just not much of a threat to take his man to the hole, however heís looked more comfortable pulling up off the dribble, doing well when he can get space, though still struggling a bit to consistently create it. Heís very rarely getting to the free throw line this seasonóhis 1.9 attempts per-40 is an extremely low total, and easily the lowest of his career.

Greenís passing also has to be mentioned, as heís dishing out an impressive 3.1 assists per game compared with 1.7 turnovers while playing off the ball, helping improve his assist to turnover ratio drastically from 1.04 to 1.8 this season. Green has excellent decision-making and sees the floor very well, making lots of smart, simple passes in half court sets, however heís also shown growing abilities as the handler in pick-and-rolls, making very good reads and dishing out some nice assists.

Defensively, Green is still excellent, one of the best perimeter defenders the NCAA has to offer, showing superb fundamentals and instincts, making great use of his size and length to consistently body up on the perimeter. Green uses his length incredibly well to alter shots, with many of his 1.6 blocks coming in isolation situations on the perimeter, which isnít all too common at any level of basketball. Laterally, Green doesnít particularly stand out, but his quickness is more than adequate when coupled with everything else he brings to the table, particularly his 6-10 wingspan. The drop in his rebounding rate this season can likely be explained by the fact that heís no longer playing power forward for UNC, as heís become the starting small forward.

Currently projected as a mid-second round pick, itíd be surprising to see Green go undrafted given the improvements heís made over his four years at UNC, most notably this season. Even though heís not a prototypical NBA athlete, his ability to defend and make shots could still look very attractive. Because of his outstanding basketball IQ and the experience heís received at UNC, he may even begin to creep into first round discussions as the draft draws nearer, as winning teams drafting near the end of the first may be attracted to a player whoís already excelled as a two-way role player for a top college team in a top college conference, which should ease his transition to the league.

[Read Full Article]

---
Top NBA Draft Prospects in the ACC (Part Three: #11-15)
October 16, 2008
After a breakout junior season last year, Green made the decision to test the waters and give the NBA Draft a shot. Unfortunately for him, he was hampered by injuries at the NBA Pre-Draft Camp and appeared to have hurt his stock more than he helped it from what he did show, to the point that he likely would not have been drafted had he decided to stay in. He now returns to Chapel Hill for what will be his final collegiate season, where he will look to secure himself a selection in the 2009 NBA Draft.

Much has been written about Greenís physical tools, so there is no need to go into much depth here. He is a wing with legit size at 6í6 and a nice wingspan, with a sturdy body that has the potential to grow in the future. The Long Island native isnít going to blow you away with explosive leaping ability or a great first step, though.

Green brings a pretty vast array of skills in terms of scoring the basketball. He is a nice catch and shoot player, seemingly putting himself in the open area all of the time. It is clear that weíre looking at a player with a high basketball IQ and who understands the concept of floor spacing. Though his form isnít what you would call picture perfect, Green has no problem getting the ball off in a hurry and has shown the ability to shoot from NBA three point range.

Off of the dribble, there has been much improvement in Greenís game over his tenure at UNC, clearly an example of the nice work ethic that he is said to have. Perfectly comfortable going both left and right, he usually opts to finish his drives with a floater or a pull-up jumper, rather than going to all the way to the rim.

The senior has also proven to be an average ball handler, showing off some pretty crafty moves when moving towards the basket, but unable to create his own shot from the perimeter with any type of advanced moves. There have even been a few times in which Green was at the top of the key initiating UNCís offense. As a playmaker, Danny has also shown nice court vision both in transition and in the half court set in terms of finding the open man, even if he clearly has a tendency to force the issue at times.

The main problem with Greenís offensive repertoire is his lack of explosiveness off of the dribble. He tries to bait defenders (and usually does a good job) with a series of jab steps and shot fakes, but if the defenders donít bite, he struggles quite a bit creating space off of the dribble. With advanced scouting at the NBA level, this could be a problematic issue for this swingman next season. Heís already a fairly turnover prone player considering his somewhat limited role in North Carolinaís offense, a testament to his improvable ball-handling skills.

On the defensive side of things, Green has proven to be one of the finest perimeter defenders that the ACC has to offer. He completely utilizes his size to body opposing players up, all while using his length to block a nice number of shots and gather over a steal game. Greenís understanding of his physical limitations allow him to defend players with his length and fundamentals, rather than completely relying on athleticism like so many players today do.

Green is a player who is all over the draft board at the time being. Currently projected as a potential second round pick, he surely has the potential to move up with a strong senior year, both for himself and for UNC as a whole. For the most part content with being a role player, Green could easily step in as a Keith Bogans/Maurice Evans-esqe perimeter defender who has a good work ethic and is capable of hitting the three. His senior season and pre-draft workouts will ultimately determine his final destination, but he is a player who has firmly supplanted his name in the minds of NBA scouts and will receive plenty of exposure this year with the Tar Heels, particularly now that he will move into the starting lineup following Marcus Ginyardís injury.

[Read Full Article]

---
Cross-Country Workout Swing, Part Six: Basketball Results (New York)
May 24, 2008
Green, who has worked out with Powell since middle school, looked very comfortable in this setting, clearly familiar with the workouts heís participated in countless times. Playing with a sore left ankle, Green wasnít able to show off all of his explosiveness, but he did a good job making up for that with the rest of his game in both the drills and scrimmages. One point of emphasis for Green here is his ball-handling ability, which is showing some strides and looked pretty good from what we can tell. He did a good job in most of the drills, making few mistakes and showing good hand-eye coordination in the multiple ball drills. His handle could definitely get a little lower to the ground, and improved fluidity is something heíll need to work on in the future, as he looks a bit mechanical right now, but heís been effective in college picking his spots.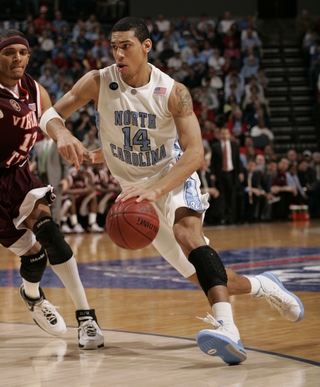 Icon SMI



In the shooting drills, Green surprisingly out-shot Foster with the uncontested, spot-up shots from NBA three-point range, hitting 78-of-117 (66.7%) from the top of the key and both wings. Also not having the most orthodox shooting mechanics in the world, Green naturally doesnít extend his elbow far behind 90 degrees on his release, but his shot is quick, his elevation good, and his release point very consistent, so itís never been much of a problem. Still, to improve his effectiveness and raise the height of his release, Powell has been emphasizing an exaggerated extension and follow through for Green, which Green executed on about 80-90% of his shots in spot-up drills, and itís hard to argue with the results. This notable adjustment is still a work in progress, though, as changing muscle memory and tendencies that Green has been accustomed to for years canít be done overnight. When it came to pull-up shots off the dribble in drills and all shots in scrimmages, Green instinctually reverted to his usual form. On pull-up shots, Green doesnít look especially fluid, and his effectiveness seems to fall off some, with him still improving his ball-handling skills.

In the scrimmages, Green really impressed, getting after it on both sides of the ball, while his hot shooting extended over from the drills as well. He hit a plethora of spot-up and pull-up threes from college three-point range, with a few from NBA three-point range as well. Many of the pull-up shots came when he got some space coming around a high screen, but he also hit a few with a hand in his face and incorporated crossovers, step-backs, and fade-aways into his shots, sometimes in combination, hitting quite a few high difficulty shots off advanced moves. Green didnít have as much success attacking the basket, but given the way his shot was falling, he didnít really have to make much of an attempt to. Also, with his left ankle sore, he didnít have his usual explosiveness, and adjusted his game accordingly.

In the two scrimmages to 11, he took his man to the basket a handful of times at most, with limited success. Heís probably more of a five-on-five player in regards to his slashing game, being more accustomed to using his high basketball IQ to catch the ball with his man out of position, facilitating his lane to the hoop. Green also looked good as a passer in the two-man game, mixing it up with backdoor and alley-oop assists, making good reads throughout the scrimmages. On the defensive end, Green really stood out, blanketing Foster the whole time, contesting all of his perimeter shots, and making a few nice blocks with his length and timing in the lane.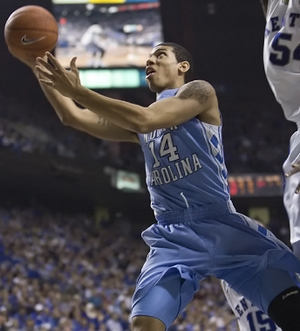 UNC Athletics



Green is also set to play at the Orlando pre-draft camp next week, where he will look to surprise scouts and executives, as heís not been someone who has been on the draft radar for this season, with most thinking he should go back to school for his senior year. Greenís decision on whether he returns, he says, depends on his performance as well as what his teammates decide to do.

Interview with Danny Green:

Joey Whelan

DraftExpress: Danny, how did the workout go today?

Danny Green: It was hard, but today was a light day to show you what we do, but when you arenít here, itís killer. Seriously.

DraftExpress: How long have you been here working with Jerry?

Danny Green: Iíve been with Jerry since middle school, even before everyone knew him, when he was first getting started. Back then, me, my brother, and a few guys from our town used to work out of his backyard. Then a lot of other guys started coming through, so itís been real good for him.

DraftExpress: How long have you been here working out since the season ended?

Danny Green: Itís been about two weeks now. I came back for a couple of days, then later for about a week to work out with him, but I had to head back down to school because at the time I wasnít sure if I was taking an independent study or not. I was going to fly out to Chicago and work out with [Tim] Grover, but I came here instead, itís right around the corner from me. Here Iím able to stay home with my family and work out with Jerry.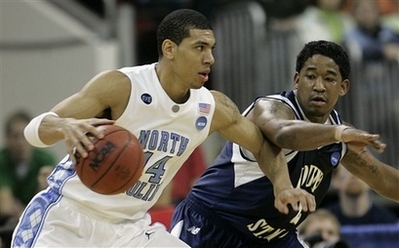 AP



DraftExpress: Have you ever worked out with anyone other than Jerry?

Danny Green: Well down at college I workout with my trainer and the managers. Iíve worked with a couple of guys down south, but not really anyone well known.

DraftExpress: Whatís it been like going through the draft process knowing you have the option to go back to school?

Danny Green: Itís been great; itís a win-win situation for me. I feel like I can show everyone what I can do, because I donít think people know exactly what I can do. I feel like people have seen a little bit, but outside of the system at North Carolina I think I can do a little more. Hopefully I can show all of that, so for the future I can make a living out of it. If I show off this year and people really like me, of course Iím going to stay in the draft. If it doesnít turn out the way I want it to, though, I can go back to school and I donít have to pay any fees or anything.

DraftExpress: Is there anything specific that you think you can show off in Orlando?

Danny Green: I think what people are looking for is to see if I can put the ball on the floor and shoot off the dribble; I think Iím known right now mainly as a spot up shooter. I can block shots, rebound, you know be that all-around guard, but no one really knows if I can handle the ball. I think I can show off my athleticism, not right now because I have a bad ankle; but hopefully I can show strength, athleticism and the ability to handle to ball a little bit. They know I can play defense, but I was told if you show defense, youíll be alright.

DraftExpress: What are your feelings heading into Orlando?

Danny Green: Of course Iím excited. Iím working out with Jerry, trying to get ready and hopefully show what I can do. Like I said, Iím in a win-win situation. Iím kind of under the radar so I donít think my stock can really drop; itís either going to go up or stay the same, and if it stays the same I always have another year to improve it. Iím just excited though, a little nervous too, but hopefully I can calm those nerves.

DraftExpress: With the team that could potentially be coming back to North Carolina next year, how much does the possibility of a championship play into your decision to declare?

Danny Green: I donít know; if everyone came back it would be great. But also just looking at the statistics, everyone that tests the waters at North Carolina doesnít always come back. So if everyone came back, with guys like Ty [Lawson] and Wayne [Ellington] I think weíd have a great chance to win a championship, but I just donít see that coming. Of course I want to win a national championship, but my decision is going to reflect a lot off of what their decision is also; but weíll see what happens.

DraftExpress: Have you been getting any feedback at all from any teams yet?

Danny Green: Nothing directly to me. They talk to my coaches, my dad, and my AAU coach, so they know more about it than I do. But theyíve really been keeping up with it. Theyíve talked to me about what teams have contacted them and where Iím going to be working out. Miami talked to them, so hopefully Iíll get to work out for Miami. Chicago might set something up but that isnít definite yet. I think Cleveland, Washington and San Antonio were the other ones.

DraftExpress: Danny thanks a lot for talking to with us today.

[Read Full Article]

---
NCAA Weekly Performers, 12/27/07-- Part Two
December 28, 2007
Quietly establishing himself as one of the most improved players in the country so far, Danny Green is having a spectacularly efficient season for #1 ranked North Carolina, acting as the consummate glue guy that brings everything together as their sparkplug 6th man.

Standing 6-6, with a nice wingspan and a good frame that he will surely grow into, Green has ample size for an NBA wing player. Heís not a terribly explosive athlete, but he still seems to get the job done on either end of the floor, being a mobile player with a certain smoothness to his game and the mental fortitude needed to take advantage of the athleticism he does possess.

Offensively, a huge reason for the progression Green has shown this year has to do with the improvement heís made in his perimeter shot. Heís knocking down his 3-point shot at a rock-solid 40% clip, taking over three 3-pointers per game on the season so far. Green shoots the ball with a little hop while pushing the ball forward from in front of his chest. Itís not the most orthodox release in the world, but he gets it off quickly and most importantly shoots it the same exact way every time with a firm and consistent release point, making it quite effective in spot-up fashion. Heís not as good shooting the ball off the dribble, but considering what his role will likely be at the next level, just being able to punish defenses who play off of him is a more than good enough start considering the other things he brings to the table.

As a ball-handler, Green does a solid job at picking his spots. He doesnít make many mistakes as his 1.6 turnovers per game would indicate, but heís not just a one-dimensional spot-up shooter either. Green likes to use shot-fakes to get his man off balance and then attack him in under-control fashion with his dribble. Not being the most explosive player in the world, he seems to prefer pulling up off the dribble rather than taking the ball all the way to the basket, and will find some success offensively in this fashion, sometimes finishing with a nifty floater. If the defense collapses, heís smart enough to know how to find the open man passing while on the move.

Although heís a solid offensive player, as his 13 points in 20 minutes per game would indicate, defensively is where Green is clearly at his best. Heís a physical, pesky defender, bodying up his man on the perimeter, using his excellent size and length at 6-6 to disrupt, being very fundamentally sound and taking great pride in shutting down his man. He might lack just a degree of lateral quickness to be considered an elite defender at the next level, but he really shows nice instincts on this end to compensate for that, doing a terrific job getting in the passing lanes anticipating steals, and also recovering quickly after getting beat and picking a smart angle to the rim to come up with a blocked shot. Heís a tough guy who isnít afraid to stick his nose into take a charge.

Successful NBA teams are typically built around 1-2 stars surrounded by a group of excellent role players who do all the little things needed to come away with the victories. Teams typically go through the process of drafting former star college players and hope to successfully mold them into being what they need them to be for their particular situation, which sometimes works and sometimes doesnít. The advantage that a player like Danny Green brings to the table lies in the fact that heís already proven as a role player who is willing to accept his situation as a cog in his teamís offense, having played for a program like North Carolina that can get him to buy into their system. That gives him valuable experience as both a teammate and a winner that NBA coaches donít need to spend time teaching.

He doesnít look like your typical early-entry prospect, but Green will surely find his fans amongst NBA personnel once his time to play his hand in the NBA draft comes.

[Read Full Article]

---
McDonald's Practice Session Recap
March 30, 2005
Danny continued to turn the heads of scouts in attendance. Rated by rivals.com as the 89th best player in the class of 2005, many people were surprised when he was selected to both the McDonald's All American Game and the EA Sports Roundball Classic. In our Roundball write-ups, we spoke of how impressive Danny was, especially with his deep shooting ability. He has carried that over this week into the McDonald's game. Danny could definitely step in and provide an immediate impact next year for UNC, especially if Rashad McCants decides to enter the NBA draft. Here is what one NBA GM had to say about Danny: He's smart, quick, and can really shoot the ball. The kid just makes plays. You can tell that he's been playing basketball his entire life. Green is very underrated right now, but don't expect that to last for long. If he's indeed the 6-6 he is listed at, he'll be an excellent NBA prospect after getting a couple of NCAA seasons under his belt.

[Read Full Article]

---