Shan Foster
STRENGTHS:
- Efficiency
- Commitment to playing defense
- Confidence
- Work ethic
- Size for position
- Undersized
- Wingspan
- Ability to come off screens
- Ability to create separation from defender
- Outstanding 3-point shooting percentages
- Pull-up jumper
- Quick release
WEAKNESSES:
- Ability to get to free throw line
- One-dimensional?
- Ball-handling skills
- Left hand
- Ability to fight through screens
- Lateral quickness
- Excellent first step
- Explosiveness
- Frail frame
- Strength
- Inconsistent shooter
Recent Tweets
All Tweets
DraftExpress: Mons has a few former NBA draft picks on their roster in Sean Singletary, Ahmad Nivins and Shan Foster. Plus a few that shoulda been drafted
2011-10-12 02:26:41
DraftExpress: Familiar names? Marcus Hatten, Shan Foster, Ron Lewis, Ronell Taylor, Justin Cage, Ben McCauley, Darrell Mitchell, Will Thomas, Caleb Green.
2010-12-21 02:11:04
Top 25s - Full List
Team: Vanderbilt
Physicals
Positions
Rankings
Salary
Misc
H: 6' 5"
W: 195 lbs
Bday: 08/20/1986
(29 Years Old)

Current: SG
NBA: SG
Possible: SG/SF

RSCI: 62

Agent: Michael Whitaker

High School: Bonnabel
Hometown: Kenner, LA
Drafted: Pick 51 in 2008 by Mavericks
Best Case: Jason Kapono
Worst Case: Thomas Gardner

Predraft Measurements
| Year | Source | Height w/o Shoes | Height w/shoes | Weight | Wingspan | Standing Reach | Body Fat | No Step Vert | Max Vert |
| --- | --- | --- | --- | --- | --- | --- | --- | --- | --- |
| 2008 | NBA Pre-Draft Camp | 6' 4" | 6' 5.25" | 195 | 6' 11.5" | 8' 8.5" | 6.3 | 30.0 | 33.0 |



Basic Per Game Statistics

- Comprehensive Stats - Statistical Top 25s
| Year | League | Name | GP | Min | Pts | FG | FGA | FG% | 2Pt | 2PtA | 2P% | 3Pt | 3PtA | 3P% | FTM | FTA | FT% | Off | Def | TOT | Asts | Stls | Blks | TOs | PFs |
| --- | --- | --- | --- | --- | --- | --- | --- | --- | --- | --- | --- | --- | --- | --- | --- | --- | --- | --- | --- | --- | --- | --- | --- | --- | --- |
| 2012/13 | DLEAGUE | Shan Foster | 43 | 15.4 | 5.9 | 2.1 | 5.5 | 38.8 | 1.0 | 2.1 | 46.1 | 1.2 | 3.4 | 34.5 | 0.4 | 0.6 | 79.2 | 0.4 | 1.3 | 1.7 | 1.0 | 0.6 | 0.1 | 0.6 | 1.2 |

Player Page&nbsp&nbsp| Player Stats | Mock Draft History | Related Articles&nbsp&nbsp| Add to My Draft Express&nbsp
&nbsp
NBA Pre-Draft Camp, Day Two
May 29, 2008
Shan Foster was a big disappointment once again, continuing the same trend we saw in the morning and the day before. He looks completely out of his element mentally, forcing bad shots and even air-balling one 3-pointer by about five feet, which is completely uncharacteristic of the player widely considered the top shooter in this draft class. He got chased off the 3-point line way too easily, getting caught into the trap of being forced to use his ball-handling skills, which he is much less effective at than just spotting up from behind the arc. He looks like he's putting way too much pressure on himself, and will need to settle down a bit and remember what got him here. He unfortunately doesn't bring enough else to the table besides his shooting to be able to be as cold as he's been thus far.

[Read Full Article]

---
Cross-Country Workout Swing, Part Six: Basketball Results (New York)
May 24, 2008
The first thing that was evident about Foster in the gym was the excellent physical condition heís in, with very little body fat on his long, lean frame. While not the thickest player in the world, his build is impressive nonetheless, and heís put on three pounds of muscle since being here. Athletically, Foster wonít blow you away with his first step, which isnít especially quick, but here he showed some nice strides with his ball-handling and the ability to sell his moves by shifting his body weight in one direction and quickly coming back in the other, showing good change of speed and direction in the ball-handling drills and scrimmages.

Watching him partake in various drills using in-and-out, crossover, and behind-the-back dribbles, itís hard not to notice the increase in fluidity and comfort with his handle, which is pretty low to the floor. He looks competent with either hand, though is definitely better with his dominant right, but he did show some problems protecting the ball in the scrimmage against the aggressive Green. Foster also looked good in the hand-eye coordination drills, doing a good job dribbling the heavy ball, executing advanced moves such as crossovers and behind-the-back dribbles, while catching and passing the regulation ball to Powell, who was running with him as he went across the court.

In the shooting drills, Foster didnít excel quite as much as youíd expect, as this looked like an off-shooting day for arguably the best shooter in the country this season. Fosterís shooting mechanics are not something heís worked on here, aside from putting in extensive repetition, as itís clearly something that doesnít need to be changed. Sporting an unorthodox release in the Michael Redd mold, Foster shoots the ball from over his head with a high, quick, and consistent release, slightly fading away on most of his shots as well, making it incredibly difficult to block. Aside from his arm drifting slightly to the right at times, thereís very little to be concerned about here. In shooting from the top of the key and both wings from NBA three-point range, Foster hit 79-of-132 (59.8%) uncontested shots. This didnít seem to be his best shooting day, but thatís of little concern, considering the high difficulty shots heís shown a propensity to consistently hit in college. Itís also worth noting, though, that on most of his shot attempts, Foster was probably a foot behind the NBA three-point line.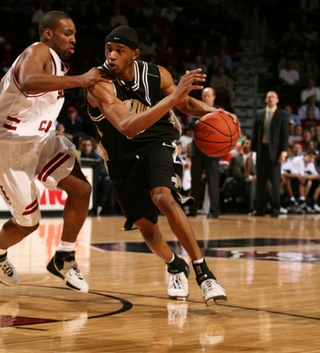 Icon SMI



In the two-on-two scrimmages, Foster showed some good and bad, ultimately letting Green get the best of him on both sides of the ball, albeit by not a great margin. His shot wasnít falling consistently, being affected by Greenís very aggressive on-ball defense, but he did have some nice hot streaks, and showed his well-known ability to hit tough shots on the move with a hand in his face. As heís shown in college repeatedly, he can hit shots equally well going in either direction, and here really did a good job pulling up while dribbling to his left, hitting multiple long-range shots in this manner. What really stood out with Foster, though, was how his ball-handling strides translated here, as he looked fairly comfortable taking Green off the dribble, even with his very aggressive defense. He did a good job selling his moves, crossing the ball over, and using his shiftiness and fluidity to attack the basket, showing some good creativity, using up-fakes, stop-and-gos, and finger-rolls in the lane. It is worth noting, though, that he had a few shots blocked by Green even after he got past him, with Green recovering from behind. Foster showed some nice ability as the ball-handler in the pick-and-roll as well, making good reads on his man rolling to the hoop. On the defensive end, Foster was solid but unspectacular, playing tough defense, moving his feet, contesting shots, and not making life easy for Green.

Foster is set to play at the Orlando pre-draft camp next week, where heíll look to show off his improved ball-handling and overall versatility, while still showing off his deadly shooting stroke. Heís currently projected as an early-to-mid second rounder, but is somewhat of a sleeper and has a chance to move into the late first if he can impress scouts and executives over the next month. Breaking down his numbers from college, you immediately notice that he had a much better senior season (particularly as a shooter) than both Jason Kapono and Kyle Korver, two players who have found a great niche in the league thanks to their perimeter shooting and overall scoring ability. It wouldnít be a shock to see Foster develop similarly.

[Read Full Article]

---
NCAA Weekly Performers, 12/27/07-- Part Two
December 28, 2007
Averaging over 20 points per game on absolutely outrageous shooting percentages (54.6% FG, 54.9% 3P) playing for an undefeated team is a good way to draw attention to yourself, and thatís exactly what Shan Foster has done over the past few weeks. A guy that we somewhat wrote off over the summer after appearing to be a pretty one dimensional shooter on film, he was always going to look a lot more interesting shooting 55% from behind the arc over the 34.6% he shot last year. And while you could probably still label Foster a pretty one-dimensional guyóthe dimension he does have in his game looks absolutely incredible at the moment, and will surely be enough to draw him considerable interest from the NBA if he can keep up anywhere near the same pace over the course of the season.

Foster has good size for the shooting guard position, at a lanky 6-6 with a very nice wingspan. Heís a skinny player whoís frame probably isnít the best, but at his position and considering his skill-set, thatís probably not the end of the world. Athletically, Foster is average at best, showing a poor first step and underwhelming lateral quickness. Thatís part of the reason why he wasnít considered a great prospect up until this year.

The one saving grace, though, has everything to do with his shooting stroke. Foster has a slightly unconventional release, cocking the ball behind his head (think Michael Redd) with a super high release point and putting a great deal of arc on the ball. He shoots the ball with unbelievable confidence, though, coming off screens and just throwing the ball in the basket with the greatest of ease, showing outstanding touch and an incredibly quick release. In case you wondered whether his numbers might be a fluke 11 games into the season, consider that heís attempting just under 7 Ĺ 3-pointers per game. He is absolutely money once he sets his feet, featuring NBA plus range on his jumper and absolutely no conscience running off a screen (which he does quite well) and firing away.

Foster was very streaky from behind the arc last year, being somewhat feast or famine in the sense that he could go 1 for 7 in one game and then 5 for 8 just a few days later. The reason for that is that he has a tendency to cock the ball too far behind his head when heís being very closely guarded, making his release point a bit on the inconsistent side. Heís done a better job at finding and taking much cleaner looks this season, reading ball screens better and not forcing the issue, and thus shooting a higher percentage.

If a defender runs out wildly trying to contest his initial catch, Foster is smart enough to put the ball on the floor and step inside the arc for a better shot. He can stop and pull-up from mid-range, much preferring to do so rather than take the ball all the way to the basket and finish at the rim. If he does take the ball all the way, youíll often see him finishing a play with a nifty right-handed floater from about 8-10 feet out.

Not being a terribly explosive athlete, Foster is not a very good ball-handler either, particularly with his left hand. He did not attempt even a single free throw in four of Vanderbiltís 11 games this season, which gives you a small indication of his lack of offensive versatility. Heís a player that can be nullified for long stretches by a big, long and athletic defender that gets right in his grill and does not give him the daylight he needs to get his shot off on the catch and shoot, but to his credit, Foster realizes his limitations and does not force the issue. Foster is currently ranked #1 in points per possession amongst draft prospects, as well as 7th in True Shooting Percentage. Heís an unselfish player who seems to have a very nice feel for the game.

Defensively, Foster puts in a solid effort, and can even find some success at times due to his intensity combined with his excellent size and wingspan. His lateral quickness as mentioned is fairly average, though, and he also seems to suffer trying to go through screens due to his lack of strength.

When it comes to his final evaluation, we have to think that he rates favorably at the moment in comparison to other shooting guard prospects in the draft. It is early in the season, though, so weíll have to see how he fares once the competition stiffens for Vandy in their SEC slate. Itís hard to fathom him shooting the ball at the same 55% rate all season, so once the shots inevitably stop falling temporarily, Foster would be well served to pick up the other parts of his game. At the moment, itís hard to look at the stats and call him anything else but the best shooter in college basketball.

[Read Full Article]

---
Top 15 NBA Draft Prospects in the SEC
November 3, 2005
One of the top shooters in the country already as a freshman, Foster has good size at the 2 guard spot and decent athleticism. Foster still has to develop an in-between game for himself, but he's got the raw tools down pat from a physical standpoint and especially the outside stroke which already makes him a rare commodity. If he can develop his ball-handling skills enough to make him a consistent off the dribble threat, the Commodores could have an NCAA star on their hands.

[Read Full Article]

---