DraftExpress is proud to present our in-depth
NBA pre-draft camp measurements and athletic combine information database
, a resource unlike anything you'll find on the internet.
During the last year, our measurements database has been expanded to include draft prospects from the past 16 years. In addition, we recently received a very generous donation from an unnamed NBA team—the complete athletic combine information from the past 8 years (2000-2008), of which we only previously had the past 3.
To help organize this incredible database, we've added a number of new tabs—including positions on the floor (PG, SG, SF, etc) and draft positions (top 15, first round, overall drafted, undrafted) which will allow you to compare between different draft years (1992-2008, or all years together), and see how various caliber prospects stack up against those already in (or out of) the league.
For example, if you want to know how many sub six-foot point guards were drafted in the lottery recently, all you have to do is
start here
, select "All" for the year tab, "Top 15" for the minimum Draft position tab, "PG" for the position played tab, sort by "height without shoes," and then switch the view to "ASC" for ascending rather to sort from the shortest to the tallest. The answer? If
D.J. Augustin
is selected in the lottery on June 26th, he would be
the shortest point guard ever drafted that high
, and just the sixth sub six-foot point guard in history. The other three are
Allen Iverson
,
Chris Paul
,
Raymond Felton
,
T.J. Ford
, and
Mike Conley Jr
. You can also see how
Derrick Rose
stacks up with players like
Steve Nash
,
Deron Williams
,
Jason Terry
and
Devin Harris
.
This function can also be used to analyze the top and bottom performers in past drafts. The
best maximum vertical jump ever officially measured
belongs to 6'3.5 inch Efes Pilsen SK swingman Kenny Gregory, who jumped 45.5 inches. 2000 second-rounder
Mike Smith
, a 6'8 forward from Louisiana Monroe, was measured at only 21 inches, which makes him statistically
the worst leaper ever tested
at the pre-draft camp.
This function can also be used to answer some key measurement questions. Is
Anthony Randolph
too skinny to be a power forward in the NBA? Should he hear his name called as projected, he will be one the skinniest power forward
ever drafted in the first round
, at just 197 pounds.
How will
Jerryd Bayless
's 6'3.5 wingspan compare at the next level? Besides fellow combo-guard
Monta Ellis
, who was only measured at 6'2.25 with a 6'3 wingspan, he does
not stack up all that well.
Building the Prototypical NBA Player
Through another new function,
"Average Measurements by Position,"
we can evaluate what the standard player looks like at each position. For example, the average wingspan for a drafted point guard is 6'5.2, and the average drafted point guard stands at 6'0.8 without shoes.
For those who are worried about
Kevin Love
and
Michael Beasley
being undersized in the NBA post, the average height without shoes for a drafted NBA power forward is 6'8.0 without shoes, with a wingspan of 7'1.2, and a standing reach of 8'11.1.
Kevin Love
measured 6'7.75 without shoes, has a 6'11.25 wingspan, and a standing reach of 8'10, which leaves him about average and just a tad undersized per positional average.
Michael Beasley
, on the other hand, was measured at 6'7 without shoes, has a 7'0.25 wingspan, and an 8'11 standing reach. While he may be shorter than the average power forward, he has a nice wingspan and standing reach to compensate.
The improved measurements database also has a function,
"Average Standing Reach/Wingspan by Height,
" which allows users to examine proportional measurements based on height. For instance,
Eric Gordon
, who is often said to have the strength (15 reps of 185 pounds) and athleticism (40-inch vertical leap) to play much bigger than his size has a much longer wingspan (6'9) compared to most players measured at 6'2 (6'7), which answers some questions about he will fit in as an NBA shooting guard.
Last but not least, this improved measurement database can answer some of the more pressing questions among draft experts. Most notably, does outstanding physical ability correlate positively to defensive ability? Defensive-ace
Shane Battier
only has a 6'10.5 wingspan and 8'9 standing reach, despite standing 6'8.25 without shoes, measurements that are below average for his size and position. On the other hand, Dallas Mavericks stopper
Josh Howard
stands only 6'5.25, but has a 7'2 wingspan and an 8'9.5 standing reach. Similar answers (or lack of answers) can be found to just about every measurement-related question in the NBA in our database. Enjoy.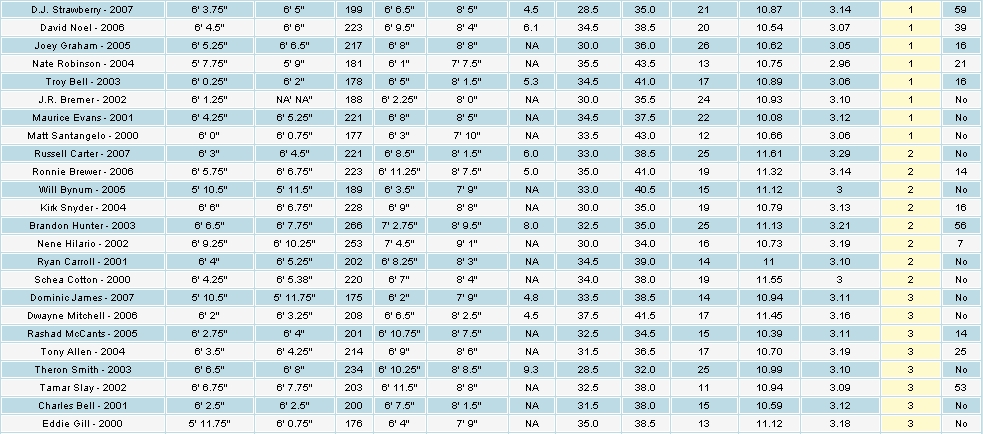 [c]
The Top Athletes in NBA Pre-Draft History
[/c]