(Part One)
Theories about proper NBA draft strategy may well outnumber the available players for next Thursday's festivities. When deciding between two players rated similarly, a GM may drop back to the adage "you can't teach size" and scoop up that raw 7-footer over the skilled but undersized point guard. Always in the backdrop of draft day decisions is the overarching debate whether to draft for need or for overall potential.
An organization's present and future prospects affect whether they are drafting for current impact, and therefore looking for a mature ready-to-help player, or are seeking a long-term, and perhaps delayed, benefit. Meanwhile, the detritus of the Collective Bargaining Agreement looms over all player personnel concerns. Salary cap and luxury tax issues have led some teams to pretty much leave first draft picks on the curb with a sign "No reasonable offer refused." Alternately, the "let's draft an international player and let him germinate overseas for a couple years" strategy comes into play in the late first round, becoming an omnipresent force in the second.
For the purposes of this article, we weigh in on some of the merits of these strategies, by bringing together observations we have made in a series of past articles that examined outcomes of the NBA draft from a number of different perspectives. We have updated previous analyses with data through the current year to account for recent trends. We hope to present likely outcomes for any particular pick with regards to his draft slot, position played, and domestic vs. international player status. We also attempt to chart some guidelines for the probable course of draftees' NBA careers.
As with any set of "rules", exceptions abound and will immediately spring to mind. However, knowing the rarity of finding an international player the caliber of
Manu Ginobili
in the second round, or a
Josh Howard
near the end of the first round, may help set expectations at a more reasonable level. Let these guidelines temper your expectations just a bit when your team drafts the apple-of-your eye next Thursday.
Methodology
In many of our past articles we have used a partially subjective system to divide players into categories of performance. For the present analyses we attempted to make these rankings more objective. All players' seasonal production was coded using seven primary categories which were then collapsed into the following four categories:
I. Out of the league (category 1) & Barely in league/End of bench guy (2)
– No games played (1) or played less than 100 minutes for the season or less than 10 minutes per game (2).
II. Solid bench player (3) & Top bench player/Marginal starter (4)
– Played more than 100 minutes in the season, and more than 10, but less than 20 minutes per game (3) or more than 20 but less than 30 minutes per game, OR played 30 or more minutes per game but had a year 5 PER below 10 (4)
III. Solid starter (5)
– Played 30 or more minutes per game and had a PER between 10 and 17
IV. Star: All-Star caliber player (6) & Superstar (top 10-15 player in the league) (7)
- 30 or more minutes with a PER between 18 and 20 (6) or a PER of 21 or greater (7)
A few notes about the rankings: When referring to
five year outcomes
in several of the "rules" below, we accommodated for a player being lost to injury in their fifth year by using their fourth year outcome data. We tested several different performance metrics when creating the current ranking system, but found the above combination of minutes and PER to best match our previous (admittedly subjective) rankings.
Seventy-seven percent of players received the same rating under the old (subjective) and new (objective) system among the four groups, while 99% were within one category of the subjective rating system.
Using PER, or any objective measure, diminishes the ratings of some players (e.g., that defensive demon whose offensive production is secondary to team success) when compared to how we, and most other NBA observers, would view them and elevate others (e.g., "Team success is not getting me that max contract!").
We do not agree with how all players are currently categorized, but our previous subjective ratings are obviously not unassailable either. We feel we have done our best here to incorporate objective measures into our analyses while maintaining basic face validity.
So with no further ado, here are our Eight Rules for Draft Night Success:
I. Location, Location, Location: Win the Lottery
Let's start with the most obvious finding: where you pick matters a lot. Lottery players have better success rates than players in the bottom half of the first round. First rounders do better than second rounders. And players in the top half of the second round have better success rates than those at the end of the draft.
If a player is selected among the top quarter (currently the top 7 picks: we broke the round into "quarters" to control for the growth from 23 picks in 1980 to 30 this year) of first round picks in an average year (See Figure 1), the odds are about 60% he will be a solid starter or better by his fifth year. Those odds drop to 38% by the second quarter of the first round (i.e., picks 8-15 this year), and slip below 20% by the time you reach the bottom of the first round.
The odds of any player drafted between 16 and 30 this year becoming a star player, is about 1 in 13. In fact, you're doing well if you get a guy who is even a solid bench contributor or a marginal starter once you get beyond the lottery picks.
Nearly half the players drafted in the bottom half of the first round, are out of the league, or barely hanging on, five years after being drafted.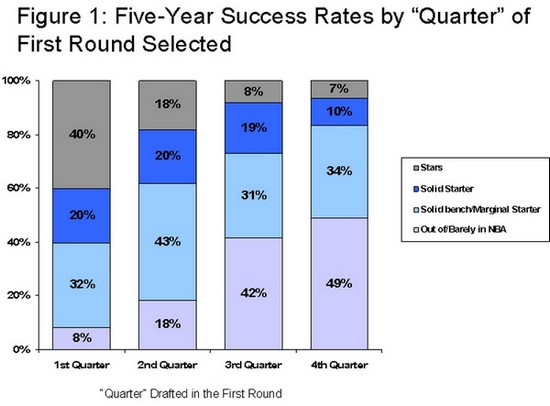 Even among the top picks, the decline in outcomes is rapid (Figure 2). Seventy-one percent of first picks become stars by year five and an additional 17% become solid starters. For pick two the numbers are 46% and 17% respectively, and for the third pick a similar 50% and 21%. Picks 4 and 5 drop slightly from picks 2 and 3, and by pick 6 one sees a substantial decrease in success.
Interestingly, picks 6 and 7 do not fare particularly better than picks 10 and 11 (or to some extent even than picks 13 and 14)
. Perhaps this is where GMs and scouting departments really earn their keep, sifting out the nuggets from the fool's gold. It is no wonder GMs breathe such a sigh of relief when the draft lottery lands them in the top 3.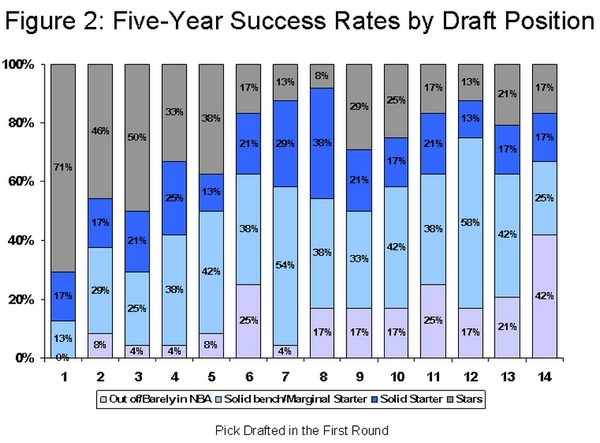 II. Do Not Expect Immediate Return on Your Draft Day Investment
Long-suffering fans of lucky lottery teams dream of immediate release from their misery, a circa 1979
Larry Bird
comes to Boston renaissance. Meanwhile, fans of contending teams crow about how their GM is going to grab a guy in the 20s (in this constantly hailed "deep draft") who is immediately going to step into the rotation of their playoff team. Year after year we hear such claims, and year after year we see most of these expectations crushed.
The first two years of play of the first seven draft classes of this decade (2000 through 2006) demonstrate the rarity of immediate star impact.
Of the 409 players drafted in that time, only four produced star numbers in their first season
:
Pau Gasol
,
LeBron James
,
Chris Paul
, and (for the games in which he was not injured)
Brandon Roy
.
But none, not even the transcendent talents of James and Paul, could produce a winning record in year one. In their sophomore years, team success for the four was improving (albeit incrementally for Gasol with Memphis going from 23 to 28 wins) but only James' Cavs crept over .500 with 42 wins.
By year 2, seven more players from those seven drafts had ascended to star status, yet their teams generally struggled on:
Gilbert Arenas
(38 wins),
Carlos Boozer
(35 wins in LeBron's rookie year),
Amare Stoudemire
(29 wins with Stoudemire injury plagued),
Dwight Howard
(36 wins),
Yao Ming
(45 wins), Dwayne Wade (of course, in the "Shaq Exception", The Miami Heat go for 59 wins and to the conference finals), and
LaMarcus Aldridge
(41 wins).
Carmelo Anthony
, who fell just short of star player designation in his first two seasons using the PER cutoff, certainly made an enormous impact on Denver, helping take the team from a 17 wins while he was winning a national championship at Syracuse to a 43 win team in his rookie year.
Rome was not built in a day, and the modern NBA is not changed overnight by individual talents, no matter how great.
And what of those non-lottery players who can step into winning teams and contribute right away?
Of the 103 players drafted in the latter half of the first round between 2000 and 2006, only one was a solid starter in his rookie season
: Jamal Tinsley for the 42 win Indiana Pacers in 2001-02. Only 14% were top bench players/marginal starters in their rookie years. By year two, 10% were solid starters (no one was a star) and 20% were top bench players/marginal starters. So while some holes can get plugged in the lower bench with bottom of the first round players, true ready-to-carry-the-load rotation guys are pretty rare.
Today's NBA draft is a long-term investment, not a quick fix. Most teams who want immediate help from draft picks should probably trade them for NBA veterans who have proven value. Otherwise, settle in and watch your investment grow. Slowly.
III. Buyer Beware: That Big Man May Be a Big Bust
It is far too early to make pronouncements about the future success of last year's draft darling
Greg Oden
(we'll let the guy play first), but
history tells us that big guys (defined here as those playing either center or power forward) are big risks
.
Robert Traylor
,
Doug Smith
,
Bill Garnett
,
JamesEarl Ray
,
Chris Washburn
,
Russell Cross
,
Sharone Wright
,
William Bedford
,
Mel Turpin
, and
Nikoloz Tskitishvili
: all drafted between 3 and 6 in the first round, all out of basketball (or barely hanging on) in 5 years.
Special mention to
Michael Olowokandi
as perhaps the most disappointing number one pick in that span, with
Kwame Brown
easily in contention for that dubious distinction as well.
Danny Ferry
and
Stromile Swift
take the prize as the worst #2 picks. However, a couple of top-6 picks from 2003,
Chris Kaman
and
Chris Bosh
, do remind us that not every big man is a bust.
Of the 84 big men drafted in the top quarter of the round through 2003, 48% have been marginal starters or worse, 16% have become solid starters, and 37% have become stars.
Of the 20 point guards drafted in the top quarter, only two (10%) have been complete busts, 25% have become solid bench players/marginal starters, 20% have become solid starters, and 45% have become stars.
Of the 45 wing players drafted in the top quarter of the round, 26% have been marginal starters or worse, 29% have become solid starters, and 44% have become stars.
Point guards and wings both give you a much better shot at solid contribution five years out from the draft. So
a GM has to think long and hard about spending his team's coveted lottery pick on a big man who does not look like a sure-fire superstar.
After the top quarter of the first round, the gap in positive outcomes widens considerably. In the second quarter of the round, only 9% of big men become stars as opposed to 30% of point guards and 23% of wings. And while, as indicated earlier, stars are rare in the latter half of the first round, they are again more frequent among point guards (13%) and wings (8%) than big men (4%).
In Oden's favor: almost all dominant (or potentially dominant) big men since 1980 –
Patrick Ewing
,
Hakeem Olajuwon
, Shaquille O'Neal,
David Robinson
,
Dwight Howard
,
Yao Ming
– were garnered with the top pick in the draft. However, finding a dominant center beyond the number one pick is certainly rare.
Tomorrow: Evaluating the 2nd round, international prospects, early performance, and the worst drafting team in the NBA