Brian Zoubek, 7-1, Center, Senior, Duke
5.5 points, 7.7 rebounds, 1.0 assists, 0.7 blocks, 1.2 turnovers, 64% FG, 55% FT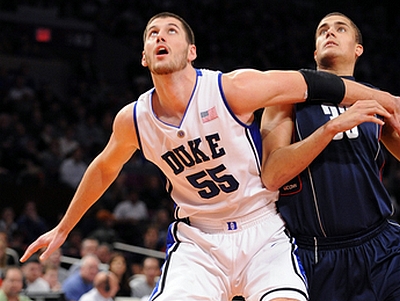 Joseph Treutlein
After dealing with nagging foot injuries for most of his career and spending the former half of this season serving as little more than a foul machine for Coach K and the Blue Devils,
Brian Zoubek
was elevated to the starting lineup in mid-February, transforming his role and Duke's season outlook in the process.
The country's most dominant offensive rebounder on a per-minute basis, Zoubek played as important a role as any player in Duke's journey to a national championship.
Zoubek served as an efficient cog in Duke's offense, doing a lot of little things to open things up for his teammates. Most of Duke's halfcourt sets started with Zoubek setting a screen at the top of the key, something he does as well as anyone because of his massive frame , high motor, and great strength.
Zoubek also passes well out of the high post. Duke's offense frequently went through him on quick ball reversals, where he did an effective job finding the open man at the 3-point line.
Off screens, Zoubek was occasionally featured in pick-and-rolls, but his potential is severely limited here due to his lack of athleticism. He struggles to get off the floor, making his rolls to the basket a bit awkward, especially when dealing with weakside help.
Where Zoubek does his best work offensively is by simply crashing the glass. He's as dominant an offensive rebounder as any NCAA player in the past decade, save
DeJuan Blair
.
Zoubek does an excellent job rushing the rim on every shot attempt and battling fiercely with anyone who gets in his way. He frequently uses his strength to get right to the face of the rim, where he does a great job of either putting the ball back quickly with a tip-in or catching and turning to pass to an open teammate at the 3-point line.
With his size and length, Zoubek's lack of a first or second bounce doesn't hurt him on tip-ins, but he can get into trouble when he tries to bring the ball down from an offensive board and go into a post move. Opponents tend to swarm him, leading to turnovers.
In the post, Zoubek has a reliable right-handed hook shot off his left shoulder in space, but not much beyond that. His moves are mechanical and his footwork is crude. He frequently gets into trouble when rushed or double teamed. He also struggles heavily when turning off his right shoulder. He gets flustered more easily in that position and does not have a go-to move there.
On the other end of the floor, Zoubek is similarly an excellent defensive rebounder, but not quite as dominant as on the offensive end. He does a good job in man-to-man defense in the post, using his strong base and great length to force opponents into tough shots. He has a good fundamental base and moves his feet decently, though he's still prone to getting beat by quick lateral moves. In spite of his good footwork, he's still awfully slow.
Zoubek is also incredibly foul prone, something that often hinders his playing time. He commits a foul every 5 minutes he's on the floor on average, which is part of the reason he only played 19 minutes per game.
On the perimeter, Zoubek looks like a fish out of water. He actually has surprisingly good fundamentals here, but his lateral quickness is awful and he shows no ability to change directions. He does do a good job of staying in the play when beat, though, using his length to contest from behind in the lane.
On pick-and-rolls, Zoubek has similar problems. His inability to change direction forces him to rely heavily on extremely aggressive hedges on the ball handler. Coach K did a good job of hiding this in his defensive scheme, but it was still prone to being exploited, as seen in the national championship game.
Zoubek will have problems in the NBA against good pick-and-pop players, and will likewise struggle against if he isn't drafted by a team that has good help-side rotations on pick-and-rolls. Zoubek also isn't much of a shot blocker, mainly because of his frequent problems with fouls and his lack of ability to elevate, but he is quite solid with his defensive rotations.
Looking forward, Zoubek's play has put him firmly in second round discussions. It's quite clear he has at least one NBA skill with his rebounding, and with his size, toughness, activity level and strength, could easily have an extended career in the NBA. He also brings a very high basketball IQ to the table, and should provide good offensive value to a team capable of utilizing his strengths.
The pool of 7-footers available to NBA teams looking to strengthen their frontcourt rotation is incredibly narrow these days, and it's easy to envision Zoubek seeing minutes as a stop-gap off the bench for a team that doesn't need him to score points.
His long-term future in the NBA will likely come down to whether his offensive capabilities can offset the ways he can be exploited defensively, which is why going to a structured team with a good defensive coach would definitely help him out.
Developing a reliable 15-foot jumper down the road would also be very beneficial -- he only took one jumper this season, according to Synergy -- as it would give him more versatility on the offensive end.
Zoubek has gotten little to no attention from NBA draft services over the course of his career, but when it's all said and done, he could end up spending more time in the NBA than the overwhelming majority of prospects in this class.
Tiny Gallon, 6-8, Freshman, Power Forward, Oklahoma
24 minutes, 10.3 points, 7.9 rebounds, 0.8 blocks, 2.3 turnovers, 55% FG, 70% FT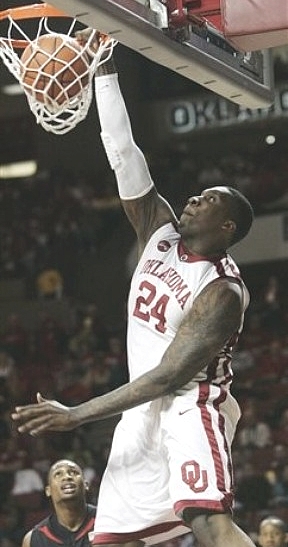 Scott Nadler

Nearly a month after reports began circulating that Keith "Tiny" Gallon received $3,000 from a financial advisor, the 6-8 power forward decided to enter the NBA draft. This former McDonald's All-American and Oak Hill Academy product had a solid freshman campaign despite playing for one of the most disappointing teams in the country. Although he's anything but a lock to get drafted, he's still an intriguing prospect who is worth looking at.

Gallon is a bit of a mixed bag at this stage. He hasn't quite developed an identity of what kind of player he is. On one hand, he's a powerful player with a thick frame and terrific rebounding skills. But on the other hand, he plays a lot smaller most of the time -- preferring to drift to the perimeter, handle the ball and settle for outside shots.

Offensively, Gallon looks comfortable facing up and attacking the basket. He has also showed solid footwork in the form of drop steps, spin moves and up-and-unders; although moves like that are few and far between. Gallon often settles for fadeaways or contested shots from the post. He works a lot harder than he has to to get his points. He does possess a nice shooting stroke for a player of his size and has range that extends out easily to 17 feet. It's not out of the question to see him develop 3-point range in the near future based on his effortless stroke.

One aspect that really stood out about Gallon's game was his prowess as a rebounder. He averaged 13 rebounds per 40 minutes, pace adjusted, which was good for 15th in our entire database . He has great hands and is aggressive when pursuing the ball, often rebounding the ball in traffic -- as evidenced by his 4.5 offensive rebounds per 40 minutes. These are impressive numbers, especially considering that he got them in the tough Big 12 conference.

Gallon's propensity to turn the ball over is a bit discouraging. His assist-to-turnover ratio of .34 was 20th worst in our database . His tendency to drive into traffic and force tough passes caused him to turn the ball over on 24% of his possessions last season. Clearly Gallon is still trying to figure out his limitations as a basketball player.

On the defensive end is where Gallon struggles the most. He doesn't use his size to his advantage and often allows opponents to establish good position in the post, as opposed to fighting them off the spot. He also has an average wingspan, which makes it more difficult for him to impact shots from longer players.

In addition, his lateral speed is troubling. He can be a liability defending the pick-and-roll or defending any mobile big man off the dribble. He also bites on pump fakes frequently, highlighting a lack of discipline and focus. Lastly, his desire at this end is questionable at times.

He has battled weight issues dating back to his high school days and fatigue is definitely a cause for concern. He was often hunched over or standing straight up, trying to conserve his energy. Considering the fact that Gallon will certainly not be an offensive reference, at least early on in his career—he must improve his defensive skills substantially to see minutes in the NBA down the road.

Gallon is a player who is still very much trying to figure out his niche on the basketball court, which is why it's disappointing that his college career ended so quickly. He has solid ballhandling skills and he's certainly nimble for his size, but he's not capable of operating consistently from the outside just yet.

Once he learns to embrace his size and operate closer to the basket, his value as a player will surely increase. At only 19 years old, he'll be a professional somewhere — possibly in the D-League -- and will be an interesting player to keep an eye on as he develops in the coming years.

Gallon has the option to pull his name off the early-entry list on June 14 and become automatically eligible for the 2011 draft if he so chooses. His stock is close to rock bottom at this point, and this draft is incredibly stacked at his position, so that may be something he will want to consider, rather than going undrafted. A strong year in the D-League or overseas could put him in much better position to get picked and make an NBA roster in 2011.
Lance Stephenson, 6-5, Freshman, Shooting Guard/Small Forward, Cincinnati, 12.3 points, 5.4 rebounds, 2.5 assists, 2.4 turnovers, 0.9 steals, 44.0% FG, 21.9% 3FG, 66.4% FT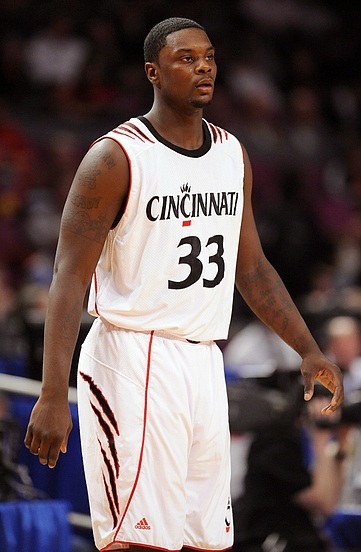 Kyle Nelson
Toward the end of his freshman season, Cincinnati shooting guard
Lance Stephenson
surprisingly announced that he would return for his sophomore year. Weeks later, he shocked few when he reneged on that announcement and entered the NBA Draft with an agent (reportedly his lawyer, Alberto Ebanks). While Stephenson always seemed like a one-and-done player, he had a subpar freshman season that exposed many of his flaws and showed the limit of his potential.
Physically speaking, Stephenson has solid height for an NBA shooting guard at 6-5 with good length and a strong frame. As was the case in high school, he relies on his strength to overpower weaker players and compensate for his lack of athleticism. From a conditioning standpoint, he did not appear to be in ideal shape this past season, likely carrying an extra 10-15 pounds on his thick frame. He is quick in the open floor, but lacks the explosiveness and lateral quickness expected from wings at the next level. While he will continue to work on his strength and conditioning, there is no doubt that Stephenson is a below average athlete in the NBA.
His offensive skill set, which is heavily reliant on isolations and muscling his way to the basket, will probably have to be adapted at the next level, given his lack of explosiveness and quickness. While Stephenson's touch around the basket is not bad, his overall shooting during his freshman season was extremely poor. He shot a dismal 21.9% from beyond the arc, converted under 50% from inside the arc and made just 66% of his foul shots.
On film, his shooting motion with his feet set is not terrible. He has a fairly fluid motion and release. But he has issues with excess lower body movement, and when he shoots off the dribble, his mechanics are less consistent and he has a tendency to fade away while shooting.
The biggest issue here is Stephenson's decision making. He settles for bad shot after bad shot, in spite of miserable percentages and open teammates. He seems to lack any sort of understanding of shot selection. Even when his shots were not falling, he forced the issue and, if his teammates sought their own offense, he tended to pout and fade into the background. This is likely the primary cause for concern from NBA scouts, as Stephenson has never really shown the ability to play team-oriented basketball and could certainly have issues adapting to a situation where he's simply a role player.
Stephenson does a good job of creating space off the dribble, showing solid ball-handling skills for his size. The effectiveness of his mid-range game suffers due to his poor shot selection, but he has shown an ability to find shots inside the arc and pull up off the dribble. Similarly, he was at his best last season when he attacked the basket both in transition and in half court situations, where he could use his size and strength to his advantage. He must improve his willingness to find the open man, though, as his tunnel vision often results in offensive fouls and untimely turnovers.
Though Cincinnati did not field the most competitive or disciplined team last season, Stephenson's lack of offensive efficiency and selfish style of play have been omnipresent throughout his career. During workouts, he must somehow convince scouts that he is capable of playing team-oriented basketball and has the ability to produce efficiently in a smaller role. As we have written before, Stephenson possesses NBA-caliber scoring abilities. His average athleticism and questionable decision making ability, however, may force him to work his way up through the D-League first.
On the defensive end, Stephenson did a decent job at Cinncinati, but his lack of lateral quickness limits his potential in this area at the next level. He will struggle to guard bigger and more athletic guards in the NBA, though his strength and length will likely work in his favor. His strong frame also helps him on the boards, where he averages 7.5 rebounds per 40 minutes, pace adjusted -- solid numbers for a wing player.
His behavior off of the court has also been a well-documented issue in recent years. He stayed out of trouble at Cincinnati, but he has accumulated quite a collection of red flags during his brief time as an amateur basketball player. Any NBA team that considers drafting him will have to do extensive research about his background, and decipher why he was in such a big rush to leave Cincinnati after such a sub-par freshman season.
While there are a tremendous amount of obstacles in his way, Stephenson still has the potential to be a contributor at the next level at some point down the road. While his lack of explosiveness and mediocre shot selection are areas of significant concern, he has good scoring instincts and a decent offensive repertoire. Stephenson is sure to be one of the most controversial players in the draft. There is no guarantee that he will even be picked, but he may be able to carve out a career for himself regardless, a la
Stephen Jackson
.
Tommy Mason-Griffin, 5-11, Freshman, Point Guard, Oklahoma
14.1 Points, 5 Assists, 2.8 Turnovers, 2.9 Rebounds, 39.8% FG, 42.4% 3FG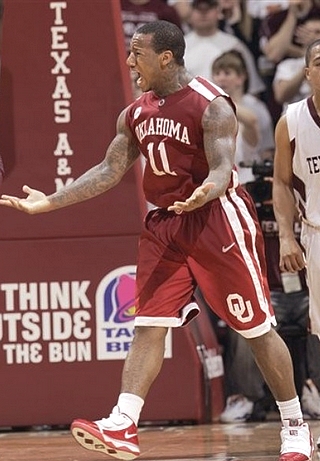 Matthew Williams
One of the first of many surprise early-entry declarations this spring,
Tommy Mason-Griffin
made a risky career move by electing to leave school after his freshman season and sign with an NFL agent (Major Adams—agent of fellow Houston native Vince Young) who has never represented an NBA player.
Mason-Griffin had a decent freshman year in terms of personal productivity, but the poor performance of the Sooners frames his season in a different light. Despite scoring 14.1 points per game and dishing out five assists per contest, Mason-Griffin is far from a lock to be drafted. He will have a lot to prove throughout the draft process.
Many of the doubts concerning Mason-Griffin's NBA potential stem from his physical attributes. Standing 5-11 with a pudgy build, the Madison (TX) product is undersized and doesn't compensate with a big wingspan or extraordinary athleticism. He has a solid first step, but Mason-Griffin's lack of leaping ability makes it difficult for him to make plays in the lane. He has carried unnecessary weight on his frame throughout his career, and while his scoring instincts are unquestioned, his ability to translate them to the next level will be limited by his below average physical tools.
Though the Texas native certainly has his limitations from a physical standpoint, he also has some impressive assets offensively. With 83% of his shots coming from the perimeter, Mason-Griffin is a highly capable jump shooter. He displays solid footwork and has the ability to make difficult shots off the bounce.
Connecting at a good rate off the catch, he was even better off the dribble, finishing the season as one of the most prolific pull-up shooters in all of college basketball. The freshman had some huge games offensively, including two games of more than 30 points and five games of more than 20 points. He made 40% of his jumpers and 42% of his threes.
Despite his merits as a scorer, Mason-Griffin's approach on the offensive end leaves a lot to be desired. He had 11 games where he didn't score in double figures, likely because of his inability to finish or drive right. The highly-touted recruit made just 37.7% of his two-point attempts—ranking him among the worst in that category in college basketball – and he lacks the leaping ability to compensate for his height in the lane. A competent scorer while shooting off the dribble, Mason-Griffin is substantially more effective when he goes left.
His inconsistency on the offensive end also has a lot to do with his shot selection. He is extremely aggressive in one-on-one situations, and shows a knack for creating space to get his shot off with quick crossovers and hesitation moves, but Mason-Griffin gets a bit trigger happy from the perimeter. Mason-Griffin is typically in score-first mode when he gets the ball, taking off-balance jumpers and never hesitating to create his own shot.
He is more than capable of handling pressure and using his body to shield the ball, which makes Mason-Griffin an impressive, but often over-aggressive, ball-handler. Though he's capable of creating shots for his teammates in drive-and-dish situations, most of his assists this season came off of relatively simple passes to open teammates, since he was looking for his shot when he put the ball on the floor. Mason-Griffin isn't a playmaker in the purest sense, but he does a nice job finding the open man in transition or when he simply can't create enough separation to get his own shot off.
The majority of his turnovers came from getting too aggressive and trying to break down multiple defenders on the perimeter. His ability to improve as a creator will be a key part of his stock. He's at times willing to give the ball up to the open man, but appears to prefer going one-on-one and trying to score himself.
Defensively, Mason-Griffin doesn't have the tools to make a dynamic impact and could be a liability at the NBA level. His lack of length limits his ability to contest shots and force turnovers. Though he shows good lateral quickness in spurts, his short strides hurt his ability to recover once his man gets a step on him. In one-on-one situations, he's able to keep up with his man's first move, but has a hard time denying penetration against players capable of stringing multiple moves together.
Though Mason-Griffin's ability to score certainly deserves recognition, his lack of finishing ability, underdeveloped playmaking skills and below average physical tools, and his decision to leave school early are questionable at best. There simply aren't many players in his mold playing prominent roles in the NBA, and most of them came into the League far more ready to contribute than Mason-Griffin is right now.
While this draft class lacks depth at point guard, Mason-Griffin will be competing with an array of more experienced and more talented guards for draft position in workouts. He is likely 2-3 years away from developing into, at best, a backup point guard, which could make it difficult to justify spending a draft pick and/or roster spot on him when there are equally talented, but far more ready players available in the D-League or overseas.
When it's all said and done, Mason-Griffin might realize that being patient and sticking it out with a player's coach like Jeff Capel at Oklahoma was likely his best option at the time.