A review of the top prospects seen at the prestigious HoopHall Classic in Springfield, Mass, including
Michael Kidd-Gilchrist
,
Anthony Davis
,
LeBryan Nash
,
Myck Kabongo
,
Wayne Blackshear
and
Ben McLemore
.
Michael Gilchrist, 6-7, Small Forward, St. Patrick's, 2011
Committed to Kentucky
Jonathan Givony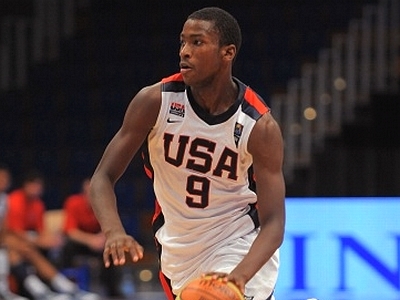 Clearly the most impressive prospect seen at this event, small forward
Michael Gilchrist
(#4 Scout, #3 Rivals, #3 ESPN) looked like the type of player who could step onto a college campus and contribute immediately, despite being only 17 year old.
With a noticeably improved frame, possibly an added inch of height, and the same terrific competitiveness we've written about repeatedly over the past two years, Gilchrist made an unbelievable impact on the game he played and pretty much single-handedly took down a very good Bishop Gorman squad.
Gilchrist's defense remains his defining trait, and looks to be approaching a level where he could get minutes against pretty much any type of opponent. The added strength he's put on has allowed him to play with even more aggressiveness, and when combined with his terrific wingspan and basketball IQ, makes him an absolute terror both on and off the ball.
He starts playing defense as soon as the opposing squad inbounds the ball, getting up in his matchup's chest, attempting to deny him the entry pass, while also maintaining the presence of mind to be ready to help out his teammates if needed. He's phenomenal on the ball, active and intense, yet fundamentally sound, smothering with his length, and extremely physical.
He's just as good off the ball, though, with his anticipation skills in the passing lanes, and ability to rotate as a help-side defender. Showing big, strong hands, and the willingness to make his presence felt on the glass, Gilchrist is an excellent rebounder who will go well out of his area for extra possessions.
Constantly talking, directing, leading by example--whether on the court or standing up cheering from the bench—Gilchrist looks like exactly the type of player you'd want to have on your team.
Offensively, Gilchrist was extremely aggressive, making a couple of shots both with his feet set and off the dribble from the perimeter, and doing a good job posting up his man. His advanced ball-handling skills remain improvable and his shooting mechanics are still not ideal, but his ability to bring the ball up the court, beat his man off the dribble and find the open man with pinpoint accuracy allows him to play multiple positions on the floor. He's always looking to set up his teammates, but has no problem asserting himself and taking a big shot himself if the situation calls for it.
One of the most mature players we've ever seen at this level, Gilchrist is a player that NBA teams will likely fall in love with as soon as he lands in college. Physical attributes, defensive ability, scoring instincts, intangibles—he's a rare player who brings a complete package of skills to the table despite being only 17-years old. Whether he develops the offensive polish needed to emerge as a go-to option at the highest level remains to be seen, but no coach will ever complain about the effort he brings.
Anthony Davis, 6-10, Power Forward, Perspectives Charter School, 2011
Committed to Kentucky
Jonathan Givony
It's almost completely unheard of in this day and age for a player to go from total obscurity to being considered by some to be the #1 prospect in high school basketball. That's exactly what
Anthony Davis
(#1 Scout, #6 Rivals, #2 ESPN) has done over the past six months. Growing seven inches in just one year, Davis went from being a skinny, anonymous combo guard from Chicago to one of the most versatile big men in America.
Because of his late emergence in the basketball world, he's one of the few top prospects who we haven't had a chance to evaluate until his senior year.
The first thing that stands out about Davis is his frame, which is very narrow at the moment but should be able to fill out nicely in time. Although extremely fluid, it's tough to say just how athletic he is at this stage, since he's clearly still figuring out his new dimensions and might not reach his full potential in this area for another few years. Right now he seems to be more smooth than explosive.
The next thing you notice is the role he plays on his (admittedly mediocre) high school team—often operating as their primary ball-handler and distributor. Davis is clearly a very unique player, as he really does have the skill-set of a guard, with his excellent ball-handling skills and very nice shooting touch, both from the perimeter and inside the paint. He can create his own shot with ease, changing directions with the ball and making some impressive shots off the dribble, and looks like a very good passer, especially in drive and dish situations. He shows good instincts as both a shot-blocker and rebounder, and is not afraid to dive on the floor for a loose ball.
Davis is still very much a work in progress at the same time, much more-so than your average top recruit. He turns the ball over frequently, will air-ball the occasional jumper, doesn't appear to have much of a post-game, shows average decision making skills, and lacks quite a bit in the ways of strength and fundamentals defensively.
Many names come to mind when watching him play:
John Henson
,
Anthony Randolph
,
Jonathan Bender
,
Brandan Wright
,
Tim Thomas
,
Perry Jones
—the list goes on and on.
Like many of the players mentioned, figuring out what his role will be at the college (and eventually the pro) level on both ends of the floor is not a cut and dry proposition, and the fact that he's playing on such a bad team doesn't help very much. Oversized guards sound great in theory, but their success rate can be somewhat hit or miss at times.
Davis is someone that scouts will want to watch closely in the practices and scrimmages leading up to the McDonald's All-American, Jordan Brand Classic and Nike Hoop Summit games. How he's able to perform alongside and against top-level competition should teach us quite a bit more about the type of prospect he is. At this stage, it feels very early to be drawing too many long-term conclusions. We'll just have to be patient and see how things play out.
LeBryan Nash, 6-7, SF/PF, Lincoln High School, 2011
Committed to Oklahoma State
Joseph Treutlein
The most physically impressive prospect of all those in attendance this weekend and possibly the player with the most long-term upside,
LeBryan Nash
(#5 Scout, #4 Rivals, #12 ESPN) is a truly elite athlete, possessing absolutely ideal physical tools for an NBA small forward. Looking like a man amongst boys at this level (helped in part by the fact that he's already 19 years old), Nash has a large, chiseled frame with explosiveness and raw power on par with the NBA's best athletes.
Looking at Nash's offensive game, he already has a variety of tools at his disposal, which he makes use of in his highly aggressive, attack-oriented style. Doing most of his damage on face-up drives or back-to-the-basket situations from the mid-post and baseline, Nash has an extremely quick first step and can effortlessly elevate around the rim while having absolutely zero fear of contact. He gets to the line at a high rate and can finish strong over anyone at this level.
As far as his finesse game goes, Nash has a passable handle in the half-court, mixing in advanced moves at times and being strong with his right and adequate with his left. His perimeter jumper is streaky, having somewhat of a flat trajectory but being capable of hitting spot threes and some tough, contested shots from the mid-range as well. He shot a very impressive 10-for-10 from the free throw line in the game we saw, though struggled from the field overall at 6-for-19.
While Nash is capable of finishing against anyone at this level by making use of his excellent first step and leaping ability, he still could use a little bit of polish with his skills, something that shows up most noticeably in transition. His handle tends to fall off a bit when playing at higher speeds, and he can lose control of the ball pushing up the court. He also can get into modes where he tries to do too much, having some tunnel vision going to the rim, not recognizing double teams or seeing open teammates. To his credit, he actually shows excellent court vision and passing ability when making the conscious effort to find his teammates, dishing out a few nice assists on the game (but also finishing with an alarming eight turnovers).
The biggest thing holding back Nash at this stage would have to be his attitude, something that was prominently on display in the game here, as his body language was awful and his effort level on the defensive end was erratic and even non-existent at times. He seems to start out every quarter looking focused and putting in the effort on defense, but as soon as things start to go wrong with his game, his shoulders start slumping, he stops making rotations, he gives up on isolations, and the complaining to referees begins.
When Nash is trying on defense, he's capable of playing great isolation defense and can even do a very nice job as a weak-side shot blocker in the lane with his ridiculous vertical leap, but these instances were few and far between in his team's loss to Findlay.
Looking forward, maturity is clearly the thing Nash needs to work on the most, something he himself has actually acknowledged before. All of the physical attributes and skills are there, and he's capable of being a truly special player if he can put it altogether consistently. He will definitely be one of the most interesting players to watch in college next year, and is very likely to be a one-and-done prospect given his advanced body, age and skill set.
Myck Kabongo, 6-1, Point Guard, Findlay Prep, 2011
Committed to Texas
Joseph Treutlein
A player we've already profiled extensively over the course of his high school career,
Myck Kabongo
(#11 Scout, #24 Rivals, #10 ESPN) did about what you'd expect him to in his two games this weekend, intelligently managing his team's offense with his pure point guard prowess and leading Findlay to two impressive wins.
Playing a deferential scoring role with the depth of talent on his team, Kabongo has an extremely advanced feel for the game given his age, doing a great job reading what the defense gives him and showing great decision-making with the ball. He has an outstanding knack for finding open guys on the floor in position to score, and can make the full array of passes, be it transition, pick-and-roll, drive-and-kick, or simple passes around the perimeter.
Kabongo excelled most here with his drive-and-kick game, both penetrating all the way to the rim or making quick one-dribble moves toward the basket, doing a good job recognizing when the defense collapsed on him.
As far as Kabongo's own offense goes, he did a good job knocking down the few spot-up threes he took here, still having somewhat of a flat form but usually getting solid results when not pulling up. He didn't show much in terms of creating his own offense off the dribble, be it mid-range game or going to the rim, but has all the quickness to get past his man when he needs to. Definitely more passer than scorer at this stage, how good Kabongo be as a point producer is likely something we won't fully see until his team consistently needs him to do so at the college level.
Defensively, Kabongo also impresses, playing a cerebral, team-oriented style, showing good awareness and focus, constantly moving around off the ball, and being a very well-rounded, effective player.
Looking forward, Kabongo is an NCAA-ready player who should make an instant impact at Texas next season, where his unselfish brand of playmaking should be a welcome addition to a Longhorns team that's had so little consistency at the position the past few years. Continuing to improve his perimeter scoring and filling out his frame should be among his priorities, but his future looks extremely bright.
Wayne Blackshear, 6-5, SG/SF, Morgan Park, 2011
Committed to Louisville
Jonathan Givony
One of the top seniors playing at this event,
Wayne Blackshear
(#12 Scout, #32 Rivals, #18 ESPN) did not disappoint, coming back admirably from multiple injuries to lead his team to victory over a highly touted Garfield high school team.
A physically impressive wing player standing 6-5 with long arms and an absolutely chiseled frame, Blackshear is a very good athlete who also shows a nice skill-set and seemingly superb intangibles.
Offensively, Blackshear is not the most polished player you'll find, but is still able to put points on the board efficiently with his ability to score in transition and polished jump-shot.
In the open court, Blackshear is effective thanks to his terrific combination of strength and explosiveness, looking more than capable of overpowering defenders on his way to the rim and finishing impressively once there.
In the half-court, he has a very nice jump-shot that he's capable of converting both with his feet set and off the dribble. He's not a great shot-creator at this point, looking somewhat limited with his advanced ball-handling skills, but is a very unselfish player who is both willing and able to find the open man.
Defensively is where Blackshear will likely be able to make his mark the fastest at the college level. He not only has great tools to work with his excellent frame and lateral quickness, but is also a highly competitive player who shows no qualms whatsoever about sticking his nose into get the job done.
Even when battling a very painful knee injury he suffered early in the game we took in, Blackshear was still looking to slide into the paint and attempt to draw an offensive foul, something you rarely see from such a highly touted prospect at this level. He does good work for all these same reasons on the glass on both ends of the floor, picking up his team plenty of extra possessions along the way.
Blackshear is exactly the type of player college coaches dream of adding to their roster, as he's not just a winner but is extremely talented on top of that. There's little doubt that he'll come into Louisville and be able to contribute right away, even if he needs to continue to mature, gain experience, and improve his feel for the game and all-around polish, like all young players do.
Ben McLemore, 6-5, SG/SF, Oak Hill Academy, 2011
Uncommitted
Jonathan Givony
Somewhat underwhelming in the game we saw relative to his lofty recruiting rankings,
Ben McLemore
(#34 Scout, #17 Rivals, #39 ESPN) got lost in the shuffle a bit playing on a very deep and talented Oak Hill squad.
6-4 or 6-5, with very long arms, a strong frame and excellent athletic ability, it's not hard to tell what the recruiting services see in McLemore from a physical standpoint alone.
He also shows a very pretty shooting stroke, a strong first step, the ability to finish impressively in transition, and some very nice tools on the defensive end.
Beyond that, McLemore is very much a work in progress, as he seems to lack both the aggressiveness and ball-handling ability to make use of his impressive athleticism, and doesn't possess a great feel for the game at this stage of his career. His points come mostly in transition, from spot-up jumpers on the wing, and finishing any plays his teammates can create for him at the rim.
McLemore is a relatively inexperienced player relative to many of his peers, as he didn't play high-level AAU basketball until last spring, and only transferred to a major basketball school such as Oak Hill a few months ago. Based on the small glimpses he showed, and the accolades he's drawn, he's surely a player who is worth being patient with.