LeBryan Nash
Recent Tweets
All Tweets
DraftExpress: RT @Joshua_Riddell Today's DX prospect look is at Markel Brown. Cory Jefferson and LeBryan Nash profiled as well http://t.co/buR8hzY8VS
2013-09-26 16:51:32
DraftExpress: Big-12 coverage kicks off. RT @Mike_Schmitz: New @DraftExpress scouting video looking at Oklahoma State's LeBryan Nash. http://t.co/IWmp9gkG
2012-09-27 06:06:31
DraftExpress: Pac-12 coverage kicks off. RT @Mike_Schmitz: New @DraftExpress scouting video looking at Oklahoma State's LeBryan Nash. http://t.co/IWmp9gkG
2012-09-27 04:51:15
DraftExpress: DX Trending Prospects 12/23. Updated Scouting Reports on Will Barton, LeBryan Nash, Ricardo Ratliffe http://t.co/gpVW469S
2011-12-23 04:16:15
DraftExpress: Another very disappointing showing for LeBryan Nash at the Garden. Not having a good freshman year so far. That, plus off-court concerns...
2011-12-10 04:17:03
Team: Oklahoma State
Physicals
Positions
Rankings
Salary
Misc
H: 6' 7"
W: 232 lbs
Bday: 06/30/1992
(23 Years Old)

Current: SF
NBA: SF
Possible: SF

RSCI: 9

Agent: Matt Babcock

High School: Lincoln
Hometown: Dallas, TX

Predraft Measurements
| Year | Source | Height w/o Shoes | Height w/shoes | Weight | Wingspan | Standing Reach | Body Fat | No Step Vert | Max Vert |
| --- | --- | --- | --- | --- | --- | --- | --- | --- | --- |
| 2015 | Portsmouth | 6' 6.5" | NA | 232 | 6' 10" | 8' 6" | NA | 32.0 | NA |



Basic Per Game Statistics

- Comprehensive Stats - Statistical Top 25s
| Year | League | Name | GP | Min | Pts | FG | FGA | FG% | 2Pt | 2PtA | 2P% | 3Pt | 3PtA | 3P% | FTM | FTA | FT% | Off | Def | TOT | Asts | Stls | Blks | TOs | PFs |
| --- | --- | --- | --- | --- | --- | --- | --- | --- | --- | --- | --- | --- | --- | --- | --- | --- | --- | --- | --- | --- | --- | --- | --- | --- | --- |
| 2014/15 | NCAA | LeBryan Nash | 30 | 31.9 | 17.2 | 5.8 | 12.6 | 45.8 | 5.7 | 11.9 | 47.8 | 0.1 | 0.7 | 10.0 | 5.6 | 7.0 | 79.6 | 1.1 | 4.4 | 5.5 | 1.9 | 0.8 | 0.9 | 3.2 | 3.0 |

Player Page&nbsp&nbsp| Player Stats | Mock Draft History | Related Articles&nbsp&nbsp| Add to My Draft Express&nbsp
&nbsp
LeBryan Nash Updated NBA Draft Scouting Report
May 30, 2015
Kyle Nelson

Few expected Le'Bryan Nash to make it to his sophomore season, let alone finish his career as one of the most productive players in Oklahoma State history. After all, Nash was a top-10 recruit in the class of 2011 with prototypical size and athleticism for an NBA wing. Four years later, Nash finally established himself as one of the top players in the Big 12 by shedding the inconsistency that plagued him throughout his first three seasons in Stillwater and helping Oklahoma State back to the NCAA Tournament. Yet, he still shows many of the same weaknesses that scouts noticed as early as 2007, which presents serious questions regarding his potential at the next level.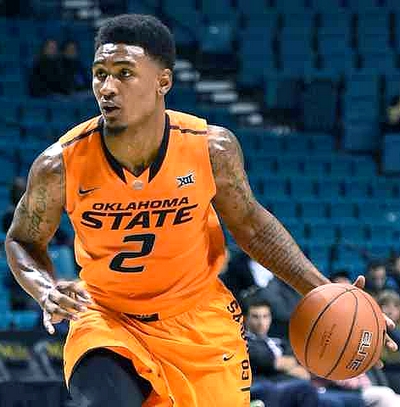 US Presswire



Nash has always looked the part of an NBA wing, standing over 6'7 with a solid 232-frame and a 6'10 wingspan. He is a good athlete, as well, quick in transition, explosive enough around the basket, and with impressive agility for his size. He displays the physical tools NBA scouts expect from a power-wing, though he rarely proved able to exploit his physical advantage at the collegiate level.

Nash commanded over 27% of Oklahoma State's possessions as a senior while averaging a career high 21.5 points per 40 minutes pace adjusted, which ranked him among the most productive wings in our database. He did so, however, on 47.8% 2P% and 46% EFG%, which are well below average relative to this same group. He also established himself as one of the most turnover prone wings in our database to the tune of 4.0 turnovers per 40 minutes pace adjusted.

Nash does most of his damage around the basket, finding 60% of his possessions in this capacity. He is at his best putting the ball on the floor and muscling his way to the basket with a straight line drive. He is also a capable scorer receiving the ball off of cuts or in the paint, where he can use his quickness, strength, and agility to the get to the basket. In these situations, he can play to his strengths without being expected to do too much and in a way that does not expose his limited ball-handling skills, raw scoring instincts, and average shooting touch around the basket.

He is also a solid mid-range shooter, looking particularly savvy pulling up off of the dribble from inside of 17-feet, where he made 40% and 45.5% of his attempts, respectively. Yet, Nash made only 28% of his shots from outside of 17 feet, attempting a mere 37 attempts from mid-range and just 13 from beyond the arc. His mechanics remain inconsistent from a standstill and he does not look comfortable spotting up, and he frequently passes up open looks to give the ball to a teammate or move inside of the three-point line to shoot. While his mechanics do appear salvageable, his time in Stillwater offers little evidence that he can further develop in this capacity. His lack of shooting range is a glaring issue and one that will ultimately limit his potential significantly at the next level.

His play on the defensive end of the ball hardly compensates for his weaknesses on offense. Though he can and does occasionally make dynamic plays, his instincts and fundamentals on the defensive end appear well below average. As we mentioned in the past, Nash struggles to maintain position on the defensive end, which frequently results in blown rotations or subpar attempts to guard the pick-and-roll. Though he has excellent physical tools, his lack of fundamentals, anticipation skills, timing and inconsistent effort did him few favors at the NCAA level and paint a bleak picture for his NBA prospects.

Perhaps the most significant issue, therefore, is that, while Nash developed into a good college player, he never developed any NBA-caliber skills. His fundamentals and instincts on both sides of the ball still appear raw and in need of significant work. He still cannot shoot from the perimeter and his defense hardly compensates for his underdeveloped offensive repertoire. His physical profile remains intriguing, but on the cusp of his 23rd birthday and given his collegiate developmental trajectory, further improvement may be an uphill battle. A reliable perimeter jump shot and improved defensive player are essential to his prospects moving forward, but he should have plenty of opportunities to hone his skills in the D-League or overseas in the meantime.

[Read Full Article]

---
Top NBA Prospects in the Big 12, Part 5: Prospects #5-8
September 12, 2014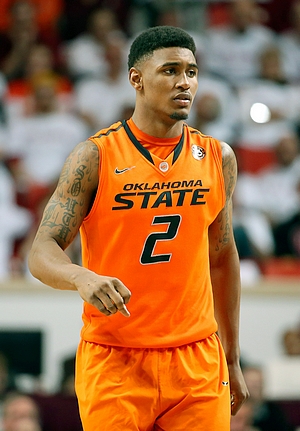 US Presswire



Derek Bodner

An extremely highly regarded recruit, LeBryan Nash struggled to live up to expectations during his freshman season, providing the Cowboys with a solid contributor, but one who didn't bring much in the way of offensive efficiency or consistency. Nash made substantial improvements as a sophomore, bumping his true shooting percentage up from the dismal 47.7% as a freshman to a more respectable 53.8% as a sophomore. He continued that trend as a junior, bumping his true shooting percentage up even further to 57.5%.

While Nash's scoring has remained relatively flat, with his 17.4 points per 40 minutes pace adjusted matching his output from his freshman season, his drastic improvement in efficiency has made him a better player for the Oklahoma State team. But how well will that improvement translate to the next level? And what exactly does that mean for his standing as a prospect?

The key to Nash's drastically improved efficiency has been a much better shot selection. As we noted in previous write-ups, Nash had a disconcerting tendency to fall in love with his jump shot which, despite him showing progress with it during his sophomore season, has never been a strength of his game.

Nash has completely reversed-course on his jump shot. After attempting 118 three pointers combined during his first two seasons, Nash attempted only 6 during his junior season. According to Synergy Sports, jump shots made up only 14.7% of his half-court field goal attempts, a significant drop from the 38.4% of his offense it took up during his sophomore season, and the vast majority of the jump shots he did attempt came within 17 feet of the basket.

This change in shot distribution allowed Nash to focus on what he does well: converting opportunities around the rim due to his physical strength and excellent explosiveness. These shots primarily came from post-ups, cuts to the basket, and in transition, which combined to take up nearly 60% of his possessions, up from up from 50% during his sophomore season and way up from the 36.6% they made up during his freshman year.

His recognition of how to best utilize his physical gifts represents a positive shift in his approach to the game, and has done wonders to increase his overall effectiveness as a basketball player. The concern comes from the lack of improvement in his skill level. It's not that his shot distribution changed (which is a good thing) that is troubling, it's that his jump shot and perimeter skills didn't improve.

Despite being far more selective as a jump shooter, his overall effectiveness shooting the basketball took a serious step back. Nash shot only 31.7% on jump shots overall, which includes 33.3% in catch and shoot situations, 29.6% off the dribble, and 30% from midrange. All of those figures, per Synergy Sports, are well below average, and significant steps back from where he was as a sophomore. Beyond the numbers, his form and especially his balance, show much of the same inconsistency that has likely contributed to his struggles with consistency shooting the basketball.

He also continues to show some of the same struggles he has in previous seasons. His overall ball handling is fairly rudimentary, which limits his ability to use his athletic gifts to slash to the basket. Besides struggling to change direction, Nash can also become turnover prone on forays to the hoop, frequently out of control and allowing guards to reach in and force turnovers.

On the defensive side of the ball, Nash still flashes his excellent physical tools, although neither his 0.7 steals per 40 minutes pace adjusted or 1.0 blocks per 40 minutes pace adjusted would necessarily reflect that. He frequently finds himself out of position off the ball, causing his rotations to be a step late. Still, his physical tools for his position give a fair amount of hope that a coach can get production out of him if they're able to get him to consistently focus on this end of the court.

One area of the court that Nash did improve upon was his defensive rebounding, which at 5.0 defensive rebounds per 40 minutes was the best of his career, and a significant improvement over the 3.9 from his sophomore season. While still far from a great contributor on this end of the court, particularly for somebody who spends so much time in the post, and for a team that has struggled on the defensive glass over the past three seasons, that output is a little bit closer to respectability.

While Le'Bryan Nash has never lived up to the high offensive output that some projected when he came to Oklahoma State, his drastic improvement in his shot selection over the years has given coach Travis Ford a basketball player who provides far more impact than he did when he arrived at Oklahoma State. Still, the lack of progress on his perimeter skills has made it tough to project exactly what kind of role Nash would play at the next level. With the departure of Marcus Smart, it will be interesting to watch whether Le'Bryan Nash reverts back to his pre-Smart, jump shot heavy days, and whether he has made any progress in his ability to be reliable from the perimeter.

[Read Full Article]

---
Top NBA Draft Prospects in the Big 12, Part 3 (#3-5)
September 26, 2013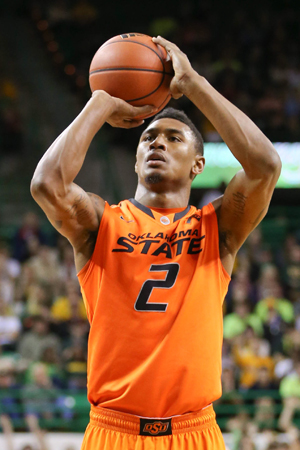 US Presswire



Matt Kamalsky

Returning to school after struggling to live up to the somewhat unrealistic expectations set for him as a freshman, LeBryan Nash took a few small steps forward in a complementary role as a sophomore. With Marcus Smart stepping in to set the tone for the team both on and off the floor, Nash was able to take a backseat to the talented freshman, perhaps benefitting from being out of the limelight as he put together a number of strong outings of the course of the year.

Playing a more interior oriented role last season, Nash improved his true shooting percentage to 54%, a significant improvement over the dismal 48% mark he posted as a freshman even if it still leaves something to be desired. His scoring average increased slightly even though he attempted fewer shots, and though he was a less productive rebounder, he boosted his PER to 15.6 from 14.4, just above the NCAA average (15).

The 9th ranked recruit the in 2011 RSCI, Nash combines an extremely mature 6'7 frame with outstanding strength and explosiveness. He has, for years now, looked the part of a stud small forward prospect, but has yet to make the most of those gifts as he continues relative to the massive expectations associated with his lofty prep rankings and athletic ability. While the marginal gains Nash made on paper as a sophomore campaign don't quality it as a breakout season, they were a small adjustment towards the type of player scouts hope he will become.

On the offensive end, Nash saw a small shift in his role as a sophomore. He used no more than 20% of his possessions in any given situation, seeing the majority of his touches in the post according to Synergy Sports Technology. He also saw significant portions of his offense running the wing on the break, creating for himself one-on-one, and spotting up on the perimeter, doing a variety of things in Head Coach Travis Ford's offense.

Nash scored the majority of his points in the half court by virtue of his physical attributes. Able to exploit mismatches in the post and use his explosiveness to attack the rim from the perimeter, Nash is not a creative threat with the ball in his hands as he lacks great ball-handling ability, but he managed to find opportunities for himself at the basket by being physical, using spin moves to muscle his man inside, and has no trouble elevating over defenders when he looks to shoot or drawing contact and getting to the rim. He converted at 55% rate at the basket last season.

Away from the rim, Nash showed improved consistency as a shooter, making 38% of his jump shots, a big jump from the 32% he made on the perimeter as a freshman. He is still a bit too eager to fire away when he's open in transition, has less than orthodox mechanics, and needs to continue his development as a spot-up threat, but he is trending in the right direction.

Despite the progress Nash made as a shooter, his main weaknesses on the offensive end revolve around the same issues they have since he arrived in Stillwater. He often decides what he's going to do with the ball before he catches it, putting undue pressure on himself to make a play when there's nothing there. His shot-selection, tendency to disappear, and lack of assertiveness against lesser talent remain concerns, although Nash certainly did a better job staying focused for stretches last season than he did as a freshman.

Defensively, Nash showed mild improvement, but still has room to improve his fundamentals and intensity. His physical tools give him the ability to effectively defend one-on-one on the perimeter and on the block at this level, but he struggles to close out shooters under control, is often a step late when forced to rotate, and leaves his feet too readily on the perimeter. He has the athleticism to make an impact on this end of the floor, but has a hard time making the most of his tremendous tools.

That is especially clear in his rebounding numbers, as Nash ranks 2nd to last in rebounds per-40 minutes pace adjusted among small forward in our top-100.

With the majority of Oklahoma State's core returning, Nash is likely to fill a role this season similar to the one he played last year. If he continues makes strides with his shooting, maximizes his potential value defensively, and stays out of his own way by not letting his emotions get the best of him as he has in the part, he could certainly boost his stock significantly by the time March rolls around.

[Read Full Article]

---
Top NBA Draft Prospects in the Big 12, Part One
September 25, 2012


Mike Schmitz is the video analyst for DraftExpress. Follow him on twitter and subscribe to his YouTube page. He will be breaking down the NBA draft in digital format all year long for us.

[Read Full Article]

---
Trending Prospects (12/23/2011)
December 23, 2011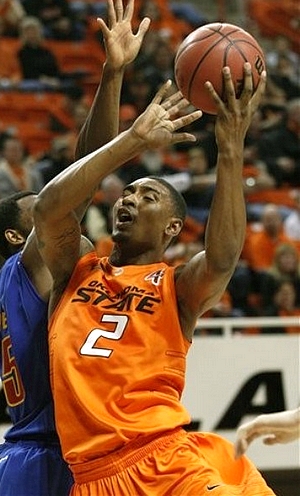 AP



Derek Bodner

Possessing a combination of physical gifts that put him in rare company, freshman forward LeBryan Nash has yet to fully harness those tools and has been a bit of a disappointment so far this season.

While Nash's stats (19.5 points, 8.0 rebounds, 1.1 blocks per-40 minutes) are respectable, they are buoyed by his role as the primary focal point on a young Oklahoma State squad. Nash is in the top 25 players in our database at 17.6 field goal attempts per 40 minutes, but he has been both the least efficient in that group (46% true shooting percentage) as well as the least productive (13.4 PER).

To put in perspective just how inefficient he has been, his 46% true shooting percentage ranks 4th worst among all players in our top 100 prospects and his pure passing rating is second to last.

That's not to say there isn't intrigue around Nash as a prospect, and he certainly has plenty of time to turn both his season and his draft prospects around.

The basis of his potential as a prospect is his terrific physical profile. Standing 6'7" with excellent size, strength and athleticism, Nash is simply on a different level than many he is playing against. Nash has the physical tools to play in the NBA today, and combines power with smooth athleticism to create a very intriguing physical package.

On the offensive end, Nash likes to operate in the mid post. He has solid footwork down low, has the physical strength to play through contact, is capable of making shots over either shoulder and is showing improved patience in letting plays develop on the block. While playing largely at the power forward spot right now, Nash's physical profile makes it likely he will carry this part of his game over to the next level.

Nash is also a good slasher from the perimeter. While his ball handling could still stand to improve, he is capable enough with either hand to utilize his above average first step and excellent explosive ability. His strength once again allows him to play through contact, and his 8.0 free throw attempts per 40 minutes shows an ability, and willingness, to draw contact.

Nash's efficiency as a shooter is largely inconsistent. He has been efficient making shots off the dribble, averaging 1 point per possession so far this year according to Synergy Sports Technology, and seems to do a good job of getting his feet underneath him and gaining balance, and he has the ability to get good lift on his pull-up jump shots, making it hard for defenders to contest.

As we previously noted, his jump shot is flat, which may explain his difficulty in extending his shot out to three point range. He is shooting only 27.3% from three point range so far on the year and has a field goal percentage of only 13.3% in catch and shoot situations. His overall form doesn't look entirely broken, as his footwork, balance, and follow through look relatively solid, so perhaps this could improve with some slight modifications and a lot of repetition down the line.

Nash has done virtually nothing creating for his teammates, generating only 0.6 assists per game, a rather disappointing number considering how much he has the ball in his hands and how much attention he draws from the opposition. When he gets the ball, whether that be in the mid post or on the perimeter, his sole focus has been attacking the basket. His recognition as a passer has been poor as well, often times recognizing the double team too late and becoming turnover prone. Not surprisingly, he currently ranks as the third worst passer in our top-100, behind two players who have yet to generate an assist this season.

The intrigue on the defensive side of the ball, like most parts of his game, are based more on potential than on current productivity. Nash has the lateral foot speed to be a force on the defensive end, but his technique and, more importantly, focus, are largely inconsistent. Nash's effort level on this end of the court varies from play to play, and he can get lost off the ball, can be slow to recover, and has a tendency to defend with his hands rather than by moving the feet.

Nash will remain a tantalizing prospect due to his physical attributes, but he has a ways to go in order to maximize his gifts. While development in his ball handling and long range jumper are important, the bigger questions that will define his future as a prospect are less about his talent level and more about his effort, maturity, and ability to maximize his potential.

Nash clearly went into this season with the mindset of being one and done, but he still hasn't alleviated the concerns going in which could keep him out of the first round.

[Read Full Article]

---
2011 McDonald's High School All-American Dunk Contest Videos
April 1, 2011
LeBryan Nash was the winner of the event over Duke commit, Marshall Plumlee. Scoring controversies were abundant so we decided to just post a dunk by dunk look at the action.

We'll start off with LeBryan Nash's contest winning dunk.





LeBryan Nash wears an outrageous, gigantic orange cowboy hat in honor of his future college Oklahoma State University as he runs down the lane and catches the ball off of a bounce from a teammate and then throws down a windmill.

Here is Nash's other dunk in the final round...





LeBryan Nash takes off, jumps over his West squad teammate and then jams the ball into the hoop hard with his right hand.

[Read Full Article]

---
HoopHall Classic Scouting Reports: Elite Prospects (Part One)
January 19, 2011
Joseph Treutlein

The most physically impressive prospect of all those in attendance this weekend and possibly the player with the most long-term upside, LeBryan Nash (#5 Scout, #4 Rivals, #12 ESPN) is a truly elite athlete, possessing absolutely ideal physical tools for an NBA small forward. Looking like a man amongst boys at this level (helped in part by the fact that he's already 19 years old), Nash has a large, chiseled frame with explosiveness and raw power on par with the NBA's best athletes.

Looking at Nash's offensive game, he already has a variety of tools at his disposal, which he makes use of in his highly aggressive, attack-oriented style. Doing most of his damage on face-up drives or back-to-the-basket situations from the mid-post and baseline, Nash has an extremely quick first step and can effortlessly elevate around the rim while having absolutely zero fear of contact. He gets to the line at a high rate and can finish strong over anyone at this level.

As far as his finesse game goes, Nash has a passable handle in the half-court, mixing in advanced moves at times and being strong with his right and adequate with his left. His perimeter jumper is streaky, having somewhat of a flat trajectory but being capable of hitting spot threes and some tough, contested shots from the mid-range as well. He shot a very impressive 10-for-10 from the free throw line in the game we saw, though struggled from the field overall at 6-for-19.

While Nash is capable of finishing against anyone at this level by making use of his excellent first step and leaping ability, he still could use a little bit of polish with his skills, something that shows up most noticeably in transition. His handle tends to fall off a bit when playing at higher speeds, and he can lose control of the ball pushing up the court. He also can get into modes where he tries to do too much, having some tunnel vision going to the rim, not recognizing double teams or seeing open teammates. To his credit, he actually shows excellent court vision and passing ability when making the conscious effort to find his teammates, dishing out a few nice assists on the game (but also finishing with an alarming eight turnovers).

The biggest thing holding back Nash at this stage would have to be his attitude, something that was prominently on display in the game here, as his body language was awful and his effort level on the defensive end was erratic and even non-existent at times. He seems to start out every quarter looking focused and putting in the effort on defense, but as soon as things start to go wrong with his game, his shoulders start slumping, he stops making rotations, he gives up on isolations, and the complaining to referees begins.

When Nash is trying on defense, he's capable of playing great isolation defense and can even do a very nice job as a weak-side shot blocker in the lane with his ridiculous vertical leap, but these instances were few and far between in his team's loss to Findlay.

Looking forward, maturity is clearly the thing Nash needs to work on the most, something he himself has actually acknowledged before. All of the physical attributes and skills are there, and he's capable of being a truly special player if he can put it altogether consistently. He will definitely be one of the most interesting players to watch in college next year, and is very likely to be a one-and-done prospect given his advanced body, age and skill set.

[Read Full Article]

---
adidas Nations Player Profile: LeBryan Nash
August 26, 2010
Video film and production courtesy of Tad Hathaway of 312 Media
[Read Full Article]

---
Adidas Nations Tournament: High School Prospects
August 24, 2009
"Artest" as he was affectionately coined by the NBA scouts in attendance here in Dallas, no player showed better long-term potential than the extremely impressive forward LeBryan Nash (#11 Scout, #5 Rivals, #10 ESPN).

Put together like an NFL linebacker, with a great frame, long arms and excellent hands, Nash was pretty much an unstoppable force when he decided to take the ball to the rack. He has an amazing knack for creating his own shot, regularly handing the ball coast to coast, and being almost unstoppable as a slasher in the half-court as well. A good (but still improvable) ball-handler, Nash can create with either hand and is just far too strong and explosive for most defenders at this level to stay in front of. He has excellent footwork and is extremely aggressive, having no problems whatsoever spinning into the lane and then finishing through contact with his NBA-caliber body, often drawing a foul in the process.

Nash also showed a solid perimeter jumper, making a number of 3-pointers and pull-ups from mid-range, even if he sometimes has a tendency to shoot the ball on the way down. His jumper is normally fairly streaky, so improving this part of his game could be a major development moving forward. He can also use his big body to post his man up inside, even if he looked more interested in facing up from the perimeter.

As a defender and rebounder is where Nash might have the most potential, as beyond his outstanding physical tools, he's also an extremely tough player who isn't afraid to mix things up inside. He was productive on this front in Dallas, but should be able to improve considerably in these areas under the right college coach, which would make him a very interesting all-around player.

Watching Nash play, it's hard not to wonder if we're looking at a future star in the making. There was some talk about amongst the scouts about his attitude and whether that might be an issue down the road, which is something we'll have to study more in the future. He did look very comfortable playing in his hometown of Dallas, and was clearly the most impressive prospect we saw at this event. He could be a power forward at the college level if his team needed him to, but his long-term future is clearly at the 3.

[Read Full Article]

---
RBK U - Day Two- Top Prospects and Performers
July 11, 2007
While Nash didn't excel on day two in the boxcore, he did give a sampling of the world of potential he possesses. Considering he is just entering his freshman year, he was able to hold his own against older, stronger and more advanced competition. On several occasions Nash pulled down boards in traffic and was able to bring the ball up the court, not bad for a guy who is supposed to grow into the power forward position.

The majority of his points came off the glass, but his shooting mechanics weren't bad. A very raw talent, but definitely one to keep an eye on as we move through the summer and back to prep play.

[Read Full Article]

---