In addition to evaluating a good portion of this year's rising high school senior class, we also had an opportunity to sneak a peek at some of the top prospects in the 2010 and 2011 classes as well. This is obviously an extremely young and raw batch of players who's development curve can and will still fluctuate greatly over the next few years, but getting an early look at them can be very beneficial down the road for when they need to be taken more seriously.
Tony Wroten, 6-5, Shooting Guard, Rising Sophomore, Seattle Rotary Select
5-Star Recruit (?)
Following in the strong tradition of top-flight guards to come out of Seattle recently (think
Brandon Roy
,
Rodney Stuckey
,
Jason Terry
,
Jamal Crawford
, many more),
Tony Wroten
(or Anthony Wroten) could very well be the next superstar in the making. That's quite an irresponsible thing to write about a kid who is only 15 years old right now, but those are exactly the type of strong feelings that are evoked when watching this young phenom play. Not many outside of the inner basketball recruiting circles are all that familiar with him at this point, but that will change soon enough we can imagine. He's currently not ranked anywhere on the 2011 recruiting rankings, because those don't exist just yet.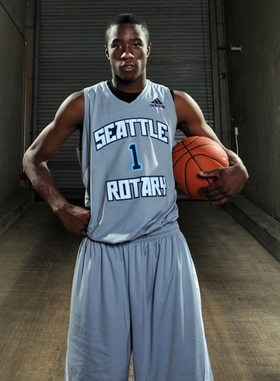 Physically, Wroten fills the bill for a top prospect, and then some. He is a 6-5 left-handed guard with excellent length, nice size, and a frame that should fill out in time. He is a very good athlete with a strong first step, explosive leaping ability and great body control making adjustments around the rim.
Skill-wise, Wroten can really create his own shot from the perimeter, as he has the ability to change speeds and directions sharply, and is a very gifted ball-handler considering his age. He is also capable of getting hot from outside and unloading a barrage of 3-pointers, though. His shot is extremely flat, but it went in at a very solid rate in the three games we evaluated in catch and shoot situations, and he also displayed a high-skill level pulling up off the dribble at times as well, sometimes from behind the arc fading away off a sharp crossover.
What really separates Wroten from possibly any other player in Vegas (in any class?) was his incredible basketball IQ for a player so young. Wroten spent minutes at the point guard spot and did not look out of place, surveying the floor and showing advanced passing instincts that you rarely see from even true point guards at the high school level. Wroten is extremely unselfish and has a great understanding for how to make those around him better, regularly making heady non-highlight reel caliber passes ahead in transition or on the drive and dish--which hinted at an uncanny natural feel for the game. He also is extremely intelligent moving off the ball as well.
Wroten seems to be a highly competitive kid, fighting for rebounds and also making an effort to play solid defense. He did a great job getting in the passing lanes on a regular basis, and was spectacular finishing or making decisions in transition once there.
Considering that he still has three full years left of high school basketball to play, Wroten will still need to work extremely hard to continue to improve and match the incredible expectations that are bound to come once the word gets out. Improving his shooting mechanics, developing an in-between game, and continuing to work on his weaker right-hand should be his priorities at the moment. Staying humble and surrounding himself with the right people will be key.
Tristan Thompson, 6-8, SF/PF, Rising Junior, Grassroots Canada
Committed to Texas
We've written about
Tristan Thompson
(#1 Scout, #2 Rivals, #5 ESPN) in plenty of depth already (click the link to view his profile and read more), since he played for one of the top high school teams in America this year, alongside
Samardo Samuels
, and not much has changed since the last time we saw him. He's still the same super long, athletic physical specimen with a perfect frame for an NBA small forward or modern day "hybrid forward." He has the lateral quickness to defend either the 3 or the 4 in the NBA, but doesn't have the skill-set to play on the perimeter offensively at this point in time—which isn't a shock considering that he just finished his second year of high school. Thompson can finish in traffic, but is just an average ball-handler, while his outside stroke gets pretty shaky once you get past the mid-range area. He looks fairly passive at times (in our words) and was even called soft by others, but it's probably way too early to go that far so soon. At this point it's pretty clear that Thompson is much more of a prospect than he is a productive player just yet, but there is no doubting the upside he has. Now it's time for him to fulfill it.
Joshua Smith, 6-9, Power Forward, Rising Junior, Seattle Rotary Select
5-Star Recruit (UCLA, Arizona, Duke)
One of the top big men in the 2010 class, Josh or
Joshua Smith
(#3 Scout, #4 Rivals, #18 ESPN) was fairly up and down in Las Vegas in the three times we saw him. Still, it was not hard to see what the recruiting services like about him, considering the variety of skills he brings to the table.
Smith is a long-armed, undersized center who is heavy and extremely out of shape, but is still fairly athletic regardless. He gets off his feet quickly and has outstanding hands, making him a terrific offensive rebounder and a lethal threat to finish around the basket (usually with a powerful two-handed jam). Smith is a load in the low post, carving out deep positioning and showing great footwork and touch converting his moves, while being very effective finishing through contact. Defensively, he can block shots (sometimes without jumping) but is not much of a presence in terms of rotating over to protect the rim, showing average lateral quickness and a distinct lack of hustle at times—depending on his mood seemingly. We saw him fluctuate from being extremely active to very low-energy from game to game, making it tough to get an exact read on how good of a prospect he is. Smith gets his hands on everything around the rim and can be a real force on both ends of the floor when he really puts his mind to it.
Most college coaches we spoke with are incredibly high on Smith at the moment, but we'll have to wait and see what kind of progress he makes with his body over the next 2-3 years to determine just how good of a prospect he is long-term. There is obviously a great deal to like here already.
DeShaun Thomas, 6-7, SF/PF, Rising Junior, Spiece Indy Heat
5-Star Recruit (Committed to Ohio State)
A long, skinny, left-handed, athletic combo forward with a nice upside but also a long ways to go,
Deshaun Thomas
(#8 Scout, #7 Rivals, #3 ESPN) is another excellent early get for Thad Matta and Ohio State. Thomas has a really nice stroke from behind the arc, either in catch and shoot situations or even pulling-up off the dribble while being heavily contested from defenders—elevating nicely off the floor and creating sharp separation from his man. His shooting stroke is the foundation of his game at the moment, but not the only thing he can do.
Thomas is solid in transition and shows somewhat of an inclination to post up at times—he doesn't have any real bulk or moves to be overly successful here, but is quick enough to punish smaller defenders at times. Thomas is an unselfish player who seems very coachable and appears to have a nice demeanor on the floor, looking active defensively and very much willing to compete. He can handle the ball in the open floor, but tends to struggle when forced to go out and create for himself in the half-court, particularly with his weaker right hand. Thomas has a tendency to fall in love with the 3-point shot a little too much, and lacks significant polish on the nuances of the game offensively—which means he isn't always an impact guy at this early stage. Still, he has a great foundation of skills to build upon, and should be able to develop into a solid small forward prospect if he continues to work on his all-around game.
Brandon Knight, 6-3, Point Guard, Rising Junior, Team Breakdown
5-Star Recruit (Florida, Duke, UConn, etc)
We've spoken at length about Knight previously this year, as even though he was just a sophomore he's received a great deal of attention very early on in his career so far. Knight looked a little bit better in his regular high school setting than he did here in AAU, as the frenetic pace his team likes to play at seems to take away somewhat from what his biggest strength is—the terrific poise and composure he shows for such a young point guard. Knight is still the same extremely unselfish playmaker we saw back in July, but he seems to be shooting the ball far too much from behind the arc. He's not the most consistent shooter by any stretch of the imagination, especially off the dribble, as his shooting mechanics are not the best and he definitely didn't show much hesitation hoisting up questionable shots.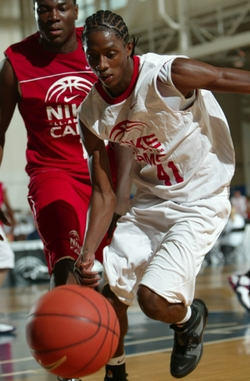 Knight is still an extremely intriguing young player, though, as he has great size for a point guard, an excellent feel for the game, a nice first step beating opponents off the dribble, and the ability to change directions smoothly and take the ball extremely aggressively to the rack. Knight can really defend when he wants to, but he seems to gamble a little too much for steals, which might be his team's game-plan.
It's hard to argue with the results…as Team Breakdown won their bracket in the Reebok tournament, and won the AAU Nationals in Orlando both this year and last.
Jeremy Tyler, 6-9, Power Forward, Rising Junior, California Supreme
5-Star Recruit (USC, UCLA, etc)
We were pretty critical about
Jeremy Tyler
(#4 Scout, #1 Rivals, #2 ESPN) when we last broke down his scouting report in extreme depth (click link above), and it's still hard not to come away with mixed emotions when watching him play. Tyler's body language looked a lot better for one, he didn't see a great deal of playing time in the first half, but he didn't complain at all and seemed to show a pretty good attitude around his teammates. He's still very raw, but obviously has an incredible upside if he continues to develop. Defensively, he can be a game-changing presence thanks to his combination of size, length and athleticism, and offensively he has excellent hands, good touch and the ability to finish ferociously around the basket.
Tyler is still not the most productive guy you'll find (he coasts for long stretches and still doesn't really know how to bring his tools together), and isn't a very high energy player either, seeming to lack serious effort at key points of the game at times. In the one game we saw, he decided to jog back down the floor lackadaisically on an extremely important possession late, and saw his team give up a key offensive rebound and almost lose the game as he was just barely passing half-court.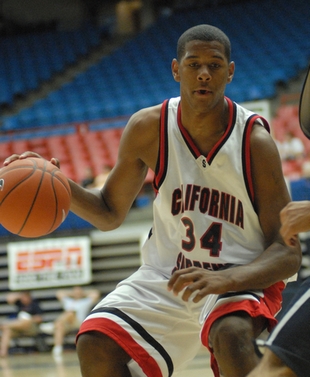 Tyler is obviously a superb talent, but he still leaves a lot of people skeptical at this point regarding his recruiting rankings and whether or not he will be able to live up to that.
Mike Shaw, 6-8, Small Forward, Rising Junior, Mac Irvin Fire
5-Star Recruit
Another of the rare 2011 recruits we've decided to evaluate this early, Mike Shaw is widely considered one of the top 3 or 5 players in his class. On first glance, it's not hard to tell why. Shaw has excellent physical tools for the small forward position—size, frame and athleticism, and the budding perimeter skills needed to play on the perimeter as well. Shaw is a lanky guy, but he's extremely smooth and can really jump as well. He has really nice form on his shot and can stick a 3-pointer with solid consistency. He can also put the ball on the floor and make his way to the basket, even if his ball-handling is just so-so. Shaw's feel for the game is obviously very good, he's not selfish at all and is obviously a very good teammate. He competes on both ends of the floor and made a few intriguing plays rebounding the ball in traffic and coming up with a very reactive block. Shaw wants to play defense and will even stick his nose in for a charge.

There's no question that Shaw is still a really raw and inexperienced player at this point. It's not hard to see what people like about him, though—unless he continues to grow, he's obviously a perimeter player despite standing 6-8, and has a really nice framework of skills and physical tools to build upon. If he keeps improving over the next few years, he could develop into a very interesting prospect.
LaQuinton Ross, 6-8, Small Forward, Rising Junior, MBA
5-Star Recruit
Considered (for some time now) by some to be the top prospect in the entire 2011 class, we may have caught
LaQuinton Ross
on a bit of a down day it seems. In terms of talent and upside, there is no mistaking what we have on our hands here. Ross is a legitimate small forward prospect in the
Anthony Randolph
mold, despite standing 6-8, which gives him tremendous size to play on the perimeter. He is extremely athletic with long arms and terrific scoring instincts, which immediately becomes evident when you see how he operates on the court. Ross can create his own shot with ease from the perimeter thanks to his strong ball-handling skills, either to take the ball all the way to the basket and finish with excellent body control, or pull-up off the dribble smoothly with a nice looking mid-range stroke. He can post up a bit and utilizes quick and slithery spin moves to get around players and then lay the ball in. The game obviously comes very easy for him, even if there is still a lot of room for improvement.
Ross' decision making looked very poor when we saw him—as he easily lost focus, got frustrated with his teammates, and generally displayed very poor body language. He seems to complain a lot when things don't go his own way, and showed a distinct lack of effort in terms of doing the little things to help his team get back in the game. His rebounding looked sub-par (not boxing out) and his defense non-existent (even if his length and lateral quickness give him lots of potential here), and his shot-selection offensively left a lot to be desired. Ross perimeter stroke needs a lot of work it seems—he had trouble knocking down free throws from what we could tell too. Ross' fundamentals in general are not the best—he obviously has a world of talent but still needs to learn to bring it all together.
6-8 perimeter players who can score the way Ross can in a variety of ways and are still so young will always draw a tremendous amount of attention from a very early age. He's not a finished product by any stretch, though, and still has a long ways to go before being ready to justify the hype that's being thrown at him right now. We will have to keep watching him over the next few years and see how he's progressing.