Brandon Knight
Recent Tweets
All Tweets
DraftExpress: RT @WojYahooNBA Column At 8 inches shorter 80 pounds lighter here's the Brandon Knight reward for doing the right thing Ridicule. h ...
2013-03-11 13:58:04
DraftExpress: Column At 8 inches shorter 80 pounds lighter here's the Brandon Knight reward for doing the right thing Ridicule. http://t.co/EWEVzW3QY9
2013-03-11 13:53:31
DraftExpress: Needs to slow down. But Brandon Knight was same way last year. RT @ballinisahabit: Marquis Teague has six turnovers already. In 16 minutes.
2011-11-15 10:54:48
DraftExpress: RT @briancmahoney: Kentucky's Brandon Knight goes 8th to Detroit as common fans can finally say "Oh yeah, I've heard of that guy" again.
2011-06-23 08:22:58
DraftExpress: RT @WojYahooNBA: The Detroit Pistons will draft Brandon Knight with the 8th pick, league source tells Y!
2011-06-23 08:15:47
Team: Suns
Physicals
Positions
Rankings
Salary
Misc
H: 6' 3"
W: 177 lbs
Bday: 12/02/1991
(23 Years Old)

Current: PG
NBA: PG/SG
Possible: PG/SG

RSCI: 5

Agent: Arn Tellem
Current Salary:$3,553,917

High School: Pine Crest
Hometown: Coral Springs, FL
Drafted: Pick 8 in 2011 by Pistons
Best Case: Chauncey Billups (in Prime)
Worst Case: Louis Williams

Predraft Measurements
| Year | Source | Height w/o Shoes | Height w/shoes | Weight | Wingspan | Standing Reach | Body Fat | No Step Vert | Max Vert |
| --- | --- | --- | --- | --- | --- | --- | --- | --- | --- |
| 2011 | NBA Draft Combine | 6' 1.5" | 6' 3.25" | 177 | 6' 6.75" | 8' 2.5" | 4.2 | 29.0 | 37.5 |
| 2009 | Deron Williams Camp | NA | 6' 2.5" | 183 | 6' 6" | NA | NA | NA | NA |



Basic Per Game Statistics

- Comprehensive Stats - Statistical Top 25s
| Year | League | Name | GP | Min | Pts | FG | FGA | FG% | 2Pt | 2PtA | 2P% | 3Pt | 3PtA | 3P% | FTM | FTA | FT% | Off | Def | TOT | Asts | Stls | Blks | TOs | PFs |
| --- | --- | --- | --- | --- | --- | --- | --- | --- | --- | --- | --- | --- | --- | --- | --- | --- | --- | --- | --- | --- | --- | --- | --- | --- | --- |
| 2015/16 | NBA | Brandon Knight | 16 | 35.7 | 21.9 | 7.9 | 17.8 | 44.6 | 5.3 | 11.3 | 47.2 | 2.6 | 6.6 | 40.0 | 3.4 | 4.1 | 81.8 | 0.9 | 3.4 | 4.3 | 5.6 | 1.6 | 0.4 | 3.3 | 2.2 |

Player Page&nbsp&nbsp| Player Stats | Mock Draft History | Related Articles&nbsp&nbsp| Add to My Draft Express&nbsp
&nbsp
Media Day Interviews: Irving, Knight, Valanciunas, Leonard, Burks
June 23, 2011
[Read Full Article]

---
Analyzing the NBA Combine Athletic Testing Results
May 27, 2011
Brandon Knight finished just outside of the top-10 in a number of different metrics and mustered an impressive 10 reps on the bench considering his extremely wiry frame. Knight is an interesting athlete, looking more explosive in settings like these than he does on the floor at times. It will be worth watching how his quickness translates to the next level and what it allows him to do off the dribble, as that will be a huge key in how efficient a scorer he can become in the NBA.

[Read Full Article]

---
Analyzing the 2011 NBA Combine Measurements
May 21, 2011
Brandon Knight (6-1 ½ without shoes) was the lightest player in Chicago at 177 pounds, and registered the second lowest body fat percentage at 4.2%. Amongst point guards drafted in the top-15, Knight's height/weight combination is similar to Jason Terry's (6-1.5 without shoes, 176 pounds). His 6-6 ¾ wingspan is well above average, and his size should be an advantage for him as he continues to pack weight on his frame.

[Read Full Article]

---
NBA Combine Interviews: Kyrie Irving, Kemba Walker, Brandon Knight
May 19, 2011
[Read Full Article]

---
Finding a Niche for: Brandon Knight
May 6, 2011
Report by Derek Bodner, Video Breakdown by Sebastian Pruiti

Brandon Knight capped off his up and down freshman season with a pair of game winners and a 30 point explosion during Kentucky's run to the Final Four, despite shooting just under 33% from the field in the tournament while committing nearly 3.4 turnovers per game, showing the quandary he places NBA decision makers in.

Those numbers may hide some of the progress Knight was making as the year went on. Knight averaged an astounding 4.7 turnovers per game over his first seven games, struggling both with his ball handling and decision making as he was playing a largely isolation game trying to make the major transition from high school to college. Knight played for a small, academic oriented high school in Florida where he was asked to play a be-all, end-all role in every moment on the court, and adjusting to the rigors of a new system on a team playing an incredibly challenging schedule almost immediately was a major learning experience for the young point guard.

As the year went on Calipari put Knight in more and more in pick and roll and dribble hand off situations, allowing the guard to take advantage of the attention he receives in these situations and generate offense for his teammates, while limiting some of the turnover problems and over dribbling that plagued Knight earlier in the season. Well known as a very intelligent player and person both on and off the court, Knight's basketball IQ improved visibly from game to game and week to week, culminating in his very impressive SEC and NCAA Tournament performances in March.


---
Brandon Knight (#12) Strengths/Weaknesses Video
Watch in full screen mode by clicking button in upper right hand corner of video
---



More DraftExpress Video Breakdowns:


-Terrence Jones
-Alec Burks
-Derrick Williams
-Jimmer Fredette
-Kenneth Faried
-Harrison Barnes
-Marcus Morris
-Perry Jones
-Kawhi Leonard

---



Despite the improvement towards the end of the regular season, Knight clearly still has a lot to improve upon before answering the questions about his ability to play the point guard position full time in the NBA, as is evidenced by him being near the bottom of all point guards in our Top-100 rankings in pure point rating and assist to turnover ratio.

Even with the improvement in his decision making late in the season, he still has a tendency to force the issue and lose his dribble in traffic , at times getting too deep on dribble penetrations without an outlet.

While capable of making some outstanding passes at times, Knight doesn't consistently show great court vision or the ability to control tempo. He's also not someone that is considered a great leader, as he's somewhat shy and reserved off the court, being described by those around him as having different interests than your typical 19-year old athlete. This could (and probably should) be viewed a major plus by many image-conscious organizations. With that said, all these factors combined are all things that NBA teams will need to ponder when projecting his initial role and long-term potential at the point.

How much will he improve as a playmaker and leader with added maturity and experience? It's difficult to gauge precisely considering that he's just 19 years old and won't turn 20 until December, making him one of the youngest players in this draft class.

As a scorer, there's a lot to like about Knight, and he has the versatility to fit in many offenses. He's a good, albeit sometimes streaky (largely related to at times poor shot selection), shooter with NBA three point range, who shows the ability to hit shots off catch and shoot situations, off the dribble, and coming off screens. He shows an ability to come off a baseline screen, make a tight curl, and square up and convert the attempt. He's also continuing to improve as a catch and shoot player, continuing to improve the consistency of his release on catch and shoot attempts, which he shows good form and elevation on.

This ability to score off the ball should ease his transition to the NBA game, allowing him to get playing time off the bench as a combo guard, or perhaps starting next to either a big point guard or a ball-dominant guard/wing (such as Tyreke Evans), as he's learning the nuances of the NBA point guard position.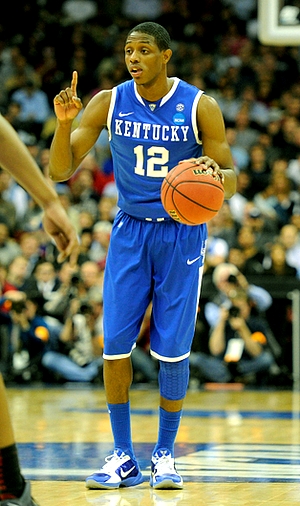 Icon SMI



With the ball in his hands he is hard to defend in pick and roll situations, as he has the speed to turn the corner going right, and shows an ability to hit shots off the dribble if defenders go under the pick, although he could improve his recognition as a passer in these sets, a statement you could make about his offensive game in general.

He's a good isolation player who uses his first step and misdirection moves to get into the paint. When in the paint he's not the strongest or most explosive athlete, but has very good touch with his right hand, which he combines with floaters and runners in the lane, doing a good job of shielding the ball from defenders, to get his shots off effectively over bigger defenders. He is strong hand dominant, particularly when finishing around the basket, as he'll often times force an attempt with his strong hand, back into the defender.

He could stand to improve his free throw rate, as his 5.1 free throw attempts per 40 minutes pace adjusted is just towards the middle of the pack in terms of point guards in our database. Without the ability to explode towards the rim he often times settles for finesse moves in the 5-10 foot range rather than trying to draw the contact, a tendency that could increase against the stronger rim defenders in the NBA. In order to maximize his efficiency, he'll need to get better at drawing fouls—a process many young guards, such as Derrick Rose and Stephen Curry, learned after they got to the NBA.

Defensively presents more problems with Knight when projecting his role to the NBA. He has the physical characteristics to be a solid defender at the point guard position, with good size, solid length (wingspan measured at 6-6 at the Nike Hoop Summit), and above average lateral quickness. When he gets into a solid stance and gives good effort he appears to move well enough laterally to be able to defend the position. That effort and attentiveness wasn't always there during his collegiate career, particularly earlier in the season. He also struggles defending the pick and roll, at times struggling to fight through the pick and recover. While he has solid size to defend the point, if he's forced to defend the shooting guard position at the next level he's going to be at a distinct disadvantage.

Projecting Knight to the next level, the diversity of his scoring and shot-creating ability allows him to be more effective off the ball than many combo guards, which could be a key in his minutes early in his career, as it's unlikely a coach is going to hand the reigns of an offensive over to him at this time until he garners more experience and improves his decision making.

On the right team, with either a big point guard or a wing player who runs a majority of the teams half-court offense – such as the Lakers, Philadelphia, Miami – could be his best situation to contend for a starting spot early in his development playing for a franchise that is looking to win now.

If not, there will be some growing pains Knight and the team that picks him will experience early on, but considering his youth and high basketball IQ, he could improve rapidly if allowed to learn through his mistakes.

The impact that scorers in Knight's mold are making in today's NBA is considerable, so it could certainly be reasonable for a bad team picking very early on in the draft to attempt to mold him on the fly into what they need him to be down the road.

[Read Full Article]

---
Trending Prospects (12/9/2010)
December 9, 2010
Joseph Treutlein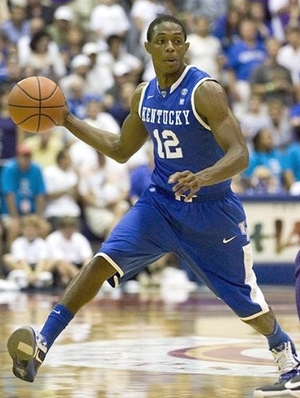 AP



One of the most talented players in this year's freshman class, Brandon Knight has had an up and down start to his college career, on one hand showing off his great scoring talents, but on the other struggling with decision making and turnovers.

Standing between 6'3 and 6'4 with a strong frame and decent length, Knight has good physical attributes for an NBA point guard, though his play thus far this season makes one wonder if that's where his future is.. He is also a very good athlete, having a strong first step, good quickness with the ball, and outstanding body control on his drives to the rim.

On the offensive end, Knight brings a versatile skill set to the table, starting with his perimeter jumper. Possessing NBA range and the ability to make shots coming off screens, pulling up, or spotting up, Knight is a great shooter with very good form, boasting both a high and quick release. The problem, however, is he doesn't always display the best shot selection, and his form can break down at times, namely when he's forcing the issue. In spite of this, Knight's still shooting a respectable 34% from three early in the season, though he's capable of much better if he were more prudent.

Possibly the most impressive segment of Knight's game thus far is his ability to hit tough shots from the mid-range, where he has a variety of floaters, runners, and pull-up jumpers in his arsenal. Very crafty in getting to different areas of the floor with the ball, Knight is dangerous scoring the ball in the 5-15 foot range, where he shows excellent touch, can finish through contact, and shows pretty good consistency with his mechanics.

While Knight's mid-range game is impressive, it unfortunately plays into some of his problems as a player, namely his incredible tendency to turn the ball over, as he's averaging 4.4 turnovers per game compared to just 3.6 assists thus far. Knight frequently gets into trouble forcing dribble penetration, either losing control of the ball in a crowd or over-penetrating and tries to bail himself out with a last second pass, one that usually isn't successful.

Knight's passing game in general is a major cause for concern based on what he's shown very early on in college, as he rarely looks for teammates when creating his own shot, getting most of his assists by simply moving the ball around the perimeter in the flow of the offense. History shows us John Calipari's offense doesn't tend to flatter the playmaking ability of point guards, and Knight has definitely looked better in this regard when we saw him early on in his career at the high school level, but still, the large burden of his problems thus far rest on his own shoulders, as he just isn't showing much consistently in terms of court vision, creativity, or willingness to create for others in the passing game.

Another area where Knight has struggled to adapt to the college level is finishing at the basket, something he hasn't shown much tendency to do, much preferring to pull up for finesse moves in his mid-range game. He shows no problem getting to the basket when he wants, boasting a good first step, rangy strides, and excellent ability to make subtle changes of direction with his superb footwork, but on the few occasions he has penetrated all the way to the basket, he seems content to just throw the ball up rather than creating a high percentage shot. With his size and strength, he's definitely capable of much more here.

On the defensive end, Knight has likewise shown some good and some bad in his first eight games. From a tools standpoint, Knight has all you can ask for from a point guard, as he shows very good quickness when he puts in the effort, while also showing a good defensive stance to start most plays. The problem, however, is that he often doesn't put in a concerted effort to move his feet, never giving up on plays but frequently just going through the motions and not giving his all. He is prone to being beat off the dribble while also occasionally giving up too much space to shooters, playing nowhere near his potential in this regard. His work in pick-and-rolls is likewise unimpressive, rarely fighting through screens and often displaying a lackadaisical approach here.

Looking forward, Knight is obviously a great talent who has the chance to succeed as either a point guard or combo guard depending on his development, but he'll need to develop a much more mature approach to the game to reach his full potential. Putting more focus on his shot selection, creating for others, and his defensive effort are all critical things he needs to address, and he still has plenty of time to do so. His potential as a starting point guard obviously greatly trumps his potential as a combo guard coming off the bench, so getting back to showing more of a pass-first mentality would likely help his draft stock considerably.

[Read Full Article]

---
Nike Hoop Summit Practices, Day Two
April 9, 2010
The player who stood out the most today was Brandon Knight. After struggling to find his stroke last week until the waning moments of the McDonald's All-American Game, Knight looked extremely good during the scrimmage, hitting a couple of threes from behind the NBA line and looking much more active and in control than he did in Columbus. Knight also put his athleticism on display, coming away with a couple of dunks on broken plays and using his jumper to set up his first step.

Though we didn't see the playmaking from Knight that we'd hoped, he was splitting time between the one and the two. When he was running the show, Knight was more vocal than we saw him in any other practice we've watched recently, telling his teammates where to go. On top of his showing offensively, he also showed some nice things defensively. Knight has exceptional lateral burst, allowing him to prevent dribble penetration and create some turnovers with his length. Built like an NFL wide receiver, this was much closer to what we expected out of Knight coming in.

[Read Full Article]

---
adidas Nations Experience: 2010/11 High School Prospects
August 20, 2008
Although we prefer not to evaluate high school players multiple times over a very short span, it's been very tough to ignore Brandon Knight (#5 Scout, #8 Rivals, #1 ESPN) every time we've watched him play. Knight was the primary ball-handler for the 2010 team, and he definitely caught the eyes of the NBA scouts we talked to early on with his outstanding play, although he came down to earth later in the week and showed many of his flaws.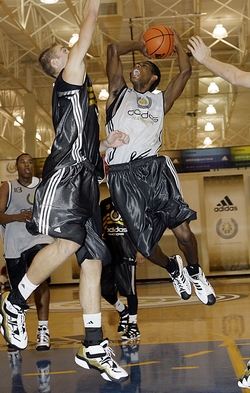 adidas



When Knight is at his best, he is making shots from the perimeter, showing outstanding court vision, breaking down defenders from the perimeter, finishing exceptionally well at the rim, and generally making the game look very easy for both himself and his teammates. He has a knack for making simple plays and an outstanding sense for finding teammates cutting to the rim, but also has the advantage of being an extremely big point guard at 6-3 with the athleticism to blow by his man, dunk everything inside the paint and come up with quite a few blocks, steals and rebounds on the other side of the court.

About eight months removed from surgery to remove a cyst on his spine that sidelined him for two months, Knight looks a lot more athletic now than the first time we evaluated him. While not a freak like Derrick Rose, that part of his game is never going to be what holds him back from developing into a top prospect.

The weaknesses that Knight showed revolve around many of the same problems that young point guards this age suffer from—playing too fast and out of control, turning the ball over, showing poor shot-selection, and being inconsistent from game to game and possession to possession. He competes on the defensive end, but has a tendency to gamble too much for steals rather than playing fundamental sound. Also he clearly needs to work on his left hand, as he strongly favors driving to his right, which is fine at this level and in AAU-type settings where there is no advanced scouting.

Watching Knight play for his high school team, you get a different feel for the type of player he is, much more poised and under control, less concerned with scoring and not prone to taking those terrible off-balance 3-pointers early in possessions that we saw all summer. When he goes back to playing real basketball in a more structured environment, the hope is that he'll be able to shake free of these poor fundamentals of summer basketball. Considering the feel for the game he displays at his incredibly young, that likely won't be too much of an issue.

[Read Full Article]

---
adidas Nations Experience 2008: NCAA Counselors,High School Interviews
August 12, 2008
[Read Full Article]

---
Initial Scouting Reports, High School Classes of 2010 and 2011
August 1, 2008
We've spoken at length about Knight previously this year, as even though he was just a sophomore he's received a great deal of attention very early on in his career so far. Knight looked a little bit better in his regular high school setting than he did here in AAU, as the frenetic pace his team likes to play at seems to take away somewhat from what his biggest strength is—the terrific poise and composure he shows for such a young point guard. Knight is still the same extremely unselfish playmaker we saw back in July, but he seems to be shooting the ball far too much from behind the arc. He's not the most consistent shooter by any stretch of the imagination, especially off the dribble, as his shooting mechanics are not the best and he definitely didn't show much hesitation hoisting up questionable shots.


Icon SMI



Knight is still an extremely intriguing young player, though, as he has great size for a point guard, an excellent feel for the game, a nice first step beating opponents off the dribble, and the ability to change directions smoothly and take the ball extremely aggressively to the rack. Knight can really defend when he wants to, but he seems to gamble a little too much for steals, which might be his team's game-plan.

It's hard to argue with the results…as Team Breakdown won their bracket in the Reebok tournament, and won the AAU Nationals in Orlando both this year and last.

[Read Full Article]

---
South Florida Showdown: Kenny Boynton vs. Brandon Knight
January 29, 2008
Brandon Knight (#3 Scout, #2 Rivals), only a high school sophomore, is already an incredibly complete player for his age. He was forced to sit out for a few months until just three weeks ago after undergoing back surgery, but looked to be in pretty good shape on Friday.

Knight has excellent size for the point guard position, and a frame that should fill out in time. The first thing that stands out about him is the terrific feel for the game he displays on the basketball court. The sophomore plays under control for the most part, looking extremely mature for a player his age, and rarely forcing the issue offensively. He understands the game, reads the floor well, and looks to get all his teammates involved, handling the ball extremely well, and creating shots intelligently for both himself and others thanks to his excellent court vision. His demeanor on the floor is terrific—unselfish, poised, and active—everything we can see and have heard speaks volumes about his character, which is incredibly important for a highly regarded player this young, trying to stay on top.

Offensively, Knight can get to the basket with either hand, showing great timing and a knack for getting his shot off in a variety of ways, particularly with a pretty right-handed floater. He has 3-point range on his shot, but still needs to get more consistent with this part of his game over the next few years. He looked solid in warm-ups, but could still stand to improve his range and get better shooting the ball off the dribble. He's extremely intelligent in transition, maybe unselfish to a fault at times. Getting stronger will help him finishing around the rim against stronger competition. He didn't show much of a mid-range game in this particular outing either.

Defensively, Knight is extremely impressive, getting right in his man's face, and putting terrific pressure on the ball. He has excellent hands in the passing lanes, and is very active looking to make things happen. On one particular possession he went out and grabbed three separate offensive rebounds, until he finally managed to put the ball in the basket.

Although it might be a little early to judge (particularly considering that he just returned to the court after back surgery), at this stage it doesn't appear that Knight is the most explosive athlete you'll find. His first step is good, but not incredible, and his vertical leap is just solid. Watching him play, you don't get the feeling that he has unlimited upside.

Knight appears to be on the right track to developing into a terrific basketball player. His experience and all-around skill-level still need plenty of work, but he's a pretty impressive prospect considering his age. He would be wise to continue and develop his point guard skills, as he might be tempted to dominate high school games with his scoring against weaker competition over the next few years, but in the long run it'll surely pay off for him to be a pass-first playmaker who can also score when needed.

[Read Full Article]

---