Matt Williams
Automatically eligible for the 2011 NBA draft despite only turning 20 a couple of weeks ago, the
Jeremy Tyler
saga will finally reach an abrupt end as he waits to hear his name called on Thursday night. For two years, Tyler has been a lightning-rod for controversy, bypassing his senior year of high school to play for Maccabi Haifa in the Israeli League, struggling with the pressures of being an 18 year-old pro, subsequently signing to play in the Japanese BJ League, and seeing the lesser than stellar season he was having cut short by the tragic earthquake.
Seeing limited minutes in both of his professional seasons and taking a huge step down in level of competition, scouts have as many questions about Tyler's fundamentals and his feel for the game as they do about his maturity and ability to handle the pressures of being a young player developing on a NBA bench. Recent interviews and workouts have answered some of those questions, and Tyler's camp has done a terrific job addressing his off-court issues over the past few months, but a degree of uncertainty about the San Diego native remains.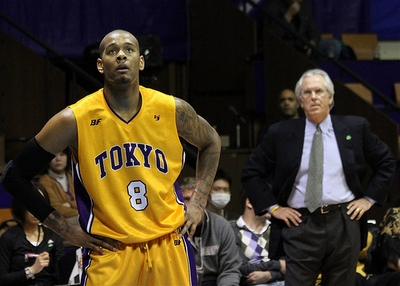 The one question scouts are not asking is whether or not Tyler has the physical tools to compete at the NBA level. Standing nearly 6'11 with a 7'5 wingspan, tipping the scales with a 260+ pound frame that still has plenty of room for improvement, and possessing very good athleticism for a player with those measurements, Tyler has all the makings of a NBA big man on first glance.
Unfortunately, those tools did not consistently manifest themselves in any significant way in the very weak Japanese BJ League (not the top league in that country), which is obviously concerning. Tyler struggled mightily for stretches, and just as he was seemingly turning the corner, he was flying back to the United States after the cancellation of the rest of his team's games.
One of the tallest and stronger players in the Japanese League, Tyler had some brief stretches of impressive play for the Apache. He was able to use his size to establish deep position in the post at times, and showed a budding turnaround jump shot and face-up game. His near 7'5 wingspan allowed him to get his shot of at will even if the moves he was making were quite erratic at times.
Unfortunately, for every shot Tyler made in the post he missed an equally makeable short-range attempt or turned directly into the teeth of the defense in the post and coughed the ball up.
Working extensively with former San Antonio Spurs head coach and notable big man developer, Bob Hill, Tyler's skill level has improved from his high school days, and his 52% shooting in Japan is far better than the 44% he mustered in Israel. Unfortunately, Tyler's feel for utilizing the skills he has developed remains limited. His recognition of where to go with the ball in one-on-one situations is questionable, and despite the size advantage he had in Japan, he did not make too many strong, decisive moves to the rim or elevate well to finish in a crowd. Only compounding the challenges he faced in his learning process this season, he turned the ball over at a frustratingly high rate with his back to the basket.
To Tyler's credit, he did face quite a few double teams for a player still very much learning the game, and used his leaping ability far more effectively on the offensive glass when he had a bit of time to gather himself. He also knocked down quite a few perimeter shots for a center. Tyler's shooting isn't close to being on par with someone like
Nikola Vucevic
, and he struggled from the foul line, but his midrange stroke is one of his more intriguing tools considering his ability to get it off in the post and when facing up.
Defensively, Tyler did show an improved motor, which is significant considering he was maligned for his efforts early in his career. His activity level stayed fairly solid when he was on the floor, but he's still foul prone and yet to learn how to maximize his physical tools. He lets himself get pushed around too easily at times, and though he doesn't give up too many truly easy baskets, he's going to benefit immensely from a NBA strength and conditioning program and a coach who continue to push his development.
Breaking down Tyler's success, or lack thereof, in the Japanese BJ League is only a small piece of the puzzle in analyzing his draft stock. NBA teams always place a premium on size, and Tyler has that. In this draft, they are looking for players with legitimate potential, and Tyler has that too. They also take a keen interest in every prospect's intangibles, and that is where Tyler's situation get murky. He's done a good job handling himself throughout the trials of the workout and interview process, but what, if any red flags teams uncover in their background checks and psychological analyses will be hugely important to where he gets selected.