One of the most diverse groups we'll analyze, this year's small forward crop is an eclectic mix of international players, underclassmen, and seniors. For the first time in the series, we'll have a couple of Adriatic League players to look at, amongst seven international prospects in total. There's a lot of variablity in the numbers we're looking at due to differences in level of competition, schedule, playing time, and style. This isn't remedied by the fact that small forwards usually play extremely diverse roles on the court. Obviously, the range of numbers we'll be working with will be larger than we're used to.
To gain a better understanding of the statistics used, visit the
glossary
by Noah Libby-Haines. Interested in making your own statistical comparisons? You can do so
here
.
Note:
The dots next to each international players name indicate what international League they are from. Red is for the Adriatic League, green is for the EuroCup, and blue is for the EuroLeague. It is important to realize that guys like
Emir Preldzic
and
Omri Casspi
, who played only a handful of games in the Euroleague, don't give us a big sample size to work with since we don't have their Turkish and Israeli league stats respectively. Any row that does not have a dot, but is filled by an international player, includes their domestic league statistics.
Its also important to note that we've left a number of players who have withdrawn from this year's draft in our analysis, since it will give us some perspective on what they'll need to work on and a historical reference when we run this same analysis next year.
Point Per-40 Minutes Pace Adjusted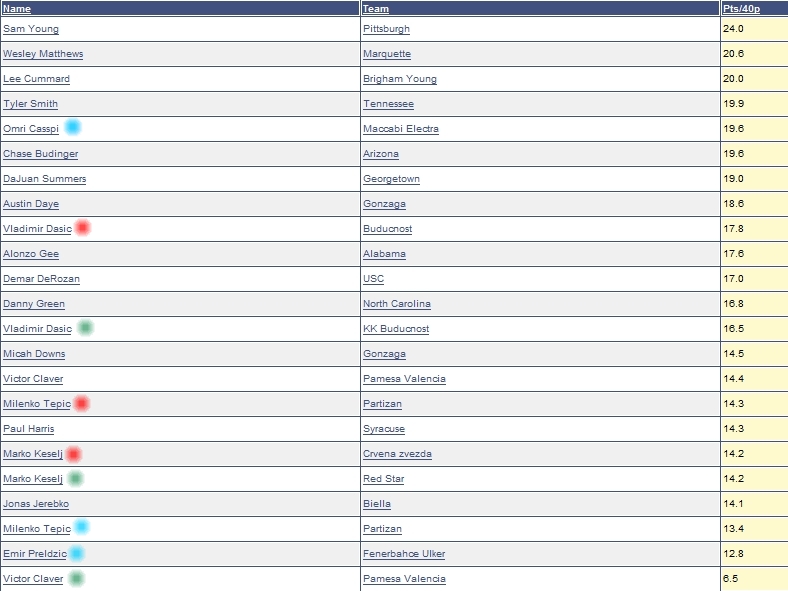 The best stat for determining how quickly a player puts points on the boards when he's on the court, this group doesn't have a player who stands above the rest like we found in past to analyses.
Sam Young
's 24.0 points per-40 would have ranked fifth amongst shooting guards, which isn't too shabby for a player that still has some things to work on offensively. The three point and free throw shooting of
Wesley Matthews
and
Lee Cummard
usher them into the top-5, where we also run into
Tyler Smith
, who opted to run to school. For a player that is a very questionable jump shooter, Smith was quite a scorer this year. It will be interesting to see if he can improve that aspect of his game next year.
Two likely first rounders,
Omri Casspi
and
Chase Budinger
finish well above average at 19.6 point per-40, but found their way there in much different ways. Casspi put up impressive numbers in the Euroleague for a guy who only played 17.4 minutes per game with his aggressiveness and instincts, while Budinger played 37.6 minutes per game and did most of his damage as a jump shooter and transition player against NCAA competition. Just behind them are
DaJuan Summers
and
Austin Daye
, who offer a similar contrast, as Summers was integral to Georgetown's attack and Daye was more of complementary player.
Victor Claver
finishes last on our list because he made a valiant effort to return from a broken bone in his leg to play in the Eurocup, but couldn't muster much production. His ACB stats paint the real picture, as he, along with
Jonas Jerebko
and
Danny Green
, don't score much, but offer great potential as roleplayers, and served such roles for their previous teams. Green's 16.8 points per-40 is only 0.2 less than
Demar DeRozan
, which tells you something about his full body of work. He came on strong down the stretch as a freshman, but that has little bearing in this study.
DeRozan was a featured player on USC this season (seeing a much bigger role than Green for example), but was still unable to translate that into great production, which underscores the fact that he's at least a few years away from being a major offensive threat in the NBA.
Three Point Attempts Per-40 Minutes Pace Adjusted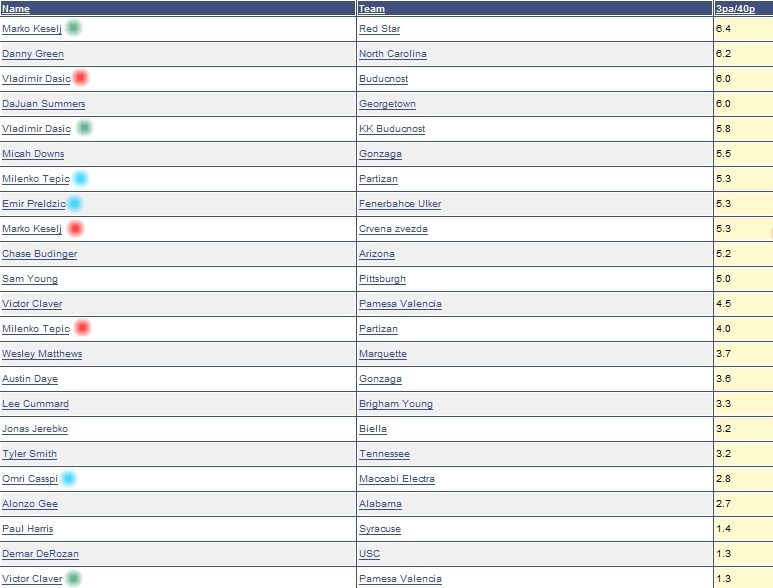 A measure of how trigger happy players get from behind the arc when they are on the floor, this stat tells us a bit about each prospect's aggressiveness with their shot selection and often their role for their team as well.
Danny Green
and
DaJuan Summers
top our list at over 6.0 three-point attempts per-game. Constantly moving around the arc as his teammates attacked, Green played a very
James Posey
-like role for UNC, while Summers, in contrast, is more prone to taking deep jumpers than Georgetown's system warranted, an area he was criticized for heavily. With his NBA body and solid athleticism, scouts would have liked to see him settle much less for jump-shots.
With most of our international players near the top of the list, including 2010 prospects Vladimir Dasic and Marko Keselj, this stat teaches up more about
Milenko Tepic
and
Emir Preldzic
than the others. Both playing the point forward role for their respective clubs in the Euroleague, the pair had a hard time creating separation against quicker guards, making the three-point shot the best way for them to utilize their size advantage on most occasions, particularly in end of shot-clock situations.
Chase Budinger
took quite a few threes in comparison to
Austin Daye
(5.2 versus 3.6), but that is due to how many shots he took on the whole and doesn't tell us much about his tendencies.
Demar DeRozan
ranks last on our list amongst college players, and its well documented that he'll need to increase his range substantially to reach his potential on the next level. Not much of a shooter in college, he's probably a few years away from making the NBA 3-point shot a part of his repertoire.
Three Point Attempts Per Field Goal Attempt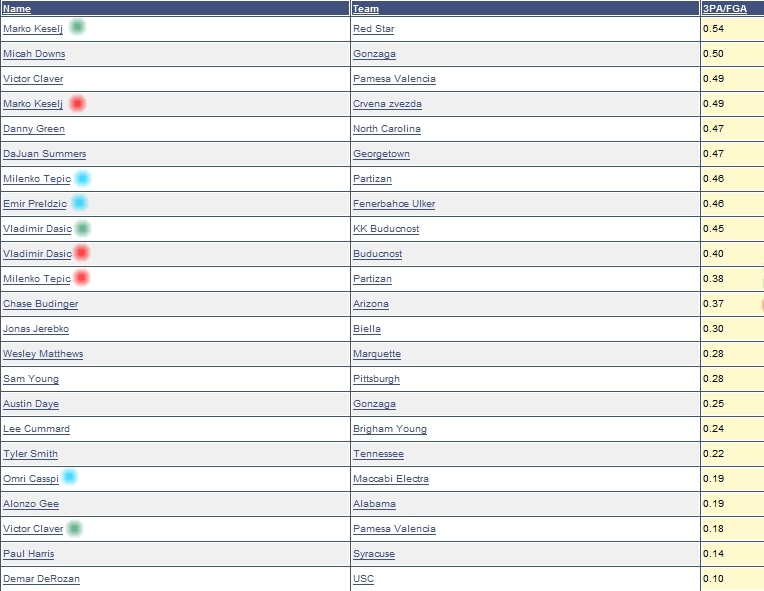 This stat gives us a better understanding of how much of a player's overall offensive game is constituted by three-point shots. A much clearer picture is painted of a few prospects on our list in this table than in the last.
Victor Claver
rises to third place despite appearing much lower on the 3pa/40p table, since he didn't take all that many shots for Pamesa Valencia, while
Micah Downs
finishes second playing an even smaller role for Gonzaga.
The major prospects in this group stay where they were in the last table for the most part.
Paul Harris
is the closest comparison to
Demar DeRozan
in this metric, with both players working inside the arc and often wanting to attack the rim. Overall, we also see that the international prospects at this position tend to take more threes on average than their NCAA counterparts with the notable exception of
Omri Casspi
and Jonas Jerebko.
Free Throw Attempts Per-40 Minutes Pace Adjusted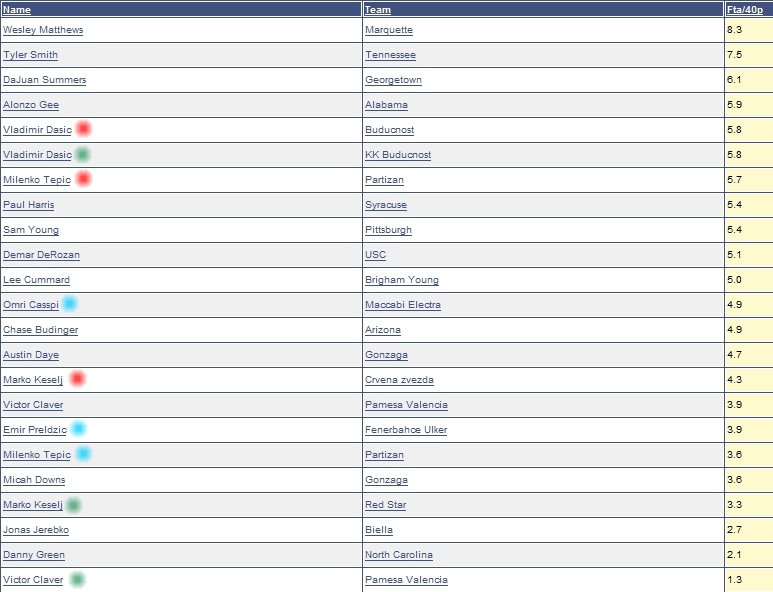 This stat offers some insight into a player's ability to get in the lane and create fouling situations, which shines some light on their ball handling ability, quickness, and slashing mentality.
Wesley Matthews
tops our list at 8.3 trips to the line per-40, while
Tyler Smith
will take his second-ranked 7.5 attempts back to school. It is interesting to see the pair at the top of this list, since neither player is a terribly good ball handler, but that is as much a statement about this year's crop on the whole as it is about those two individuals. None of the small forwards projected to be selected in the first round average more than 5.5 free throws per-40.
Unsurprisingly, we find
Danny Green
and
Jonas Jerebko
at the bottom of our list, not because they lack toughness, but more because they are average ball-handlers who know their limitations, and play within their roles. Will either player make a living at the line on the next level? Probably not, but they won't try and do too much to get there either.
Free Throw Attempts Per Possession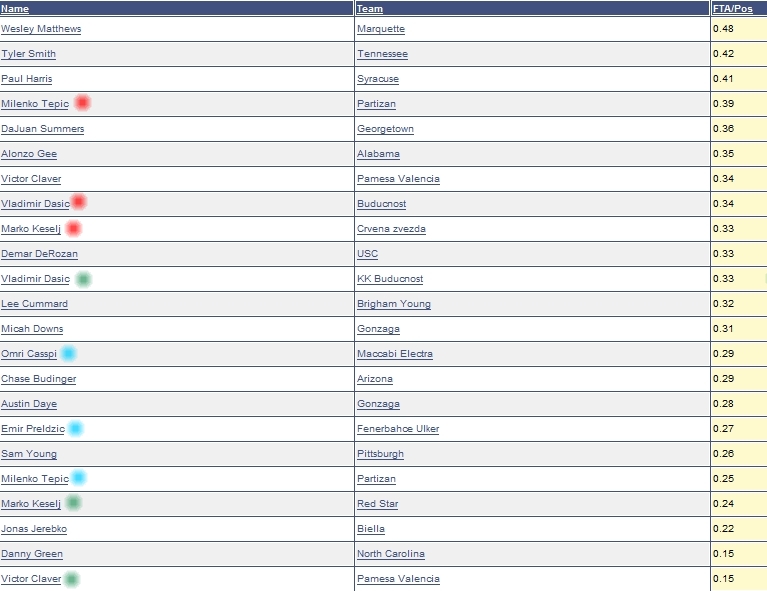 Often a better characterization of a player's ability to get to the foul line, this stat indicates how many free throws a player earns each possession.
Wesley Matthews
goes to the line once for every two possessions he used –a staggering numbers when you put it in perspective. We see
Paul Harris
climb quite a bit from our last table, due to the fact that he isn't a feature option, but does go to the line quite frequently when he attacks.
Further down the list,
Chase Budinger
,
Austin Daye
, and
Sam Young
find themselves packed together under .3 attempts per-possessions. Players who do a lot of jump shooting typically don't post high marks in this metric. Their limitations as shot-creators are better illustrated here, part of the reason they are deemed to be future role-players.
True Shooting Percentage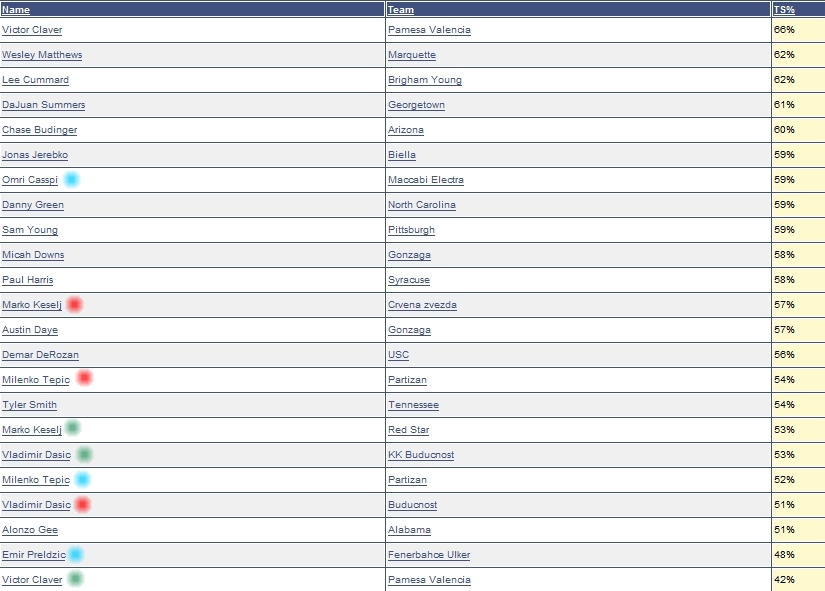 The best stat for how efficiently a player puts the ball in the net for his team, true shooting takes the value of three pointers and free throws into account.
Victor Claver
tops our rankings at 66%, which shouldn't be shocking to anyone that's seen a lot of him. He's one of the most opportunistic players around, taking what the defense gives him and seldom forcing anything. Couple that with his torrid outside shooting early in the year, and it becomes easy to see why he's number one. Seniors
Wesley Matthews
and
Lee Cummard
round out the top three, with
Dajuan Summers
and
Chase Budinger
following not too far behind. Summers and Budinger both benefit from the extra weight all their three point shots earn by this metric. Four likely draftees score out at 59%, but each lacks certain pieces to the puzzle.
On the other end of the spectrum,
Austin Daye
and
Demar DeRozan
both fall right below the average with most of our European prospects. Daye's lack of strength and DeRozan's lack of polish are apparent here, while their European counterparts have traditionally lower true shooting numbers, since they face stronger defenses and a higher level of competition than their NCAA counterparts. That aspect of this table helps put what Claver, and to a lesser extent, Casspi have accomplished this season in perspective.
Assists Per-40 Minutes Pace Adjusted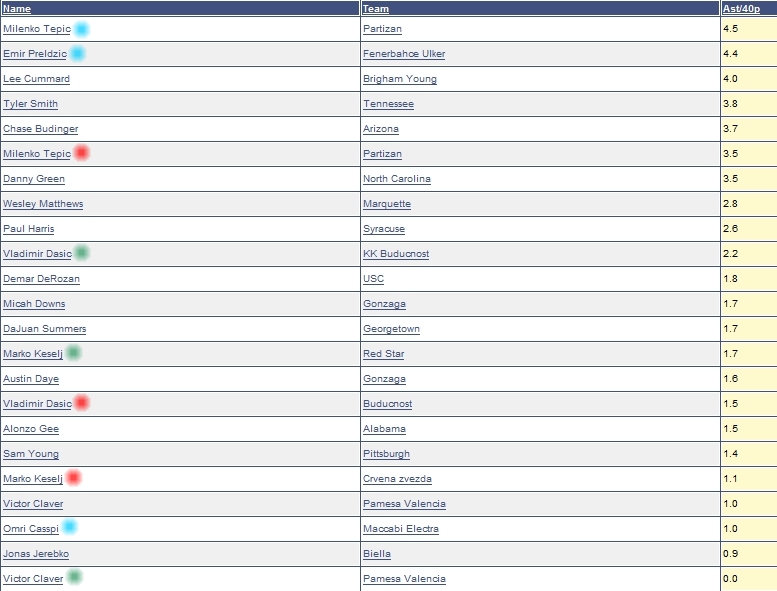 Measuring how frequently a player creates for his teammates, this table gives us a lot of information on the roles that some of these forwards played this past season.
Milenko Tepic
and
Emir Preldzic
top our list, and while neither has a first (or maybe even a second) round grade, the pair of point-forwards brought a lot to the table as passers in Euroleague play.
Chase Budinger
lands in the top five, as he's one of the better passers amongst NCAA players, as are
Danny Green
and
Lee Cummard
. Each of the three showed the ability to hit the open man on their respective teams over the course of the season, and their high basketball IQs should be duly noted by NBA teams.
After Green we see a large drop-off in numbers.
Demar DeRozan
and
Austin Daye
both average less than 2.0 assists per-40 minutes, while
Sam Young
,
Victor Claver
, and
Omri Casspi
averaged less than one. Based on where they are projected in the draft, it seems that the lack of passing ability these players display is not hurting them that much.
Turnovers Per-40 Minutes Pace Adjusted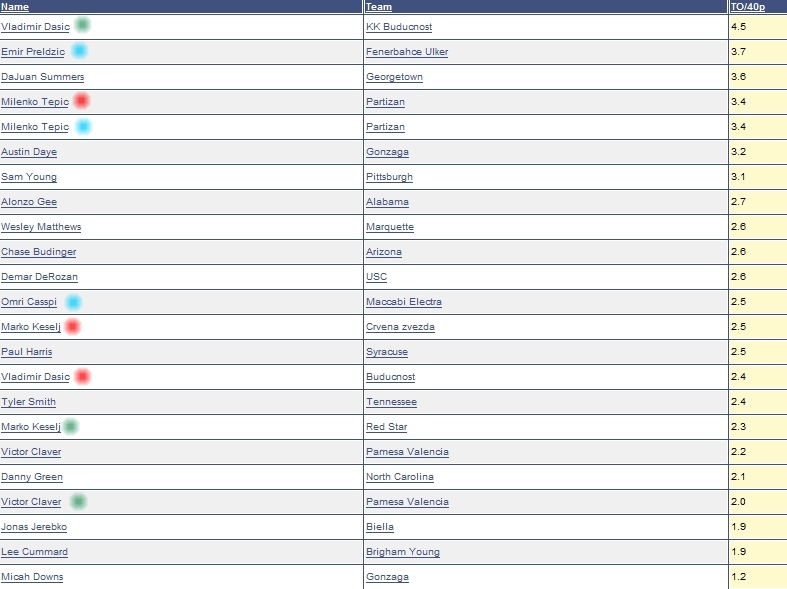 In contrast to our assist numbers, this table shows us who gave the ball up the most frequently per full game. This is often a pretty good indicator of the roles that the various prospects played for their teams.
Vladimir Dasic
's 4.5 turnovers per-contest had everything to do with the fact that he was carrying his team in one of Europe's top competitions, as well as the fact that he was very much prone to forcing the issue. Returning to Europe this season, we'll check back in on him next season as the team around him changes. Emir Preldzic and
Milenko Tepic
shared Dasic's burden, spending quite a bit of time with the ball in their hands against excellent defenders.
Amongst NCAA players,
DaJuan Summers
falls in the same boat, while
Austin Daye
seems to have fewer excuses to offer considering his limited role. Near the bottom of our list we once again find
Danny Green
and
Jonas Jerebko
, offering yet another example of how solid they are as role players.
Assist to Turnover Ratio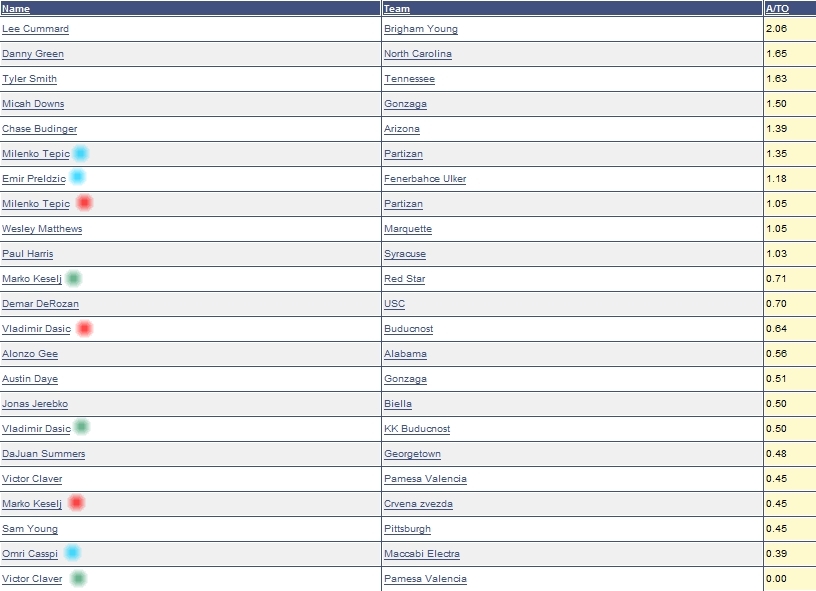 Taking our last two spreadsheets and putting them together to form the classic measure of playmaking efficiency, we discover which players are the best decision-makers with their passing, or in this case, who are the worst. We've talked extensively about
Lee Cummard
's excellent basketball IQ this season, and this stat shows you just how smart he is with the ball.
Danny Green
posts a solid mark at 1.65, while almost every major project from this group turns the ball over more often than they tally an assist.
Sam Young
finishes at a poor .45 and
Omri Casspi
brings up the rear at .39--neither player is particularly known for their decision making skills. There aren't many notable passers in this group, especially amongst the players projected to be drafted.
Pure Point Rating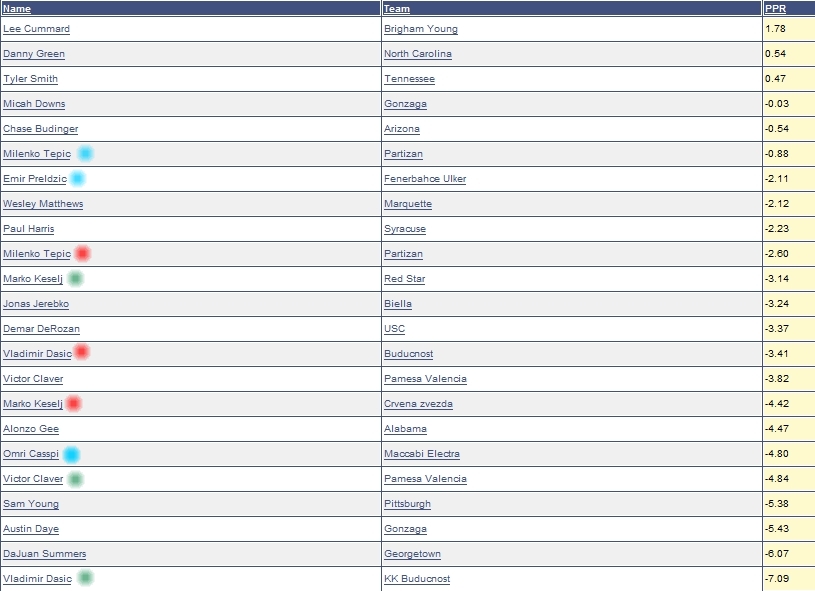 Accounting for the fact that turnovers are statistically worse than assists are positive, and for pace, Jon Hollinger's pure point rating builds on the A/TO ratio that many of us use to gauge the efficiency of point guards.
Applying this formula to this year's small forwards, we see that
Lee Cummard
is the only player that did his team a significant service with his passing. In fact, he,
Danny Green
, and
Tyler Smith
were the only players adding value and not falling below zero. This metric doesn't flatter any of the major prospects, but does dock
DaJuan Summers
and
Austin Daye
more so than the others for their carelessness with the ball.
Rebounds Per-40 Minutes Pace Adjusted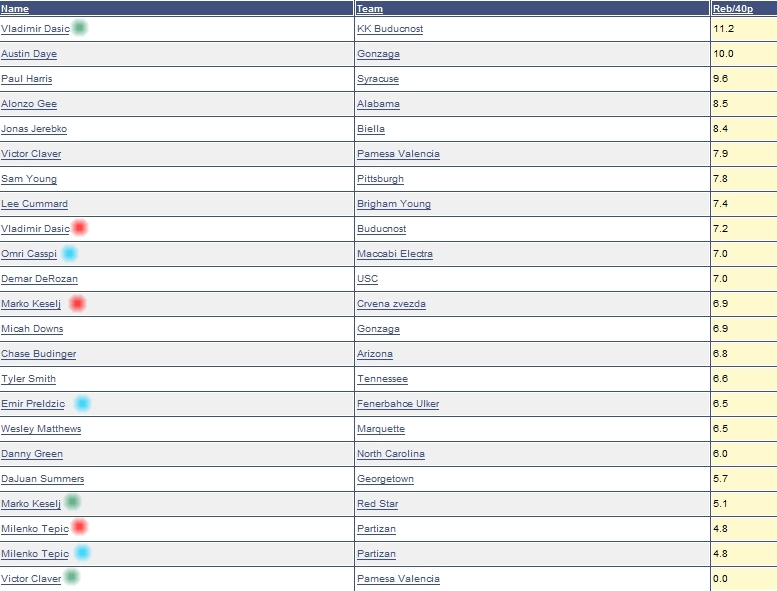 Most basketball games are decided by just a few possessions, which makes every rebound pulled down from any position another small step in the direction of helping a team secure a victory. Different coaches have different philosophies on this matter, and the small forward position plays an important role in their rebounding strategies. Some of these guys were running up the floor, while others were actually matched up against power forwards and spent a lot of time fighting down low. It is important to consider those facts when looking at these numbers.
Austin Daye
is the top NCAA rebounder on our list at an even 10.0 rebounds per-40. His terrific height, wingspan and instincts let him pull down rebounds at a high rate despite his lack of strength.
Paul Harris
follows him, showing why some people considered him to be something of a combo forward despite his 6-3 size. Having a mammoth 6-11 wingspan and 237 pound frame probably didn't hurt.
Overall, size, length, and strength seem to be the keys to good rebounding for this group, as
Victor Claver
and
Jonas Jerebko
both utilize their size to make an impact as rebounders while
Sam Young
and
Lee Cummard
use their exceptional wingspans to rebounder taller than they stand.
DaJuan Summers played the 4-spot for Georgetown primarily, but you can better see why many consider him to be a soft prospect looking at his rebounding totals.
Steals Per-40 Minutes Pace Adjusted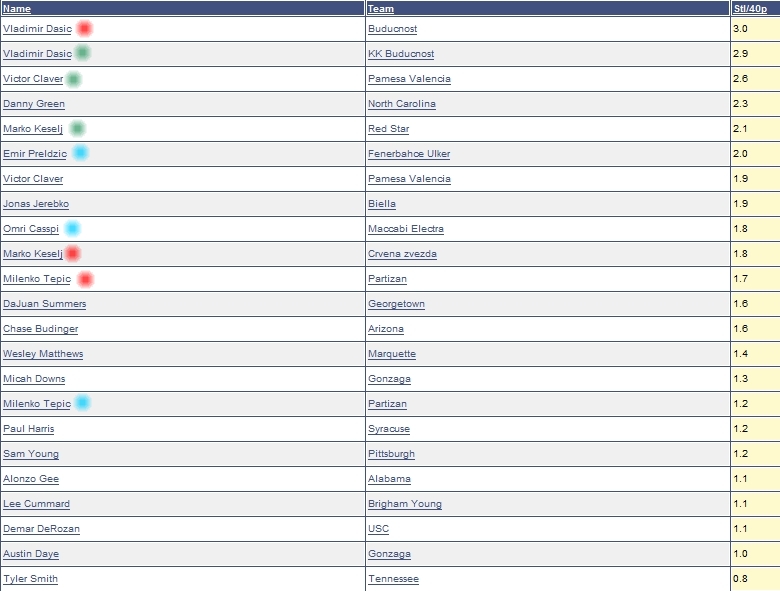 Not a pure measure of defensive ability, but a telling indicator of length, athleticism, and anticipation, we find
Vladimir Dasic
and
Victor Claver
at the top of our list. Big forwards with solid athleticism, both players were active in the passing lanes overseas.
Danny Green
checks in as the third best thief in this group, due to his excellent length, effort level and awareness.
Demar DeRozan
and
Austin Daye
sit near the bottom of our rankings, which is notable since both have some physical tools to make an impact, but don't manage much production. For Daye it's likely a matter of effort, while DeRozan isn't quite as long as you might hope. Based on what we can see here, international players seem to force more turnovers from this position than their NCAA counterparts.
Blocks Per-40 Pace Adjusted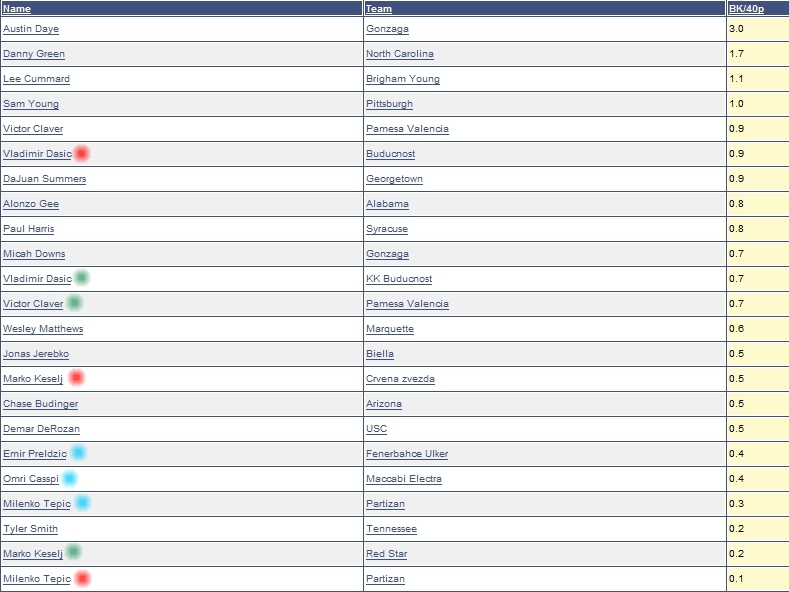 This is yet another stat that can provide some insight into the physical tools that the various small forwards in this class bring to the table.
Austin Daye
's silly wingspan lets him block almost twice as many shots as the second place finisher
Danny Green
.
Lee Cummard
manages to block 1.1 shots per-40 minutes –quite an accomplishment for a limited athlete. On the down side, its hard to believe that two explosive leapers like
Demar DeRozan
and
Chase Budinger
can't muster more than half a block per-40. Two prospects lauded for their ability to elevate, neither shows well by this metric.
Team Possesions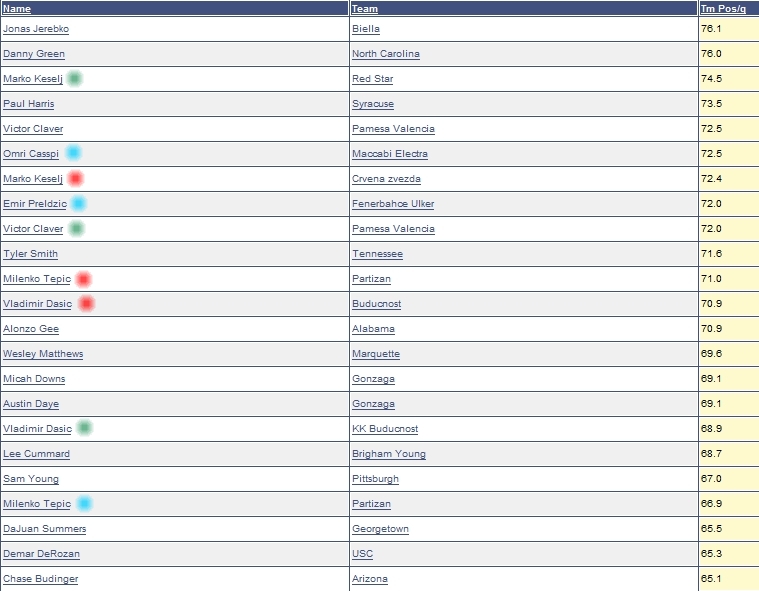 To get a feel for which of these players come from fast versus slow teams, we can observe how many possessions their team's use each game. Angelico Biella from the Italian Serie A edges out UNC, who once again shows that they can play as fast as most European teams . We can also see how Partizan managed to win so many games in the Euoleague this season, since they slowed the game down to compensate for their lack of talent in comparison to some teams.
Milenko Tepic
had a lot to do with their ability to implement such a strategy.
Chase Budinger
and
Demar DeRozan
both come from slower paced teams, which seems to be a theme from more than a few PAC-10 prospect teams in our analyses.
Player Efficiency Rating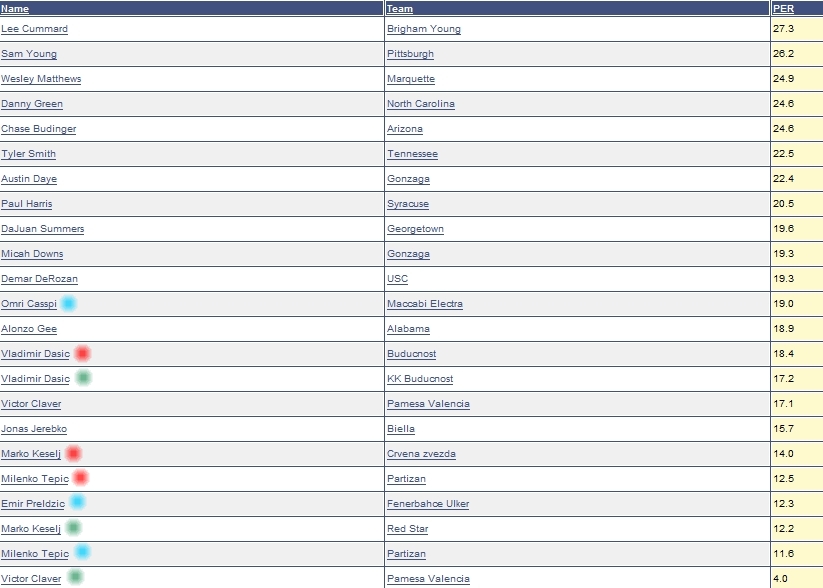 John Hollinger's PER is a total measure of what a player does on the floor based on more than a dozen weighted calculations. It isn't wise to compare players across different leagues, though, since an average score of 15 (the median) would be a totally different figure in another league, with its own averages. Given the diversity of this group, it is tough to make many comparisons here, particularly when it comes to the international players.
The top of the list is populated by the obvious suspects, namely
Lee Cummard
,
Sam Young
and
Wesley Matthews
, all of who did a lot of scoring and a bit of everything else for their teams.
Danny Green
surprisingly ties
Chase Budinger
, for a role player, he is very valuable by this measure of productivity and efficiency.
Demar DeRozan ranks second to last amongst NCAA prospects, which is another strong indicator of how far off he probably is from contributing on a consistent basis.
Based on what we can see here, European prospects on the whole post significantly lower PER stats than their NCAA counterparts.
Efficiency Per-40 Minutes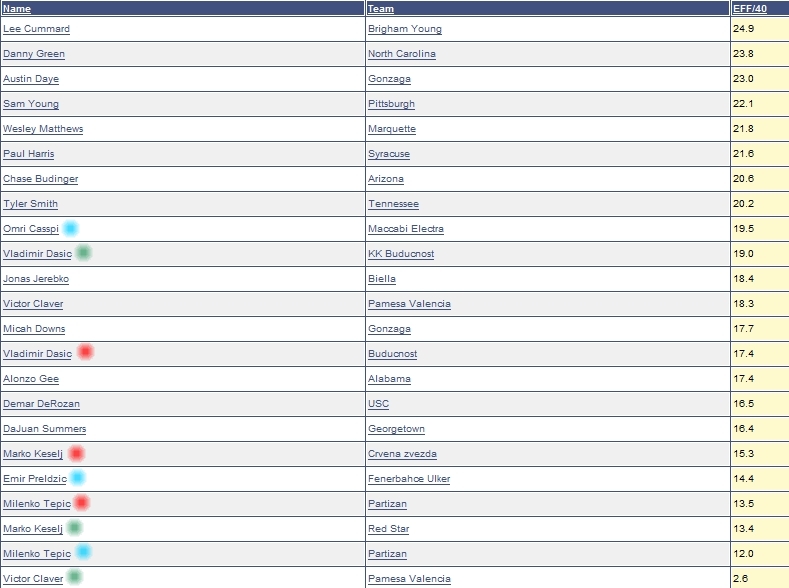 A Per-40 measure of productivity based on equally weighted stats, EFF/40 gives us some comparative opportunities that PER wasn't designed to. Pushing
Austin Daye
up the list a bit, this stat rewards do it all types like
Lee Cummard
and
Danny Green
. Though it doesn't say anything about potential or athleticism, productivity is the key here.
DaJuan Summers
and
Demar DeRozan
don't look good by this measure, due to the fact that they aren't as well rounded or productive as some of the players ranking above them.