Sean Marshall, a 4-year standout at Boston College (15 points per game), shares his thoughts on his rookie year so far with 2nd place Pinar Karsiyaka, where he is in the midst of a successful rookie campaign in the Turkish TBL. Marshall discusses the transition he's making to living and playing overseas, where he is currently the #1 scorer in the league (21.2 ppg), ahead of many established NBA and NCAA players (
Dee Brown
,
Loren Woods
,
Khalid El-Amin
,
James White
, many more), playing alongside two fellow American rookies in
Gary Neal
and
Quinton Hosley
—who are also playing extremely well.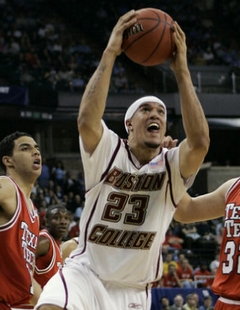 How did you end up signing in Turkey? How did the process go?
Seeing that I only worked out for one NBA team, I knew I had no chance to get drafted. I waited after the draft to hear from the Cavs to see if I had been chosen to play for their summer league team. When that didn't work out, I then began to think about the Europe route. I wanted to go to a place where I could get the right exposure to start my career, as well as be comfortable. Turkey seemed like the perfect fit. So that's when the decision was made.
Your team Pinar took the very unusual step of signing 3 rookie
American players on the same team. That's almost unheard of in European basketball, especially for a team that has no other import players except for you three. Did they talk to you guys about that?
It's funny you ask that question, because if you were to look at our whole team most of us are rookies. We have one guy who has been playing for 15 years and the rest of us our between 19 and 23. I think that's the way our coach likes it. He chose three rookie American players because he believed that we would want to be better and would work hard in the process. There is something about playing against a guy who makes one million dollars that just makes you want to outplay that guy. We all want to be successful and we want to be the best team in this league. Being a rookie is just a title, we don't feel as if we are any different than the other experienced American players.
Your team is currently in 2nd place in the Turkish league (a huge accomplishment considering the budget disparities between Pinar and some of the bigger clubs), and the three of you [rookies Marshall, Gary Neal and Quinton Hosley] are averaging around 60 points combined. Even though it's obviously still early, what do you attribute that success to?
Yes, we have gotten off to a really good start seeing that we don't have the money to get the big budget type of players. I think the biggest thing is we believe in ourselves. We have a high team self confidence, and it shows on the court. We look at teams with the 12 million dollar budget and we don't see any differences between us and them, except the money. We think we have the best three Americans on one team in Turkey and our Turkish players are always stepping up and making big plays. When you have a team that wants to consistently show that they can compete with the best, you're going to get good results. Our coach depends a lot on the three Americans to do what he asks, and we know that we have to do certain things for our team to be at the top of the league. When you have three guys that can score, it's hard to stop them all.
Has there been a learning curve for the three of you guys to adapt to European basketball?
Yes, there are a lot of things that we had to get adjusted to. The way they call traveling calls is completely different. Catching the ball in stride and taking a step to the basket does not work over here. They will call a player for it every time. Another thing we had to get adjusted to was the practices. We practice two times a day for the whole year. We even have to get up early in the mornings and practice before a game sometimes. Our coach believes it makes you a stronger player. When I first got here I just believed it made you a tired player, but I can say I'm used to it now.
What are your goals as far as professional basketball is concerned, and how much is this year going to help you out along the way?
Ever since I was a kid I wanted to play basketball in the NBA. I never thought it would come true. I never thought I would play basketball in the ACC. I continued to work hard and I made it to college. There was a special man in my life that believed in me and gave me confidence. My AAU coach Keith Howard. He helped me get to college. He helped me through college, and he continues to help me now. Without him I would not be able to dream big the way I do now. My goal this year is to take it one game at a time and try to have the best season I can. I believe I can lead this league in scoring and shoot a good percentage while doing so. I will always dream to play in the NBA and I'm going to do my part on the court to try and get those looks. If that is God's plan for me, then I will follow that dream. Either way I will be happy. Playing pro ball is a big accomplishment wherever it is, and I'm going to enjoy every minute of it.
What are some of the things in your daily routine from America that you've been able to carry over (music, food, TV, other sports, whatever), and what are some things you miss?
Well there is a mall about five minutes away from my house. It's a really big mall like one that would be in America. I spend most of my time there. I get free internet there with my computer so I find time to sit there for three hours and talk to my friends and family. I just got digital cable in my home so that is a plus. I get to watch one NFL game a week and I also have NBA TV. I miss little things about America like having a full conversation with someone who can understand every word I am saying. I love to eat and I'm not a big fan of the Turkish food here so I've lost some weight. I think it was a good thing to lose the extra pounds but now that they are gone I don't want to lose anymore. I'm from California so I really miss eating Mexican food. It's one of my favorite meals to eat.
Do you have any thoughts for American basketball players who just finished college on what it's like to play overseas? Many of them are extremely hesitant to do so...do you have any advice for them?
It's all about the kind of person you are. Some people would not be able to be on the other side of the world alone and away from the people they love. For me to say that this is an easy task would be a lie. It's extremely hard, but I went to school on the other side of the United States so I learned to be away from home. I miss my family and loved ones every day, but this is what I love to do and it's very important to me. I just stay focused on what I have to do here and what my future goals are. Nothing worth having in life comes easy, and I truly believe that. So the advice I would give to a player coming out of college is to find out what they want in life. What's important, and are they strong enough to deal with the dark and lonely days that come with playing in Europe.