Day two of the McDonald's All-American practices gave us a great opportunity to continue to evaluate the top prospects of the 2009 high school class. The day started off slow, as much of the first hour of practice was mostly a free-for all, with players practicing their half-court trick shots, and others participated in an impromptu dunk contest. The second hour was a little more competitive on the side featuring the West team, while the East again mostly looked to be in vacation mode.
Several of the analysts staffed to work this week expressed frustration in the lack of competitive basketball. "A total waste of time" one called it. "The least intense practices this event has ever seen" complained another. "Social hour" a third described it. Despite the riffraff atmosphere, there were still a few competitive moments that allowed us to glean insight into the makeup of some of the top players, mostly those from the West squad.
Most interesting might have been the media day right after the practices, giving us a chance to hear the thoughts of a very perplexed
Xavier Henry
, clearly reeling from the rumors of his future head coach John Calipari about to sign a massive contract at Memphis, as well as
DeMarcus Cousins
, who is in a similar situation after only having made up his mind about college last month. We'll have plenty of other video from the media session as well, featuring players such as
Derrick Favors
,
Avery Bradley
,
Abdul Gaddy
,
Renardo Sidney
,
Peyton Siva
, Malik Waayns and others.
Always entertaining is the constant circus around
Lance Stephenson
, who finally managed to get on a flight, and proceeded to cancel his scheduled college announcement this afternoon. Stephenson and his father felt the need to call a press conference just to tell the media that they have no announcement to make at this point, which caused quite a few people to roll their eyes.
Player Evaluations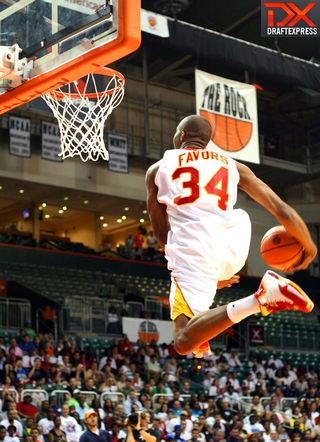 Michael Snaer
again showed a fire that will endear him quickly to the coaching staff at Florida State, already known as one of the top defensive teams in college basketball this past season. He was constantly around the ball on both ends of the floor, grabbing offensive rebounds, scrapping for loose balls and always looking to make his presence felt. He made a number of aggressive plays on the defensive end, going right at the likes of
Xavier Henry
,
Avery Bradley
and
Abdul Gaddy
. His mid-range game continued to look pretty impressive, and when being guarded by a smaller player like Gaddy for example, he even tried to take him down to the paint and post him up. Snaer isn't the most skilled player you'll find here, but his physical tools, the tenacity in which he plays with and his raw talent leads you to believe that he has a chance to develop into an interesting prospect down the road.
Avery Bradley
really came to play today, doing an outstanding job showing his skill-set on both ends of the floor. His outstanding athleticism was constantly on display with the way he crashed the offensive glass, coming up with a number of excellent put-backs, and also hammering home some impressive dunks in transition—not a surprise considering that he won the dunk contest last night. While not yet a great 3-point shooter, and likely an improvable ball-handler, Bradley showed a terrific first-step and a prolific mid-range game, which should allow him to make an impact offensively for Texas right away. Defensively, he was outstanding as he always is, showing a real competitive spirit that was sorely lacking at these practices the past two days. Even though he's clearly not a point guard, and his current limitations are fairly evident, Bradley has the makings of an intriguing long-term prospect that we'll definitely have to keep an eye on right away in the Big 12.
Mason Plumlee
put on quite a show at the dunk contest last night in terms of athleticism and pure creativity, and he continued to impress today with his excellent raw physical tools. He set the tone early on at the practice by diving on the floor for a loose ball, which immediately seemed to raise the level of intensity for everyone around him. He had a couple of impressive moves around the rim, putting the ball on the floor and finishing emphatically at the rim, and also showed a nice stroke from beyond the arc. He's clearly a very raw prospect who is quite a ways away from being able to contribute on the defensive end the way Coach K will demand from him next year at Duke, but his upside is definitely intriguing.
In terms of disappointments, there were a few to note as well.
Renardo Sidney
hasn't done much beyond hanging out around the 3-point line and jacking up bad shots, and is playing quite selfishly as well. He's put in very little effort thus far, particularly on the defensive end, and looks like he will be a major project for Tim Floyd next season.
Tiny Gallon
is another player that seems to mostly be in vacation mode in the practices we've observed thus far. He's put zero effort in defensively, has mostly been settling for pull-up jumpers offensively, and hasn't looked very serious in the drills either. You can clearly see the talent with his ability to create shots impressively at the power forward position and use his huge hands and excellent footwork to operate inside, but he hasn't done that enough in this setting yet unfortunately.
Xavier Henry
has pretty much been in a daze for the past two days, which is understandable considering how confused he must be by the potential departure of John Calipari to Kentucky. He has to be feeling pretty smart about putting in the clause to his Letter of Intent allowing him to nullify his commitment to Memphis in the event of Coach Cal leaving, and the word here is that he'll be headed to Kansas if that indeed happens. That's likely the reason why
Lance Stephenson
has elected to put off his announcement to commit to KU until all that plays out, and it could have ramifications on the decision of top 2010 wing prospect Harrison Barnes as well. Back to Henry, he hasn't shown a great of excitement in the action we've seen here, putting little effort in on the defensive end and being very ineffective with his perimeter shooting as well. His conditioning doesn't appear to be 100% either, which is not a surprise considering the extended time he's been forced to sit out earlier this season.
Interview with Xavier Henry