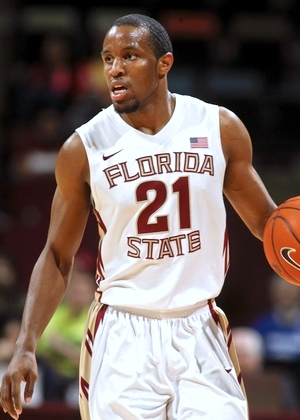 Kyle Nelson
Michael Snaer
concluded a successful college career on a mixed note, netting 24 points to go along with four rebounds and two steals, but failing to lift Florida State over Louisiana Tech in the first round of the NIT.
Snaer may not have emerged as the collegiate star he was expected to develop into as a top-20 RSCI recruit and
McDonald's All-American
, but there is little doubt that he was an essential player on some of the best teams in Florida State basketball's history, and its leading scorer during his junior and senior seasons. Perhaps what he'll be best remembered for is his penchant for making clutch shots, as he hit an astounding six buzzer-beating winners in his junior and senior seasons, five of which are shown in the following video:
Now, as Snaer prepares for the NBA Draft and having left behind a wealth of game tape from throughout his college career, scouts must consider just how much of an impact he can make at the next level.
Snaer remains a solid prospect from a physical perspective, standing 6'5 in shoes with a 6'7 wingspan and a 202-pound frame. Despite having just average size for a NBA shooting guard, Snaer compensates athletically, possessing very good quickness and explosiveness, along with the toughness to maximize the effectiveness of his physical tools.
At first glance, Snaer is a very similar prospect to the player that we wrote about at the beginning of his senior season. After all, despite being featured more in Florida State's offense – not to mention receiving over 20% of Florida State's overall possessions - and playing a career high 32.7 minutes per game, Snaer's production stayed more-or-less the same from his junior to his senior year, upping his scoring average from 17.7 to 17.9 points per 40 minutes pace adjusted.
Delving deeper into the numbers, however, reveals that Snaer's role changed significantly as he went from seeing nearly half of his attempts in spot-up and transition situations to a more balanced role as Florida State's principle offensive option. According to Synergy Sports Technology, Snaer was utilized as primary ball handler in the pick-and-roll, in isolation sets, and off of screens to a far greater extent during his senior year than was the case as a junior.
On film, the results are mixed. He remains a very good perimeter shooter – with a low release point, but consistent mechanics and range well beyond the three-point line – and he leaves Florida State with a career 38.4% 3-point percentage. While Snaer was also a very good spot-up shooter as a junior, he increased his efficiency shooting off the dribble, while having to create more of his own perimeter looks. His mid-range game remains lacking in many ways, but he did look more comfortable pulling up off of the dribble into a jump shot or converting with his floater, which has been a strength of his throughout his college career and is a particularly intriguing weapon due to his quick first step.
Snaer is not an overly skilled or efficient scorer inside the arc, as indicated by his subpar 46% 2-point conversion rate, which ranks
in the bottom-10 amongst top-100 prospects
in this category. Most of this is due to He struggles not only due to his lack of elite size and strength, but also because of his occasional struggles finishing with his left hand and the fact that he has both average touch and is not a particularly creative finisher around the basket.
He did, however, attempt a career high 5.2 free throws per 40 minutes pace adjusted, which ranks him
in the middle of the pack amongst top-100 prospects
, but shows both his improved ability to attack the basket and how his game has evolved from his junior to his senior seasons. His aggressiveness has resulted in significantly more turnovers, and he averaged 3.3 turnovers per 40 minutes pace adjusted as a senior versus just 2.6 per 40 minutes pace adjusted as a junior, but this has to be viewed as a welcome sign as he's clearly a better ball-handler than he appeared to be earlier in his career.
Ultimately, while Snaer is not a particularly skilled or creative scorer on the offensive end, he has developed into a steady and relatively versatile threat. His improved ball-handling ability has certainly helped him here, and Snaer creates quite a bit of his perimeter and mid-range offense due to his increased comfort operating with his right hand and a trusty crossover. He is far more dangerous attacking the basket with his right hand, and subsequently prefers to finish right no matter which way he's slashing, but it is worth noting that he drove right only 42.9% as a senior against 68.9% as a junior. Continuing to develop in this area could allow him to continue to develop his offensive game and improve his draft standing in the process, as he does not have an elite jump-shot or great passing ability to fall back on.
Despite this decidedly mixed offensive evaluation, Snaer's projected role in the NBA likely resembles his junior, rather than his senior season. His increased role as a senior at Florida State shows what he may be capable contributing with future development, rather than how he will be utilized as a rotation player at the next level. His improvement between his junior and senior years also suggests that he might not yet be a finished product despite turning 23 this June.
With all the discussion about his offensive game, what remains clear is that where Snaer will be making his money in the NBA is on the other end of the floor. His defense is already up-to-par with an eye towards the NBA, both in terms of individual and team defense. As has been written at length in
previous evaluations
, Snaer is a very good perimeter defender, with the lateral quickness and length to excel at the next level.
Coming off a strong four year career at Florida State, Snaer proven himself to be a legitimate NBA prospect. While his upside may be limited in terms of what he has to offer an NBA offense, his combination of defensive ability and perimeter shooting may appeal to veteran teams looking for players to contribute immediately on a small contract. It remains to be seen how well Snaer performs in pre-draft settings, but there is no doubt that he positioned himself well with his solid senior season to hear his name called on draft night.