Michael Snaer
Recent Tweets
All Tweets
DraftExpress: More Undrafted Matthew Dellavedova Phil Pressey B.J. Young Dewayne Dedmon Richard Howell Brandon Davies Michael Snaer Brandon Paul.
2013-06-28 00:17:54
DraftExpress: Vander Blue Will Clyburn and Robert Covington have been added to the NBA Combine invite list. Still no Michael Snaer?
2013-05-10 13:43:30
DraftExpress: Last 5 DX Scouting Reports Mason Plumlee Shabazz Muhammad Mike Muscala (w\/video) Michael Snaer Jackie Carmichael http://t.co/1pmLVUtIyG
2013-04-05 09:52:48
DraftExpress: DX Trending Prospects Michael Snaer http://t.co/HsrxU5rUkV
2013-03-27 12:18:07
DraftExpress: Don't shoot the messenger. Just reporting the results. Conference decided. RT @JDavidwalker Shane Larkin over Michael Snaer for all-defense?
2013-03-17 20:16:23
Top 25s - Full List
Team: Florida State
Physicals
Positions
Rankings
Salary
Misc
H: 6' 4"
W: 185 lbs
Bday: 06/21/1990
(25 Years Old)

Current: SG
NBA: SG
Possible: SG

RSCI: 19

Agent: Brian Elfus

High School: Rancho Verde
Hometown: Moreno Valley, CA
Best Case: DeShawn Stevenson
Worst Case:

Predraft Measurements
| Year | Source | Height w/o Shoes | Height w/shoes | Weight | Wingspan | Standing Reach | Body Fat | No Step Vert | Max Vert |
| --- | --- | --- | --- | --- | --- | --- | --- | --- | --- |
| 2013 | Nets Workout | 6' 3.5" | 6' 4.5" | 201 | 6' 8" | 8' 3" | 7.0 | 32.0 | 37.0 |
| 2012 | LeBron James Camp | NA | 6' 5" | 201 | 6' 7" | NA | NA | NA | NA |
| 2012 | Kevin Durant Camp | NA | 6' 5" | 201 | 6' 7" | NA | NA | NA | NA |



Basic Per Game Statistics

- Comprehensive Stats - Statistical Top 25s
| Year | League | Name | GP | Min | Pts | FG | FGA | FG% | 2Pt | 2PtA | 2P% | 3Pt | 3PtA | 3P% | FTM | FTA | FT% | Off | Def | TOT | Asts | Stls | Blks | TOs | PFs |
| --- | --- | --- | --- | --- | --- | --- | --- | --- | --- | --- | --- | --- | --- | --- | --- | --- | --- | --- | --- | --- | --- | --- | --- | --- | --- |
| 2013/14 | Italian | Michael Snaer | 30 | 25.3 | 7.6 | 2.7 | 7.1 | 38.3 | 1.6 | 3.7 | 44.1 | 1.1 | 3.4 | 32.0 | 1.0 | 1.2 | 85.7 | 0.5 | 1.8 | 2.3 | 1.2 | 0.9 | 0.2 | 1.3 | 1.6 |

Player Page&nbsp&nbsp| Player Stats | Mock Draft History | Related Articles&nbsp&nbsp| Add to My Draft Express&nbsp
&nbsp
Trending Prospects: Michael Snaer
March 27, 2013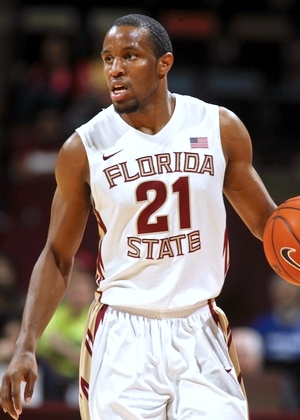 US Presswire



Kyle Nelson

Michael Snaer concluded a successful college career on a mixed note, netting 24 points to go along with four rebounds and two steals, but failing to lift Florida State over Louisiana Tech in the first round of the NIT.

Snaer may not have emerged as the collegiate star he was expected to develop into as a top-20 RSCI recruit and McDonald's All-American, but there is little doubt that he was an essential player on some of the best teams in Florida State basketball's history, and its leading scorer during his junior and senior seasons. Perhaps what he'll be best remembered for is his penchant for making clutch shots, as he hit an astounding six buzzer-beating winners in his junior and senior seasons, five of which are shown in the following video:



Now, as Snaer prepares for the NBA Draft and having left behind a wealth of game tape from throughout his college career, scouts must consider just how much of an impact he can make at the next level.

Snaer remains a solid prospect from a physical perspective, standing 6'5 in shoes with a 6'7 wingspan and a 202-pound frame. Despite having just average size for a NBA shooting guard, Snaer compensates athletically, possessing very good quickness and explosiveness, along with the toughness to maximize the effectiveness of his physical tools.

At first glance, Snaer is a very similar prospect to the player that we wrote about at the beginning of his senior season. After all, despite being featured more in Florida State's offense – not to mention receiving over 20% of Florida State's overall possessions - and playing a career high 32.7 minutes per game, Snaer's production stayed more-or-less the same from his junior to his senior year, upping his scoring average from 17.7 to 17.9 points per 40 minutes pace adjusted.

Delving deeper into the numbers, however, reveals that Snaer's role changed significantly as he went from seeing nearly half of his attempts in spot-up and transition situations to a more balanced role as Florida State's principle offensive option. According to Synergy Sports Technology, Snaer was utilized as primary ball handler in the pick-and-roll, in isolation sets, and off of screens to a far greater extent during his senior year than was the case as a junior.

On film, the results are mixed. He remains a very good perimeter shooter – with a low release point, but consistent mechanics and range well beyond the three-point line – and he leaves Florida State with a career 38.4% 3-point percentage. While Snaer was also a very good spot-up shooter as a junior, he increased his efficiency shooting off the dribble, while having to create more of his own perimeter looks. His mid-range game remains lacking in many ways, but he did look more comfortable pulling up off of the dribble into a jump shot or converting with his floater, which has been a strength of his throughout his college career and is a particularly intriguing weapon due to his quick first step.

Snaer is not an overly skilled or efficient scorer inside the arc, as indicated by his subpar 46% 2-point conversion rate, which ranks in the bottom-10 amongst top-100 prospects in this category. Most of this is due to He struggles not only due to his lack of elite size and strength, but also because of his occasional struggles finishing with his left hand and the fact that he has both average touch and is not a particularly creative finisher around the basket.

He did, however, attempt a career high 5.2 free throws per 40 minutes pace adjusted, which ranks him in the middle of the pack amongst top-100 prospects, but shows both his improved ability to attack the basket and how his game has evolved from his junior to his senior seasons. His aggressiveness has resulted in significantly more turnovers, and he averaged 3.3 turnovers per 40 minutes pace adjusted as a senior versus just 2.6 per 40 minutes pace adjusted as a junior, but this has to be viewed as a welcome sign as he's clearly a better ball-handler than he appeared to be earlier in his career.

Ultimately, while Snaer is not a particularly skilled or creative scorer on the offensive end, he has developed into a steady and relatively versatile threat. His improved ball-handling ability has certainly helped him here, and Snaer creates quite a bit of his perimeter and mid-range offense due to his increased comfort operating with his right hand and a trusty crossover. He is far more dangerous attacking the basket with his right hand, and subsequently prefers to finish right no matter which way he's slashing, but it is worth noting that he drove right only 42.9% as a senior against 68.9% as a junior. Continuing to develop in this area could allow him to continue to develop his offensive game and improve his draft standing in the process, as he does not have an elite jump-shot or great passing ability to fall back on.

Despite this decidedly mixed offensive evaluation, Snaer's projected role in the NBA likely resembles his junior, rather than his senior season. His increased role as a senior at Florida State shows what he may be capable contributing with future development, rather than how he will be utilized as a rotation player at the next level. His improvement between his junior and senior years also suggests that he might not yet be a finished product despite turning 23 this June.

With all the discussion about his offensive game, what remains clear is that where Snaer will be making his money in the NBA is on the other end of the floor. His defense is already up-to-par with an eye towards the NBA, both in terms of individual and team defense. As has been written at length in previous evaluations, Snaer is a very good perimeter defender, with the lateral quickness and length to excel at the next level.

Coming off a strong four year career at Florida State, Snaer proven himself to be a legitimate NBA prospect. While his upside may be limited in terms of what he has to offer an NBA offense, his combination of defensive ability and perimeter shooting may appeal to veteran teams looking for players to contribute immediately on a small contract. It remains to be seen how well Snaer performs in pre-draft settings, but there is no doubt that he positioned himself well with his solid senior season to hear his name called on draft night.

[Read Full Article]

---
Top NBA Draft Prospects in the ACC, Part Four
September 20, 2012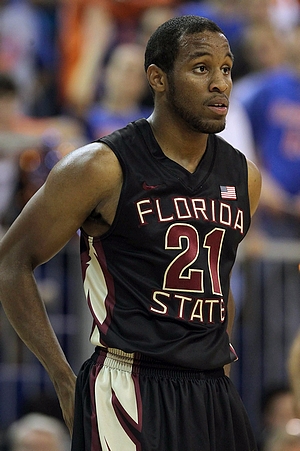 US Presswire



Joe Treutlein

After two solid but underwhelming seasons to start his college career, Michael Snaer finally took a big step forward as a junior, noticeably increasing his pace-adjusted production and efficiency numbers in a variety of categories. Snaer's scoring was the most obvious improvement, as he increased from 11.9 to 17.7 points per 40 minutes pace adjusted while also improving his true shooting percentage from 51% to 57%.

What's most interesting about Snaer's across-the-board improvements is that he didn't make any big, noteworthy leaps forward with any of his individual skills, but rather benefited from a few small tweaks in various areas of his game. In addition to his scoring improvements, Snaer cut his turnovers per possession drastically from 0.26 to 0.17, got to the free throw line considerably more, and further took advantage of that by boosting his free throw percentage from 77.6% to 84.6%.

In terms of individual skills, Snaer's ongoing improvement with his jump shot was the most noteworthy individual development last season, specifically from three-point range. He upped his attempts from 3.4 to 4.7 per game while also increasing his 3P% from 36.8% to 40.4%. Like last season, Snaer's mechanics look exceptional in space, especially when spotting up, and he exhibits clear cut NBA three-point range. He can still improve his shot more, especially with regards to pulling up off the dribble and/or converting contested shots, but he's made solid strides in his three seasons at Florida State thus far, seeing his FT% and 3P% both improve each season.

Attacking the basket in the half court remains a relatively unimpressive part of Snaer's game, though he did a good job this past season playing to his strengths, picking his spots well to cut down on turnovers. He still has trouble finishing at the basket, being somewhat undersized on one hand and not having the high-end ball-handling ability to easily transition from dribble to lay-ups on the other, but he's developed an outstanding floater in the lane with range practically to the free-throw line that somewhat masks his other weaknesses.

On the defensive end, Snaer continues to be a very effective player, having both excellent fundamentals and the focus and energy to go along with it. In addition to his strengths in pressure isolation defense, Snaer has also developed into a very good pick-and-roll defender, doing a good job using his change of direction abilities to stick with his man through screens and also doing a good job contesting shots from the side and behind when he isn't able to stay in front of his man.

Looking forward, Snaer has exhibited a clear learning curve in his time in college while bringing some attractive assets to the table with his defense, athletic abilities, and shooting. He could help himself further by continuing to polish his offensive game, both his ball-handling and his perimeter shot, and could likely find a niche in the NBA if he can show that his jumper and defensive prowess translates to the professional level.

[Read Full Article]

---
Top NBA Draft Prospects in the ACC, Part Four (#16-20)
September 23, 2011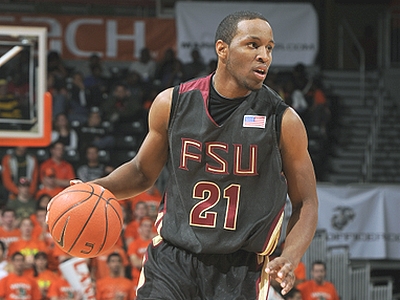 Icon SMI



Joseph Treutlein

Coming off a solid but unspectacular freshman season, Michael Snaer basically replicated his production as a sophomore, not showing significant progress in any one area, and even regressing in some, namely his 2-point percentages and free throw rate. With teammates and leading scorers Chris Singleton and Derwin Kitchen both no longer on campus, however, the former McDonald's All-American will have every opportunity to step up and show he can do more.

Looking at Snaer's offensive game, he's still raw in most areas, though he has shown some slight progress with his jump shot. Snaer saw slight upticks in his free-throw shooting (77% up from 66%) and his three-point shooting (37% up from 35%) as a sophomore, while also increasing his three-point attempts from 2.1 to 3.4 per game.

Snaer has very nice mechanics when spotting up in space, having a high and quick release along with excellent elevation, while he also does a good job of moving off the ball to get open. Snaer is very reliable when he's left open, hitting an impressive 1.25 points per shot on catch-and-shoot jumpers according to Synergy. Things tend to break down when he operates off the dribble, however, as his pull-up jumper is very erratic, where he struggles staying balanced and getting his feet under him consistently.

Snaer's jumper is the most reliable and consistent aspect of his offensive game, as his ball-handling is still extremely raw, with him showing little in terms of advanced ball-handling or change of direction ability in the halfcourt. He has a very nice first step and is capable of making very rangy strides on straight line, open space opportunities, but this doesn't convert to more difficult situations because his shaky ball-handling doesn't allow him to operate at full speed.

Snaer has a decent floater in his arsenal, and shows flashes of ability to finish around the rim in the halfcourt setting, but really struggles to consistently create good shot attempts off the dribble both in the lane and on the perimeter. This is clearly the biggest area where Snaer can improve, and may be necessary for him to succeed at the next level given his size, as there aren't many undersized shooting guards in the NBA who don't possess reliable shot creating ability or elite perimeter shooting.

The other area Snaer makes some strong contributions on the offensive end is getting out in transition, an area where his excellent athletic tools overshadow his limited ball-handling. Snaer is very aggressive in getting out in transition and either going hard to the basket or setting up for open jumpers, showing good awareness and hustle.

While Snaer's offensive game is still a work in progress, the same can't be said about his work on the other end of the floor, where his tenacious, high energy style was a key component of what made Florida State the #1 ranked defense in the nation last season according to kenpom.com.

Snaer shows a great fundamental base and lateral quickness for sticking with his man on the perimeter, doing a good job dealing with multiple changes of direction and contesting shots. He also does a very good job sticking with his man off the ball, showing good awareness and positioning along with the ability to chase through screens.

Looking forward, Snaer's athletic tools combined with his defensive prowess give him a nice foundation to build upon, but he still has a ways to go with his offensive polish. Snaer's production has been underwhelming thus far in his college career, but will have every chance to improve upon that this season, which should be interesting to watch. It also wouldn't be smart to discount Snaer's high motor and overall intangibles, something that will certainly be attractive qualities to coaches.

[Read Full Article]

---
Top NBA Draft Prospects in the ACC, Part Three (#11-15)
October 22, 2010
Walker Beeken

In 2009-2010, the Florida State Seminoles were a long, athletic, defensive oriented team that often had trouble scoring and executing offensively. In order to see better efficiency on the offensive end in 2010-2011, they'll need a strong sophomore season from shooting guard Michael Snaer. While he showed flashes of his talent last season and contributed to the Seminoles stellar defense, Snaer was generally erratic and inefficient on the offensive end.

In terms of his physical tools, Snaer fits the mold pretty well for what scouts look for in and NBA shooting guard prospect. Standing at 6'4" with a lean frame and what appears to be a long wingspan, Snear is a gifted athlete possessing great explosiveness, speed, and elevation.

Snaer showed the potential of being able to create off the dribble in his freshman season, utilizing his explosive first step, but he had major issues taking care of the basketball, as evidenced by the fact that he turned the ball over on more a quarter of his used possessions last season. This can be attributed to a loose handle, high dribble, careless passing, and generally playing too fast. It will be interesting to see if his floor game and decision making is improved as a sophomore, as this will be a key to his development going forward.

When Snear does get into the lane on penetration, he has the ability to finish in a variety of ways. He has great body control and elevation, he's comfortable finishing with either hand, and he's crafty enough to find different ways to get the ball in the basket. These qualities also make Snaer excellent in transition and would suit him well in the more wide open, faster paced NBA.

Shooting is another area where Snaer needs some work, but he has shown that the ability is there. He shot a fairly solid 35% from the 3-point line as a freshman, and his mechanics are good on open catch and shoot opportunities. He really struggled as a shooter off the dribble, however, connecting on a very poor 17% of those attempts last season, albeit in a fairly limited sample size. The main issue here is his shot selection, as he's shown to be a capable shooter when left open with his feet set, but he forced quite a few shots last season that were highly contested and/or where he was off balance. This goes along with his issues of playing a bit reckless with the ball in his hands, and if he's able to slow down and play more under control, his shot selection and shooting percentages should improve.

While Snaer's high motor often gets him into trouble offensively, it is a great asset on the defensive end, as he was a vital cog in one of the nation's top defenses last season at Florida State. He has the versatility defensively to cover multiple positions at the college level and has all of the tools to adequately defend shooting guards at the NBA level as well. Though he may be considered slightly undersized by NBA standards as a 2 guard at 6'4", he is able to compensate for that with his length, excellent lateral quickness, toughness, and great energy.

Overall, Snaer has quite a bit of work to do to establish himself as a legitimate NBA draft prospect, but he has a nice base to build on with the physical tools and energy that he brings to the table. If he can continue to improve as a shooter and become more efficient and under control off the dribble, he is a player we could be talking more about later this season, or even more likely, a year or two down the road.

[Read Full Article]

---
Player Evaluations, McDonald's All-American Game (West Team)
April 3, 2009
No player helped his stock more this past week than Florida State commit Michael Snaer (#22 Scout, #11 Rivals, #44 ESPN). Starting at the first practice, continuing through the scrimmage, and then cumulating in the actual game, Snaer put forth as much effort as you can possibly expect. His toughness, tenacity and non-stop motor did a lot more than likely improve his recruiting rankings, as all the NBA talent evaluators we spoke with clearly came away impressed as well.

Snaer is an excellent athlete who puts his tools to use to the fullest extent possible. You constantly saw him getting out in transition, crashing the offensive glass and attempting to make plays on the defensive end, a characteristic that sticks out like a sore thumb in this all-star setting, particularly when you consider how lethargic and uninspired many of his counterparts in this high school class looked. Snaer is a late-bloomer who didn't start getting hyped by the recruiting services until much later than most, and thus he plays the game with a chip on his shoulder that makes him extremely entertaining to watch.

Skill-wise, Snaer has a ways to go, as his ball-handling skills are average and his jumper is fairly streaky. He may have forced the issue from time to time, but this was only due to his desire to make plays, which you can't really fault him for. He did show some unselfishness with a couple of nice passes from time to time, and was able to make his presence felt offensively thanks to his excellent frame, first step and overall athleticism. Despite his limitations, Snaer is almost certainly going to see playing time immediately in Tallahassee thanks to the effort he displays on the defensive end, which has become quite an emphasis for Leonard Hamilton and Stan Jones. Needless to say, they are absolutely ecstatic to get him from what we've gathered from private conversations. It will be very interesting to see how he develops over the next few seasons at the college level.

[Read Full Article]

---
McDonald's All-American Practices, Day Two
March 31, 2009
Michael Snaer again showed a fire that will endear him quickly to the coaching staff at Florida State, already known as one of the top defensive teams in college basketball this past season. He was constantly around the ball on both ends of the floor, grabbing offensive rebounds, scrapping for loose balls and always looking to make his presence felt. He made a number of aggressive plays on the defensive end, going right at the likes of Xavier Henry, Avery Bradley and Abdul Gaddy. His mid-range game continued to look pretty impressive, and when being guarded by a smaller player like Gaddy for example, he even tried to take him down to the paint and post him up. Snaer isn't the most skilled player you'll find here, but his physical tools, the tenacity in which he plays with and his raw talent leads you to believe that he has a chance to develop into an interesting prospect down the road.

[Read Full Article]

---
RBK U - Sunday Night Session
July 9, 2007
Also shining for Team Crawford, Class of 2009 shooting guard Michael Snaer (Moreno Valley/Rancho Verde). You might want to capitalize and underline shooting when referring to Snaer. His impressive second half display from the field had people reaching for their roster guide to find out where he was from. Three straight times down the court Snaer nailed shots and had great form on his jumper. It seemed pretty clear that you cannot leave this guy open in the 14-22 foot range. He was 6-of-12 on for the game including 4-of-7 from deep finishing with a quiet 16. On the downside, he was ineffective in all other areas of his game. He really needs to work on creating his own shot, because it is a great shot to create room for.

[Read Full Article]

---