Ray McCallum
Recent Tweets
All Tweets
DraftExpress: Kelly Olynyk DeShaun Thomas Ray McCallum Tim Hardaway Reggie Bullock C.J. McCollum Victor Oladipo RT @Mr_TQ Top 2013 draft picks in PER?
2013-07-17 13:37:30
DraftExpress: Sacramento takes Ray McCallum at #36 just like the DraftExpress mock draft said they would. This shit is tooooo easy....
2013-06-27 23:13:41
DraftExpress: Ray McCallum Workout Video and Interview http://t.co/qVJU1IBxdz
2013-06-18 10:00:07
DraftExpress: Ray McCallum showing his terrific athleticism with some very impressive dunks. Shooting the ball decently too which is important for him.
2013-06-01 12:19:50
DraftExpress: Kelly Olynyk Ray McCallum Arsalan Kazemi Alex Oriakhi Dexter Strickland & Kentavious Caldwell-Pope all signed with Wasserman Media Group
2013-05-08 18:11:15
Team: Spurs
Physicals
Positions
Rankings
Salary
Misc
H: 6' 2"
W: 191 lbs
Bday: 06/12/1991
(24 Years Old)

Current: PG
NBA: PG
Possible: PG

RSCI: 24

Agent: Thad Foucher
Current Salary:$816,482

High School: Detroit Country Day
Hometown: Beverly Hills, MI
Drafted: Pick 36 in 2013 by Kings

Predraft Measurements
| Year | Source | Height w/o Shoes | Height w/shoes | Weight | Wingspan | Standing Reach | Body Fat | No Step Vert | Max Vert |
| --- | --- | --- | --- | --- | --- | --- | --- | --- | --- |
| 2013 | NBA Draft Combine | 6' 0.25" | 6' 1.75" | 191 | 6' 3.25" | 8' 0.5" | 7.3 | 30.5 | 40.0 |
| 2012 | Deron Williams Camp | NA | 6' 1.5" | 190 | 6' 3" | NA | NA | NA | NA |
| 2011 | LeBron James Camp | NA | 6' 2" | 187 | 6' 3" | NA | NA | NA | NA |
| 2011 | Deron Williams Camp | NA | 6' 2" | 187 | 6' 3" | NA | NA | NA | NA |
| 2009 | LeBron James Camp | NA | 6' 0.5" | 179 | 6' 1.5" | NA | NA | NA | NA |
| 2009 | Deron Williams Camp | NA | 6' 0.5" | 179 | 6' 1.5" | NA | NA | NA | NA |



Basic Per Game Statistics

- Comprehensive Stats - Statistical Top 25s
| Year | League | Name | GP | Min | Pts | FG | FGA | FG% | 2Pt | 2PtA | 2P% | 3Pt | 3PtA | 3P% | FTM | FTA | FT% | Off | Def | TOT | Asts | Stls | Blks | TOs | PFs |
| --- | --- | --- | --- | --- | --- | --- | --- | --- | --- | --- | --- | --- | --- | --- | --- | --- | --- | --- | --- | --- | --- | --- | --- | --- | --- |
| 2015/16 | NBA | Ray McCallum | 10 | 4.3 | 1.0 | 0.5 | 1.1 | 45.5 | 0.5 | 1.0 | 50.0 | 0.0 | 0.1 | 0.0 | 0.0 | 0.0 | &nbsp | 0.0 | 0.7 | 0.7 | 0.2 | 0.2 | 0.0 | 0.3 | 0.3 |

Player Page&nbsp&nbsp| Player Stats | Mock Draft History | Related Articles&nbsp&nbsp| Add to My Draft Express&nbsp
&nbsp
Ray McCallum Workout Video and Interview
June 18, 2013
[Read Full Article]

---
NBA Combine Interviews: McCollum, Carter-Williams, Wolters, McCallum
May 18, 2013
[Read Full Article]

---
Trending Prospects: Ray McCallum
March 11, 2013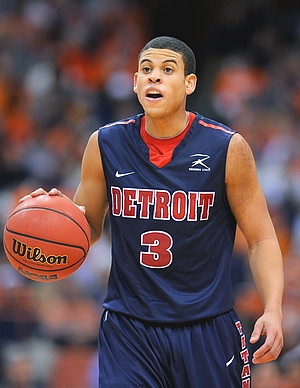 US Presswire


Walker Beeken

After a solid sophomore season, Detroit's Ray McCallum has continued his strong play as a junior, showing steady improvement in his production, but being unable to secure a return to the NCAA tournament after losing in the semifinals of the Horizon conference tournament.

As we've mentioned before, McCallum isn't dynamic from a physical standpoint, with just average size and length for an NBA point guard prospect, but he's gotten stronger over the last couple years and he's a solid athlete, with good speed, quickness, and elevation, once he's built up a full head of steam.

Playing for his father at Detroit, McCallum's role hasn't changed much over the course of his college career, but he's gradually taken on more of the scoring load, increasing his shots per-40 each season, while shooting career high's from the field as a junior, both inside and outside the 3-point line.

His perimeter shooting improvements are particularly encouraging, after shooting a very poor 24% from 3-point range as a sophomore. He connected on 33% of his 3's this season on over four attempts per game, and this is an area he'll likely need to continue to improve in order to find a role in the NBA, as he still only made 29% of his overall jump-shots on the season.

McCallum actually shoots better off the dribble than off the catch at this stage, showing the ability to fluidly pull-up off the dribble in the mid-range or from behind the 3-point line, and doing a nice job of getting his defender on his heels to create space to rise up for his jump shot. He still takes some ill-advised pull-up jumpers at times, but he should be able to improve his efficiency with better shot selection on a team where he isn't forced to carry such a heavy scoring load.

McCallum has excellent ball-handling skills, plays the game at a nice pace and shows great poise. Doubling as his team's primary ball-handler and top scoring option, he generally does a very good job taking care of the ball and making good decisions, as evidenced by the fact that he turns the ball over on only 12% of his used possessions this season, second among all point guards in our top 100 rankings.

As we've written before, McCallum is at his best when he can get out in transition, but he's also done a better job this year of being more shifty off the dribble to create in the half-court, where he attacks the basket hard and finishes effectively at the rim, even through contact, as he's connecting on an impressive 61% of his shots in the basket area.

In today's pick-and-roll heavy NBA, McCallum will need to improve as the ball-handler in these sets, as he's scoring only .73 points per possession on pick-and-rolls this season. He lacks the burst of speed to turn the corner and get into the paint with regularity, and he also has a tendency to come off the screen and settle for contested jump shots. In all fairness, though, some of his struggles can be attributed to poor floor spacing, giving him less room to utilize his craftiness off the bounce, which would likely change at the NBA level.

The extent of McCallum's playmaking ability may be something that we haven't fully seen during his time at Detroit, given that he's also his team's go-to scorer and shot-creator. He has an outstanding feel for the game and shows good passing instincts in the open floor and driving-and-kicking to open shooters, but he doesn't function as a true point guard for his team at the college level, so it's difficult to gauge how much that might change playing with different personnel.

As we noted before, McCallum's average size and length may limit him somewhat as a defender at the NBA level, but he moves well laterally, has quick hands and anticipation skills, and shows good toughness. He competes hard for the most part, and should be able to focus more energy on the defensive end with less of a burden on him offensively.

While McCallum has played in a less competitive league than many of the prospects he'll be compared to, he is far from unknown, being that he was a McDonald's All-American coming out of high school and has been on the radar for some time now. Detroit also played a strong non-conference schedule this season, including games against Pittsburgh, Syracuse, St. John's, Miami, Temple, and Wichita State, giving NBA teams plenty of opportunities to evaluate him against stronger competition. Scouts will likely be disappointed by his early exit and poor showing in the Horizon conference tournament, but it's likely that his team will get an invite to the NIT, where he could certainly use the added exposure.

McCallum's inconsistent outside shooting, lack of elite physical tools and playmaking ability likely limits his upside as an NBA prospect, but his overall skill level and high basketball IQ at the point guard position should give him a strong chance to get drafted, whether he decides to enter this June's draft or play his senior season at Detroit.

[Read Full Article]

---
Top NBA Prospects in the Non-BCS Conferences, Part Four
November 14, 2012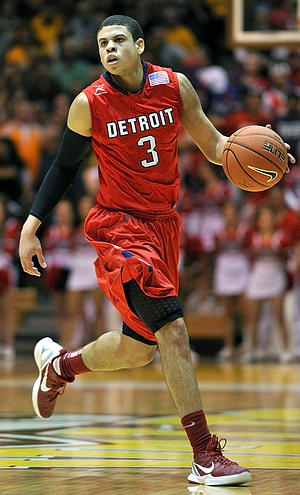 US Presswire



Jonathan Givony

A McDonald's All-American in high school who surprised many by committing to play for his father at Detroit in the Horizon League, Ray McCallum bounced back from a fairly pedestrian freshman season to lead his team to the NCAA Tournament and establish himself as one of the best young point guards in college basketball as a sophomore.

Showing decent size at 6-2, 190 pounds, with solid athleticism, McCallum is not blessed with great length, but has good physical tools for the point guard position. He's a strong leaper in open space, capable of playing above the rim when the opportunity presents itself, and may have room to continue to maximize his athleticism, particularly in terms of his ability to play at different speeds in the half-court.

Where McCallum is clearly at his best is in the open floor, where he ranks as one of the most efficient transition threats in the NCAA, shooting 55% inside the arc last season. A strong ball-handler, he pushes the ball up the court aggressively, attacking the rim and finishing with purpose, and does a good job finding the plethora of athletes that surround him for easy baskets. While not a brilliant passer at this stage, McCallum is more than capable of running a team, as he looks willing to make the extra pass, and is very effective in drive and dish situations.

In the half-court, McCallum sees most of his offense in pick and roll and isolation situations. He's significantly less effective here, as he doesn't possess the overwhelming initial burst needed to beat his man off the dribble consistently, and tends to struggle finishing in traffic with his average size and strength. Becoming a better shooter would open things up significantly for McCallum, as would improving his ability to operate at different speeds and not simply bully his way down the lane with his head down.

McCallum's biggest Achilles heel at the moment is his inconsistent jump-shot. He made just 24% of his 3-point attempts last season, down from 31% the year before. His shooting mechanics are solid (particularly as of late), and he appears to be capable of making outside shots from time to time, but his shot-selection can be very poor, as he tends to settle for too many pull-up jumpers from well outside the 3-point line early in possessions. Opposing defenses seem to encourage him to take these very low percentage looks, and he has the habit of taking the bait far too often, appearing far more confident in his perimeter shooting ability than his percentages suggest he should be, particularly off the dribble, where he converted just 27% of attempts last season.

Defensively, McCallum was a bit inconsistent last season, like his entire Detroit team in general on that end of the floor. On one hand he shows quick feet and excellent anticipation skills jumping in the passing lanes and coming up with steals, but is not very physical and does not appear to possess great fundamentals. This, coupled with his average size, length and strength, may make it difficult for him to project as being anything more than an average defender at the NBA level, even if better coaching could help him improve somewhat at the pro level.

A year older than most of his class, turning 22 this upcoming June, this could very well be Ray McCallum's final season of college basketball. While McCallum might not blow NBA scouts away in any one area, and may project best as a backup, there is clearly a shortage of savvy point guards with strong ball-handling skills and a high basketball IQ. It will be interesting to see if McCallum takes the next step this season as a playmaker and facilitator, even if he might not be in an ideal situation to do so considering the type of scoring load he'll likely be expected to shoulder. NBA scouts will be following him closely as he attempts to lead his team to another Horizon League conference championship and NCAA tournament berth.

[Read Full Article]

---
Top NBA Draft Prospects in the Non-BCS Conferences, Part One (#1-5)
November 1, 2011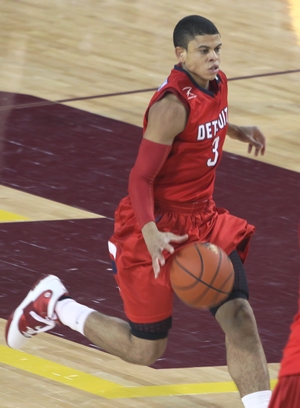 Dan Gaken (Flickr)



Matt Kamalsky

After surprising the recruiting world with his decision to stay home and play for his father at Detroit in lieu of offers from elite programs, Ray McCallum Jr. went on to have a very solid freshman campaign for the Titans. The former McDonald's All-American was one of the top guards in the Horizon League from the day he stepped on campus, and with Shelvin Mack and Norris Cole out of the picture, was named the conference's preseason Player of the Year for this season. After spending his summer as a spot-player for Team USA at the World University Games, McCallum returns to school looking to earn the highly regarded Titans a berth in the NCAA tournament and raise his profile as a prospect to a national level like Cole and Mack.

McCallum may not have elite size for his position by NBA standards, and needs to continue improving his frame, but has the other traits scouts look for in a point guard prospect physically. He has very good quickness which allows him to turn the corner in one-on-one situations, make an impact as a scorer in transition, and apply pressure defensively. As we noted in our last report, the Detroit Country Day product also proves to be surprisingly explosive when given space around the rim.

As a freshman, it was McCallum's athleticism that accounted for the majority of his production on the offensive end –nearly 40% of the young guard's points came in transition according to Synergy Sports Technology. Showing terrific explosiveness pushing the ball up the floor and doing a nice job filling lanes when he wasn't the primary ball-handler, McCallum proved to be shifty in the open floor and showed good body control on his was to shooting 58% in fast break situations.

In half court situations, McCallum was not as effective, shooting just 38% from the field when not on the fast break, and still has room for improvement in a number of areas. Though his quick first step and advanced ball-handling ability allow him to break down defenders one-on-one and get into the paint at a high rate, he is still learning to exploit his quickness in pick and roll situations and needs to continue developing his perimeter jump shot. He does a very job drawing contact when he gets in the lane, but heavily prefers driving to his left, is a bit erratic at times, and would benefit from being a bit more patient and improving his ability to play at different speeds –things that will only come with experience.

Though McCallum could stand to improve upon his 43% shooting in the lane, he already showed some progress as a jump shooter as a freshman. He still has a ways to go to become a major spot-up threat, but the Beverley Hills, MI native made progress from what we saw from him at the McDonald's All-American game. He still sports the same sling-shot-like release, but has smoothed it out to some extent and shot a passable 32% from the perimeter as a freshman. He still has plenty of room to improve in terms of his consistency both with his feet set and off the dribble, but also has plenty of time do so.

As a passer, McCallum's effectiveness mirrors his efficiency as a scorer. According to Synergy Sports Technology, McCallum turn the ball over on only 8.6% of his transition possessions, a stark contrast to that 20.1% mark he posts in half-court sets. Showing good vision and a willingness to give the ball up when one of his teammates has a better shot, McCallum is at his best as a passer when he is distorting the defense with his speed.

To continue balancing his scoring and distributing responsibilities, McCallum needs to become more adept at setting himself up to find his teammates. While he does a nice job driving and dishing, many of his turnovers came on entry passes from poor angles, overly aggressive bullet passes through traffic, and occasions where the young guard lost his balance as a result of good defensive pressure. Despite his shortcomings last season, if McCallum improves on his ability to create angles operating on the pick-and-roll and becomes a tad more discerning early in the shot-clock, his pass first nature and high basketball IQ could make him a consummate floor general.

Defensively, McCallum shows a competitive streak that is quite unusual for a freshman point guard. He gets in a good stance, moves his feet well, and doesn't give up on plays when he's beat. Though his lack of size and strength limit him when contesting shots and defending stronger guards, his lateral quickness makes him a good on-ball defender and a nuisance in passing lanes. McCallum could stand to be a bit more aggressive in the way he fights through screens, but doesn't take too many risks and is a solid defender overall.

Heading in his sophomore seasons, the expectations for the Detroit Titans are among the highest for any mid-major program in the country. The program has an impressive talent-level, and whether Eli Holman's situation is resolved or results in any missed action, McCallum figures heavily in the success of his team's season. Considering his solid motor, physical tools, and natural talent at the point guard position, if he shows development in a few key areas, he could improve his standing on draft boards considerably by season's end.

[Read Full Article]

---
Mcdonald's All-American Week Player Evaluations and Interviews
April 5, 2010
The dunk contest darling – many felt he was the most impressive of any of the contestants—McCallum had an excellent week here in Columbus and looks like pretty much a dream pickup for a college coach to add to his roster at this late stage.

While clearly not possessing great size—it's unlikely he's over 6 feet, if that—McCallum is obviously a terrific athlete as he displayed throughout the course of the week, showing excellent pace, a quick first step, the ability to change speeds and outstanding leaping ability. He's also a pure point guard on top of that, being a highly unselfish player with strong leadership skills, excellent poise and terrific passing ability.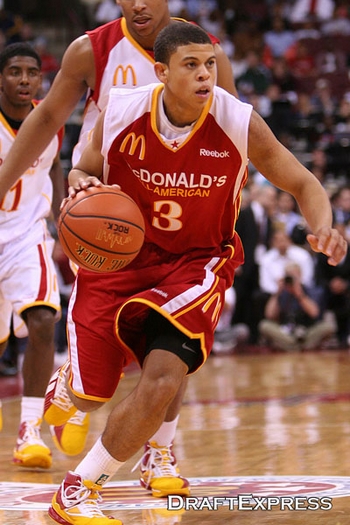 Jim Hlavac / DraftExpress



His scoring ability remains somewhat of a question mark—it was tough to get a great feel for this part of his game here—as he struggled to convert jump-shots off the dribble and at times lacks the strength to finish effectively around the rim, preferring to utilize his very nice floater rather than taking contact at the basket. He does seem to be a solid shooter with his feet set (his mechanics are solid) so it will be interesting to see how he develops this part of his game at the college level. McCallum is an unselfish guy by nature, but he appeared a bit reluctant to go out and look for his own shot at times, which his college team will surely need him to do when the situation calls for it.

Players in McCallum's mold are very difficult to come by, and the fact that he's the son of a head coach and clearly possesses outstanding intangibles makes him all the more intriguing. He's already drawing comparisons to players like Darren Collison, but probably is even further ahead of him at the same stage.

[Read Full Article]

---
2010 McDonald's High School All-American Dunk Contest Videos
April 2, 2010
Things really started getting interesting here, as McCallum used the element of surprise to begin to take the contest to a totally different level. For his first dunk, he passed the ball to himself perfectly--like only a point guard could--caught it off the bounce before bringing it way all the way down between his legs, and then two-hand reverse slammed it home. The dunk earned a 68.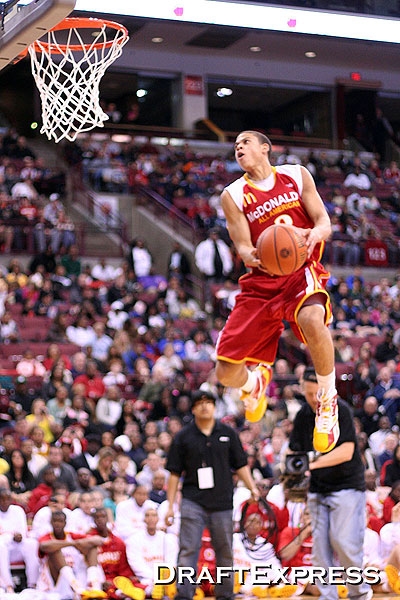 Jim Hlavac, DraftExpress



McCallum's second dunk was another pass to himself for a spinning two-handed throw-down, good for a score of 69.





[Read Full Article]

---
Initial High School Player Scouting Reports, Part Two
August 22, 2009
One of the better pure point guards we saw this summer, Ray McCallum (#26 Scout, #60 Rivals, #36 ESPN) might not blow you away initially with his NBA upside, but he is sure to, at the very least, emerge as an outstanding college player.

Standing somewhere around 6-1, with a skinny frame and above average athleticism, McCallum's best natural asset is his mind, which shouldn't come as a surprise considering that his father is an NCAA head coach. He's extremely poised, smart and mature, already showing excellent leadership skills, and being a very good decision maker for his age. He knows how to run a team and get all of his teammates involved, and should benefit tremendously from the experience he garners at the college level.

McCallum is not exceptionally quick, but he knows how to get to the rim thanks to his strong ball-handling skills, where he sometimes has issues finishing due to his lack of strength and leaping ability. He can make shots pulling up off the dribble, and seems to have improved his long-range jumper from what we're told, even if it still seems prone to streakiness at times. Not a big-time scorer, McCallum will need to continue to hone his 3-point shot and in-between game if he's to reach his full potential as a point guard. Defensively, McCallum doesn't have great natural tools, but he does put the effort in, which is more than enough to get the job done at this level when you add in his excellent feel for the game. Whoever lands McCallum (all the top programs, including Kansas, UCLA, Duke, Louisville and others are after him) will be getting a player who is ready to contribute right away.

[Read Full Article]

---