Like so many other players going through the draft process,
Carl Landry
was thrilled to finally get underway with day one of the Orlando pre-draft camp.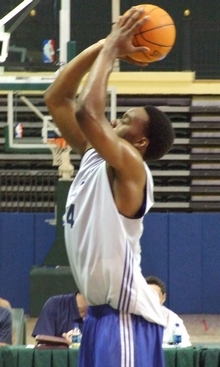 "It was very exciting and very interesting, just getting a real chance to play with those guys; the best guys in college basketball," Landry said. "It was just a relief to finally get going."
Landry joined the other players at the camp in multiple drill sessions during the first day, everything from shooting to defensive skills were tested. Afterwards the players scrimmaged for the first team with their new teams. With Landry having reached the upper echelons of the college basketball world, it's unbelievable to think that at one time he didn't want to pursue the game after high school.
It's not unheard of for future college stars to be cut from their high school team as freshman; cut from the varsity team that is. Landry was cut from his freshman team. He barely made the Vincent High JV team as a sophomore, and didn't see much playing time on varsity as a junior or senior. With a prep career like that its no wonder that Landry didn't see himself lacing up after graduation.
"Going to college really wasn't an option for me in terms of basketball," he said. "I just wanted to be a regular person, go get a job out of high school, start life, and make some money. But my basketball skills started to get a little better, but my grades weren't where they needed to be, so I had to go to junior college and then transfer."
Landry chose to attend Vincennes University and quickly made an impact on the court. He missed half of his freshman season with a broken hand, but not before posting averages of 14.7 points and 7.8 rebounds. His sophomore season would be a breakout year, as Landry averaged close to a double-double and was named a first-team junior college All-American.
With the accolades adding up, bigger schools came calling for Landry's services after his time with Vincennes was done. He narrowed his search down to Oklahoma and Purdue, before finally making the decision to be a Boilermaker. While staying close to home was important (Purdue is just 3 ½ hours from Landry's home), it was the coaching staff that played the biggest role in the decision process.
"Coach Keady was a legend, I really was just able to establish a relationship with the whole coaching staff, and I liked what they had to offer," Landry said.
Purdue's commitment to Landry would quickly be rewarded, as the power forward averaged team highs in points and rebounds on his way to second-team All-Big 10 honors in his first season with the program. While it seemed as if the sky was the limit for Landry, his season would end on a horrible note. With just three games left in the regular season he would tear his ACL, and injury that would force him to redshirt the 2005-06 season. For Landry, having to sit out would be almost as painful as the injury to his knee.
"It was really tough," he said. "I just wanted to be out there playing with my teammates, and we struggled. I think we only won 9 games that year and it was so tough. I felt like I was out there with them, and as they lost and struggled, it just hurt me so much to see that."
Throughout that season, Landry would work on rehabbing his knee so he could make a strong comeback during his senior year. While working himself back into playing shape was easy, coming to grips with his injury mentally would be a much harder task to accomplish.
"The hardest part of the rehab process was the mental part, just getting back on the court and knowing that you can't cut like you used to, knowing you can't jump like you used to," he said. "That probably took the longest for me. Going into the training room and doing sets on the leg press machine and things like that, that was easy for me. But just knowing that I couldn't make that move again, or I couldn't shoot that jump shot, and jump the way I used to for that rebound, that was the hardest part for me."
Landry's return to the court this past season was a major success. He once again led Purdue in scoring and rebounding, but most importantly he led the team to the NCAA Tournament, the first of his career.
"That was huge," Landry said. "It's a whole different ball game; it's a completely different stage once you get to the tournament. You're playing against the top 64 teams in the country. So it was really exciting, and it was a very good experience. You know we beat Arizona in the first round, lost to the national champs in Florida in the second round, but we played them tough. It was a great experience, not only for me and the other seniors on the team, but for the young players as well. I felt like with that experience that they have, Purdue will be heading in the right direction for years to come."
While there were feelings of sadness at the end of his college career, Landry knew the journey wasn't over, and there was still work to be done on his way to playing professional basketball. Step one of that process was the Portsmouth Invitational Tournament.
It wasn't the strongest of performances from Landry, who was fairly quiet until his final game of the weekend, but he will be the first to say that he didn't bring his best game.
"I felt like I could have done better, I struggled at points," he said. "I think the first and second games I struggled a little bit. But at least I didn't go down there and stink up the gym. I played all right, I made all-tournament, and hey, that's just the way the ball bounces sometimes. But I know I'm capable of playing a lot better than I did at Portsmouth."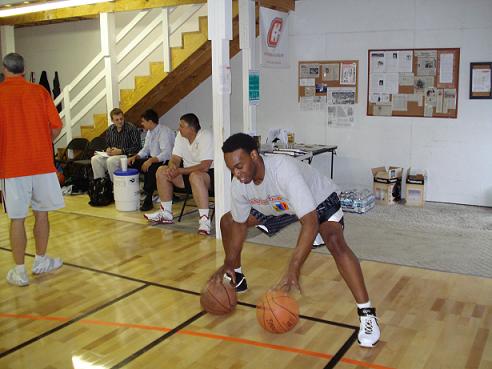 To ensure that his future performances were up to his liking, Landry spent nearly four weeks at the Champions Academy in Indiana training with other players including
Greg Oden
,
Daequan Cook
, Kamm
ron Taylor
and Purdue teammate
David Teague
. With the cast of characters in attendance, Landry referred to the weeks of training as a "Big 10 reunion."
As an undersized post player (he is listed at 6'7"), Landry has his work cut out for him to impress NBA scouts. Not one to over-think things, Landry stated he just needs to stick to his guns.
"I just need to continue to work hard," he said. "I have to keep doing the things I've been doing but maybe expand my game a little bit to where I can step out and knock down that outside jump shot, or if I have a bigger guy on me be able to go by him and go to the hoop strong. But basically, just continue to do the things I have been doing, and that's rebounding, taking charges, and diving on the floor for loose balls."
As for the people who are skeptical of yet another undersized post player trying to crack the NBA, Landry has a very direct message for them:
"Look at
Chuck Hayes
,
Carlos Boozer
, Jason Maxiel,
Craig Smith
, and
Ryan Gomes
. I can go on and on, those guys are impact players. They can contribute to any team in the NBA."
It is precisely those players that Landry patterns his game after. He stated he thought he is a combination of several of those players, and that if he continues to work hard it will pay off for him in the long run.
Now at the end of his first day in Orlando (that was the time of this interview), Landry is somewhat relieved to finally be underway after the long wait, but knows there is still plenty of work to be done.
"It's been a long process working out in Indiana for those three of four weeks, and I'm just very excited that Orlando is here," he said. "I'm really excited to get out there. Today was a good day, it could have been better, but hopefully tomorrow will be an even better one."