Carl Landry
Recent Tweets
All Tweets
DraftExpress: At the Celtics-Warriors game. "Big men" currently on the court Carl Landry Draymond Green Chris Wilcox Jeff Green. Size what?
2013-03-01 21:02:58
DraftExpress: Yes. Landry, Udonis Haslem, that type of guy. RT @JJarrett86: What's Kevin Jones NBA Ceiling? Carl Landry Type Player?
2012-03-07 01:20:47
DraftExpress: One twitter friendly NBA GM just reminded me via DM about Carl Landry, another senior who played at Portsmouth.
2011-04-06 12:12:28
You can see the results they've had in the Draft the past few years-- Aaron Brooks, Carl Landry, Budinger, etc. Their work clearly pays off.
2010-04-24 21:04:05
Top 25s - Full List
Team: 76ers
Physicals
Positions
Salary
Misc
H: 6' 8"
W: 248 lbs
Bday: 09/19/1983
(32 Years Old)

Current: PF
NBA: PF
Possible: PF

Agent: Mark Bartelstein
Current Salary:$6,500,000

High School: Vincent
Hometown: Milwaukee, WI
Drafted: Pick 31 in 2007 by Supersonics

Predraft Measurements
| Year | Source | Height w/o Shoes | Height w/shoes | Weight | Wingspan | Standing Reach | Body Fat | No Step Vert | Max Vert |
| --- | --- | --- | --- | --- | --- | --- | --- | --- | --- |
| 2007 | NBA Pre-Draft Camp | 6' 7.75" | 6' 8.5" | 248 | 6' 11" | 8' 6.5" | 7.5 | 31.5 | 36.5 |
| 2007 | Portsmouth | 6' 7.75" | 6' 9" | 252 | 6' 11.5" | NA | NA | NA | NA |



Basic Per Game Statistics

- Comprehensive Stats - Statistical Top 25s
| Year | League | Name | GP | Min | Pts | FG | FGA | FG% | 2Pt | 2PtA | 2P% | 3Pt | 3PtA | 3P% | FTM | FTA | FT% | Off | Def | TOT | Asts | Stls | Blks | TOs | PFs |
| --- | --- | --- | --- | --- | --- | --- | --- | --- | --- | --- | --- | --- | --- | --- | --- | --- | --- | --- | --- | --- | --- | --- | --- | --- | --- |
| 2015/16 | NBA | Carl Landry | &nbsp | &nbsp | &nbsp | &nbsp | &nbsp | &nbsp | &nbsp | &nbsp | &nbsp | &nbsp | &nbsp | &nbsp | &nbsp | &nbsp | &nbsp | &nbsp | &nbsp | &nbsp | &nbsp | &nbsp | &nbsp | &nbsp | &nbsp |

Player Page&nbsp&nbsp| Player Stats | Mock Draft History | Related Articles&nbsp&nbsp| Add to My Draft Express&nbsp
&nbsp
Orlando Pre-Draft Camp: Day Four
June 3, 2007
Carl Landry saved his best performance for the final day at the camp, where he scored the ball around the basket, played strong post defense, and made his presence felt on the boards. Landry hit on one of his three mid-range jumpers in the game, doing most of his damage in the painted area. He scored on multiple easy lay-ups and jams around the basket off guard penetration and cuts, though he also hit on a fadeaway turnaround jumper from five feet out.

Defensively, Landry used his strong body to hold his position well in the post, not giving up an inch and forcing his man into tough shots or pass outs on at least a handful of occasions. Still, there were other occasions where even though Landry played strong, he lacked the lift to contest some shots over his head, as at 6í7, thatís something that will be a consistent problem at the next level, especially if he canít get up like some other successful undersized power forwards in the league do. Landry was a mixed bag in terms of his help defense, blocking a perimeter shot on one step-out, but failing to stay step-for-step with his man on another perimeter play. On the glass, Landry went hard to the basket, rebounding on both sides of the court and using his body to carve out space near the basket.

Landry is a skilled big man, moreso than he showed here at Orlando, and the recent success of so many undersized 4ís in the NBA will help his case in finding himself a niche in the league. Heís a likely second rounder, though heís definitely not a sure thing, as he isnít in the same class athletically as many of those other players.

[Read Full Article]

---
Orlando Pre-Draft Camp: Day Two
May 30, 2007
This wasnít a very eventful game for Carl Landry, getting his only two made field goals off offensive rebounds and put-backs. He looks a bit on the small side and not as athletic as many of the other power forwards in this draft, needing a number of pump-fakes to be able to get his shot off in the paint. For the most part he wasnít able to show off the best parts of his game today, his turnaround and faceup mid-range jumper. Landry started off slow at Portsmouth too, so hopefully there will be more to come from him tomorrow and the day after.

[Read Full Article]

---
Oden, Cook, Landry at Champions Academy
May 27, 2007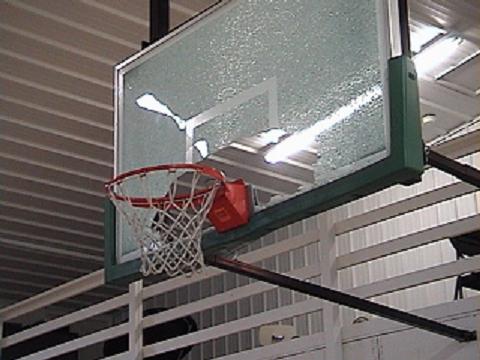 Reportedly Landry's handiwork, from his first session. When asked about the incident, Schilling almost sounded proud. Landry bemoaned the loss of his "dunking privileges."



The most intriguing scouting-related developments uncovered over the weekend at Champions probably centered around power forward Carl Landry, who is building significant momentum heading into Orlando and the latter stages of the pre-draft process. Matt Painterís interior warrior started to really make a name for himself with a superb showing against Floridaís imposing frontcourt, and followed that up with a successful Portsmouth camp. Landry also measured in at 6í8, after Purdue listed him at 6í7 for the last three years. The added size should alleviate some concerns about whether Landry will be able to make the transition to the NBA, and the weekendís workouts clearly proved that growing isnít the only thing heís been doing since the season ended.

The first issue to address is Landryís physical condition, which was somewhat of a question mark headed into the offseason. Landry tore his ACL near the end of his junior season in 04-05 and would redshirt the 05-06 campaign. And while the burly power forward bounced back quite nicely to become the Big Tenís most statistically prolific big man as a senior, he was never known as one of the most explosive players around. The knee doesnít seem to be affecting his mobility, and there have been all-around physical improvements in his time at Champions. His frame is significantly more sculpted than it was in college, and he has clearly replaced a lot of fat with muscle. Landry still has work to do with his conditioning and can certainly get more explosive, but he appears to be headed in the right direction.

In terms of skills, the stunner was a beautiful jump-shot. Landry looked comfortable taking shots out past the college 3-point line, and has exactly the type of form you want to see from an undersized power forward who will need to step outside and force opposing big men to come out and guard him. The high release will do a lot to make up for any disadvantage in the height department, and his effortless stroke should allow him to come in off the bench and knock down the occasional jumper without having to shoot himself into a rhythm. This ability to stroke the outside shot improves his value to an NBA team as a role-player dramatically.

Given what players like Craig Smith and Paul Millsap did in the training room last summer and their respective immediate impacts, Landry has a chance to really turn some heads in a draft camp environment that is perfectly suited for him to display his aggressive, physical style of play. Landry still has work to do before he is ready to make the immediate impact of a Smith or Millsap, but his production, on-court mentality, and willingness to work are very similar. On the whole, there was very little not to like from Landry this weekend.

[Read Full Article]

---
Portsmouth Invitational Tournament, Day Four (part one)
April 9, 2007
Landry finally gave us a good reason to evaluate him in his third and final game today, salvaging what has otherwise been a fairly mediocre tournament with a solid all-around encore performance.

Landry finally managed to show off the many positive parts to his games to counter the negatives that were on full display in the first two games. Rather than insisting on digging in the trenches of the paint with his back to the basket and getting blocked underneath the hoop like he did numerous times over the past four days, he took more of a face the basket approach, which suits him much better. This is also clearly the role heíll be playing in the NBA as well due to his size and skill-set.

Landry looked very good receiving the ball on the perimeter and either driving to the rim for a nice spin-move and up and under finish, or pulling up off the bounce from mid-range off a single dribble. This is exactly his game what his game could be in the NBA, finding spots from mid-range to get his shot off either spotting up or using a shot-fake to set himself up, ala Ryan Gomes. After getting blocked early on twice underneath the rim, showing his clear lack of explosiveness, he changed strategies and went for this approach instead. Rather than forcing the issue in heavy traffic on a drive, he stopped nicely and elevated for a short jumper.

On the glass, Landry also did a good job mixing it up, despite the fact that heís not particularly tall, long or quick off his feet. Defensively, he did a decent job, but itís hard to draw too many conclusions due to the weak matchups he went up against.

At the end of the day, Landry probably isnít going to look back on Portsmouth as one of the highlights of his career. He did salvage a really nice showing out of the last day, though. Regardless, Landry will almost certainly get invited to the Orlando pre-draft camp, and heíll have a chance to continue his quest of making an NBA team.

[Read Full Article]

---
NCAA Tournament: Stock Watch (round of 32, Sunday games)--Stock Up
March 19, 2007
After having faced three major tests over the past two weeks-- Ohio Stateís Greg Oden, Arizonaís Ivan Radenovic and Floridaís duo of Al Horford and Joakim Noahówe can now say with some confidence that Carl Landry can match up with players who are bigger than him and still do what he does best. Heís played extremely well in all three of those matchups, and has helped himself tremendously in the process. And although he might not even be the 6-7 heís listed at, Landry, that doesnít seem to bother him in particular from being productive and helping his team out.

Not a highly touted player out of high school, Landry had to go through the junior college ranks first before landing at Purdue. He clearly has a chip on his shoulder because of that, as itís clear that he is just as good of a basketball player as all the players heís matched up with lately, even if he doesnít have the size, athleticism and upside to be considered a top draft prospect.

Landry showed off his outstanding post game against two of the best defenders heís ever faced at the collegiate level. At times he had his shot blocked, but he kept going back for more and was rewarded for his efforts by his teammates on the way to an 18 point performance. He scores his points with a great combination of smarts, strength and finesse, establishing position deep in the trenches and carving out space from which to get his shot off. He has great hands, outstanding footwork and great touch around the hoop, as well as a sweet turnaround jumper he can go to if he canít back his man down. Landry also showed off somewhat of a perimeter game, coming off a screen and knocking down a one-dribble pull-up from about 16 feet out. Landry might never have to face two shot-blockers simultaneously of the caliber he went up against today in his entire career, but he still got his, mainly thanks to how patient he was with his moves and counters.

Defensively, things didnít go as well. He didnít respect Al Horfordís mid-range jumper enough, and was punished for it on a couple of occasions. Horford also showed no mercy using his strength to just bulldoze his way through him on his way to the hoop, and Landry didnít show too much resistance, probably to avoid getting in foul trouble. Considering the fact that he was going up two projected top-5 picks, though, this is pretty understandable. He did do a good job as a rebounder against those two, pulling down an impressive 5 on the offensive end.

So where does that leave him as a draft prospect? Thatís a good question. The European leagues are littered with players in his mold (and he would be fantastic there), but the NBA has lately shown a fondness for the virtues of the undersized power forward as well. If weíve learned anything over the past few years, itís that guys like this cannot be counted out. His numbers in college (19 points, 7 rebounds, 60% FG%) are similar or even better on a per-minute basis to those of Craig Smithís, a player he somewhat resembles, so at the end of the day it wouldnít shock us to see him doing well at the pre-draft camps and showing that he was being underrated coming out of college yet again, just like he was after junior college and high school.

[Read Full Article]

---
NCAA Tournament: Stock Watch (round of 64, Friday games)--Stock Up
March 17, 2007
Carl Landry was the best player on the court for Purdue in their win over a more talented Arizona team. Landry has proven himself in recent weeks, having a good showing against Gren Oden and now against a potential NBA draft pick in Ivan Radenovic. Landry did a great job on the offensive glass all night by positioning himself well and showing soft hands and nimble feet while converting 2nd chance opportunities.

Landry was also perfect from the line, exhibiting good looking shooting mechanics and excellent touch. He didnít play on the perimeter much today Ė taking and hitting one three-pointer, but his reliable mid-range jumper opens up his crafty post game, where he shows excellent moves going to the basket. Although he doesnít have great size, nor is particularly explosive, Landry is able to create good looks for himself thanks to his combination of footwork, girth and ball-handling skills. He was very smart and patient finishing around the rim, utilizing pump fakes and getting his man in the air before finishing softly off the glass.

Being 6-foot-7 and not having the kind of athleticism to make up for it, Landry doesnít usually shine on the defensive end, but he did a good job on Radenovic regardless, forcing him into some tough shots around the rim. However, he was reluctant to defend Radenovic on the perimeter, and luckily for him his matchup couldnít get anything going today. But his perimeter defense remains a big concern regarding his possible future in the NBA.

Landry will have a great opportunity to establish himself on the national scene by going up against Al Horford and Joakim Noah in the next round. If he does well in that matchup, it would not to be out of question to see him drafted somewhere in the 2nd round. Players in that mold Ė for example Craig Smith and Paul Millsap-- have found a niche in the NBA lately, despite not getting much hype prior to the draft.

[Read Full Article]

---