C.J. McCollum was having an All-American type year until a foot injury likely finished his season. What does that mean for his draft stock and what type of NBA prospect is he?
-NBA Prospect of the Week: Marcus Smart
-NBA Prospect of the Week: Anthony Bennett
-NBA Prospect of the Week: Ben McLemore
Video analysis by Mike Schmitz. Scouting report by Matt Williams
Averaging 25.7 points per-game entering Lehigh's January 5th game at VCU, tops in the NCAA,
C.J. McCollum
was off to the best start of his storied career as a senior. Showing well at a number of Nike Skill Academies this past summer, the prolific guard was poised to lead the Mountain Hawks to another Patriot League Championship and NCAA Tournament appearance while solidifying his draft stock in the process. Pulling up in pain and limping off the floor after a mid-first half drive, McCollum broke the fifth metatarsal in his left foot against the Rams and will be out for an estimated 8-10 weeks, likely ending his Wooden Award campaign and senior season altogether.
Catching the interest of NBA scouts after his breakout 26-point performance in the first round of the 2009 NCAA Tournament against Kansas, McCollum earned national attention after scoring 30 points to guide Lehigh past Duke in the postseason last year. Rocketing up draft boards, McCollum was a potential early entrant for the 2012 NBA Draft, but opted to return to school to earn his degree. Teaming with North Texas'
Tony Mitchell
to draw 57 NBA scouts to Denton, Texas in December, it is safe to say that McCollum had already overcome Lehigh's low-major status to gain the full attention of decision-makers at the next level, which diminishes the effects his injury may have had on his exposure and subsequent draft stock.
Video Analysis:
At 6'3 with a 6'6 wingspan, McCollum emerged as a prolific, versatile combo guard with a shoot-first mentality early in his collegiate career. A fluid athlete who lacks top-end speed and explosiveness, McCollum has done it all for Lehigh over the last three and a half seasons, carrying the scoring load for long stretches against relentless pressure.
Known for his ability to create his own offense one-on-one and using ball-screens, McCollum's jump shot has always been a significant part of his game. With nearly 60% of his shot attempts coming from the perimeter both this and last season according to Synergy Sports Technology, McCollum's value proposition at the next level has changed this season as he's made 50.6% of his jumpers and 51.6% from of his threes, a big jump from the 36.6% and 34.1% he made last year.
Despite the improvement in his numbers likely being inflated by the limited sample of games we have to look at (12 total), the consistency of McCollum's mechanics, whether he's pulling up off the dribble, shooting off the catch, or using his step-back are more controlled and consistent than they were early in his career. He still takes some difficult, off balance shots, but his 63% true shooting percentage ranks him as the
most efficient point guard prospect in our top-100
nonetheless, reflecting just how impressive he's been as a senior.
In addition to his improved shooting, McCollum continues to show the ability to get into the paint using changes of speed and direction to keep defenders guessing. Possessing a good first step, but lacking blow by quickness and elite leaping ability, McCollum isn't as prolific at the basket as he is from the perimeter, but he shows good body control and a willingness to draw contact. Finishing at a 56.8% clip at the rim and averaging 6.1 free throw attempts per-game, the two-time Patriot League Player of the Year can make plays around the rim given the opportunity and excels in fast paced games where he can push the ball and catch the defense scrambling.
A crafty shot creator with a high skill level and basketball IQ, McCollum shows good court vision, but is not a natural facilitator for the Mountain Hawks, nor is he asked to be one. The Ohio native does make very good decisions pushing the ball in the open floor, and has impressive ball-handling skills, leaving plenty of room for optimism that he could fill a role that calls for both scoring and distributing as a NBA point guard long-term.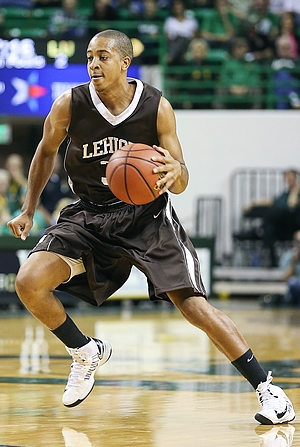 Averaging 3.6 assists and 3.3 turnovers per-40 minutes pace adjusted, McCollum will need to improve his ability to create for his teammates on the pick and roll if he intends to become a more viable NBA floor general. Looking for his own shot and turning the ball over a high rate by being too aggressive pressing to turn the corner coming off of ball screens, McCollum has some tools to build on should he be asked to be a lead guard at the NBA level, but has plenty of areas to work on and experience to gain at the moment as well. At the same time, the improved spacing and faster pace of the NBA will undoubtedly help him, as will having better teammates around him and not being in a situation where he needs to score as much as he currently is.
On the defense end, McCollum has always been noted for his ability to rebound and create turnovers by being active in the passing lanes5446img. Ranking among last season's national leaders in steals per-game (2.6) and guard leaders in rebounds per-game for (6.5), McCollum has struggled to replicate that same success this season, seeing his numbers dip to 1.4 steals and 5 rebounds per-contest.
Despite the dip in his productivity on the stat sheet, McCollum remains a very good rebounder for his position, especially on the defensive end where he aggressively tracks the ball off the rim to provide support for Lehigh's big men and is much more apt to pursue caroms than leak out in transition. Similarly, McCollum still shows a knack for reading the eyes of the ball handler and jumping into the passing lanes, but gambles far less than he did in previous years.
McCollum has solid defensive fundamentals on the whole, doing a nice job closing out shooters, finding a happy medium when defending the weak side, and seldom giving up on plays. His lack of great physical tools limit him in one-on-one situations against quicker or taller players at either guard position, and he struggles at times fighting through screens, but plays with good intensity for a player asked to do so much on the offensive end.
A potential lottery pick who could either be used as a spark plug scorer off the bench or asked to make the transition to the point guard position full time at the next level, McCollum will be one of the more intriguing players to keep tabs on during the draft process. With his wildly successful collegiate career likely coming to a close, McCollum can set his sights on the individual workouts and combine testing he'll take part in later this spring where he'll have to a chance to solidify himself as one of the best guards in this draft class.