Anthony Bennett has established himself as one of the most productive players in college basketball, despite being just a freshman. We analyze his progress with a video and scouting report.
-
NBA Draft Prospect of the Week: Ben McLemore
Scouting report by Jonathan Givony. Video analysis by Mike Schmitz
A total unknown when we
first wrote about him
nearly three years ago at the Jordan Brand Classic in New York,
Anthony Bennett
has since blossomed into a McDonald's All-American and now one of the most productive freshmen in college basketball.
Measuring 6-7 in shoes at the Nike Hoop Summit eight months ago (and at the 2011
LeBron James
Skills Academy), Bennett is somewhat undersized for a power forward, but makes up for that with his 7-1 wingspan, strong 239 pound frame, and excellent athleticism. He's a powerful and explosive leaper with very good quickness and body control for a player his size, making him a difficult matchup for opposing big men at the college level.
Video Analysis:
What makes Bennett unique is how advanced he is offensively for a freshman. He's already one of the most versatile scorers you'll find in the NCAA, as he's capable of scoring inside the paint, making 3-pointers, putting the ball down attacking from the perimeter with either hand, handling the ball on the break, and making his presence felt on the offensive glass.
Bennett stepped onto a deep and experienced UNLV team that won 26 games last year and immediately established himself as their go-to guy and most aggressive player, which he's proven he's worthy of as he currently ranks as
one of the most productive players in the country
.
The first thing that jumps off the page about Bennett is his tenacious finishing ability. His superb combination of length, explosiveness and aggressiveness makes him a threat to tear down the basket at any given moment and allows him to finish plays from impressive distances, sometimes even when elevating from outside the paint. He's converting 74% of his attempts around the basket right now according to Synergy Sports Technology, which ranks amongst the top ten players in college basketball thus far.
Not very advanced with his back to the basket, Bennett nevertheless shows some craftiness inside the paint, utilizing floaters with soft touch and using the glass on reverse moves. His length allows him to finish with ease without even having to jump very high at times, and helps him use some very unique angles to get his shot off effectively. As he gets older, he'd be wise to continue to improve his rudimentary post game, as he has the tools to be very effective down low with combination of his quickness, strength and touch.
Knocking down nearly one 3-pointer per game, Bennett has legitimate range on his jump-shot, even if he's been somewhat streaky overall over the course of the season, converting just 32% of his attempts from beyond the arc. With his soft touch and solid shooting mechanics, this likely has more to do with shot-selection than anything, as he tends to fall in love with this part of his game at times. Nevertheless, he has clear-cut potential as a floor-spacer and pick and pop threat, which is very intriguing in today's NBA.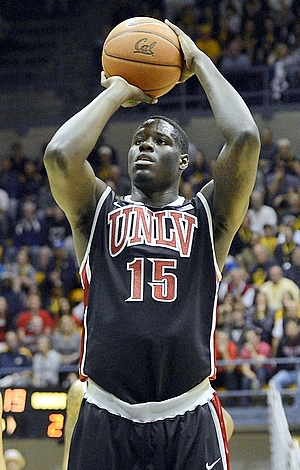 Also very capable of putting the ball on the floor, Bennett is an excellent ball-handler for his position. He can attack his matchup from the perimeter driving in either direction, sometimes after a shot-fake or a strong crossover. This allows him to draw fouls and get to the free throw line at a superb rate, sixth best among DX Top-100 prospects thus far. Bennett not only draws a lot of fouls, but he also converts very effectively from the free throw line, hitting 75% of his attempts so far.
Bennett has a lot of freedom in UNLV's offense, as you'll often see him grab a rebound and bring the ball up the court himself, sometimes taking it coast to coast. What's interesting is that he doesn't turn the ball over very often, as he's coughed it up just 19 times in 368 minutes thus far, or just about twice for every 40 minutes of action he sees. With that said, he also doesn't generate many assists (17 on the season), as he looks pretty focused on his own offense once the ball in his hands.
The place where Bennett has the most room to improve at the moment seems to be on the defensive end. He often looks like he's only going half speed here, jogging the floor lackadaisically, relaxing in his stance whenever he can, and losing his focus easily. He regularly gives up deep post position to opposing big men without putting up much of a fight, and loses track of his matchup relatively frequently off the ball. Like many young players, Bennett's fundamentals are fairly poor on this end of the floor, and his intensity leaves a lot to be desired at times. Maximizing his conditioning-level could help here.
With that said, Bennett's talent does shine through on this end of the floor as well on occasion, as he's capable of making some very impressive plays with his terrific combination of length, strength, explosiveness and quickness. He can move his feet well, is very difficult to shoot over when he's dialed in, and has solid anticipation skills blocking shots and getting his hands on loose balls.
With his soft hands, long arms and excellent athleticism, Bennett has proven to be a capable rebounder at times as well, even if he hasn't really done so consistently thus far, ranking just 16th of the 25 power forwards in our Top-100 rankings in this category this season. There's little doubt that he could be even more effective here if he put his mind to it consistently.
Turning 20 this March, Bennett is a little older than most of players in his freshman class, but still has plenty of room to continue to improve. He made a fairly seamless transition from high school to college, likely due to the fact that he left his home in suburban Toronto at a very young age (to attend Mount State Academy in West Virginia and Findlay Prep in Las Vegas) and gained considerable experience representing Canada at the U16 FIBA Americas Championship in 2009 and the U17 FIBA World Championship in 2010.
NBA teams may be wary of the fact that he's an inch or two smaller than the prototypical power forward, but his long arms, explosive athleticism, and improving skill-level on the perimeter should ease many of their concerns. Power forwards in Bennett's mold are very much en vogue in today's NBA, and as long as he continues to produce for UNLV, he can likely expect to hear his name called fairly early whenever he decides to enter the draft.