Giannis Adetokunbo (Giannis Antetokounmpo) has emerged from relative obscurity to rank among the very best international prospects in the 1994 age group. We investigate his unique background and NBA prospects with a video scouting report, full evaluation, and interview.
-NBA Prospect of the Week: Victor Oladipo
-NBA Prospect of the Week: Marcus Smart
-NBA Prospect of the Week: Anthony Bennett
-NBA Prospect of the Week: Ben McLemore
Scouting report by Jonathan Givony. Video Analysis by Mike Schmitz
Fleeing unrest in their native country of Nigeria, the Adetokunbo (editor's note: Greek authorities later changed his name to Antetokounmpo when he finally received his citizenship) family emigrated to Greece in 1992 in search of a new beginning. The couple eventually settled into the Sepolia neighborhood outside of Athens, a suburb with a considerable migrant population. Working different jobs for the past twenty-one years, they were never recognized by the Greek authorities as actual citizens, but fully intending on making the country their home. That included doing whatever they could to assimilate their four sons into Greek society, hence their decision to give them Greek names. Unlike the US, being born in Greece does not guarantee citizenship; while registering their children with the Nigerian embassy could mean deportation should they happen to be stopped by authorities
The Adetokunbos gave birth to four children in Greece, Thanasis (who stands 6-7), in July of 1992, Giannis (6-9) in December 1994, Costas (6-3) in 1997, and Alex (5-9) in 2001. Their first son, Francis (6-7), was born in 1984 and is a professional soccer player in Nigeria. None of the Adetokunbos have received Greek citizenship, only being able to attend public school thanks to their birth certificates.
Thanasis and Giannis began to play basketball casually together around 2003. As fate would have it, the two were spotted one day by Spyros Veliniatis, a coach from Filathlitikos academy who is an avid cycling enthusiast and happened to biking by their local basketball court. Veliniatis was immediately taken aback by the immense physical gifts the children displayed, and invited the two to join the academy, the only club in Athens that does not charge a membership fee to participate. Considering the family's financial background, this was fortunate.
Video Analysis:
Thanasis and Giannis enrolling in the academy coincided with the team progressing rapidly up the Greek minor league system, being promoted six times in ten years from the D regional division of Athens all the way up to A2, the second league of Greece. Filathlitikos now finds themselves on the doorstep of A1, the top league in Greece, as they are in first place with a 14-3 record more than halfway through the season.
Most of Filathlitikos's success has come thanks to the homegrown talent they developed and integrated onto their roster over the years, with head coach Takis Zivas coaching both the club's senior and U18 team since its inception 15 years ago. Many of the club's young players are the sons and daughters of immigrants from Russia, Ukraine, Poland, Albania and Nigeria.
Thanks to the Adetokunbo's arrival, Greek basketball might have the most interesting prospect the country has seen in many years on their hands. Despite never having played for any of Greece's youth (U16, U18, U20) national teams in an official capacity, Giannis has drawn considerable interest as of late both in his home country and abroad, with eight NBA teams already having traveled to see him. An invitation to the senior national team is reportedly in the works for this summer, if his citizenship issues can be resolved of course.
After watching a considerable amount of film from his play in the second division and U18 league, we decided to take a trip out to Athens ourselves to see what all the fuss was about. It turned out to be very valuable use of our time.
Adetokunbo stands out first and foremost thanks to the tremendous physical profile he brings to the table, reminding somewhat of a
Nicolas Batum
or
Thabo Sefolosha
on first glance. He has great size at 6-9, 196 pounds, to go along with a developed upper body and an overall terrific frame that should fill out considerably in time. His wingspan has reportedly been measured at 7-3, but perhaps most interesting is the size of his hands, as he's able to palm the ball like a grapefruit which helps him out considerably as a passer, ball-handler and finisher.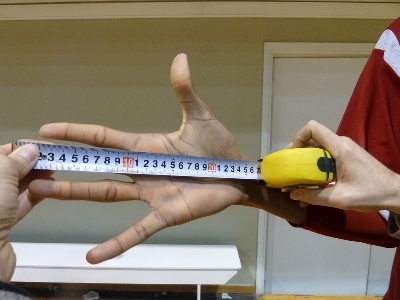 Exceptionally smooth and fluid, Adetokunbo still hasn't reached his full potential as an athlete, which makes sense if you consider he turned 18 three months ago and has grown 8 cm (a little over three inches) in the past ten months—and still might not be done growing. He's still working on his balance on the defensive end, and isn't an incredibly explosive leaper—something that could change as his lower body strength improves.
It's popular to say that a prospect--particularly an obscure one-- "plays every position on the floor," but in the game we watched in Greece, that was indeed the case. The competition level, as you can see in the video scouting report above, is indeed nothing to write home about, but it's difficult not to be taken aback by the incredibly versatile skill-set Adetokunbo brings to the table at 6-9.
The tallest player on his team, Adetokunbo started the game off at the power forward position, but played on the perimeter almost exclusively. Similar to the way
Kyle Anderson
is used at UCLA, he initiates a lot of his team's offense in the half-court and regularly rebounds the ball and takes it coast to coast, showing fantastic body control. He's an extremely smooth ball-handler and a surprisingly adept passer, looking extremely unselfish and very focused on getting his teammates involved. He's capable of driving left or right and reads defenses far better than you'd expect considering his age and size, as he shows great sparks of creativity and smarts that make it easy to envision him developing into a point forward type as his career progresses.
Adetokunbo's long strides and great length allow him to finish his moves in a variety of ways around the basket. He's largely right-hand dependent, though, and will need to continue to improve his strength and explosiveness to finish over the top of better defenses than he's facing at the moment.
Adetokunbo's perimeter shooting ability is not as refined as his passing and ball-handling skills. While his shooting mechanics are relatively consistent, and he's capable of making shots with both his feet set and off the dribble, he sports a low release point and is not a knock down shooter when left open. He's making 34% of his 3-pointers on the season in A2 thus far and 70% of his free throw attempts, so there's definitely something to build off here.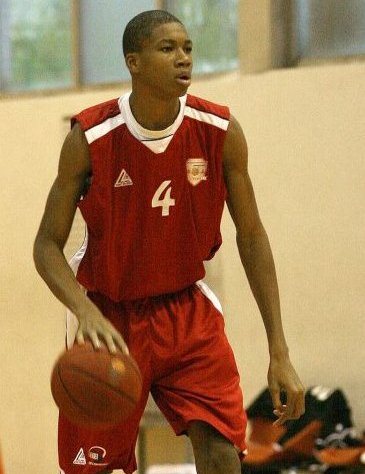 Defensively is where Adetokunbo might have the best potential considering the superior size and length he brings to the table at his position—likely small forward. He's not very consistent in this area yet, as he lacks significant experience, is not physical enough keeping a body on opponents and fighting through screens, and plays too upright on the perimeter. The instincts he displays here are very intriguing though, as he shows good anticipation on the defensive glass and is capable of making his presence felt in the passing lanes and as a shot-blocker.
The biggest thing holding Adetokunbo back at the moment is his lack of experience. He's a late bloomer who did not have the benefit of growing up playing against other top international talents his age in the various FIBA competitions over the years. Similar to many young prospects still growing into their frames, he's not incredibly physical at the moment, and is not immune from showing questionable decision making in the half-court. He is at times so focused on getting his teammates involved that he can be appear to lack somewhat of a killer instinct, and his average perimeter shooting ability and defensive prowess could surely become more of an issue against higher level competition if he does not improve in these areas.
Additionally, there are some question marks about his true position and ideal role on the floor against senior players. While the concept of a 6-9 point guard sounds great in theory, there are very few teams and coaches that actually play that way, which means he will have to continue to improve his ability to operate off the ball as well.
Adetokunbo's talent was recognized by first division Spanish team Zaragoza in December when they
elected to sign him
to a four year contract. He will move to the ACB next season—barring complications with his passport—but reportedly has comfortable NBA out clauses at the end of each year, including this summer. Adetokunbo's agent, Giorgos Dimitropoulos, says that he will almost certainly be entering his name in the 2013 NBA draft to gauge his prospects, and that there is an "80-90% chance" he will stay in. While nothing is set in stone at the moment, NBA teams likely wouldn't mind leaving a talent like Adetokunbo in Europe for a couple of years to develop on a team like Zaragoza that is known for working very well with young players.
Adetokunbo has drawn interest from both the Nike Hoop Summit and adidas EuroCamp in Treviso from what we've been told, and would strongly consider attending if invited, though his unresolved passport issues make it difficult to ascertain if he'd be able to do so. In the meantime, eight NBA teams (including two General Managers) have been out to Athens to see him, and it's likely that many more will follow over the next few months.
His talent is readily seen on first glance as soon as he steps foot on the court, but there's obviously still a long ways to go for him to translate that into production at the highest levels of basketball. Regardless, this is as unique a story as you'll find in this year's draft class and it will be fascinating to monitor his progress both in the short-term and as he develops over the next few seasons.