Former McDonald's All-American
Reggie Bullock
had a breakout season as a junior at North Carolina. Where does he fit in at the next level now that he's in the draft for good?
Reggie Bullock, 6'6, Junior, Small Forward, North Carolina
Scouting report by Matt Williams. Video Analysis by Mike Schmitz
Last time we checked in on
Reggie Bullock
, he was coming off a respectable sophomore season that saw him contribute in a small role alongside the stockpile of NBA talent North Carolina put on the floor in 2012. Returning to campus expected to help pick up the slack left behind by
Harrison Barnes
,
Tyler Zeller
, and
Kendall Marshall
, Bullock responded, finishing this season as the third leading scorer on a young Tar Heels squad and subsequently declaring himself eligible for the 2013 NBA Draft.
Video Analysis
More Video Scouting Reports
Bullocks' main virtue as a NBA prospect is his ability to stretch the floor with the threat of his spot-up jump shot. The
second best 3-point shooting small forward in our top-100
, Bullock found his range as a junior, making 44% of his catch and shoot jump shots according to Synergy Sports Technology and 43% of his 3's overall. Considering set jump shots accounted for more than half of his shot attempts in the half court as a junior, Bullock's 5% improvement from beyond the arc relative to his sophomore season was a significant development.
Apart from his perimeter shooting, Bullock also made significant offensive contributions in transition and on the offensive boards as a junior. Possessing good end-to-end speed and solid instincts on the glass, Bullock is not the type of prospect who will wow you with his explosiveness above the rim, but he does a good job being in the right place at the right time and shows nice body control finishing in close.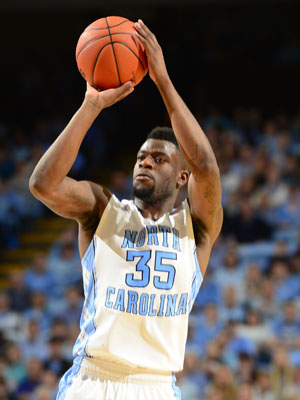 Standing roughly 6'7 with a near 6'10 wingspan, Bullock has solid size for the small forward position, but he doesn't possess great explosiveness, which is most clear when watching his operate one-on-one and on the pick and roll. Lacking the burst to get into the paint consistently and proving to be only an average ball-handler, Bullock does not create his own shot prolifically and struggles to score over defenders in the midrange area, especially under pressure. Considering his strong long-range shooting, low-mistake style of play, and lack of creativity on the offensive end, Bullock seems best suited to play a role similar to the one fellow North Carolina product
Danny Green
plays for the Spurs.
On the other side of the floor, it is Bullock's size and competitiveness that make him a solid defender. He could still stand to maximize his frame to help him defend the three-spot at the next level, but he's an active player who was charged with stopping the opposition's top perimeter scorer on an almost nightly basis at UNC and rebounded the ball well for a player his size. He doesn't have great lateral quickness, and gave up more dribble penetration this season than he did as a sophomore, but often did so knowing he had a teammate helping on the baseline. Bullock's defensive ability has been impressive in spurts over the course of his career and his potential on this end of the floor will be something NBA teams will want to study more in private workouts.
Though
Reggie Bullock
may not be a glamorous NBA prospect, his standout shooting ability, size on the wing, and the little things he does on both ends give him plenty of potential as roleplayer. He's overcome a difficult background and improved steadily over his three year college career. If he can maximize his physique and further refine his handle and pull-up jump shot, the All-ACC 2nd Team selection could be a nice piece on a competitive team. A potential late first round pick, Bullock is a player to watch throughout the draft process as he's one of a laundry list of players vying for a coveted guaranteed contract.