Shane Larkin is one of the best athletes in this draft and also among the most efficient scorers. How much will his lack of size and length affect him on draft night?
Shane Larkin, 5'11", Sophomore, Point Guard, Miami
Scouting Report by Derek Bodner. Video Analysis by Mike Schmitz
Shane Larkin
was heavily recruited by Jim Larranaga when the now-Miami Hurricane coach was with George Mason. Larranaga ended up going in a different direction when another point guard recruit, Corey Edwards, elected a willingness to the program commit immediately while Larkin was still undecided at that point in his recruitment. Larkin eventually committed to DePaul, but didn't last there for long as he was reportedly homesick, electing to transfer after just a few practices.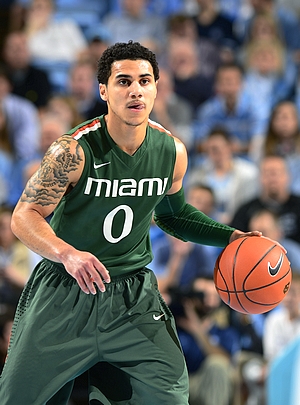 After Larranaga became the head coach at Miami, and an undisclosed medical condition in his family (living in Orlando) allowed Larkin to become immediately eligible to play close to his home, the two were unexpectedly reunited, which worked out incredibly well for both parties.
While Larkin made an immediate impact for Larranaga and Miami, starting most of the second half of his freshman season, he struggled with his efficiency on the offensive end. The 5'11" point guard shot only 36% from the field, 32% from three point range and 39.4% from two point range as he struggled to find his role in the Miami offense.
That all drastically changed this past season, where Larkin showed a terrific blend between passing and scoring that helped his Miami team have the best season in the school's history, winning the ACC regular season and conference tournament and earning Larkin ACC player of the year honors in the process.
Video Analysis
More Video Scouting Reports
Larkin upped his true shooting percentage from 50% to 60% this season, making 1.9 three pointers per game at a 41% clip to go along with shooting 54% from two point range. He did this despite shouldering a much larger offensive load, nearly doubling his usage rate from 11.8% to 21.3% and increasing his scoring from 11.5 points per 40 minutes pace adjusted to 16.4.
Larkin prefers to operate in the half-court out of pick and roll sets, where his ability to shoot off the dribble or find the open man is a huge weapon. He was one of the most prolific pick and roll players in all of college basketball, being tagged for over 500 possessions of this nature according to Synergy Sports Technology, second only to
Matthew Dellavedova
in terms of sheer quantity.
Larkin's prowess on the pick and roll begins with his ability to make shots off the dribble with incredible accuracy. He is equally comfortable going to his left or his right, and has range out to (and beyond) NBA three point range. He has excellent balance when pulling up off the dribble, with excellent form, elevation, and follow through, not needing much more than a split second to get his shot off. He also has an excellent step-back jump shot in his repertoire, allowing him further ability to get his shot off with little space despite his short stature. He converted 40.3% on his pull-up jump shots this season, with his 1.081 points per possession ranking in the top 5% in college basketball, according to Synergy Sports Technology.
Larkin's proficiency off the pick and roll doesn't just end with shooting, however. Larkin is incredibly quick and shifty with the ball in his hands, maintaining a low dribble that he has complete control over at all times. The combination of being a lethal shooter, having terrific quickness, possessing the ability to change direction sharply on the fly and his excellent ability to change speeds makes him a very tough cover on the perimeter, especially in pick and roll situations, where he has an ability to get into the paint with relative ease.
While a superb athlete overall (Larkin ranks historically well in all athletic testing drills, particularly the lane agility, ¾ court sprint, and vertical leap), Larkin's below average size, bulk, wingspan and reach does present some difficulties when finishing in the paint, and could become much more of an issue against NBA-caliber big men. Larkin possesses just a 5-10 ¾ wingspan and a 7-5 ½ standing reach, which would both rank as the smallest of any point guard to ever get drafted among players in our extensive measurement database.
He doesn't get much extension on his finishes around the rim, giving him much less room for errors against shot-blockers rotating towards him. He mitigates this somewhat by having excellent touch on floaters in the lane and overall has good body control and touch in general, but his reliance on floaters does have some negative impact on his ability to draw fouls, and his free throw rate is fourth worst among point guards in our top-100 rankings. If he can work on his increasing his confidence finishing with his off hand and become better at drawing contact, it would make him a more dangerous and consistent scorer in the paint.
Larkin isn't just a scorer, and while he still goes through spurts where his lack of experience will show at times, he has done a lot to show off more of his passing talents during his second season at Miami, even if his assist numbers don't entirely reflect that. He is particularly dangerous off the pick and roll, where the threat he poses as a scorer opens up passing lanes. While his size and ability to see over a trap can close off some passing lanes, he shows excellent creativity as a passer in pick and roll sets, reading defenses, utilizing both sides of the floor and having no problem finding the open man in any way necessary, be it off lobs, bounce passes, skip-passes, kick-outs or simple dump-offs. Perhaps just as importantly, he is a willing passer who is able to make quick reads and move the ball around the perimeter if his own shot isn't there.
Larkin overall does a good job of not turning the ball over, not only thanks to his excellent ball-handling ability but also due to his patience and propensity for avoiding the risky play, doing a good job reading the defense before they are able to effectively trap him on the pick and roll. The one area where he can sometimes struggles is on drives to the hoop where his lack of size closes off passing lanes, as he sometimes gets too deep into the defense and/or in the air without knowing exactly what he is going to do or where his outlet valves are stationed, and can at times get himself into trouble because of that.
The defensive side of the ball could present the biggest obstacles to Larkin making an impact at the next level. Larkin was fairly solid on this end of the floor at the college level, doing a good job forcing turnovers, and using his excellent quickness and anticipation as a ball thief. However, this can sometimes work against him as he tends to drift and wander off his man, leaving him out of position. A bigger concern is his size. Standing 5'11" with wingspan and standing reach measurements that would be among the lowest in our database for any player drafted, Larkin will have all the cards stacked against him in terms of his physical profile. His quickness and smarts will help him, but Larkin will have to work very hard both on and off the court to hold his own against the physical specimens he'll encounter at the point guard position in the NBA.
The son of hall of fame baseball player Barry Larkin,
Shane Larkin
comes from a family that understands what it takes to succeed at the highest levels of professional sports, and the improvement he has shown from when he was a mid-level recruit in high school to now has been substantial. Despite the challenges and concerns Larkin's size and length present, his potential as both a scorer and a distributor in pick and roll sets, along with his incredible athletic results at the NBA combine should generate quite a bit of interest from decision makers on draft night, as he's widely expected to be drafted in the top-20. That's quite a feat considering where he was a year ago, a complete unknown on the college level among NBA scouts.