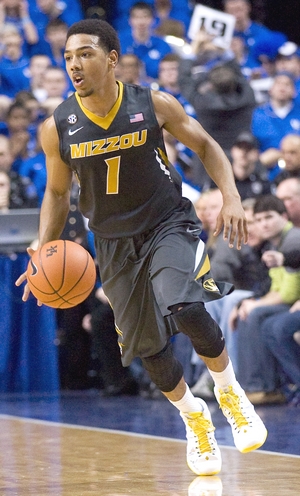 Matt Williams
Last time we checked in on
Phil Pressey
, he was fresh off a tremendous sophomore campaign during which he quarterbacked one of the best offenses in the last decade of NCAA hoops. Returning to Columbia for his junior season, he faced growing expectations, being named preseason player of the year in the SEC.
The 2013 season brought a changing of the guard for the Tigers, who lost their top four scorers from the previous year, NBA Draft picks
Kim English
and
Marcus Denmon
, and hyper-efficient
Michael Dixon
and
Ricardo Ratliffe
. Replacing that group with less prolific shooters without extensive high-major experience in
Jabari Brown
and
Keion Bell
on the wings and the duo of
Laurence Bowers
and UConn transfer
Alex Oriakhi
in the post, it was clear coming in, for better or worse, that the team would rely more heavily on Pressey both as a scorer and facilitator in 2013.
Standing a shade under 6-feet tall with a 6'2.25 wingspan, Pressey doesn't have ideal size for a point guard prospect, but he does have very good quickness, which has been the basis for much of his success at the college level over the last three seasons and is certainly one of his best tools as a potential pro.
At his best using his speed to spark the break and handle to turn the corner on the pick and roll, Pressey was one of the most dynamic playmakers in the country last season. Doing a tremendous job getting his teammates involved and
ranking as the third best assist man per-40 minutes pace adjusted among our top-100 prospects
, Pressey was able to get to where he wanted on the floor and make plays with impressive court vision and creativity.
It is Pressey's creativity on the pick and roll that is perhaps his most intriguing offensive skill as a prospect. Delivering the ball between, around, and over defenders to his roll man, cutters, and spot-up shooters when operating in the two-man game, Pressey looks like the type of player who could make a positive impact as a backup floor general if surrounded by the right pieces. He proved as much his sophomore year.
The question for Pressey moving forward is whether he can he improve his efficiency both as a passer and scorer to complement his playmaking. For all the positive things Pressey does as a passer, he still struggles with his decision-making at times,
ranking as the most turnover prone player among our top-100 prospects
.
When he looks to score, Pressey is limited by his size and less than stellar pull-up jump shooting. Though he's a fairly capable shooter from beyond the arc with his feet set, he made just 34% of his pull-up jump shots, 37% of his runners, and 39% of his shots at the rim last season according to Synergy Sports Technology. Considering nearly 80% of his possessions came as a ball-handler in transition, isolation, or pick and roll situations, his inconsistency scoring off the bounce will be put under the microscope in individual workouts.
Fearless to a fault with the ball in his hands, Pressey's play down the stretch of close game was spotty at best, and his willingness to try and force the issue to help his team, whether as a facilitator or passer, was met with mixed results. The absence of versatile second point guard
Michael Dixon
in Frank Haith's lineup was certainly a factor in just how much ownership of the Tigers' offense Pressey sought to assume. Despite his shortcomings, Pressey has had his moments over the last two seasons, carrying his team for stretches with impressive confidence amid high-turnover and poor shooting games.
Pressey's assertiveness spills over to the defensive end where he tends to improvise to try and force turnovers. Coming up with 2 steals per-40 minutes pace adjusted, Pressey likes to gamble. He will need to shore up his focus on this end of the floor as he faces a major challenge in overcoming his lack of size. Possessing solid quickness, Pressey will need to emerge as a better ball hawk to help compensate for the difficulties he'll face contesting shots and defending taller guards in the post due to his diminutive size.
One of the most productive passers in college basketball last season, Pressey certainly looks the part of a backup floor general thanks to his ability to create for others on the pick and roll. Whether he can become more than that depends on what more he can bring to the table as a decision-maker, scorer, and defender down the road. He'll certainly be in play throughout the second round as a player who seemingly could fit in very well on a team flush with bench scoring that isn't already committed to a backup point guard.