John Riek in Attendance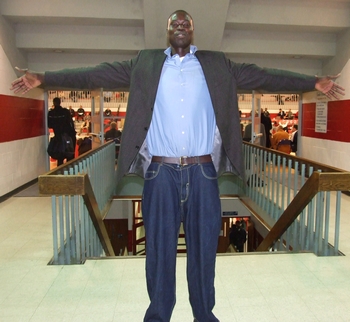 [c]John Riek showing off his reported 7'8 wingspan[/c]
12-15 NBA teams were reportedly scheduled to attend the National Prep Showcase, solely to watch one player--7'2 Senegalese prospect
John Riek
, now playing at Winchendon Prep. Riek was pulled out of the event a few days prior to the Showcase due to an injury that would have caused him to play at less than 100%, which his people felt was not in his best interest. Riek was still here in Lowell, though, walking around dressed to impress and cheering on his teammates in animated fashion from the bench. He'll reportedly be featured in Sports Illustrated sometime in the near future. Since Riek was one of the main reasons we decided to come up to Lowell, we will instead have to settle for game footage that we're supposed to acquire shortly until we can catch up with him again.
Tyreke Evans, 6-5, Point Guard, Senior, American Christian Academy, Uncommitted
32 points, 4 rebounds, 5 Assists, 3 Turnovers, 6 Steals, 12-22 FG, 3-7 3P, 5-7FT
Jonathan Givony
With all the big boys in attendance (North Carolina, Louisville, UConn, Texas, Villanova, Seton Hall, Memphis' John Calipari, Reebok's Chris Rivers behind the bench, others),
Tyreke Evans
played up to the hype by putting on a great show for all those in attendance. He displayed his credentials as both a top collegiate recruit as well as a extremely interesting NBA draft prospect, in his lone game here at the National Prep Showcase (he sat out the second with an injury).
Standing 6-5, Evans has the physical profile down pat. He owns an NBA caliber frame, a great wingspan, and possesses all the athleticism you could ask for in a guard prospect, and then some. He's got an incredibly powerful first step, outstanding body control weaving in and out of the lane, and the explosiveness needed to finish strong around the basket with either hand. He finds and exploits creases in the defense much like an NFL halfback would, bursting into the lane going either left or right, and being strong enough to finish through contact. Evans' team's offense indeed revolves exclusively around his ability to create his own shot at will, as their only half-court play seemingly was an Isolation for him at the top of the key while the rest of his teammates cleared out.
More than just a slasher, Evans is also an impressive perimeter shooter, showing range that extends beyond the 3-point line, and the ability to swish tough shots impressively off the dribble. He's got a nice mid-range game as well, being able to create separation instantaneously with a sharp pull-up and difficult fade-away. What's odd is that he chooses to go to this fade-away move even from stand-still positions, something that will probably need to be corrected at some point, much like
LeBron James
did.
Evans plays the point guard position exclusively at this level, but there are definitely some adjustments he'll have to make if he's to truly achieve his full potential as a playmaker. He's an incredibly dominant ball-handler, the type of point guard who dribbles the ball the entire possession while looking to score and only gives it up when he's completely exhausted all other options. He still gets a lot of assists in this manner, since the defense completely collapses around his dribble. He's not one to participate in a team's fluid ball movement, and therefore will get a bit wild with the ball at times and make questionable decisions, particularly with his shot selection. Looking at his body language, you can't help but wonder at times whether he's more interested in playing for himself and winning style points from the crowd rather than playing winning basketball.
With that said, it's impossible to ignore the incredible talent that Evans possesses already at this age. He's clearly got the tools and potential to become an elite talent even at the NBA level, especially if he doesn't buy into his own hype and continues to make strides with his shot and playmaking skills. It will be very interesting to see which college he chooses. He's got a lot of schools after him, but from what people here are saying, Louisville and Memphis seem to be the favorites.
Jorge Gutierrez, 6'2, Point Guard, Senior, Findlay Prep, Uncommitted
15 points, 6 rebounds, 4 assists, 3 turnovers, 1 steal, 5-9 FG, 5-5 FT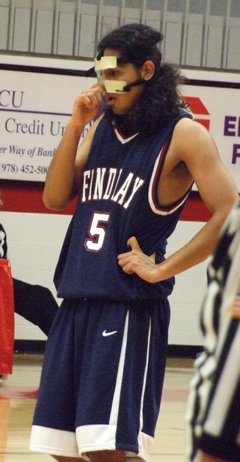 Rodger Bohn
There was not a player in attendance who was more fun to watch for basketball purists than Jorge Gutierrez, a scrappy combo guard from Mexico. While he did not stand out in any one particular facet of the game, he was able to do a little bit of everything and displayed all of the intangibles that college coaches dream of. Any time that Findlay Prep ran into a jam, he seemed to always find one way or another to pull them out of it, whether it be through drawing an offensive foul, coming up with a steal, or setting up a teammate for an open scoring opportunity. Actually an adequate scorer, Gutierrez showed off a decent first step and the ability to finish at the basket with either hand consistently. Although he did not hit any three pointers this weekend, he did prove that he could hit the 18 foot jumper on a consistent basis.

All weekend long, Jorge was placed on the most talented perimeter player that his team was matched against. Boasting excellent lateral quickness, toughness and defensive awareness, he showed his credentials as a lockdown defender. We would love to see how he plays without his Rip Hamilton-style face mask, since you could clearly see that it was bothering him all game long, even if it didn't stop him from making big plays.

With the vast majority of the nation's top prospects already committed, do not be surprised to see Gutierrez land at a high major program near you. The defensive presence, basketball IQ, and intangibles that he presents make him enviable to virtually any coach looking for a guard to help his team. Presently Texas, New Mexico, UNLV, and Colorado State appear to be in the running for Gutierrez, but expect that to change if he is able to continue his outstanding play the remainder of the season.
Alex Oriakhi, 6-9, PF/C, Junior, Tilton Prep, Committed to UConn
19 points, 8 rebounds, 1 assist, 3 turnovers, steals, 4 blocks, 7-13 FG, 5-7 FT
Jonathan Givony
In his lone performance here at the National Prep Showcase, UConn big man commit
Alex Oriakhi
put on a pretty nice display, although in a losing effort. The Huskies offered him a scholarship already after his freshman year, and watching him play, it's not too difficult to figure out why.
Oriakhi looks like your prototypical college big man prospect. Featuring decent size at 6-9, he possesses good length and an incredibly chiseled frame. He's a very athletic big man, able to run the floor well, finish strong underneath the basket, and get off his feet to challenge shots. He's not a liability offensively either, possessing a somewhat raw back to the basket game that is still fairly effective at this level, and a decent stroke both from mid-range and the free throw line. He indeed knocked down a pretty
Tim Duncan
-esqe bank-shot from 10 feet out, and then another 17-foot jumper in this game, although he did brick another one badly late in the game. Inside the paint, he could still stand to learn how to use his body a little better to establish position and finish around the hoop, as well as develop his ability to finish with his left hand.
Orihaki will likely be considered a better defensive player in college (at least early on) than offensive. He shows really nice timing as a shot-blocker, and also goes after the boards pretty hard as well. His strength, toughness and activity level make him fairly productive on this end of the floor, although he does need to improve his conditioning—as he was sucking wind and not running the floor that well from pretty early on in the game.
Orihaki looks like a really nice role player at this point, not possessing amazing talent or upside, but is surely someone that can develop into an NBA prospect after a few years in college under the tutelage of Jim Calhoun. He reminds of a young
Tony Massenburg
if you're looking for a comparison. We should keep in mind that he's only a junior right now, and most of the players here are a year or two older than him.
Emmanuel Negedu, 6'7, Power Forward, Senior, Brewster Academy, Committed to Arizona
11 points, 4 rebounds, 3 blocks, 3 steals, 5-11 FG, 1-5 3PT, 0-2 FT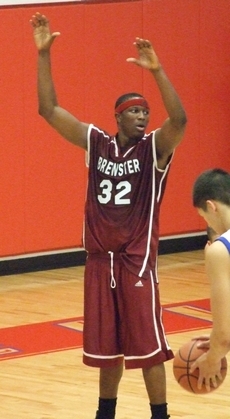 Rodger Bohn
Negedu was a monster in terms of sheer intimidation over the weekend, but was not the dominant presence that he has proven to be over the years. He seemed far more concerned with showing everyone in attendance that he is attempting to become a small forward than he did with playing his usual game, which usually revolves around bullying foes around the basket.
The Arizona commit showed off his ridiculous strength and athleticism a few occasions via monstrous dunks in transition and impressive blocked shots. Owning the physique of an NBA post player, he is able to outmuscle opponents in the pivot with regularity. Emmanuel's game is primarily based on his strength and leaping ability, although if you hadn't seen him before this weekend, you might not have been able to tell. Opting mostly to hang out on the perimeter, as well as battling foul trouble, he struggled mightily this weekend and didn't play anywhere near his capabilities.
At a generous 6'7, Negedu, is an undersized power forward who doesn't have a great deal of finesse skills. He still needs plenty of work on his shot before he even thinks of attempting 5 three pointers in a game again, and shows very raw footwork on the blocks. All in all, the Brewster man-child still has a ways to go in terms of perimeter skills before he can be considered an NBA draft prospect. However, we're pretty certain that Negedu will be an excellent compliment to
Brandon Jennings
and will prove to ultimately be a very nice college player down the road.
DeAndre Liggins, 6-6, PG/SG, Senior, Findlay Prep, Committed to Kentucky
21 points,6 rebounds, 9 assists, 9 turnovers, 4 steals, 7-21 FG, 2-7 3PT, 5-7 FT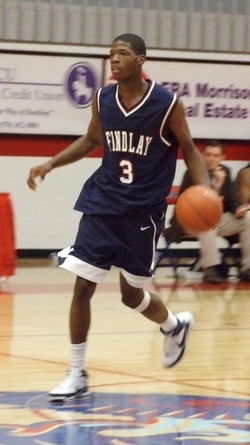 Jonathan Givony
Liggins' second game in Lowell was not quite as impressive as his first, and his team went from blowing out one of the best prep schools in the country in South Kent to nearly losing to a fairly anonymous squad in New Hampton.
Liggins' biggest problem today was the overexcited nature in which he played. He looked very wild at times driving into traffic, causing unnecessary turnovers (9 on the night) and not giving his team the same terrific rhythm they had yesterday on their impeccable half-court sets. In addition to that, Liggins settled for way too many 3-pointers (7), when really he isn't that great of a shooter to begin with. There's no doubting his talent, but if Liggins is to continue to play the point guard position at the collegiate level, he will have to improve on letting these things come to him.
It wasn't all bad in this game, though, as Liggins' talent was clearly on display in the 38 minutes he played. Showing excellent ball-handling skills with either hand, and terrific speed in the open floor, Liggins creates offense extremely well for both himself and his teammates, as evidenced by his 9 assists tonight. He is extremely creative with his spin moves and such, and is able to go both ways on his drives, making him very difficult to stay in front of when he is reading the defense and not forcing the issue.
Liggins is more than just an intriguing offensive prospect, he also brings plenty of versatility to the floor in many other parts of the game. He's an excellent rebounder, a capable defender, as well as a terrific passer. He was about as unique a player as we saw this weekend, and will be a very interesting draft prospect to follow once he lands at Kentucky, somewhat similar to
Ronnie Brewer
.
Jin Soo Kim, 6'9, Small Forward, Junior, South Kent, Committed to Maryland
19 points,8 rebounds,1 assist, 2 turnovers, 3 blocks, 2 steals, 7-15 FG, 2-5 3P, 3-5 FT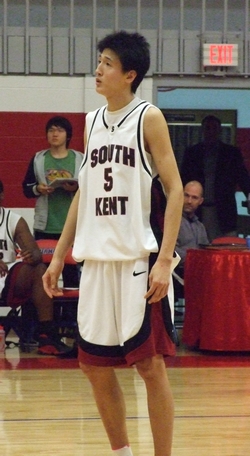 Rodger Bohn
Since we last saw Kim at this same event last year, he has clearly transformed to American culture both on and off of the court. Last November, we saw a timid (but talented) youngster who was afraid to shoot the ball and seemed completely uncomfortable out on the court with his peers. Fast forward one year later and you have a player leading his team in scoring, demanding the ball offensively and telling opponents "block that sh*t" after rejecting their shots out of bounds.

The young Korean brings quite a bit to the table for a small forward prospect. At 6'9 and possessing a lengthy wingspan, he is one of the longer small forward prospects on the prep level. Kim has shown potential to become a deadly shooter down the line, owning a jumper with a quick release that he can shoot equally well both on the move and from a standstill. As far as mobility is concerned, he surprises with his above average quickness (both in terms of first step and laterally) for a player his size.

At the same time, Kim still has a ways to go before he is going to be able to compete in the ACC. His off the dribble game needs quite a bit of work, and he is still incredibly weak for a player 6'9. Jin Soo has proven to be a solid team defender, but struggles especially when forced to guard smaller, quicker small forwards on the wing.

Kim's toughness and confidence are improving rapidly, perhaps due to his strong performance in this summer's U-19 Championships with South Korea. While he is not an immediate draft prospect, we need to keep an eye on the South Kent junior considering his size and ability to shoot the ball at the small forward position.
Brice Massamba, 6'10, Center, Senior, Findlay Prep, Uncommitted
Game One: 11 points, 3 rebounds, 0 assists,1 turnover, 1 steals, 1 block,4-5 FG, 3-6 FT
Game Two: 10 points, 6 rebounds, 0 assists, 2 turnovers, 1 steal, 2-2 FG, 6-10 FT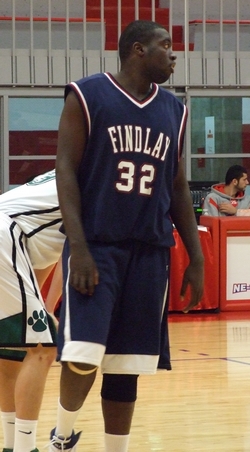 Jonathan Givony
The inside reference for Findlay Prep's guards, Swedish big man Brice Massamba did a good job showing off his potential value to the many high major schools in attendance here. Considering how few uncommitted big men there are in this class, he surely helped himself with his performance.
Massamba is an old-school, back to the basket pivot. He has pretty good hands, above average athleticism, an excellent frame, and the aggressiveness needed to make use of it in the paint. He likes to get down and dirty in the paint, and although his post-moves are still a bit underdeveloped, he can get the make the most of them thanks to his size and physicality. He finishes really strong around the hoop, taking contact and showing decent touch from close range. He even showed a little bit of a face-up game putting the ball on the floor and making his way to the basket, although this probably isn't what most teams have in mind when they are recruiting him.
Massamba played pretty solid defense in the paint as well, blocking a few shots, throwing his elbows around, and really making the most of every one of the fouls he had at his disposal. When he fouled a player, he fouled really hard. Some here thought that he overdid it actually and described him as a dirty player.
Massamba may not be the most athletic or naturally talented big man in the world (think
Yemi Nicholson
with a better motor), and his potential probably isn't off the charts, but he certainly looks like someone who can help out a high-major team sometime in the not too distant future.
Anthony Crater, 6'2, Point Guard, Senior, Brewster Academy, Committed to Ohio State
2 points, 1 rebound, 11 assists, 0 turnovers, 2 steals, 1-4 FG, 0-2 3PT
Rodger Bohn
There was no better pure point guard in Boston than Crater, a Michigan native committed to Ohio State. He did an outstanding job of getting everyone involved and initiating the offense, while also collapsing the defense and dropping the ball off to teammates for easy buckets. Anthony showed an understanding of a player well beyond his age, not forcing the issue a single time while we observed him over the weekend.
Although Crater was excellent distributing the basketball, he did very little in terms of scoring. He often deferred to his teammates even when he had open looks for himself, leaving one to question his own confidence in his offensive game. There were opportunities for Crater to attempt to take over the game when Bridgton couldn't buy a bucket, but the point man continued to give the ball up instead of looking to score himself.
Ohio State is getting exactly what they need from a point guard in Crater given the recruiting class that they have coming in next year. Fellow recruits
B.J. Mullens
and
William Buford
have proven that they can put points on the board, so the Buckeyes will not need Crater to score a ton of points. Given the scorers and way that Thad Matta utilizes his point guards in his offense, Anthony should have no problem coming in and playing quality minutes early on.
Assane Sene, 7-0, Center, Senior, South Kent, Committed to Virginia
16 points, 14 rebounds, 2 assists, 1 turnover, 4 blocks, 7-11 FG, 2-4 FT
Jonathan Givony
Assane Sene finished off his weekend in Lowell with an excellent performance, utilizing his physical tools perfectly to dominate a much less physically gifted team, after a fairly weak performance against the much more talented Findlay Prep team the day before. Sene has certain gifts that cannot be taught as they say—namely terrific size (7 feet), length, and athleticism. He is still very far from being able to put it all together against serious collegiate big men prospects, but he does possess a considerable amount of upside.

Very much left-handed, Sene is offensively a fairly limited player. He can catch and dunk, finish in transition, or get some points by crashing the offensive glass-- but everything else is mostly a struggle for him. He has poor awareness, very little in the ways of post moves, average hands, and just decent coordination. He often looks awkward and lost when the ball is thrown to him in the post, as he doesn't have any consistent way of creating offense for himself. His right hand is virtually non-existent, as are his ball-handling skills and shooting range outside of five feet.

Defensively, Sene shows considerably more potential, largely due to his physical profile. He has nice lateral quickness and is extremely quick off his feet, giving him the ability to rotate defensively and intimidate players slashing into the lane, mostly with his left hand. He tries to block absolutely everything around the basket, though, for better or for worse, meaning he's often prone to foul trouble due to the fact that he bites on almost every pump-fake. If he doesn't block the shot, it isn't rare to see him end up completely out of position. He's still a bit on the skinny side, but it does seem like he will grow into his frame eventually as he gets older. As a rebounder, Sene relies a bit too much on his physical tools rather than boxing out his opponent, but at this level, that rarely matters since he's so much more gifted physically than anyone else.

Sene seems to be a fairly tough, active player who works hard on the court—which bodes well for his future once he lands on campus at Virginia. He has a great deal of work ahead of him before he can even begin to scrape the surface on his potential, and it will be interesting to see how he pans out.
Jamaal Coombs, 6'6, Shooting Guard/Small Forward, Junior, Tilton School, Committed to Connecticut
23 points, 8 rebounds, 4 assists, 9-21 FG, 0-4 3PT, 5-6 FT
Rodger Bohn
Coombs started off incredibly hot, but cooled towards the latter part of Tilton's game versus Chaplain St. Lambert. He displayed very nice court vision for a 6'6 player, resulting in him finding countless teammates in opportune scoring times. The Massachusetts native was outstanding slashing to the basket, proved capable of hitting the midrange jumper, and took smaller defenders down to the post. The UCONN recruit also played very hard, giving maximum effort every second out on the floor, and establishing himself as the team's vocal leader.

While Jamaal had a very nice game statistically, a few holes in his game were clearly present today. He looked very uncomfortable putting the ball on the floor more than two or three times, dribbling with his head down, and not showing much creativity off the dribble. Also, Coombs' accuracy decreased significantly when shooting from three point range, something that must change if he hopes to evolve into the shooting guard prospect that many think he is. There is still plenty of time for Coombs to work on the flaws in his game though, as he will not step foot on the UCONN campus until the fall of 2009.
Maurice Creek, 6-4 Shooting Guard, Junior, South Kent, Uncommitted
13 points, 4 rebounds, 3 assists, 3 turnovers, 6-17 FG, 1-7 3PT, 0-1 FT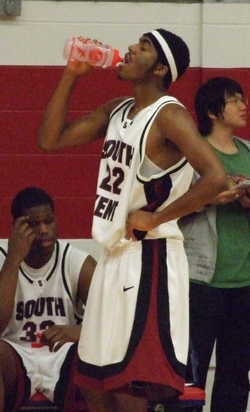 Jonathan Givony
A highly touted junior with offers from big-time programs like Texas, Pitt, Marquette and Maryland, Maurice Creek showed off his potential this weekend, but also showed why he's not a sure thing to pan out at this point.

Creek is a shooting guard who was asked to play heavy minutes at the point, due to the absence of Isaiah Thomas in the second game. He did an admirable job there, looking extremely unselfish, while also displaying nice athleticism and court vision, and maturity beyond what you would expect from a player his age. Creek pushed the ball an awful lot in transition, creating his own shot fairly spectacularly at times, and finishing around the hoop with either hand.

As a perimeter shooter, Creek is streaky, knocking down some shots here this weekend, but also missing quite a few (even air-balling one). He looks like he has some potential in this area if he continues to work hard, though. Defensively, Creek did an excellent job, getting right in the teeth of his matchup, and coming up with a number of blocks and steals in the process.

Creek still needs to grow into his frame and make plenty of strides in all parts of his game. He's got a nice base to work off of, but needs to become more consistent in the way he approaches the game, as he was very up and down from possession to possession, sometimes looking terrific, and sometimes not showing anything at all. Time is on his side, though.
Carlos Lopez, 6'10, Junior, Finday Prep, Uncommitted
4 points, 2 rebounds, 1 assist, 1 steal, 2-5 FG, 0-1 3PT, 0-1 FT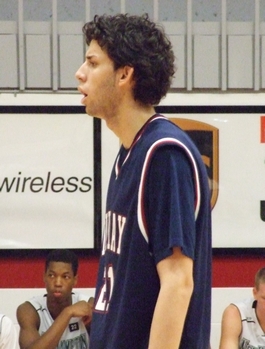 Lopez contributed some quality minutes off of the bench for a loaded Findlay Prep squad, and showed flashes of being a interesting player down the road in the process. Although he is currently very skinny, Lopez is absolutely fearless on both ends of the floor. Looking to dunk everything around the basket, he takes the ball up strong every single time, and converts at a very high percentage when near the rim. On the downside, Lopez tends to hang out around the perimeter a bit more then you'd like for a player with his toughness, often shooting contested jumpers from midrange. Physically, he probably needs to grow into his frame before he is ready to contribute at any of the high major programs that are recruiting him, tipping the scales at a feathery 200 pounds. Gonzaga, UCLA, and UNLV are currently in the running for this Puerto Rican native, who still has almost two years before he plays a collegiate game.