Alex Oriakhi
Recent Tweets
All Tweets
DraftExpress: Five guys we didn't project getting drafted that did Carrick Felix Alex Oriakhi Jannis Timma Arsalan Kazemi James Ennis.
2013-06-28 00:15:08
DraftExpress: Kelly Olynyk Ray McCallum Arsalan Kazemi Alex Oriakhi Dexter Strickland & Kentavious Caldwell-Pope all signed with Wasserman Media Group
2013-05-08 18:11:15
DraftExpress: Colton Iverson vs Alex Oriakhi. Good test for both in the Colorado State\/Missouri game. Both could use another game in front of NBA scouts.
2013-03-17 18:07:53
DraftExpress: Seeing Mike Muscala completely outplay Alex Oriakhi at Missouri makes me wonder if he isn't in store for a Vucevic-type rise up draft boards
2013-01-05 18:27:18
DraftExpress: Top NBA Prospects in the Big East (#1-5) http://t.co/lblQOTRH Jeremy Lamb, Mouphtaou Yarou, Darius Johnson-Odom, Alex Oriakhi, Kris Joseph
2011-10-14 09:07:03
Team: Capo D'Orlando
Physicals
Positions
Rankings
Salary
Misc
H: 6' 9"
W: 238 lbs
Bday: 06/21/1990
(25 Years Old)

Current: PF/C
NBA: PF
Possible: PF/C

RSCI: 15

Agent: Thad Foucher

High School: Tilton
Hometown: Lowell, MA
Drafted: Pick 57 in 2013 by Suns

Predraft Measurements
| Year | Source | Height w/o Shoes | Height w/shoes | Weight | Wingspan | Standing Reach | Body Fat | No Step Vert | Max Vert |
| --- | --- | --- | --- | --- | --- | --- | --- | --- | --- |
| 2013 | Nets Workout | 6' 8" | 6' 9.5" | 258 | 7' 3.75" | 9' 0" | 11.6 | 27.0 | 32.5 |
| 2011 | LeBron James Camp | NA | 6' 9.25" | 238 | 7' 3" | NA | NA | NA | NA |
| 2011 | Amare Stoudemire Camp | NA | 6' 9.25" | 238 | 7' 3" | NA | NA | NA | NA |



Basic Per Game Statistics

- Comprehensive Stats - Statistical Top 25s
| Year | League | Name | GP | Min | Pts | FG | FGA | FG% | 2Pt | 2PtA | 2P% | 3Pt | 3PtA | 3P% | FTM | FTA | FT% | Off | Def | TOT | Asts | Stls | Blks | TOs | PFs |
| --- | --- | --- | --- | --- | --- | --- | --- | --- | --- | --- | --- | --- | --- | --- | --- | --- | --- | --- | --- | --- | --- | --- | --- | --- | --- |
| 2015/16 | Italian | Alex Oriakhi | 9 | 22.7 | 9.0 | 4.0 | 6.8 | 59.0 | 4.0 | 6.6 | 61.0 | 0.0 | 0.2 | 0.0 | 1.0 | 2.4 | 40.9 | 2.0 | 5.3 | 7.3 | 0.2 | 0.2 | 1.6 | 1.3 | 2.6 |

Player Page&nbsp&nbsp| Player Stats | Mock Draft History | Related Articles&nbsp&nbsp| Add to My Draft Express&nbsp
&nbsp
Top NBA Draft Prospects in the SEC, Part Three (#6-10)
October 28, 2012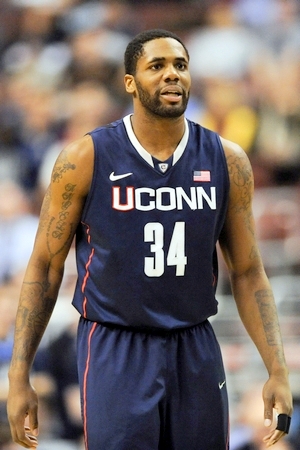 US Presswire



Matt Kamalsky

The 2011-2012 season was a struggle for Alex Oriakhi. After playing an integral role for the National Champion Huskies in 2011, Oriakhi saw his numbers fall across the board as a junior with heralded freshman Andre Drummond entering the fold. He played fewer minutes, saw fewer easy shots created for him at the rim, and looked apathetic at times amidst the program's tumultuous year. Opting to transfer to Missouri, where he will be immediately eligible to play due to UConn's NCAA tournament suspension, the big man instantly fills a need for the Tigers, stepping into the role played by Ricardo Ratliffe last season. Considering Phil Pressey and Michael Dixon helped Ratliffe, and the Tigers as a whole, post gaudy efficiency numbers, Oriakhi's decision has put him in perfect position to rebound as a senior.

Oriakhi's ability to fill Ratliffe's role will have a lot to do whether he's able to recapture the active, athletic, and physical style of play that earned him praise among scouts and helped UConn win the National Championship. The 6'9 big man may be slightly undersized for a center at the NBA level, but his strong 240-pound frame, impressive 7'3 wingspan, and very good athleticism are coveted attributes at the pro level. When he is dialed in and playing to his potential, Oriakhi is a presence on the defensive end of the floor and can make plays with his athleticism around the rim by virtue of his physical tools.

If Oriakhi shows a willingness to work hard on the offensive end and stay active in his minutes on the floor this season, he will be rewarded. He can be a productive finisher when he is crashing the glass and his guards are able to deliver him the ball in position to score. The former McDonald's All-American should have plenty of motivation to bring his best every night and will see plenty of easy opportunities coming his way compliments of Frank Haith's high powered offense and Phil Pressey, whose passing prowess we outlined in just a few days ago.

Looking at Oriakhi's contributions last season, the Tilton School product scored 3 points or fewer on 9 different occasions while scoring in double figures in 8 contests. In the games he scored over 10 points, he was physical on the block, establishing deep position and making quick decisive moves in the post, and appeared significantly more active and energetic in all phased of the game.

Oriakhi does not have a terribly polished back to the basket game and is not the type of player who has the touch or skill set to score consistently or create his own offense away from the rim. The former RSCI top-15 recruit can, however, score in the post one-on-one at this level with his basic array of drop-step and step-through moves when he's decisive with them, can finish plays above the rim, and ranked among the best per-40 minute pace adjusted rebounders in the country when he was bringing his A-game every night just two seasons ago. His rebounding fell off by 25% last season, which is something to keep an eye on as he attempts to show that his poor junior year was just an aberration and not an indication of his long-term potential at the pro level.

Defensively, Oriakhi has the ability to impact games at the college level. He's a good shot blocker for his position and possesses the package of physical tools necessary to capably defend the pick and roll as well as back to the basket and midrange-oriented fours alike. His physical tools wouldn't be quite as advantageous to him at the next level, but Oriakhi's ability to be a physical defensive presence at the increasingly versatile power forward position is a key piece of his value proposition at the NBA level at this point.

Alex Oriakhi certainly didn't have the season many anticipated he'd have last season, and remains a rather raw, limited offensive threat in the post and away from the basket, but he's put himself in an ideal situation to have a bounce back year. If he can mesh with Laurence Bowers, set solid screens for Phil Pressey and Michael Dixon, and bring a blue collar demeanor to the floor, Oriakhi will no doubt help repair his draft stock this season.

[Read Full Article]

---
Top NBA Draft Prospects in the Big East, Part One (#1-5)
October 12, 2011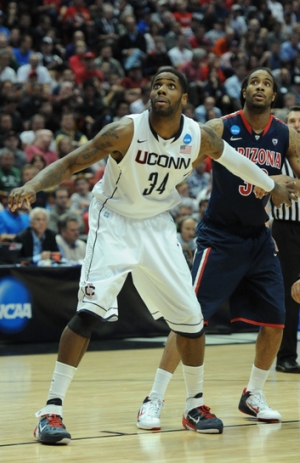 Icon SMI



Walker Beeken

Alex Oriakhi was an integral piece to Connecticut's national championship run last season, showing some positive improvements in his game from his freshman to sophomore year. Scouts will be looking for continued development from Oriakhi in his junior season, as the Huskies come into 2011-2012 as one of the preseason favorites to make another deep run in March.

Oriakhi led Connecticut in rebounds and blocked shots last season as the team's main enforcer in the paint, in what was a thin frontcourt. As a junior, Oriakhi will team up with freshman Andre Drummond to form what should be an intimidating combination at the four and five spots. This could make for a bit of a role change for Oriakhi, as will the departure of All-American Kemba Walker, who carried the Huskies offensively last season.

As we noted before, Oriakhi has an excellent body and solid athleticism for an NBA big man prospect, and although his offensive game still lacks polish, he did show some positive signs of development as a sophomore, getting more opportunities with the lack of other options for the Huskies down low.

After scoring an atrocious .41 points per possession on his post up opportunities in his freshman season, Oriakhi nearly doubled that, scoring .77 points per possession as a sophomore. He is still far from efficient and lacks feel and fluidity with his moves on the block, but his improvement is encouraging.

As a shooter, Oriakhi still has a way to go, but also made some small strides. He improved his free throw percentage from 54% as a freshman to 63% as a sophomore, and started to show flashes of being able to knock down jumpers with his feet set out to about fifteen feet or so, which will be important for him to continue working on. He will likely never be skilled enough to be a featured option in the post, so being able to make himself a threat to hit short, open jump shots will at least keep defenses honest.

Oriakhi's biggest asset offensively is his ability to crash the offensive glass and earn extra possessions. He used his strong body, log arms, and aggressiveness to grab 5.2 offensive rebounds per forty minutes pace adjusted last season, placing him in the top 10 of all players in our database.

Oriakhi was the anchor of UConn's stingy defense last season, as his physical tools and toughness make him an extremely valuable presence in the paint. He does an excellent job of utilizing his body and fighting for position on the block, while also having the ability to challenge shots as a help defender.His combination of size and mobility should allow him to be able to defend both big positions at the NBA level.

It will be interesting to see Oriakhi pair up with Drummond inside this season and see if Coach Jim Calhoun will be able to use them effectively on the floor together. Most teams in the NCAA today don't play with two true big men like those two, so Oriakhi may find himself playing some different matchups defensively, giving NBA teams a look at how he might be able to defend some of the more versatile big men in today's NBA.

Overall, Oriakhi obviously has some attributes that will be very attractive to NBA teams with his physical tools, rebounding, and defensive abilities, but his upside will likely be determined by how much progress he can make with his skill level and feel for the game offensively. Playing on a very talented UConn team with season will give him plenty more exposure to showcase how his game is developing.

[Read Full Article]

---
Top NBA Draft Prospects in the Big East, Part One (#1-5)
October 6, 2010
Matthew Kamalsky

Looking back at what we wrote about Alex Oriakhi at the 2009 McDonald's All-American game, it is hard to say that the Connecticut native surprised in his first season at UConn in a limited offensive role. Blessed with tremendous physical tools, Oriakhi's skill level is very much a work in progress, and it showed. He flashed intriguing potential in some areas, averaging more than 10 rebounds per-40 minutes pace-adjusted and was productive in his touches around the rim, but still has a long way to go to become a complete package offensively. After a trip to the NIT last season, UConn needs Oriakhi to take a big step forward to help them return to the top of the Big East.

A highly touted prep player, Oriakhi's calling card has always been his mature frame. Standing 6'9 with long arms, a strong frame, and a lot of room for growth, Oriakhi looks the part of a NBA power forward. Couple that with his explosiveness off of two feet, ability to run the floor, and improving hands, and it is clear how a player as raw as Oriakhi could have been such a dominant high school player and why with a few years of seasoning he's capable of becoming a NBA player.

There are a handful of things Oriakhi already does well, namely, crash the glass and convert catch and finish opportunities at the rim. With offensive rebounds and cuts accounting for nearly half of his total offense, the New Hampshire native did a nice job looking to dunk the ball with two hands when given a chance around the basket, and could be more effective next season if he gets into the habit of keeping the ball high in traffic. Oriakhi's physical tools allow him to make his fair share of impressive plays around the rim, but that will only mean so much to his NBA future.

For now, NBA scouts will be in wait-and-see mode with Oriakhi, as his game is something of a blank slate at this point. He's most comfortable making hustle plays at this point, lacking a great feel for scoring away from the rim or with his back to the basket and not receiving enough opportunities to showcase his midrange game.

Oriakhi would be best served to spend his time developing his post-game. Comprising nearly a quarter of his offensive possessions last season according to Synergy Sports Technology, Oriakhi scored on just 20.6% of his 34 field goal attempts. On the limited touches Oriakhi received with his back to the basket, he showed a very basic back-to-the-basket arsenal, clearly took his time before making moves, didn't look comfortable working over his left shoulder despite being right handed, and failed to convert the easy shots he did create for himself. Primarily relying on a methodical drop step to create enough space for his developing lefty-hook, Oriakhi has a world of work to do to become a more capable back to the basket threat.

Even if Oriakhi simply adds polish to his drop step moves, becomes more adept at recognizing what his defender is giving him, and looks to be more aggressive with his body, it will afford him substantially more success next season. He'll see more post touches as he figures prominently into Connecticut's attack in coming season, making his progress in that area something worth keeping an eye on.

Away from the rim, Oriakhi knocked 5 of the 11 jump shots he attempted last season, flashing promising mechanics that proved inconsistent, even in such a small sample size. If his 53.8% free throw shooting is any indication, Oriakhi still has a lot of work to do to become a threat from the midrange. Improving his touch on the whole would go a long way towards expediting his development.

While he still has a lot of work to do on the offensive end to emerge as an NBA-caliber offensive player, Oriakhi already has some impressive defensive tools. His excellent wingspan allowed him to block shots at a high rate last season, both on and off the ball. Though he isn't easily backed down once his man has the ball, Oriakhi could stand to fight harder for position down the low and needs to learn not to reach over the top when he is beat. As Oriakhi matures physically, he'll have the chance to be a great defender, as he has the mobility to recover quickly from hedging the pick and roll, the strength to defend the paint, and the length to be a factor contesting shots and rebounding around the basket.

Looking back on his freshman year, Alex Oriakhi wasn't productive in the least bit on the offensive end in substantial minutes, but rebounded the ball at a very good rate and finished effectively. While those two things alone won't guarantee him a spot in the NBA draft, they are a good start for a player with excellent physical potential who could explode next season with more polish. With three years of eligibility left, Oriakhi is a player we'll inevitably re-evaluate down the road to check in on his progress.

[Read Full Article]

---
Player Evaluations, McDonald's All-American Game (East Team)
April 4, 2009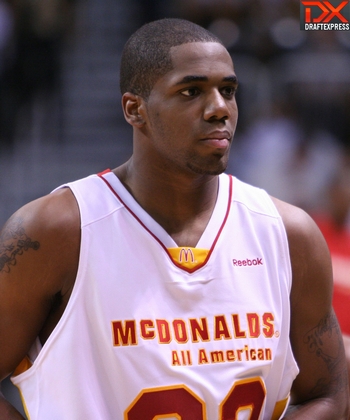 Jim Hlavac, DraftExpress



We've covered Oriakhi's (#14 Scout, #21 Rivals, #19 ESPN¬) game in quite a bit of depth over the past two years, and there doesn't seem to be a great deal of new information to bring to the table at this point in time. He's still the same long, chiseled inside oriented big man, limited with his skill-set, but very regardless effective thanks to his very specific strengths.

Oriakhi finished well around the basket over the course of the week, but looked quite mechanical when trying to attempt to execute any type of advanced moves, getting called for some travels around the basket or a 3-second violation. Facing the basket, his shooting range doesn't extend much farther out than five feet, as we saw in the drills portion of one practice. He's clearly a meat and potatoes type who comes to work every day and doesn't sport anything fancy to his game. His length, strength, athleticism and hustle allows him to clean the glass very effectively, while defensively he has strong potential, but needs to work on not wildly chasing every block. Oriakhi is obviously a great get for Jim Calhoun in the Big East, and he looks like he'll fit in right away into the void left by Jeff Adrien's graduation, as he brings similar strengths to the table.

[Read Full Article]

---
HoopHall Classic Scouting Reports, Part One
January 20, 2009
Alex Oriakhi (#14 Scout, #21 Rivals, #19 ESPN) had a very good game here, pulling in 17 rebounds (7 offensive) while scoring 23 points on 9-for-16 shooting. He brings a solid but unspectacular game to the table, and the same description applies to his athletic abilities. At 6'9, he has pretty good length and a nice build already, while his frame could hold a little more weight as well. He's highly mobile and coordinated, though he lacks a bit in quickness right now.

Looking at his game, Oriakhi got in done on the offensive end with a combination of simple, but efficient moves. Most of his scoring came off offensive rebounds, cuts to the basket, or in the post. In the post, he has a solid base of skills to work upon, with a drop step, turnaround jumper, and an ability to extend for reverse lay-ups, while also having the willingness to power through his defender for a foul.

Speaking of fouls, Oriakhi can definitely use some work from the free-throw line, where his form is inconsistent and not very deliberate. It showed in the box score, as he hit an abysmal 5-of-14 free throws. Going off this, it's probably safe to assume his mid-range jump shot is not a viable weapon yet, something we didn't see him try here.

Oriakhi also showed some flashes of a face-up game from 10 feet out, looking comfortable putting the ball on the floor for one or two dribbles and powering to the rim, but wasn't able to convert on his attempts here. Other than that, he's excellent on the offensive glass, as he gets good inside position, has a good nose for the ball, and makes use of his physical attributes in pursuit.

Looking forward, Oriakhi has all the makings of a very strong college player, but at his size and with his lack of versatility at the moment, he will certainly need to stick around UConn for a few years to polish up his all-around game. Maximizing his athletic abilities while expanding his skill set should be among his priorities, as there's no area of his game that couldn't use some improvement.

[Read Full Article]

---
2008 King James Classic: Top Big Men
May 4, 2008
Oriakhi played a key part in B.A.B.C.'s 17-U championship, making his presence felt around the rim on both ends of the floor. As when we observed Oriakhi previously, he was able to block a number of shots with his nice wingspan while finishing a number of drop off passes at the rim with thunderous dunks. Not shying away from contact, his physical play seemed to bother whatever big man he was facing whether it be while boxing out on the defensive end or sealing his man off and enabling his teammates to have open lanes to the rim.

Effort problems seemed to plague the UCONN commit throughout the weekend, though. Like many big men his age, his intensity dropped dramatically when he wasn't receiving touches on the offensive end. Also Oriakhi's game outside of 10 feet from the basket is extremely limited at this point, something that he surely must improve upon if he hopes to transition to the power forward position at the next level. All of the physical tools are there for the athletic big man to eventually to a nice prospect, but he will have to make improvement upon his skill set to have any chance of maximizing his potential.

[Read Full Article]

---
National Prep Showcase: Day Three
November 20, 2007
In his lone performance here at the National Prep Showcase, UConn big man commit Alex Oriakhi put on a pretty nice display, although in a losing effort. The Huskies offered him a scholarship already after his freshman year, and watching him play, it's not too difficult to figure out why.

Oriakhi looks like your prototypical college big man prospect. Featuring decent size at 6-9, he possesses good length and an incredibly chiseled frame. He's a very athletic big man, able to run the floor well, finish strong underneath the basket, and get off his feet to challenge shots. He's not a liability offensively either, possessing a somewhat raw back to the basket game that is still fairly effective at this level, and a decent stroke both from mid-range and the free throw line. He indeed knocked down a pretty Tim Duncan-esqe bank-shot from 10 feet out, and then another 17-foot jumper in this game, although he did brick another one badly late in the game. Inside the paint, he could still stand to learn how to use his body a little better to establish position and finish around the hoop, as well as develop his ability to finish with his left hand.

Orihaki will likely be considered a better defensive player in college (at least early on) than offensive. He shows really nice timing as a shot-blocker, and also goes after the boards pretty hard as well. His strength, toughness and activity level make him fairly productive on this end of the floor, although he does need to improve his conditioning—as he was sucking wind and not running the floor that well from pretty early on in the game.

Orihaki looks like a really nice role player at this point, not possessing amazing talent or upside, but is surely someone that can develop into an NBA prospect after a few years in college under the tutelage of Jim Calhoun. He reminds of a young Tony Massenburg if you're looking for a comparison. We should keep in mind that he's only a junior right now, and most of the players here are a year or two older than him.

[Read Full Article]

---