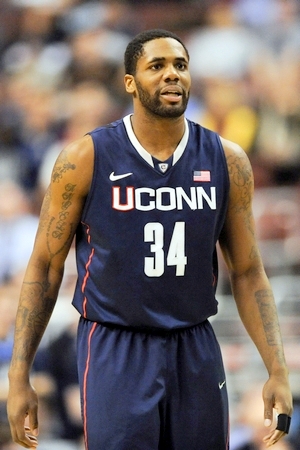 Matt Williams
The 2011-2012 season was a struggle for
Alex Oriakhi
. After playing an integral role for the National Champion Huskies in 2011, Oriakhi saw his numbers fall across the board as a junior with heralded freshman
Andre Drummond
entering the fold. He played fewer minutes, saw fewer easy shots created for him at the rim, and looked apathetic at times amidst the program's tumultuous year. Opting to transfer to Missouri, where he will be immediately eligible to play due to UConn's NCAA tournament suspension, the big man instantly fills a need for the Tigers, stepping into the role played by
Ricardo Ratliffe
last season. Considering
Phil Pressey
and
Michael Dixon
helped Ratliffe, and the Tigers as a whole, post gaudy efficiency numbers, Oriakhi's decision has put him in perfect position to rebound as a senior.
Oriakhi's ability to fill Ratliffe's role will have a lot to do whether he's able to recapture the active, athletic, and physical style of play that earned him praise among scouts and helped UConn win the National Championship. The 6'9 big man may be slightly undersized for a center at the NBA level, but his strong 240-pound frame, impressive 7'3 wingspan, and very good athleticism are coveted attributes at the pro level. When he is dialed in and playing to his potential, Oriakhi is a presence on the defensive end of the floor and can make plays with his athleticism around the rim by virtue of his physical tools.
If Oriakhi shows a willingness to work hard on the offensive end and stay active in his minutes on the floor this season, he will be rewarded. He can be a productive finisher when he is crashing the glass and his guards are able to deliver him the ball in position to score. The former McDonald's All-American should have plenty of motivation to bring his best every night and will see plenty of easy opportunities coming his way compliments of Frank Haith's high powered offense and
Phil Pressey
, whose passing prowess
we outlined in just a few days ago
.
Looking at Oriakhi's contributions last season, the Tilton School product scored 3 points or fewer on 9 different occasions while scoring in double figures in 8 contests. In the games he scored over 10 points, he was physical on the block, establishing deep position and making quick decisive moves in the post, and appeared significantly more active and energetic in all phased of the game.
Oriakhi does not have a terribly polished back to the basket game and is not the type of player who has the touch or skill set to score consistently or create his own offense away from the rim. The former RSCI top-15 recruit can, however, score in the post one-on-one at this level with his basic array of drop-step and step-through moves when he's decisive with them, can finish plays above the rim, and ranked
among the best per-40 minute pace adjusted rebounders in the country
when he was bringing his A-game every night just two seasons ago. His rebounding fell off by 25% last season, which is something to keep an eye on as he attempts to show that his poor junior year was just an aberration and not an indication of his long-term potential at the pro level.
Defensively, Oriakhi has the ability to impact games at the college level. He's a good shot blocker for his position and possesses the package of physical tools necessary to capably defend the pick and roll as well as back to the basket and midrange-oriented fours alike. His physical tools wouldn't be quite as advantageous to him at the next level, but Oriakhi's ability to be a physical defensive presence at the increasingly versatile power forward position is a key piece of his value proposition at the NBA level at this point.
Alex Oriakhi
certainly didn't have the season many anticipated he'd have last season, and remains a rather raw, limited offensive threat in the post and away from the basket, but he's put himself in an ideal situation to have a bounce back year. If he can mesh with
Laurence Bowers
, set solid screens for
Phil Pressey
and
Michael Dixon
, and bring a blue collar demeanor to the floor, Oriakhi will no doubt help repair his draft stock this season.