Nenad Krstic is close to signing a 3-year, 16 million dollar contract with the Oklahoma City Thunder, multiple sources in the US and Europe told DraftExpress.com.
The 7-foot Serbian center is currently under contract with Russian team Triumph Moscow (after signing a two year, six million Euro deal this summer), but will be able to buy himself out of his deal due to his displeasure with his current situation.
Krstic will reportedly give back all the money he received from Triumph so far this season in order to break the contract, although Oklahoma City will be able to contribute $500,000 under NBA rules if needed.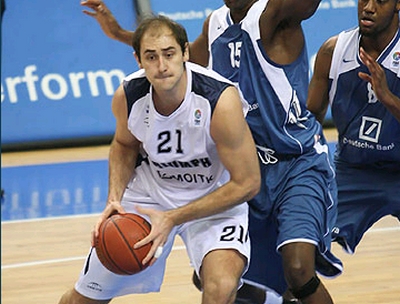 Triumph made a huge splash on the European market this past summer with the very expensive signings of Krstic,
J.R. Bremer
(valuable thanks to his Bosnian passport),
Marcus Goree
, Kerem Tunceri and
Alan Anderson
—but has been suffering through an extremely disappointing campaign on virtually all fronts thus far.
The team was bounced out of the first round of the EuroCup (formerly ULEB Cup) qualifiers after losing to lowly Oostende from Belgium –currently 3-8 in their domestic league-- which relegated them to the far less desirable EuroChallenge. They are just 2-2 in their group in that competition thus far, and are not a lock to qualify for the next round.
They also have been eliminated from the Russian cup, and are just 3-5 in league play thus far. With such a large financial strain being put on the team's sponsors due to their massive budget, it has become clear that this current roster cannot justify the cost.
Removing Krstic from the books will help on that front—he is expected to be replaced by Maccabi Tel Aviv's
Esteban Batista
(who shares the same agent, Marc Cornstein, with Krstic) shortly, while swingman
Alan Anderson
is likely on the way out too.
Krstic was averaging 10.4 points and 5.1 rebounds in 22 minutes per game for Triumph, but was reportedly unhappy with his role and situation living on the outskirts of Moscow.
Although they are currently not behind on payments to any of their players, the team may run into trouble fulfilling the terms of his large contract in the future, and thus a compromise has been reached.
This is an out of the box move by Sam Presti and the Oklahoma City Thunder, currently sporting the league's worst record at 2-24.
The team ranks dead last in the NBA in offensive efficiency, and is getting next to nothing out of its centers, with designated starter
Johan Petro
shooting a dismal 40% from the field.
Robert Swift
has been perpetually injured, and
Nick Collison
and
Chris Wilcox
are both suffering through their worst seasons in quite some time.
Krstic will give the Thunder something closer to the post-presence the team has been searching for-- or at least that's the hope. He looks to be in better shape than he was last season in New Jersey, and may finally be shaking off the rust caused from tearing his ACL in December of 2006, when he was averaging 16.4 points and 6.8 rebounds per game.
The 25-year old has a big body and can operate with his back to the basket, where he can create his own shot, while also proving to be a solid passer with a nice feel for the game. He has good hands and a decent mid-range jumper, but is a below average athlete and rebounder.
With almost nothing in the ways of long-term contracts on Oklahoma City's books, Krstic is unlikely to be a burden on their cap at the price he is signing for.
It's important to note that Krstic is currently a restricted free agent, with his NBA rights still held by the New Jersey Nets. With the Nets having 15 guaranteed contracts on their roster, and a deep frontline (with seven players who are either power forwards or centers), it's expected that they will not match Oklahoma City's offer sheet. The team is trying to maintain as much cap space as possible for the summer of 2010, and the third year on Krstic's deal would hinder them in that regard.
The team is in a big financial crunch, as shares of Nets owner Bruce Ratner's company, Forest City Enterprises, have fallen 92% in a year and a half, from $70 to just under 6$, and the team has laid off employees (even in the front office) as recently as last week. Forest City reported losses of 30 million dollars on the Nets over the first nine months of 2008. A number of articles released recently again put in question the feasibility of the Atlantic Yards project, which would move the Nets to Brooklyn in 2011.
Messages left for Sam Presti,
Rod Thorn
, and Krstic's agent Marc Cornstein were not returned.