What's poppin readers? The month of March was pretty busy for my teammates and I. We are out of the ULEB Cup now. Since we lost in the Sweet 16 of the ULEB Cup, you can call that part of my March Madness...We played against a team from Poland called PGE Turow. The Americans on their team are
David Logan
and Thomas Kelati. The first game against them, we lost by 12 at home. Then the second game, we won by 9 at their place. So since they beat us by more points, they go to the next round, which is the Final Eight in Italy.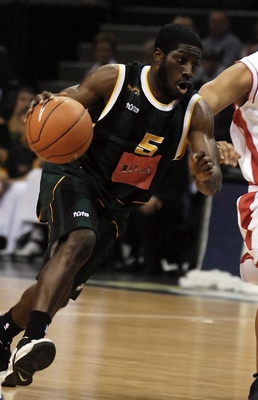 I ended up averaging 14.5 points, 3.5 assists and 3.5 rebounds in the competition. Our goal as a team was to get the Final Eight, and we missed out by 4 points. Sucks huh?? It is what it is though. Our final record in the ULEB Cup was 10 and 4. Now we have to accomplish our next goal, which is winning the championship of the Ukrainian Super league.
Our regular season just ended over the weekend, and we finished 21 and 1. Our overall record is 31 and 5 at the moment, which is pretty good. Playoff starts April 17th, and each series is best out of five. We must accomplish our last goal, which is being champions of the Ukrainian league. Winning isn't easy, but it has to be done. We must continue to stay focused and healthy to get the job done. Being champions will be a great ending to this season, especially since this is my first year playing in Europe. My team in the D-League almost won the championship last year, but like the singer Brandy would say, almost doesn't count.
Last week, I found out that I made the all-star team for the Ukraine Super league. This is the second year in a row I've made an all-star team. Now that's wassup!!! This is only the second year of my pro career, so I must continue to keep putting God first and working hard to be the best.
Both all-star situations had some similarities. Last year, it was the first ever all-star game in the D-League and it's also the first ever all-star game in the Ukrainian Super league. I was also named a starter both times...Three of my teammates made the all-star game last year, and three of my teammates (
Artur Drozdov
, Marcus Faison, and Viacheslav/
Slava Kravtsov
) made it this year. My coach
Joe Wolf
was the head coach for the west team and my coach Tomo Mahoric is the head coach this year. Now that's HISTORY right there. God is Good!!!
In the All Star event, it's the Ukrainian all stars vs. the foreign all stars. The fans voted my teammate Marcus Faison and I as starters for the Foreign team. My other teammate
Artur Drozdov
is a starter for the Ukrainian team. We would like to thank the fans for voting us as starters, we really appreciate it. I'm also participating in the Skills challenge which should be cool too. Other Americans that made the foreign all star team are:
Rodney Buford
,
Robert Archibald
, Wykeen Kelly and
Olu Famutimi
. Well Olu is not American, he is Nigerian/Canadian. I played against Olu last year in the D-League and it's good to see him doing his thing this year. Once again, congrats to everybody participating in the event.
Shout out to my FAM (Forever Almighty Men) Bros and other homeboyz that went to the NCAA tourney. My fam bros from Cal State Fullerton: Scott Cutley aka Big Red (MVP in the Big West), Frank Robinson (defensive player of the year, Big West), Ray Reed, and the homey Crenshaw. My lil bro Jeremiah Dominguez was my backup point guard at the University of Portland and he transferred to Portland State last year (MVP in the Big Sky),
Josh Shipp
, Luc, Darren Collision, and
Russell Westbrook
from UCLA,
Davon Jefferson
from USC, Marcus Lewis and Curtis Allen from Oral Roberts, Derek Wright from Austin Peay, and Fred Washington from Stanford. Another shout out to Gonzaga, San Diego, and St. Mary's for representing the WCC (West Coast Conference) in the tourney. I got UCLA winning the tourney, though. One more shout out to my lil bros in high school,
Brandon Jennings
from Oak Hill and Dash Harris from Montverde Academy. BJ made the McDonalds game (rocking the Kid 'N Play flattop), is ranked as the best PG in America, and is going to Arizona next year. Dash aka Nugg, is ranked amongst the top five point guards in America and is going to Texas A&M. I'm proud of all you guys...Keep striving for excellence.
Other than basketball, everything else is koo...My mom and my two cousins (Bridgett and Honeybun) came out here to Kyiv, Ukraine for a week. We had sooo much fun and I was happy that they came. It was perfect because they came the week of my mom's birthday. They did a lot of shopping and sleeping. It was great to have some home cooked meals too. I didn't go to Fridays at all. I'm usually there three times a week. I needed that extra energy in my life. Who's coming to Kyiv next? My cousins J Love and Boobie said they're coming next month. My brotha from another mother Bubba said he's probably coming next month or in May, so we shall see.
I'll be home in GARDENA (GARDENA STAND UP) sometime in May, so you know I can't wait.. The countdown has begun. O Y Y Y YESSS SIRRRRR!!! I've been bumping that new Snoop Dogg "Ego Trippin", Rick Ross "Trilla" and Joe Buddens "Mood Muzik 3". You know my driver Art got that in the rotation in the car.
We still bumping Kanye West's "Graduation". I know Graduation came out a long time ago, but that CD is like a soundtrack of my life. I feel like Kanye be talking to me in his songs because I also want to be the best. The same way he feels about Jay Z in that Big Brother track is the same way I feel about Ba
ron Davis
. To be #1, I'm going to have to be better than my big brother BD. The same way he feels about Chicago is the same way I feel about my city GARDENA. Almost every song has something to do with my life. I must end this season with the song "CHAMPION" because that's what our team needs to be in May.
Winning isn't easy but it has to be done not just on the court but also off the court. Like what they used say in the Right Guard deodorant commercial, "anything less would be uncivilized"!!! Don't forget the motto, GET MONEY OR GET LOST!!!
GRACE, PEACE, AND BLESSINGS TO YOU AND YOUR FAMILY. REMEMBER TO KEEP GOD FIRST AND EVERYTHING ELSE WILL FOLLOW. GOD IS GOOD ALL THE TIME AND ALL THE TIME GOD IS GOOD!! TRUE STORY