With the order of the draft now set in stone, we take a look at the implications of the lottery drawing on each of the top 14 picks and what they might mean for the stock of various players in the draft. We also think about which players teams might consider at each individual draft slot.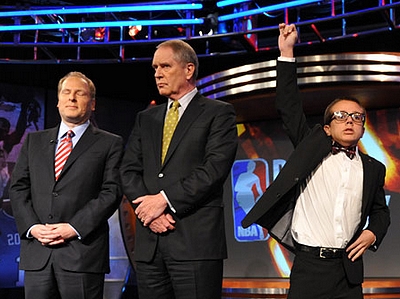 -
Post-NBA Draft Lottery Video Reactions: Nick Gilbert, Irving, Kahn,etc
-
2011 Post-NBA Draft Lottery Interview TranscriptsPicks in bold indicates prospect team is currently projected to pick in latest 2011 Mock Draft
.
#1- Cleveland Cavaliers
Will Consider:
Kyrie Irving
,
Derrick Williams
"What's not to like?"
Making the biggest jump in the lottery, from 8th to first with a pick that they acquired through a trade with, who else, the LA Clippers, this was a good night to be a Cavs fan.
The team will now likely be able to draft their point guard and hopefully franchise player of the future in
Kyrie Irving
, which gives their rebuilding process a massive shot in the arm.
The Cavs will surely play things close to the vest and give a good long hard look at
Derrick Williams
and any trade offers that are made, but even Minnesota Timberwolves GM David Kahn said in the lottery aftermath that he "expects Cleveland to draft
Kyrie Irving
because they need a point guard."
As long as everything checks out OK long term with Irving's toe, it would a huge surprise to see Cleveland pass on him at #1.
#2- Minnesota Timberwolves
Will Consider:
Derrick Williams
,
Brandon Knight
,
Jonas Valanciunas
There are a couple of different ways to look at this if you're a Timberwolves fan.
On one hand, things could have been much worse, as the team only moved down one spot instead of three, and is still in the top two in what is widely thought of as a two player draft. On the other hand, Williams plays the same position as their top two scorers, creating some serious overlap that will need to be resolved eventually. This adds further uncertainty to a team that is already in flux—in-between coaches and point guards—a situation that is far from ideal considering the team's record last season.
At this point, there are a lot of unanswered questions still left to explore. Their front office indicates to us that they'll be very active in trade discussions this summer.
#3- Utah Jazz
Will Consider:
Jan Vesely
,
Bismack Biyombo
,
Brandon Knight
,
Kemba Walker
,
Enes Kanter
This is where the draft really starts seemingly, as soon as the consensus top two picks are off the board. The discrepancy between the prospects perceived to be the 3rd and 10th best talents is about as small as we can remember in our eight years covering the draft, which will make for a busy and interesting lead-up on Utah's part as they try to sift through all their options and figure out what would be the most effective move to make here.
For now, we're going with Knight, as he fills a major need for the team in the backcourt, and can also play alongside incumbent point guard
Devin Harris
without any major problems. As the youngest player in the draft, he has plenty of upside to grow into, and shouldn't have any issue living in Salt Lake City based on what we've learned about him.
Vesely (who the team liked very much according to sources when they were slated to pick 6th), Walker and others will also likely get strong consideration.
#4- Cleveland Cavaliers
Will Consider:
Enes Kanter
,
Jonas Valanciunas
,
Bismack Biyombo
,
Kawhi Leonard
,
Jan Vesely
With their point guard of the future in the fold, the Cavs can now move on to addressing one of their other many needs. Their frontcourt would be a good place to start. An athletic pick and roll finisher like Valanciunas would pair up very well with
Kyrie Irving
, but the likes of Kanter, Biyombo, Leonard and Vesely will also surely get long looks as the talent gap between any of these prospects is not huge. The Cavs will also likely field offers for this pick.
#5- Toronto Raptors
Will Consider:
Kemba Walker
,
Brandon Knight
,
Bismack Biyombo
,
Enes Kanter
While the Raptors did fall two spots to the 3rd overall pick, they should still be able to come away with one of the coveted guard prospects—
Brandon Knight
or
Kemba Walker
, due to the fact that Cleveland and Minnesota surely will look in a different direction after picking Irving and Williams 1-2.
Drafting a floor general is surely the next step in Toronto's rebuilding process, especially when evaluating the alternatives that are on the board. When it's all said and done, Toronto may end up with the same player at #5 that they would have taken at #3, just at a lower slot on the rookie salary scale.
#6- Washington Wizards
Will Consider:
Jan Vesely
,
Enes Kanter
,
Bismack Biyombo
,
Kawhi Leonard
The Wizards have to be disappointed by falling two spots to 6th overall, but still have a comparable group of prospects to choose from at this point. Vesely and Leonard would give them more athleticism and toughness on the wing, while Biyombo and Kanter would be frontcourt upgrades. Surely the team will go through an extended evaluation process before making their final decision, but Vesely is rumored to be the early favorite.
#7- Sacramento Kings
Will Consider:
Bismack Biyombo
,
Enes Kanter
,
Donatas Motiejunas
,
Marcus Morris
Sacramento's fall from five to seven is a bit more painful considering it likely takes them out of the mix for upgrading their backcourt situation, which clearly seems to be their biggest need at the moment. There are still some solid frontcourt prospects available, though, particularly Biyombo, who seems like a perfect fit alongside De
Marcus Cousin
s, where his offensive limitations wouldn't look quite as glaring.
#8- Detroit Pistons
Will Consider: Enes Kanter
,
Donatas Motiejunas
,
Marcus Morris
,
Alec Burks
,
Kawhi Leonard
The Pistons have plenty of needs, and it's doubtful whether they'll be able to solve them all in one night. Not in this draft class, and not after sliding down one spot to the #8 pick. There are question marks about whether
Rodney Stuckey
is their point guard of the future, better suited at the 2, or would even be most effective coming off the bench. Rip Hamilton and
Tayshaun Prince
may not be here long term. And while the team has invested a great deal of money in power forwards
Charlie Villanueva
and
Jason Maxiell
, the position is anything but fortified judging by the results of last season.
At this point, the team may have to take a long look at
Enes Kanter
, even if it may be difficult to play him together with starting center
Greg Monroe
, whose heavy feet make him ill-suited to guard perimeter oriented power forwards. Kanter is a poor match in Utah, Toronto and Sacramento with their current starting centers, and is scaring off already-skeptical teams with his unwillingness to work out competitively for any team. Nevertheless, NBA teams need size and toughness inside the paint, and the Pistons were too weak of a team, in too weak of a draft to pick solely on need.
#9- Charlotte Bobcats
Will Consider:
Donatas Motiejunas
,
Marcus Morris
,
Kawhi Leonard
,
Alec Burks
Trying to plug holes over the last few years by putting on band aids on gaping wounds, the Bobcats are in one of the least desirable positions of any team in the NBA considering their roster makeup and cap situation. The team has few assets, many needs and looks far away from competing for anything more than a first round playoff exit in the absolute best case scenario.
The #9 pick therefore isn't going to change the franchise's fortunes in a single night, but there will be an opportunity to add a player who can hopefully develop into a building block moving forward.
Power forward looks like a good place to start, and the team should be able to provide
Donatas Motiejunas
the minutes and touches needed to develop into an asset down the road. His skill-level and overall polish will allow him to put up major numbers right off the bat, and should ease the scoring load on
Stephen Jackson
and
D.J. Augustin
playing both the 4 and the 5 spots.
Small forward is another spot where the team has a major hole, which could very well make
Kawhi Leonard
an attractive option. He's no
Gerald Wallace
, at least not immediately, but his rebounding, toughness and work ethic could be useful even if his offensive limitations are not ideal considering Charlotte's struggles in that area last season.
#10- Milwaukee Bucks
Will Consider:
Marcus Morris
,
Kawhi Leonard
,
Alec Burks
,
Tobias Harris
,
Markieff Morris
,
Tristan Thompson
The Bucks ranked as the worst offensive team in the NBA last season, which makes it very natural for them to look at
Marcus Morris
–arguably the most skilled collegiate big men in this draft. Morris comes in ready to play right away, and will fit in very well with the mentality demanded by head coach
Scott Skiles
. He can space the floor for
Brandon Jennings
and
Andrew Bogut
, and score inside the paint with his highly developed post-up game. Him and
Luc Richard Mbah a Moute
would make an intriguing combination at the 3 and 4 spots, as they seem to complement each other quite well.
#11- Golden State Warriors
Will Consider:
Kawhi Leonard
,
Alec Burks
,
Tobias Harris
,
Tristan Thompson
Golden State needs toughness and rebounding in a major way, and trotted out a host of extremely limited small forwards defensively last season.
Kawhi Leonard
would give them an upgrade in all those categories, even if he'll have to improve his perimeter shooting stroke substantially to get playing time alongside the Warriors' ball-dominant guards.
#12- Utah Jazz
Will Consider:
Alec Burks
,
Markieff Morris
,
Jimmer Fredette
,
Tristan Thompson
The Jazz have very little depth on the wing and
Alec Burks
will give them an immediate upgrade athletically with his smooth ball-handling skills and overall shot-creating ability. He would be a good fit next to projected #3 pick
Brandon Knight
, as the two can share playmaking responsibilities and have strengths and weaknesses that match up well.
#13- Phoenix Suns
Will Consider:
Markieff Morris
,
Tobias Harris
,
Tristan Thompson
,
Kenneth Faried
The Suns are in a tricky spot – not quite rebuilding but clearly in transition –and obviously have a big need at the power forward spot in terms of toughness and rebounding. Morris is the best of both worlds, as he's a good fit with their current roster, and has upside to continue to develop down the road. He's able to play the 4 in bigger lineups or the 5 in small lineups and can space the floor for
Steve Nash
and
Aaron Brooks
the way their system demands.
#14- Houston Rockets
Will Consider:
Tobias Harris
,
Tristan Thompson
,
Chris Singleton
,
Jordan Hamilton
The Rockets started
Shane Battier
for much of the year at small forward, and then traded him at the deadline for
Hasheem Thabeet
. The team seems to have just one 3 on their roster at the moment in
Chase Budinger
, and no combo forward who can match up with the face-up 4s we see quite a bit out west. Harris has considerable upside at just 18 years old and will be able to fit in culturally right away into the team's locker room. He's smart enough to internalize everything that's thrown at him, and has one of the better work ethics of any player in this draft.