This is a list of the top ten High School performers from the 2016 Adidas Nations, which concluded on August first in Los Angeles. The rankings are based on the statistic EWA (estimated wins added). Although EWA does not definitively determine who the best individual players were, it does give you a sense of how productive and valuable they were to their respective teams. EWA is built off the same formula as PER, but it differs in the fact that it takes into account minutes played.
The
following article
goes into further detail regarding EWA and how it relates to other advanced statistics. Keep in mind that EWA is essentially PER times minutes played, which favors those players that went further in the tournament and played more minutes and games. The top two players in EWA are both from Team Africa, which played six games for example. They ranked sixth and eleventh in PER, behind the likes of
Mohamed Bamba
(one game, 19 minutes, 38.6 PER) and
Wendell Carter
(three games, 63 minutes, 25.7 PER), but for the most part EWA did a good job of telling the story of who was most productive at the event.
EWA Top Ten
#1
Lamine Diane
, Team Africa
#2
Jordan Nwora
, Team Africa
#3
Jhivan Jackson
, Team Latin America
#4
Zion Williamson
, Team Wiggins
#5
Charles O'Bannon
, Team Rose
#6
DeAndre Ayton
, Team Harden
#7
Nickeil Alexander-Walker
, Team Canada
#8
Matthew Hurt
, Team Lillard
#9
Sam Waardenburg
, Team Asia Pacific
#10
Jules Bernard
, Team Lillard
#1) Lamine Diane, 6'7, SG/SF, 18.7 years old, Senegal
EWA:
2.1
PER:
33.5
TS%:
61.4%
27.7 PTS, 6.2 REB, 1.5 AST, 1.8 STL, 14-43 3P%, 26-39 FT%, 53.3 FG%
Leading the event at 28 points per game (nearly a point per minute), and helping his team to a fourth place finish, Lamine Diane had a breakout performance that will undoubtedly jump-start his college recruitment heading into his senior year at Findlay Prep. A product of Giving Back Academy in Senegal, Diane was uncovered at the 2014 NBA Basketball Without Borders Africa camp in South Africa, earning an invite to the BWB Global Camp in New York City over All-Star weekend the following February. He has made huge strides with his skill-level since, evidenced by his explosive scoring performances in Los Angeles, where he was one of the oldest players at the event.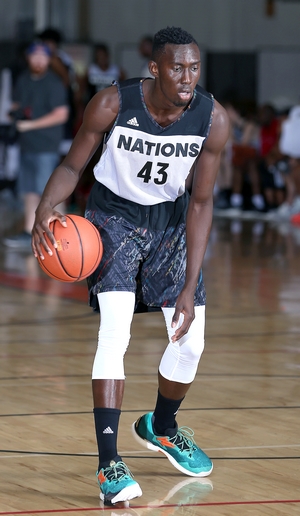 Blessed with a strong frame, long arms, big hands, and solid athleticism, Diane is an extremely aggressive offensive player who loves to drive incisively to the basket, using an array of spin-moves and footwork to draw fouls out of isolation sets. His shooting stroke is long and somewhat unorthodox, but he finds decent results with it, throwing in 13 3-pointers in six games, albeit on pedestrian percentages (33%), partially due to his poor shot-selection.
Very ball-dominant, Diane is still figuring out how to operate in a team concept, as he tends to overdribble, lower his shoulder and try to bully his way to the rim using his superior strength, long strides, and tremendous length to help him get a shot off if he can't draw a foul. The fact that he's not freakishly athletic (especially in terms of explosiveness) will mean he has to continue to add polish and feel to his game. Tightening his ball-handling skills, learning how to operate without the ball, and becoming a more unselfish player will be big keys for him to reaching his full potential.
Defensively, Diane can cover ground well and has the length to emerge as a multi-positional stopper if he puts his mind to it, but tends to go through the motions at times on this end of the floor.
Diane benefited from the wide open nature of this camp, as well as the incredible amount of freedom he enjoyed to do virtually whatever he pleased offensively, but it's tough to argue with the results he saw. It's difficult to find lengthy wings in his mold who can put the ball in the basket, as well as display good potential defensively, so he is certainly a player to monitor heading towards the college level.
#2) Jordan Nwora, 6'8, Small Forward, 17.8 years old, United States
EWA:
1.5
PER:
25.9
TS%:
60.9%
23.8 PTS, 4.3 REB, .7 AST, 1.3 STL, 22-52 3P%, 27-35 FT%, 46.1 FG%
Jordan Nwora, a 6'8 wing out of Vermont Academy, strung together an impressive six game performance in Los Angeles, leading the tournament in 3-pointers made at 22, and finishing second in points per game at 23.8. Throughout his EYBL career with Expressions Elite and NY Rens, Nwora has been a volume 3-point shooter, but hasn't shot it with the efficiency he did at the Adidas Nations. He doesn't have the most traditional mechanics on his jump-shot, but he has the size and touch to shoot if from all over the floor. Nwora found the majority of his offense from the perimeter. He has good balance and shot preparation, and looked comfortable in catch and shoot situations, coming off screens, and even shooting it off the dribble.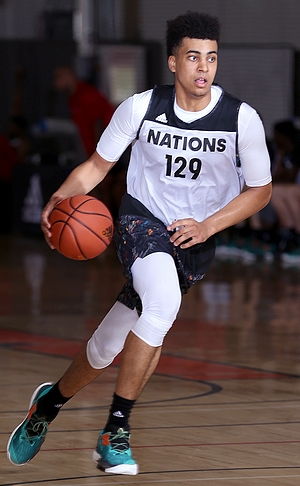 Nwora possesses some limitations in his game due to his lack of athletic ability. At 205 pounds, he has a thick frame and looks a little slow off the bounce. He is not an advanced ball handler at this stage, but he makes the most out of what he has, using his size and strength to play through contact. He has the ability to finish above the rim in transition, and showcased some nice agility and body control on finishes in traffic. Nwora will make the extra pass and looks like he has a solid basketball IQ, but is not a playmaker when he puts the ball on the floor as evidenced by the zero assists he had in four out of his team's six games.
Nwora has some solid instincts on the defensive end gambling for steals and getting into passing lanes, but other than that he wasn't really a factor on that end of the floor. His lack of athletic ability may hinder the effect he can have on that side of the ball as he gets to the next level.
Turning 18 in September, Nwora will finish off his high school career at Vermont Academy, where he is heading into his senior season. He'll need to continue to show some development outside of his perimeter game, but he already is holding various high level Division I offers, which is not a surprise considering his size and shooting prowess.
#3) Jhivan Jackson, 6'1, Point Guard, 16.9 years old, United States
EWA:
1.2
PER:
26.6
TS%:
58.6%
22.0 PTS, 6.4 REB, 3.6 AST, 2.8 STL, 12-30 3P%, 24-27 FT%, 45.1 FG%
Coming off "just decent" performances on the Nike EYBL circuit (with RM5 Elite) and U18 FIBA Americas Championship, few expected Puerto Rican combo guard Jhivan Jackson to emerge as one of the most productive players at this star-studded event. That's exactly what he did, though, exploding for 110 points in 158 minutes, while displaying impressive athleticism and shot-making ability that certainly caught the eye of anyone watching the Latin American squad.`
Standing around 6'1, with a thin frame and decent length, Jackson is a quick and explosive combo guard with a terrific first step and the ability to change gears impressively and get inside the paint, even finishing above the rim in highlight reel fashion at times. He made tough shots with his feet set and off the dribble all camp long (40% 3P%), creating separation from defenders thanks to his ability to elevate high off the ground and excellent scoring instincts.
Jackson is much more of a scorer than a distributor at this stage, showing poor decision making ability and forcing the issue badly at times, leading to quite a few wild shots and turnovers. He did settle down a bit as the camp wore on and demonstrated some basic ability to move the ball ahead in transition and drive and dish in the half-court, but is much more of a combo than a point guard despite his dimunitive height. His thin frame and lack of size makes it difficult for him to finish through contact in traffic, and he can be somewhat indifferent defensively, even if his quick hands and feet, and cat-like instincts allow him to play the passing lanes impressively.
Turning 18 later this month, Jackson will play out his senior year of high school at Trinity High School in Dallas. His recruiting situation looks fairly murky at the moment based on publicly available info, but he certainly helped his standing over the past weekend and should be able to find a school he can contribute for at the high major level.
#4) Zion Williamson, 6'6, Power Forward, 16.0 years old, United States
EWA:
1.1
PER:
40.1
TS%:
84.6%
20.0 PTS, 4.0 REB, 1.3 AST, 2.0 STL, 13-17 FT%, 82.1 FG%
Playing 77 minutes over the course of just three games, Zion Williamson led the entire tournament in PER (40.1) despite having turned 16 just a month ago. Williamson scored nearly a point per minute (60 in 77) on outrageous efficiency (82% 2P%, 1-1 3P, 77% FT%), demonstrating advanced instincts for putting the ball in the basket.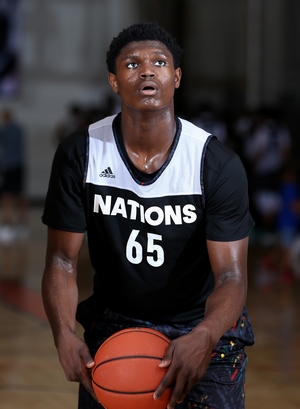 Very undersized at around 6'6 or 6'7, Williamson has long arms, big hands and a strong frame to compensate for his lack of height as a big man, and is more athletic than he appears on first glance. He is fluid, nimble and very quick off his feet, demonstrating outstanding body control that makes him very difficult for other players his age to handle when considering his strength and dexterity.
He's also fairly skilled, showing the ability to create his own shot from the perimeter with impressive footwork and ball-handling skills, making him a difficult matchup in one on one situations that most big men his age simply aren't accustomed to dealing with. He's a handful to deal with in the post as he's difficult to keep a body on, and will try to tear the rim down exploding off two feet if given the opportunity. He even shows some ability to knock down jump-shots off the dribble with solld form and touch, although he doesn't quite know his limitations in this area just yet, having a tendency to force the issue and freeze out his teammates at times. He's not a great passer on top of that, being extremely focused on trying to score almost every time he touches the ball. Left-handed, he wants to get back to his dominant hand almost at all costs, which can make him a little predictable at times with his moves.
Defensively, Williamson has some impressive instincts, being the type of player who is always around the ball thanks to his natural feel for the game, but doesn't show much interest in making his presence felt on this end of the floor at this stage. His intensity level is low, as he's usually standing straight up rather than trying to get into a fundamentally sound stance, and doesn't show any urgency in closing out on the perimeter or putting a body on opponents. This isn't rare for a player his age, but considering his lack of size, he'll need to put a better effort in to not emerge as a liability in this area down the road.
Only going into his junior year of high school, Williamson is still at a very early stage of his development, but shows a lot of promise offensively as evidenced by the gaudy scoring totals he produced against mostly older players. He's already heralded as one of the top prospects in his high school class, and did nothing to discourage that notion with his play at the adidas Nations. It will be interesting to see if he has another growth spurt left in him.
#5) Charles O'Bannon, 6'6, Small Forward, 17.4 years old, United States
EWA:
1.1
PER:
34.1
TS%:
64.1%
17.6 PTS, 3.8 REB, 1.0 AST, 1.0 STL, 6-18 3P%, 20-31 FT%, 56.3 FG%
Charles "Chuck" O'Bannon Jr. - son of former UCLA standout, 31st overall NBA Draft pick and overseas pro Charles O'Bannon Sr. - led his team to a third place Adidas Nations finish thanks to his blend of physical attributes and impressive scoring instincts. In five games O'Bannon averaged a remarkable 35.6 points per 40 minutes, second in the entire camp, while shooting 67.6% from two-point range and 33.3% from three-point range.
From a physical standpoint, the Las Vegas native and Bishop Gorman standout has the tools of an NBA wing standing 6'5 ½ in shoes with a 6' 11" wingspan and a very projectable frame (strong base, good upper body with room to fill out) that already tips the scales at 196 pounds. Athletically, O'Bannon is fluid and light on his feet allowing him to get out and score in transition, where he's regularly looking to fill the lanes. In terms of explosiveness, O'Bannon is an average leaper around the rim and doesn't quite have elite burst with the ball.
In the half court O'Bannon likes to play out of isolation situations. While he's showed some feel depending on his role at various events we've scouted, he plays with a score-first mentality and can get 'sticky fingers' at times, failing to keep the ball moving and play within the offense. But when O'Bannon does go one on one, he's usually fairly effective at the high school level. He makes an effort to play at different speeds, can use a sweeping crossover to set up his jump shot and is able to get to his jumper in mid-range spots due to his cocked back release. He's not an overly pure shooter, but O'Bannon has nice touch from the perimeter, particularly off the bounce as he likes to use rhythm hang dribbles to get his defender on his heels before pulling up.
O'Bannon can also use his tools to straight line slash as the primary ball handler, or attack a closeout when playing off the ball. As a catch and shoot player he's a bit of a mixed bag. As you can see below both of O'Bannon's elbows fly out and he employs a slow, full body dip before getting into his motion. To be more effective off the ball he can improve his shot preparation to help speed up his release. O'Bannon does get excellent arc and rotation and figures to be a reliable shooter in time.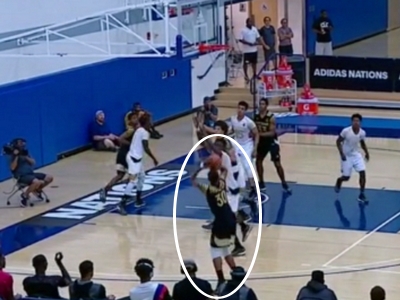 While O'Bannon can score in transition, make shots off the catch or dribble, straight line slash, get to the line, and even finish with floaters or left-handed reverses at times, he's not the most polished shot creator against elite defenders. Although capable, he's a fairly average ball handler in terms of advanced combo moves and isn't overly shifty or explosive with the ball. A lot of O'Bannon's offense comes via contested pull ups - he shot 47% from two in 14 Nike EYBL games - and he'll have to find more ways to score efficiently, and also create for others, to maximize his offensive potential.
On the defensive end, O'Bannon can be a bit too lackadaisical, although he has the tools to be a solid, one-position defender on the wing. His twitch and quickness is good not great and he tends to be too upright while on the ball. Off the ball he can make plays in the passing lanes thanks to his tools, but has a tendency to relax or gamble for steals a bit too often. Overall O'Bannon will certainly be able to score at a high level in college and if he's able to become a more consistent spot shooter, improve his decision making and up his intensity on defense, he'll give himself a chance at the NBA level given his already solid tools and excellent scoring instincts.
#6) DeAndre Ayton, 7'0, Power Forward/Center, 18.0 years old, Bahamas
EWA:
.9
PER:
29.4
TS%:
63.5%
15.3 PTS, 11.0 REB, 1.0 AST, 1.5 STL, 4.3 OREB, 2-5 3P% 13-16 FT%, 56.1 FG%
DeAndre Ayton was part of the loaded Team USA Harden that swept its four games en route to an Adidas Nations championship over Team Canada. Already one of the most highly recruited players in the class of 2017, Ayton was dominant again in Los Angeles, even playing alongside other top talent. He followed up his impressive Centrobasket performance for the Bahamas with another strong showing, leading the tournament in rebounds at an impressive per 40 clip of 18.5. At just 18 years old, Ayton already has elite physical tools, at 7'0 tall with a 7'5 wingspan, prototypical size for an NBA big.
What's so impressive about Ayton at this stage, is his physical and athletic abilities, and how he uses them to have an impact on the game. He has the ability to dominate the game in the paint, using his size and strength to finish inside, crash the boards, and protect the rim. He is not the most explosive athlete, but he is long, and quick off the floor, and has the fluidity and change of speed to look at ease running the floor in transition, not a skill many guys his size have. Ayton's back to the basket game is not yet polished, and he often just relies on his physical tools to get him what he wants. He is a willing passer, who can force things at times, but made some really nice high-low passes, using his size to see over the top of the defense.
Ayton's motor and aggressiveness has been questioned at times, often blending in, when it seems he should be able to impact the game on almost every possession. At 7-feet tall he can dominate the game in the paint, but can often get caught floating around the perimeter. He has some potential down the line as a stretch big who can spot up and shoot it from the deep, but his mechanics are inconsistent, and he still shoots it at very much a line drive angle. His desire to live on the perimeter has taken away from his ability to fit into a team structure, but that might of have been a point of emphasis for him in Los Angeles, as he only took five 3-pointers, hitting 2 of them, and showing more of a willingness to play to his strengths.
Ayton will have a big senior season ahead of him at Hillcrest Hoops academy in Arizona while he makes his college decision. Ayton has all the physical tools to be an impactful player at the NBA level, but he'll need to continue to play to his strength. His college decision will be very important for him, as he looks for a coaching staff that he can buy into, and that can get him to play up to his potential on every possession.
#7) Nickeil Alexander-Walker, 6'5, Point Guard, 17.9 years old, Canada
EWA:
.9
PER:
24.5
TS%:
73.1%
13.6 PTS, 3.4 REB, 1.6 AST, .8 STL, 14-25 3P%, 60.4 FG%
After a strong showing for second place Canada at the U18's just a couple weeks ago, Alexander-Walker put together another impressive performance for Team Canada. He shot the ball well at the U18's, and did it again at the Adidas Nations, finishing second in 3-pointers made on remarkably efficient 56% on five attempts per game. He finished third in true shooting percentage at 73.1, the only guard to rank in the top eight of that statistic.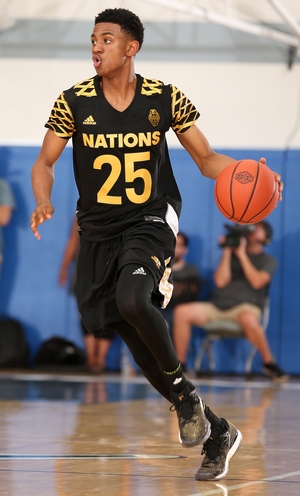 As impressive as Alexander-Walker was shooting the ball from deep, he's at his best making plays with the ball in his hands. At 6'5, he has excellent size and length at the point guard position. He is a smooth and crafty ball handler, who looks comfortable setting up his teammates out of isolation and dribble drive situations, or manipulating ball screens. He lacks a certain degree of explosiveness, and can have difficulty turning the corner, but he can compensate for it with his flashy ball handling and smooth footwork that he uses to get to his spots. His lack of explosiveness can show on finishes around the rim as he often finishes with runners and floaters instead of aggressively attacking the rim looking for contact. He has the length and speed to finish around the rim, but can struggle against length.
Despite the plays he can make with the ball in his hands, Alexander-Walker still looks like he is making the transition to becoming a true point guard. He is still working on knowing when to score and when to pass, a development that is key for players his age who operate between both guard positions. He has the tendency to either overpass or take some bad shots, something that his college coaches will hone in on as he gets to the next level. He has the length to be a factor on the defensive end of the floor, but at this stage looks much more comfortable defending on the perimeter than he does against bigger players. He'll need to add some strength as he at times looks like he is shying away from physicality.
Alexander-Walker will play his senior season at Hamilton Heights Christian Academy in Tennesse, and he has already made a commitment to play at Virginia Tech for Buzz Williams. He is a skilled and productive guard with a great deal of upside to continue to improve. It will be an interesting development to see how his game and position translates at the college level.
#8) Matthew Hurt, 6'8, Power Forward, 16.2 years old, United States
EWA:
.7
PER:
23.7
TS%:
59.4%
12.0 PTS, 5.4 REB, .8 AST, 2.4 OREB, 2-9 3P%, 57.4 FG%
At only 16 years old, going up against mostly older and more physically developed players than him, Hurt was able to hold his own, finishing the tournament with some productive numbers. He didn't shoot it exceptionally well from deep, but he was very efficient inside the arc, converting 66% of his 2 point field goal attempts. He also rebounded the ball effectively, leading Team Lillard in rebounding at 5.4 per game despite playing only 22 minutes per game, showing nice instincts for being around the ball.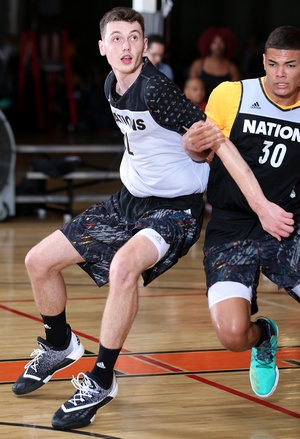 Hurt is still in an early stage of his development physically, but has a solid lower body and a good overall frame that will fill out as he gets older and continues to mature. He has average length, but has solid shooting mechanics and showed the ability to attack a close out with nice ball handling, something that stands out for a 6'9, 16 year old. He is a fluid athlete who moves well for a player his size and has good hands, but struggled to finish in traffic, a product of his lack of length, strength and standout explosiveness.
At times he looked overmatched physically, particularly on the defensive end of the floor where he shied away from contact and gave up ground around the rim. At just 16 years old, Hurt is skilled for a player his age and size and has a bright future ahead of him. He may still be growing and will continue to benefit from filling out his frame. He is only heading into his sophomore year at John Marshall High School in Minnesota, and he had a great opportunity to showcase his skills against high level competition at the Adidas Nations.
#9) Sam Waardenburg, 6'8, Power Forward, 17.4 years old, New Zealand
EWA:
.7
PER:
22.8
TS%:
70.6%
13.4 PTS, 6.4 REB, 1.4 AST, 7-11 3P%, 12-17 FT%, 60.0 FG%
The 17-year-old skilled four man from New Zealand shined in five games at Adidas Nations and went out with a bang by way of a 30-point, 10-rebound effort in Asia Pacific's camp finale, improving his team to a 3-2 record. Waardenburg finished the camp averaging 23.3 points, 11.1 rebounds and 2.4 assists per 40 minutes, while shooting 58.6% from two and 63.6% from three (7-for-11), which led the entire camp. The sharp-shooting Kiwi broke out in the summer of 2015 when he finished eighth in PER at the FIBA U16 Oceana Tournament and has continued to gain steam since.
From a physical standpoint, Waardenburg has solid tools for an inside-outside four man, especially at the collegiate level. He's around 6' 8" in shoes with average length, wide shoulders and proportionate upper and lower body that should fill out really nicely. Although not a freaky leaper, he's very fluid for his size and is able to use that agility, along with his impressive skill set, regularly in the half court. At this stage Waardenburg's most intriguing skill is his stretch-ability as he displays excellent shooting mechanics and soft touch out to the college three-point line. He's on balance, has a clean wrist action, gets good arc and rotation, and has shot 11-for-21 from three in games we have logged in our database. He's not a high volume, dynamic shooter at this point of his career but he shows nice potential as pick and pop threat. The Henderson, New Zealand native is much more than just a stretch four however. He's very comfortable attacking a closeout in space and playmaking while on the move. He sees the floor well and plays an unselfish brand of basketball, giving him another weapon to add to his already smooth stroke.
Waardenburg can score inside the arc as well. He shows impressive footwork with inside pivots to get to his face up jumper, can mix in up and unders playing out of the post, and shows potential on his right handed jump hook. Despite the flashes, Waardenburg could still use some polish versus high level defenders as he's not overly physical and is quite right hand dominant at this stage of his development. He struggles with ball pressure on the perimeter and isn't always overly confident or assertive.
Waardenburg can have more of an impact on the defensive end as well. He's a capable defensive rebounder who understands how to box out and has decent instincts, but he's not an explosive athlete and can get tougher in a crowd. Waardenburg doesn't provide much rim protection and can also improve his ability to step out and check athletes on the perimeter. Overall his defensive impact is a bit limited at this stage, although he figures to fill out nicely and has the mobility to improve in this area.
All in all Waardenburg had some impressive moments, especially during his 30-point, 10-rebound outburst. He can certainly get tougher on both ends and improve his ability to play against high level athletes, but he has a lot of value at the collegiate level as a 6-8 big who can move and score both inside and out.
#10) Jules Bernard, 6'6, Shooting Guard, 16 years old, United States
EWA:
.6
PER:
19.6
TS%:
56.1%
15.2 PTS, 4.8 REB, 1.0 AST, .8 STL, 3-13 3P%, 19-29 FT%, 49.1 FG%
Playing in his hometown of Los Angeles, the Junior at Windward High School looked comfortable competing against players mostly older than him. The lefty guard followed up his strong showing with the Compton Magic at the Adidas Gauntlet with another solid five game performance. He led Team Lillard in scoring at 15.2 points per game, doing most of his damage inside the arc. He hit only 3 of his 13 attempts from beyond the arc, but found other ways to score the ball, finishing 57% of his 2 point field goal attempts.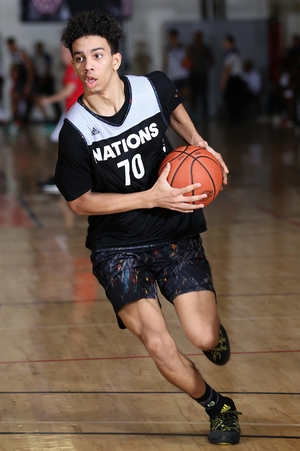 Bernard has very solid size for the shooting guard position, and although he is not the most explosive athlete, he is smooth with the ball in his hands. He can handle it a little bit, and shows good change of speeds, particularly with his left hand which he uses predominantly to attack the rim. He has the ability to score the ball in a variety of ways, with floaters and in transition, and although he didn't shoot it consistently at the Adidas Nations, he looks like he has decent form and soft touch which he showed nicely on a few pull up jumpers.
He'll need to polish his ball handling abilities as he continues to develop, as it this point he is mainly a left handed driver. He knows how to score the ball and though that may be his best skill, he'll need to develop his passing ability and make more of an effort to facilitate for teammates.
On the defensive end of the floor he has some room for development. Most of the time he looks very straight up and down on defense, and doesn't have the length or quickness to make up for it. Bernard showed over the course of five games that he is an adept scorer in a variety of ways, and looks very smooth on the offensive end of the floor. He'll have two more years of High School Basketball left at Windward to develop his game before he makes his college decision.