Top Returning NBA Draft Prospects in the Pac-10:

Part One, Two, Three
Top Returning NBA Draft Prospects in the ACC:

Part One, Two, Three
Top Returning NBA Draft Prospects in the SEC:

Part One, Two
Top Returning NBA Draft Prospects in the Big 12:

Part One, Part Two, Part Three
Top Returning NBA Draft Prospects in the Big 10:

Part One, Two
Top Returning NBA Draft Prospects in the Big East:

Part One, Two, Three
Top Returning NBA Draft Prospects in the 'Other' Conferences:

Part One, Part Two
#11: Ahmad Nivins, 6-9, Junior, Center, St. Joseph's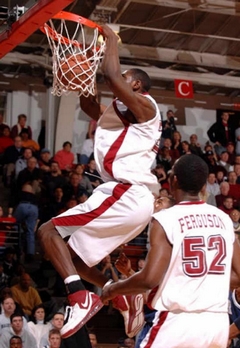 Jonathan Givony
One of the most
efficient scorers in the country
last season, particularly impressive considering his sophomore status,
Ahmad Nivins
is still flying somewhat underneath the radar despite his likely status as the top player in the Atlantic-10. Nivins made a huge jump from his freshman to sophomore season, upping his scoring averages by 10 points (from 6 to 16) while maintaining his terrific 60%+ shooting averages from the field. He was a fairly unheralded high school prospect out of St. Anthony's in New Jersey, a pupil of legendary Bob Hurley, who is widely considered the top high school basketball coach in America.
Nivins will likely begin to establish himself as a legit NBA draft prospect in his junior season, as he's an impressive player in a couple of different areas. He has good size at 6-9, with very long arms, an excellent frame, and solid athletic ability. He's a pretty nimble player, not terribly explosive, but coordinated and surely mobile enough to where his physical attributes won't be holding him back.
Quite a force at the Atlantic-10 level, Nivins is a very difficult player to stop once he establishes position deep in the paint—which seems to be quite often. He has tree trunks for legs and does a very good job positioning himself for post-entry passes (which St. Joe's—particularly
Pat Calathes
--excels at throwing), complimented by excellent hands and outstanding touch around the rim. He's an incredibly sure finisher around the hoop (especially on cuts to the basket), very smart using the glass, and relishes finishing with contact. He gets to the free throw line at an excellent rate (4th among all returning draft prospects per 40 minutes, tempo adjusted, and very rarely will you see him get rattled, as he has a very calm, composed demeanor on the court. Generally speaking, he's a smart, fundamentally sound player who works hard and seems to understand his role—just like his high school coach Bob Hurley demands from his players.
Nivins is a good offensive rebounder as well (3.8 per 40 minutes), although his work on the defensive glass (4.7 per 40) still leaves something to be desired. Over 50% of his offense comes on post-ups, with another 20% from offensive rebounds. That tells you a little bit about the lack of versatility we currently see from Nivins, although you have to think some of that has to do with the system he plays in.
Nivins has the size of a power forward as far as the NBA is concerned, but he plays like a center, using his brute strength to establish position deep in the paint, and looking quite a bit less effective if he's unable to do so. If forced to create offense for himself outside of 3-5 feet, Nivins struggles, not showing many counter-moves with his semi-raw jump-hook and underdeveloped turnaround jump-shot. He avoids going to his left hand in the post, almost never puts the ball on the floor when facing the basket and only took a handful of jump-shots all season long, even if he did show decent shooting mechanics when doing so.
These are parts of his game that NBA scouts will want to see more of by the time he's done at St. Joe's, as he clearly won't be able to rely on his strength to dominate in the NBA the way he does in the A-10, and therefore will be expected to show some finesse. Things are working pretty well for him right now we must say, though…
Defensively, Nivins will have to show that he'll be able to defend his position (PF) at the next level as well. At the moment he looks more focused on the other end of the court, often looking to stay out foul trouble, and giving up excessive space in the post, which could very well be a direct order from the coaching staff considering how heavily they rely on him offensively. Nivins seems to have just average lateral quickness when forced to defend pick and roll plays on the perimeter.
It will be interesting to see how Nivins progresses from his sophomore to junior seasons, as he has a lot of things going for him already. If he manages to improve his finesse game while helping St. Joe's win games, we could have a very interesting prospect on our hands.
#12: Matt Bouldin, 6-5, Sophomore, PG/SG, Gonzaga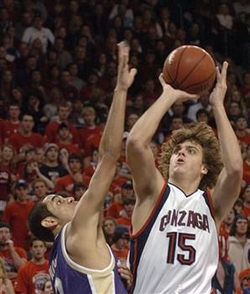 Kyle Nelson
Just a few games into the beginning of last season, it appeared that
Matt Bouldin
was making a push to be considered one of the premier freshman guard prospects in the college game. However, an inconsistent in-conference performance revealed his tendencies to play passively on the ball, and gradually
Jeremy Pargo
became more of a focal point in Gonzaga's offense along with
Derek Raivio
. Bouldin regained his swagger in the NCAA Tournament, but his impressive performance was not enough to lift the Bulldogs over Indiana. This season, Bouldin is going to have to assume a greater role on the team, both as a ball-handler and scorer, if the Zags are going to make a post-season run.
Bouldin is a deceptive offensive player. He has surprising quickness and athleticism, and while he would never be classified as an explosive player, he uses his physical gifts well on the court to maximize himself. This ability is most evident in his slashing game. Using his good ball-handling skills and solid second and third strides (clearly more impressive than his first), he can beat his man from the perimeter while driving to the hoop. Once he gets there, he can finish in many different ways, possessing both the body control and ambidexterity to score craftily around the rim. It is uncanny how well he gets into the lane considering his relative lack of explosiveness, but it is a testament to his intelligence in how well he is able to use what he has so effectively.
Finishing consistently was a problem for him last year, and despite his 45% field goal percentage, for a player with his slashing tendencies and outside touch, that number is not as great as what it could be down the line. Already possessing the strength and quickness to finish at the hoop, the biggest improvement Bouldin can make is in his decision-making. He often is ambitious and reckless off the dribble and ends up on the receiving end of blocked shots far too often. It is also of note that he only went to the foul line 2.6 times per game last season. This is an aspect of his game that he'll have to improve on to succeed at the next level, though the flashes he has shown thus far are quite promising.
From the perimeter, Bouldin has room for improvement, but he has the makings of a good shooter. Bouldin excels in both catch-and-shoot and off-the-dribble scenarios. Displaying a good handle, he is able to create enough space for himself to get off his jumpshot. While he does not look as comfortable shooting with his feet set, when he gets a nice set shot, the results are very favorable. He runs off of screens well and knows how to move along the perimeter to position himself for open looks. Possessing a lightning quick release along with good form and a high release point, Bouldin has the potential to be an even better perimeter shooter than his 36% average (on 2.4 attempts per game) suggests. He will likely be one of the top perimeter shooters in the college ranks by the time his career is up at Gonzaga. More practice should produce results. After all, he was only a freshman.
Where he could and must improve offensively is in his mid-range game. Clearly not as comfortable shooting the ball inside of the three-point line, Bouldin often was hindered by his below average creation ability and average first step. He has to work on creating space before he can even consider becoming a solid mid-range shooter: most of his shots in the mid-range were off of screens or catch-and-shoot scenarios. However, because he has excelled at both a perimeter and slashing game, he will probably be able to get by at the moment without a mid-range game. However, for him to become the kind of prospect at the next level some people project him to be, he'll have to add this to his offensive repertoire.
But what really makes
Matt Bouldin
a special prospect is his passing ability. Though he split duties on and off the ball last season, he proved himself to be a very intelligent player, possessing both good court vision as well as an understanding of how to run an efficient offense. He already plays the pick and roll offense like a prof, and displays exquisite vision finding teammates in the post. Next year, he should look to improve on drive and kick scenarios, because as already explained before; his ambitiousness and aggressiveness often contribute to turnovers and missed opportunities around the hoop. This is not to say that he is turnover prone or an inefficient player. Among college shooting guard prospects, Bouldin ranked 4th in assist to turnover ratio, averaging 3.1 assists per game compared to 2 turnovers. With
Derek Raivio
departing and a greater need for him to handle the ball next to
Jeremy Pargo
, his point guard abilities will probably be on display next season.
Bouldin possesses excellent size for the point guard position at 6'5, and efficiently uses it to back down defenders in the paint, where he displays a surprisingly refined set of post moves. His versatility on the offensive end is a good thing, because at least at this time he is not projecting as a full-time point guard at the next level. However, it is not a stretch to imagine him sharing duties with a scoring-minded point guard due to his size, vision, and ability to hit shots from the perimeter.
On defense, he must get better. He's not much of a presence on the perimeter and is constantly giving his man shots from beyond the arc. He gets stuck fighting through (or going underneath) screens and gives his man far too much space to take his shot. He is a little slow in guarding slashing guards who often get by him and to the hoop. Getting beaten is one of the ways that he gets his 2.6 fouls per game. This number is also influenced by the fact that he falls for pump fakes and ball fakes too often. He does try, however, and his effort and enthusiasm on the court suggest that with experience, he can improve. He will never be a lockdown defender, but he could be a good one if he learns to stay in front of his man and uses his size to his advantage.
Bouldin is an interesting prospect because of how versatile he is on the offensive end of the court, as well as the intangibles and intelligence he brings to the game. Last season his passivity knocked down his draft stock, but considering his abilities and the fact that he was only a freshman, he still had an impressive season. With a larger role, higher expectations, and a slew of highly ranked opponents, Bouldin will have the opportunities to prove that he can be a consistent threat, and that he has the potential to succeed at the next level.
#13: Robert Dozier, 6-9, Junior, Power Forward, Memphis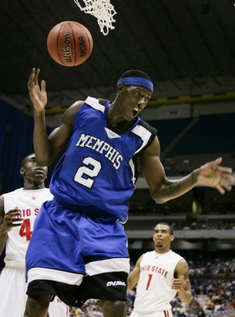 Joey Whelan
Memphis Tiger fans have spent the last two seasons waiting for the physically gifted
Robert Dozier
to realize his potential, but have only been treated to glimpses so far of what might be one day. Dozier has a tremendous amount of upside and many will be asking if this is the season that he turns the corner and becomes a consistent contributor on offense for John Calipari's squad.
Physically, there is very little to not like about Dozier. He fits the mold of the modern-day hybrid power forward, one that can play on the perimeter and create all kinds of matchup problems for defenses. At 6'9", Dozier isn't very big as a post player, but his tremendous quickness for a player his size makes him a nightmare for bigger post players to cover on the perimeter. He is also a freakishly long athlete, which aids him in many facets of the game, but at just 215 pounds, he certainly needs to add some more muscle to his wiry frame.
Dozier spends a lot of his time on the perimeter; he is very clearly a face-up type player, and also projects as one at the next level. His ball handling skills aren't the best, but he often is able to get away with it because he has such a quick first step getting into the lane. While in general his decision making abilities aren't great, Dozier from time to time looks very fluid going to the basket, able to incorporate spin moves in traffic with soft finishes. Generally speaking, though, he lacks great touch on his shots around the basket, and against quicker players the weaknesses in his ball-handling skills are exposed.
Dozier clearly needs to improve his perimeter shooting to maximize his potential as a floor spacer at the next level. Dozier actually has good form on his shot, albeit his release is a little slow, but there don't appear to be any real mechanical issues with his shot. He does need to become a more consistent shooter though. Once he steps outside of the paint his shooter percentage really starts to drop, and from beyond the arc, he connected on just 12 of 41 attempts last season. What is nice to see is Dozier showing some ability to create shot opportunities for himself. He is quick enough to take most post players off the dribble either to the basket or for a pull up jump shot, and if he becomes a better shooter from the outside, will be able to shoot over smaller quicker players defenses use to slow him down.
The post is not somewhere that Dozier will likely spend much time at the next level; he just has too many fundamental problems right now. Dozier is a raw athlete, there is no doubt about that, but nowhere is that more apparent than when he receives the ball on the block. He has no real fundamental post moves at this point, other than an awkward attempt at a hook shot, which he usually releases too low in his jump and when he isn't square to the basket. He struggles with contact because of his thin frame, and this prevents him from shooting at a higher percentage. The few flashes that Dozier does show inside stem from his quickness, rather than a polished skill set. From time to time, he is able to get a step on his defender and pull off a pretty spin move into the middle and finish the easy shot. He has absolutely no left hand though, and NBA advanced scouts will be able to pick up on this very quickly. At the slightest bit of pressure, Dozier will switch to his right hand on interior shots, even when this creates a better opportunity for defenders to block his shot.
Defensively, Dozier again displays a lot of potential. His size, length and athleticism allow him to guard a wide range of players. The NCAA Tournament saw Dozier spend time guarding Nevada big man
Nick Fazekas
, and Ohio State guards
Mike Conley Jr
. and
Daequan Cook
. Dozier is the quick and long type of player that provides solid help defense, and guards the pick and roll well. He does have a tendency to get lost sometimes on defense and allow his man to burn him. Being a quick jumper allowed him to block 1.5 shots per game last season and pull down 6.2 rebounds in just 25 minutes of playing time, though. When Dozier chooses to really step up, he is a very good off the ball defender, both inside and on the perimeter.
Dozier is a raw player, with tremendous athleticism and a world of potential; he hasn't shown much more than the occasional glimpse yet though. He needs to become a tougher player, particularly inside both offensively and defensively. It is clear that he could develop into the kind of player that creates all sorts of matchup problems one day, but he could just as easily be a physical talent that never develops the skills to make it. There aren't very many players his size that are capable of some of the plays he is able to make, though. If Dozier puts forth the effort more often and becomes more consistent with his perimeter shooting, his is a name that could move up draft boards very quickly.
#14: Markel Humphrey, 6-5, Shooting Guard, Junior, Marshall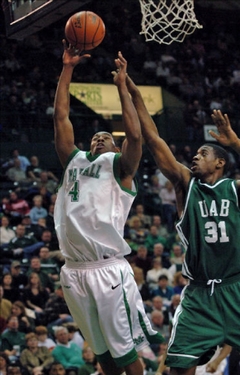 Rodger Bohn
After an already-promising freshman year, Humphrey nearly doubled his scoring output in his sophomore campaign, finishing the year averaging 14 points per game. At 6'5 and 215 pounds, he possesses ideal size for an NBA shooting guard prospect. This season will prove to be crucial for Humphrey, who will be the primary scoring option for the Thundering Herd.

The junior fully utilizes his excellent athleticism on the offensive end, displaying an outstanding first step that he uses to get to the rim at every available opportunity. His strength and athleticism allow him to be an outstanding rebounder for a wing guard, posting an average 6.5 rebounds per game as a junior. Around the basket, Markel's outstanding body and ability to jump most C-USA opponents allows him to convert at a high clip. With his ability to overpower players around the basket, it would be nice to see him post up a little more, however.

Humphrey is able to shoot the ball out to the NBA three point line, albeit inconsistently. He is a very streaky shooter, but does have the ability to get hot from beyond the arc. The lefty gets his shot off in a hurry with decent lift, but has inconsistent mechanics leave him with mixed results as a shooter. One area in terms of shooting the ball that Markel certainly needs improvement in his mid-range game, which is virtually non-existent. With the ball in his hands, he looks to either settle for a three point jumper or take the ball all the way to the cup, leaving him a bit predictable for opposing defenders.

Another facet of Markel's game that must be improved upon if he hopes to solidify his chances of making the league is his ball-handling skills. He is very much a "two dribble" player, putting his head down and usually going straight to the rim, no matter who is in front of him. If Humphrey is able to improve his ability to create shots and score with better versatility, he has the potential to be a 20 point per game scorer in C-USA.

Defensively, Humphrey's size makes him quite versatile. At times last season, we saw him guarding point guards all the way down to power forwards. Moving his feet well for a perimeter player, Markel does find himself out of place at times however. His tendency to gamble on the defensive end often leaves him out of place, resulting in him being a somewhat marginal defender on those occasions. With improved fundamentals and headier play on this end of the floor, Humphrey could very well wind up as a nice defensive player by the time it is all said and done.

With his size and athleticism, Humphrey finds himself as one of the top shooting guard prospects at the mid-major level. His junior campaign could be explosive for him in terms of his draft potential, as he will have the opportunity to show his stuff in front of plenty of NBA personnel during Marshall's matchups with national powers Memphis and Louisville. Most will play the "wait and see" game with Humphrey before gauging him as immediate NBA prospect, although he certainly has the potential to find himself in the league by the time it is all said and done.
#15: Chris Daniels, 7-0, Senior, Center, Texas A&M-CC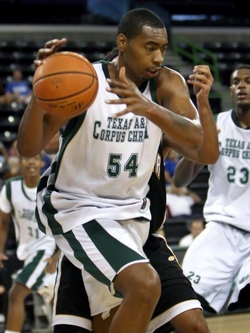 Joseph Treutlein
With a strong showing in the first round of the NCAA Tournament against Wisconsin last season,
Chris Daniels
managed to generate a little bit of buzz heading into this season. Daniels is listed at 7'0, 265 pounds, though the height may be a little generous. Regardless, he has good height and length for a center in the NBA, though the rest of his physical characteristics aren't very overwhelming. Daniels is also 23 years old, and will turn 24 before the season ends, so he's a bit older than your average college senior.
On the offensive end, Daniels gets much of his scoring at the Southland conference level within five feet of the basket, where he can really cause damage when he puts his body to use. When he's trying, he has little trouble establishing good position, as he's bigger and stronger than most of the competition he faces. Daniels doesn't always fight hard for position, though, and his effort on and off the court has been questioned. When Daniels does get the ball low, he doesn't have a vast array of moves, but likes a mini jump hook that he has varying success with inside five feet. At times against weak competition, he's shown nice footwork on drop steps and quick spinning hooks, but at other times he hasn't looked very elegant with his feet, and his instincts also aren't that great. Daniels also gets some of his scoring on easy shots around the basket, either when he's open or when he's just big enough to put the ball up right over his defender.
Daniels also has a formidable spot-up jumper that he likes to use from the mid-range, and has also shown flashes of three-point range with, hitting 16 of 42 attempts from behind the arc over the past two seasons. Daniels shot an impressive 81% from the free-throw line in 05-06, but strangely dipped to just 69% this past season.
On the defensive end, Daniels shows potential as a weak-side shot blocker with his length, but underwhelmed against weak competition this season, blocking just 1.6 shots per game. In terms of man-to-man defense, he gives up position in the post way too easily for someone his size, and can also be outmaneuvered there, not showing the greatest footwork or instincts. He doesn't like to step out on the perimeter either, making him a liability against jump-shooting big men. Daniels' rebounding could also be better, especially given the competition he faced. He pulled down just 6.7 rebounds per game, though he only played 25.7 minutes.
Daniels' game may have some notable flaws, but there is a lot to like about him. He has decent athleticism and mobility for a player his size, and he could become noticeably more agile if he lost some of his 265 pounds. Likely even more so than improving the fundamentals of his game, which he needs to do, Daniels' main priority should be shedding some weight to add agility, quickness, and explosiveness to his game. With a better vertical leap and the ability to be quicker with his post moves, things he could gain from losing weight, he could significantly improve his effectiveness. Without doing these things, though, it's tough to see him ever making a career in the NBA. But with his size, he should get a good deal of chances over the next few years if he's willing to put in the work, and he could start by showing improvement this season and at the pre-draft camps.