Jeremy Pargo
Recent Tweets
All Tweets
DraftExpress: Source confirms @DubiPick's report: Jeremy Pargo signed with the Memphis Grizzlies. Two years, one million per.
2011-12-10 04:21:09
DraftExpress: RT @DubiPick: FIBA Ruled - Jeremy Pargo Violated His Contract, Owes Maccabi Tel Aviv $270,000: http://t.co/jqFYhVb6
2011-12-06 04:35:05
DraftExpress: Based on the whole season. Yes. Most definitely. No doubt in my mind. RT @Lironfanan: Jeremy Pargo NBA ready?
2011-05-08 12:28:46
DraftExpress: Jeremy Pargo's quickness has gotten Real Madrid's backcourt in serious foul trouble. Both Prigioni & Llull have 3 fouls midway through 3rd.
2011-05-06 04:22:33
DraftExpress: Jeremy Pargo showing his outstanding quickness all night long and just rose up and threw down a monster dunk. Taking over in 3rd quarter.
2011-05-06 04:18:41
Top 25s - Full List
Team: Zheijang GL
Physicals
Positions
Rankings
Salary
Misc
H: 6' 1"
W: 208 lbs
Bday: 03/07/1986
(29 Years Old)

Current: PG
NBA: PG
Possible: PG

RSCI: 84

Agent: Brad Ames

High School: Robeson
Hometown: Chicago, IL
Best Case: Will Bynum
Worst Case:

Predraft Measurements
| Year | Source | Height w/o Shoes | Height w/shoes | Weight | Wingspan | Standing Reach | Body Fat | No Step Vert | Max Vert |
| --- | --- | --- | --- | --- | --- | --- | --- | --- | --- |
| 2008 | NBA Pre-Draft Camp | 6' 0.5" | 6' 1.5" | 208 | 6' 5" | 8' 0" | 7.6 | 32.0 | 37.0 |



Basic Per Game Statistics

- Comprehensive Stats - Statistical Top 25s

Player Page&nbsp&nbsp| Player Stats | Mock Draft History | Related Articles&nbsp&nbsp| Add to My Draft Express&nbsp
&nbsp
NCAA Weekly Performers, 2/28/09
February 28, 2009
After a mixed showing in the Orlando pre-draft camp last year, Jeremy Pargo decided to return to school for his senior year, and the results thus far have also been fairly disappointing. While Pargo has raised his A:T ratio for the fourth time in four years, his scoring, assists and scoring efficiency are all down, while he's struggled in virtually all the big games Gonzaga has played this year.

Looking at his scoring game, there's a disturbing trend with Pargo over the past three seasons, as his efficiency has declined (TS% from 57% to 56% to 52%), which is likely a direct result of his slashing game becoming less of a priority. Pargo's FTA/FGA ratio in 2007 was a very strong 0.49, but it's dropped all the way to 0.27 this season, as Pargo is taking less advantage of his outstanding explosiveness and ability to go strong to the basket.

Pargo is still very much the same outstanding athlete with excellent ball-handling skills, capable of exploding off screens or quickly kicking it to fourth gear in transition, but we're seeing this aspect of his game less and less. On the positive side, while Pargo has drawn contact less frequently, he has improved his finesse game in the lane, having a very nice right-handed floater and excellent body control, while also finally showing flashes of a left hand at times.

Pargo's shooting has always been a cause for concern, and that remains the case this season, as he's still shooting troubling numbers from both the free-throw line and the three-point line. It is worth noting that according to Synergy Sports Technology's quantified statistics, Pargo takes more than twice as many jumpers off the dribble than spotting up, while he scores 1 PPP on the spot up shots and just 0.65 PPP on the pull up shots, so he's capable of being a better shooter than the numbers indicate. Still, Pargo's form is pretty loose with an unnecessary fade-away on most of his shots, with these problems being especially apparent when contested.

As a point guard, it's very encouraging to see the trajectory of Pargo's four year arc at Gonzaga, as all of his point guard metrics have steadily risen from nothing, when he averaged just 2 assists in 17 minutes as a freshman. Pargo's improvement in A:T ratio can be attributed both to better decision-making in not forcing so many tough passes, but also in improving his ability to make those tough passes. His assists are down slightly this season, but it mostly stems from a slight decrease in minutes and less of a reliance on the pick-and-roll in Gonzaga's offense.

Pargo's decision-making is still a major area of concern at times, particularly in big-game situations, where he's repeatedly come up flat this season. Pargo's worst games have mostly been against the best competition he's faced, particularly at the end of games where he has shown very little in the ways of the senior leadership his team desperately needed, often forcing bad shots or turning the ball over repeatedly. The biggest issue here is that that Gonzaga competes in the WCC, with one and a half of their games against the conference's best team, St. Mary's, coming without their star player Patrick Mills on the floor—meaning Pargo's stats need to be taken with a grain of salt considering the level of competition.

Defensively, Pargo is still the same quick, strong, and aggressive point guard, playing in-your-face defense, never letting up, and sticking his hands in the passing lanes when the opportunity arises. He can be slow to react on direction changes at times, but overall, defense is definitely among his strengths.

Looking forward, Pargo will have the opportunity to play at the Portsmouth Invitational Tournament if he so chooses, where he could look to recover from his below expectations performance at Orlando last year as well as his underwhelming senior season. Pargo will be viewed as a potential second round pick, as his defense, athletic ability, and prowess with the pick-and-roll game projects him as a possible back-up point guard at the next level. The fact that he still isn't much of a shooter or scorer and struggles with poor decision making and a low basketball IQ against noteworthy competition may render him undrafted, though.

[Read Full Article]

---
NBA Pre-Draft Camp, Day Four
May 31, 2008
Jeremy Pargo had a game-high 20 points (7-16 FG, 5-7 FT) to go along with 4 assists. Unfortunately, he also had 6 turnovers and missed three of his four 3-pointers. He pushed the ball up the floor extremely well, showed terrific explosiveness getting by his man and giving himself options in the half-court, and also flashed some glimpses of solid court-vision, but his poor decision making led to way too many turnovers, which has typically been his problem. Going back to school and improving his decision making skills looks like a very good option at this point.

[Read Full Article]

---
NBA Pre-Draft Camp, Day Three
May 30, 2008
Underclassman Jeremy Pargo had a stronger performance in game two (11 points, 6 rebounds, 5 assists, 5 turnovers) than yesterday's outing, doing a fantastic job showing off his incredible physical tools and getting into the paint time after time. He showed nice footwork and a terrific first step, being extremely aggressive pushing the ball up the floor in transition, but also again being typically feast or famine in regards to his distribution skills. On one hand he is able to find his teammates with decent creativity, as evidenced by his five assists, but he also seems to struggle over-handling and trying to make very high degree of difficulty passes, which resulted in five turnovers. This is nothing new from Pargo. He does seem to be separating himself from most of the other point guards, though.

[Read Full Article]

---
Marquee Matchup: Derrick Rose vs Jeremy Pargo
January 30, 2008
While Rose was billed as a top-flight point guard prospect from the second he stepped onto an NCAA court, Pargo has taken a quite different road to where he is now. Pargo went from an undersized scoring guard as a freshman, to someone who projected as a possible backup point guard in the NBA as a sophomore, to now someone who might project as even more than that.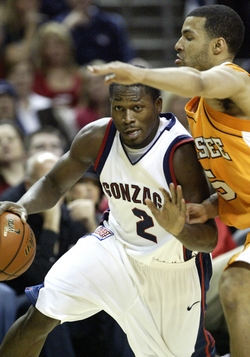 Icon SMI



With Derek Raivio out of the picture, Pargo has taken over as Gonzaga's full-time point guard, and he's certainly impressed in the early going, with his 6.1 assists per game. He still has a lot of things he could work on, but he's showing himself to be more than just a pick-and-roll point guard now. Pargo has really shown his versatility as a point guard this season, dishing out assists in many different ways, though he still has some things to work on, most notably his tendency to be too aggressive on offense, getting too deep into the paint with the ball.

In terms of scoring, Pargo is strong when attacking the basket, and that ability should translate well to the next level, where his large array of crossovers and spin moves should come in handy, along with his improvisational ability in the lane. Pargo definitely needs to show more of an ability to finish with his left hand, though, as he almost always finishes with his right, even when it makes for a tougher shot.

Pargo's outside shooting is the thing he probably needs to work on the most, as he's very inconsistent from behind the arc, often missing badly on some of his attempts, air-balling or missing wide right or wide left, while he's shooting just 25% on the season. His shooting form isn't bad, and he is prone to go on some hot streaks, but he really needs to put in more practice in this area. He also can force some bad shots pulling up off the dribble here, being prone to questionable decision-making in all aspects of his offense at times.

On the defensive end, Pargo shows a lot of promise, playing intense, in-your-face defense while showing a very good ability to fight through screens, which is pretty uncharacteristic for college players. He also uses his hands well while showing good anticipation in the passing lanes, even if he can overextend at times.

Pargo still probably projects as more of a backup point guard at the next level, and at the moment looks like more of a second round pick when he finally enters the draft. With that said, with the way he's improved every season at Gonzaga, it'd be foolish to rule out a brighter future for him. With his athleticism and size, if he can continuing improving all aspects of his game, he could end up playing an even bigger role at the next level, though he still has a lot of work to do.

[Read Full Article]

---
Top NBA Draft Prospects in the 'Other Conferences' (Part One: #1-#5)
October 29, 2007
Taking the reigns and often stepping into the go-to guy role for a troubled Gonzaga squad last year was their sophomore combo guard Jeremy Pargo. With Josh Heytvelt kicked off the team and Derek Raivio better suited playing a role where he isn't constantly forced to create offense for himself and others off the dribble, it was Pargo that became Gonzaga's primary offense facilitator-- the one responsible for coming up with creative solutions when things got complicated in their half-court sets. Pargo also allowed the Zags to play the type of up-tempo transition basketball they've become known for over the past few years, turning on the jets at any given moment and not allowing defenses to get set. Indeed, over 30% of his offense came in transition according to Synergy Sports Technology, an abnormally high rate compared with other guards we've evaluated.

Physically, Pargo has great tools to play the point guard position at the next level. Showing adequate size, excellent strength and terrific athletic ability, he will never be at a disadvantage in this area. Pargo's first step is especially impressive, and he uses it in every opportunity possible to explode into the lane and finish strong at the basket, sometimes with a highlight reel caliber dunk.

This is the basis of Pargo's game at the moment, his ability to break down defenses and aggressively create his own shot. He's an outstanding ball-handler, capable of going right or left equally well, and has an emerging mid-range game he can utilize to compliment his ability to finish in traffic—including floaters and pull-up jumpers. He knows how to create space for himself with advanced ball-handling moves (crossovers and such), and is particularly adept at using quick spin-moves to get himself even deeper into the paint. The fact that he shot 49% from the field tells us that he took a lot of good shots fairly close to the basket. Pargo does a nice job keeping his head up and finding open men on the drive and dish as well once the defense rotates, a big part of how he averaged a team-high 4.6 assists per game last season.

Pargo also shot a solid 37% from behind the arc, although it came on a very limited amount of attempts—less than two per game. He has decent form on his jumper, but possesses a slow and deliberate release, making him a solid threat when he's able to set his feet, but also often makes him miss badly when forced to rush his shot.

Billed as more of a shooting guard coming out of high school (and not a top 100 player according to the recruiting services), Pargo clearly is still making the transition to playing the point full time. He plays a bit too fast and out of control at times, showing sloppy decision making—forcing passes into tight spaces, over-penetrating singly-mindedly into the paint, making unforced errors, and displaying poor shot selection. He was not a consistent player from game to game for Gonzaga, providing dramatic swings in production from week to week.

Defensively, Pargo was a bit inconsistent as well. He has great potential here because of his outstanding physical tools, and even backs that up with a hard-nosed aggressive mentality to help get the job done, but still gets by too much on his instincts rather than with great fundamentals. With experience and good coaching he has a lot of room to continue to improve here, though, like most players his age.

As an NBA prospect, Pargo has quite a bit to offer, as he looks to project as a pretty useful player for a coach to bring off the bench to change the tempo of the game. If he can improve his perimeter shooting ability and playmaking skills, he might even be considered more than that by the time he is finished at Gonzaga. He's a very different player than his brother Jannero, arguably more naturally talented, and therefore should have an easier initial route to making the league. If he has even half of his brother's attitude and work ethic, though, then he should be in great shape.

[Read Full Article]

---
LeBron James Skills Academy Day Three
July 10, 2007
The Gonzaga point man was easily the most impressive of the guard prospects participating, able to score at virtually any point he chose to. He really improved the consistency and range of his shot, exhibiting the ability to hit three pointers out to the NBA arc. The explosiveness that Pargo showed off was unparalleled, as his ability to change speeds and explosive first step were too much to handle. He was also seen throwing down between the legs dunks after the scrimmage session was over, pretty unheard of for a 6'2 point guard.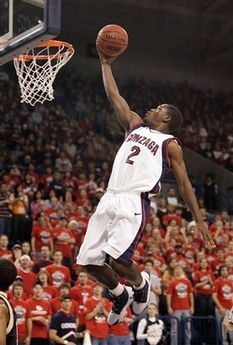 AP



Jeremy will have the opportunity to play much more point guard this season for the Zags with Derrick Raivio's departure, although emerging sophomore Matt Bouldin could snag some of his minutes. Regardless, we expect a big season from Pargo in 07-08, given the improvement that he showed off in Akron from last season.

[Read Full Article]

---
NCAA Weekly Performers (12/4/2006)--Part One
December 5, 2006
Jeremy played a limited role for the Bulldogs last season, but is now starting and sharing point guard duties with teammate Derek Raivio.

Pargo's overall floor game is still a work in progress, and it will be tough to get a gauge on how he can run a team by himself until next season when Raivio graduates. But the early results have been encouraging so far, and Pargo definitely has some promising skills. Pargo's a strong and fearless player that does a good job getting to the basket and drawing contact, which he did many times in the win over Texas, both in the half-court and in transition. He's definitely at his best in transition, and he showed that in this game, making plays for himself and his teammates. He showed off his court vision in the open court by dishing out a few nice assists in the transition game, and did a decent job in the half-court as well. Right now, Pargo looks most comfortable in the half-court playing the pick-and-roll game, and he does a good job recognizing what the defense gives him and adjusting his play to such. The defenders were collapsing on him, and he did a good job passing the ball through them to find his open teammate for a score.

Defensively, Pargo has great tools and is a very good man defender when he wants to be, but he has a tendency to overplay the help-side, which he did a few times in this game. He showed off his anticipation by making a nice transition interception in the game, and also played good man-to-man defense on his opponent.

Pargo's an unfinished product at this stage, and he likely will be a three or four-year player. With his ability to play the pick-and-roll, his open court awareness, and his defensive abilities, it's not hard to project him as a backup point guard in the NBA if he continues along the way he's been playing. Scouts will be looking for him to improve on his outside shooting (.229 from three-point range last season) and continue to improve his point guard abilities over the next few seasons.

[Read Full Article]

---