Rounding out our preseason coverage of Big East prospects, we look at the players ranked 21-15.
Jae Crowder
,
Gorgui Dieng
,
Herb Pope
,
Dion Waiters
, and
Dion Dixon
make up our final group.
Freshmen have been excluded from these previews, as we'd like to wait and see what they have to offer on the NCAA level before we come to any long-term conclusions.
-
Top 20 Prospects in the Big Ten
-
Top 25 Prospects in the ACC
-
Top 15 Prospects in the Big 12
-
Top 15 Prospects in the Pac-12
-
Top Prospects in the Big East #1-5
-
Top Prospects in the Big East #6-10
-
Top Prospects in the Big East #11-15
-
Top Prospects in the Big East #16-20
#21 Jae Crowder, 6'6", Forward, Senior, Marquette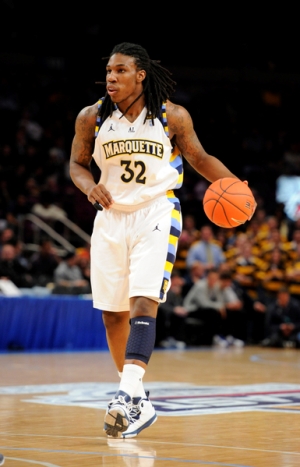 Jeff Rush
First it was
Wes Matthews
, then it was
Lazar Hayward
, and last season, it was
Jimmy Butler
. It seems like every time Buzz Williams has had one of his talented wings or combo-forwards lined up for a big season, that player has delivered in a big way. While it would be unfair to compare
Jae Crowder
to his predecessors, his efficiency last season has the former Junior College Player of the Year positioned to take a big step forward.
At this point, Crowder's game is based mostly on effort, but his future will be largely dependent on the skills that he develops to build on that intensity. Crowder is a solidly built 6'6 235-pound combo forward and is a decent athlete, but not the explosive leaper that would give him potential at the four-spot at the next level. He does make the most of what he has, but like
Jimmy Butler
two years ago, did not stand out with his physical tool as a junior. Despite his shortcomings, Crowder makes up for what he lacks athletically with a relentless motor that allows him to get things done against bigger and more athletic players.
Crowder is most effective offensively capitalizing on the holes he finds in the defense by making swift cuts to the rim, aggressively attacking the offensive glass, or filling a lane in transition. He has a knack for getting himself into position to be in the sight lines of players who are driving to the basket and does a pretty good job of finishing the opportunities they create for him. While Crowder isn't a great leaper, he does a very good job of keeping balls alive and using a quick second jump to secure offensive rebounds. He is not an elite finisher at the rim, shooting a respectable 54% around the rim according to Synergy Sports Technology, but is effective at getting himself to the line to compensate. Crowder is a questionable foul shooter at this point, knocking down just 61% of his free throws, but his relentless effort and ability to make simple plays ranks him among the top-10 percent of all NCAA players in terms of Points Per-Possession.
Crowder's ability to make simple plays and produce at such an efficient level is a result of his fairly good feel for the game. His 2.0 assist-to-turnover ratio is indicative of the low-mistake style of basket he plays. He isn't a dynamic play-maker, but for someone who plays as hard as he does, he proves to be quite a good decision-maker. This coming season, it would be nice to him become more comfortable making plays for himself on the perimeter, as he'll need to shore up his ball-handling ability if he wants to improve his potential at the small forward position at the next level.
On the perimeter Crowder is a threat in both spot up and pick and pop situations. He shot a very respectable 35.9% from the three point line on 4.6 attempts per 40 minutes pace adjusted last season, and that was after struggling from deep to end the year. The main concern about his jump shooting is the inconsistent form that he showed throughout the year. He has learned how to compensate for this by developing different ways to get his shot off, sometimes to a fault. His tendency to fade away unnecessarily is one of his worst habits from the perimeter, and while it helps him get his shot off over defenders, it also makes the shot less accurate and less consistent. During the course of the game he will often shoot the ball three or four different ways, which makes it tough to get into a rhythm. He'll need to hone that area of his game and his ball-handling ability and midrange game, neither of which were tools for him from the perimeter at all last season.
Marquette does not go to Crowder in the post all that often despite the fact that he was very successful when given the opportunity. He loves to go over his right shoulder, usually trying to get himself to the basket although he will throw in a turnaround jumper to keep defenders honest. Crowder will also face up in the post and use his superior decisive and solid quickness to drive or shoot a short jump shot when given the chance. Not unlike
Jimmy Butler
, Crowder's ability in the post is intriguing to say the least, but it isn't going to help him define himself as a long-term three during his senior year.
Defensively, Crowder filled almost every role imaginable for the Golden Eagles last season. He guarded everything from small forwards to centers and his coach had enough confidence in him to let him switch pick and rolls on more than a few occasions. Crowder was most effective in the post, despite his lack of height and jumping ability, he showed great positioning and was very good at staying under his man and not allowing himself to be backed down into the post. Defending on the perimeter was a little bit more of a struggle. Even though he has good feet, Crowder was not as effective staying in front of quicker players. This is a concern going forward because he will almost certainly have to move to the wing at the next level.
In his first year at the Division 1 level,
Jae Crowder
did a very good job adapting to the huge step up in competition from his two years in junior college. At this point Crowder is an undersized power forward with the ability to shoot the ball and a motor that allows him to be more effective than you would expect given his size and athletic ability. For Crowder to play in the NBA he will have to make great strides in his skill set. We set essentially the same path for
Jimmy Butler
one year ago, and considering the work ethic Buzz Williams instills in his players, Crowder is going to be a player worth monitoring as he's in a terrific spot to improve, showcase his skills, and potentially define himself as a more legitimate perimeter prospect.
#22, Gorgui Dieng, 6'10, Power Forward/Center, Sophomore, Louisville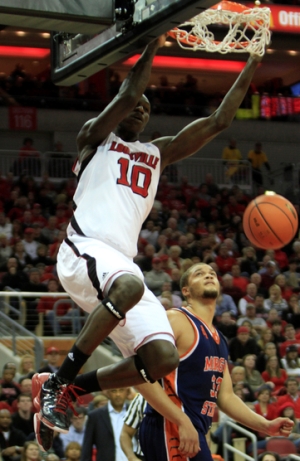 Walker Beeken
After a freshman season playing only 15.6 minutes per game, Louisville's
Gorgui Dieng
should see a larger role as a sophomore, thanks in part to the early departure of
Terrence Jennings
, who declared for the 2011 NBA Draft but went undrafted. Dieng, a former top 50 recruit who spent a year at Huntington Prep after coming to the United States from Senegal, showed glimpses last season of why he's an intriguing NBA prospect, and it will be interesting to see what type of development he's made since then with his body and skill level.
Dieng stands out immediately as a freakish physical specimen with his size at 6'10" and his incredible length, with what is rumored to be a 7'4" wingspan. On top of that, he has great mobility for a player his size and is able to cover a ton of ground in a hurry with his long, rangy strides. He's added some strength to his thin frame since arriving at Louisville, but he'll need to continue to work on his body in order to compete with the stronger, bulkier players he'll face in the paint.
Offensively, Dieng is still a bit raw in terms of his skill set, but he did show flashes of some skill with his back to the basket, as about 22% of his possessions last season came in the post. He has great length and a pretty soft touch be able to shoot up and over defenders and seems most comfortable turning to his left shoulder. His poor footwork and lack of strength and counter moves often gets him pushed out of position too far away from the basket, though, resulting in lower percentage shots fading away from the hoop.
He gets another large portion of his touches off of cuts and offensive rebounds, utilizing his incredible length, but he also showed some promise as a pick-and-roll finisher. His excellent mobility and huge wingspan make him an easy target when he rolls hard to the basket, where he's able to finish effectively above the rim.
Dieng also mixed in the occasional mid-range jump shot last season, but his stroke is still a work in progress, as evidenced by the poor 54% he shot from the foul line as a freshman.
On the defensive end, Dieng has excellent potential thanks to his physical tools. He's a tremendous asset as a rim-protector in the back of the Louisville zone, able to block or alter most any shot in the basket area. His 4.8 blocks per forty minutes pace adjusted last season placed him in the top 10 of all players in our database.
Going forward, Dieng will need to continue to add strength and improve his defensive awareness in order to maximize his talents and improve as a man to man defender. He got muscled out of position on the inside, fouled at a fairly high rate, and was just average defensive rebounder as a freshman.
Although Dieng will turn 22 years old during his sophomore season, it appears he still has quite a bit of room to grow as he adds strength to his body and continues to develop his skill level and feel for the game. Players at 6'10 with his combination of mobility and length are highly coveted in today's NBA, so scouts will surely be keeping an eye on him during his time at Louisville.
#23 Dion Waiters, 6'4 , Shooting Guard/Small Forward, Sophomore, Syracuse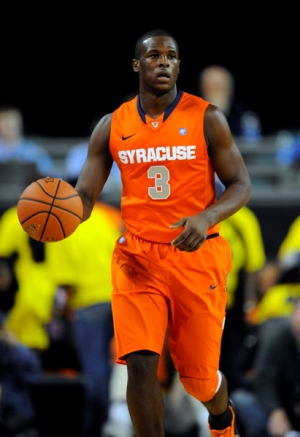 Kyle Nelson
Despite finishing the season with a breakout performance in the Sweet Sixteen, rumors swirled that the freshman shooting guard would transfer. In addition to Syracuse's deep and talented 2011-2012 backcourt, Waiters and coach Jim Boeheim never seemed on quite the same page last season. Nevertheless, it seems as though Waiters will be returning to Syracuse for his sophomore season, rounding out one of the country's deadliest guard rotations.
At 6'4 with a built 210-pound frame, Waiters is undersized for the shooting guard position without the length to compensate. While he has solid body control and quickness, he is far from an elite athlete, lacking the explosiveness to stand out in transition. Perhaps slimming down further would help him to maximize his athleticism, but he looks to be an average athlete, at best.
Though Waiters had some bright spots on the offensive end of the floor, he struggled mightily with his shot selection as a freshman and finished the year averaging just 6.6 points per game while shooting just 47.6% from inside of the arc and 32.9% from three-point range.
His shooting mechanics are inconsistent and his release can sometimes be a tad deliberate, but he is a solid shooter with NBA range. As mentioned earlier, the issue is more his shot selection and rhythm at this stage, because he can shoot the ball well on the move and with his feet set.
Waiter is also a good shot creator, showing the ability to find pull-up jump shots from the mid-range and slash to the basket. His footwork off of the dribble is impressive, so even while he does not have the quickest first step or elite explosiveness, he still finds a way to get to the basket or create space to shoot. He is still not a great finisher, however, largely for the same reasons, something that he will have to work on going forward.
Despite his shaky shot selection and his general reputation as a mistake-prone player, Waiters averages just 2.2 turnovers per-40 minutes pace adjusted against 3.6 assists. While he is by no means a point guard, he can operate a bit out of the pick and roll and made some solid passes out of traffic off of the dribble as a freshman.
Despite Syracuse playing in a zone, Waiters will have to improve his defensive fundamentals significantly before seeing more minutes for Jim Boeheim. For one, his inability to get around picks and his generally average lateral quickness are significant issues that he must address. So, too, is his seeming lack of focus on that end floor. He may never be able to overcome his lack of height and length, but he must play harder and with more focus on the defensive end, especially as Syrcause's backcourt rotation deepens.
How much Waiters matures and develops between his freshman and sophomore seasons will likely determine his playing time next season, as will his effort on the defensive end of the floor. It is not as if anybody underestimates his abilities on the offensive end of the floor; his 18 point performance on 8/10 shooting against Marquette in the Sweet Sixteen exemplified his scoring potential. Ultimately, it is up to Waiters to carve out a niche in Syracuse's crowded rotation, especially if he wants to live up to his high school hype while proving to scouts that he has what it takes to play at the next level.
Herb Pope, 6'8, Power Forward/Center, Senior, Seton Hall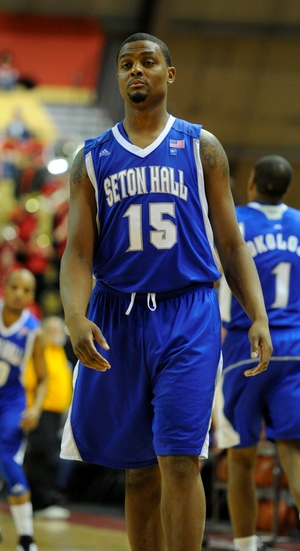 Joseph Treutlein
Heading into the senior season of a very complicated and at times troubling college career,
Herb Pope
still retains most of the same strengths and weaknesses he had four years ago, with this being his last chance to break out and make a stronger impression on scouts.
After establishing himself as one of the better rebounders in the country in his debut sophomore season at Seton Hall,
Herb Pope
took a slight step back as a junior, seeing his rebounding and scoring numbers both drop slightly while not making noticeable improvements in any other areas.
On the offensive end, Pope remains a raw player overall, showing flashes in the areas of mid-range shooting, back-the-basket scoring, and even some face-up ability, but he doesn't perform consistently well in any one area. Pope does a lot of his scoring operating on cuts, pick-and-rolls, and by grabbing offensive rebounds, showing good coordination and creativity finishing around the basket, but his noticeable lack of elevation really holds back his ability to score at an efficient rate.
With his post-up game, Pope relies mostly on turnaround jumpers while occasionally mixing in some hook shots, but his footwork isn't great and he doesn't have the greatest instincts, while his lack of great size and athleticism don't help either. Pope actually looks more comfortable on his occasional straight-line face-up drives, as despite his lack of quickness and explosiveness he is quite mobile and coordinated, something that shows up here. Still, his lack of ability to get separation and below-the-rim style don't allow him to finish well.
Pope's jump shot may be the least used aspect of his offensive game, as despite showing respectable form, he doesn't have great touch and is very inconsistent, scoring an very bad 0.54 points per-shot on jumpers according to Synergy Sports Technology. Given his size and athleticism limitations, improving in this area will likely be critical for his chances in the NBA, and is definitely something he should continue working on.
While Pope on the whole shows a decent groundwork of skills in a variety of areas offensively, he hasn't been able to convert it into a consistently effective offensive game thus far, as evidenced by his abysmal 46% TS% as a junior, which ranked dead last of every power forward and center who in our database who played more than 20 minutes per game. Projecting to the next level against bigger and more athletic competition, this doesn't bode very well.
On the positive side is Pope's prowess rebounding, something that regressed some as a junior, but still remains a noteworthy strength for him. Despite not being anywhere near optimal physical condition, as Pope lacks much in definition and carries a good deal of excess weight, Pope shows a very good motor and pursuit ability going after rebounds, fighting hard to get around his man on both ends of the floor. With improvements in conditioning and overall athleticism, this area of his game still could be much stronger than it already is.
On the defensive end, Pope does a decent job in the post by playing an active style and using his length to contest shots, but he shows little in terms of fundamentals or leverage and is very prone to fouling. He actually looks decently comfortable on the perimeter where he does a good job getting low and moving his feet, but he's not the most gifted played from a lateral quickness perspective and has limited upside there.
Looking forward, Pope has one very good skill at the collegiate level in his rebounding, but he still shows room for growth there and will likely need it for the next level. Developing at least one reliable, efficient offensive skill to complement his rebounding would be very helpful, as would maximizing his athleticism and conditioning. Pope reportedly spent all summer working out with the demanding
John Lucas
, so it will be interesting to see if it shows up on the court. Pope's troubled history with intangibles both on and off the court along with the lack of learning curve he's shown in his time in college will definitely weigh heavy on his pro prospects, but he still has one more season to impress NBA decision makers.
#25, Dion Dixon, 6'3, Senior, Shooting Guard, Cincinnati
Derek Bodner
Lance Stephenson
's decision to leave college after his freshman year opened up minutes on the perimeter for the Cincinnati Bearcats, with
Dion Dixon
being the primary beneficiary.
The 6'3" shooting guard saw his minutes increase substantially his junior year, from 15.8 minutes per game his sophomore year to 26.8, becoming a regular starter for the first time in his collegiate career. The guard responded well for the most part, increasing his scoring (18.1 points per 40 minutes pace adjusted, up from 12.3 the previous year), while substantially increasing his efficiency.
The main improvement in Dixon's game was his development as a set shooter, something he had struggled to do consistently in years past. According to Synergy Sports Technology, Dixon averaged 1.212 points per possession, a considerable improvement over the mediocre numbers he put up his freshman (0.805) and sophomore (0.719) campaigns. The improvement has allowed Dixon to more seamlessly fit into the offense, a key in projecting him to the next level as he does not appear to have the point guard skills to run a half court offense for an extended period of time. It also allowed Dixon to raise his efficiency considerably, from a 45% true shooting percentage his sophomore year to a much more respectable 54% his junior year.
The other main change in Dixon's role last year was that he played more minutes as a backup point guard than he had in years past, based more out of necessity than an expansion in his skill set and his ability to run the point. Cincinnati had very little behind
Cashmere Wright
at the point guard spot and relied on Dixon to handle the ball in the half court more than he may be suited for. Dixon is a good ball handler, and having the ball at the top of the key allowed him to be used in more pick and roll sets than he had in previous years, and opened up some scoring opportunities for him that were not previously there.
That being said, Dixon is far from a natural point at this stage in his development, and his pure point guard skills left something to be desired. With the arrival of incoming freshman GeLawn Guyn and Jere
miah Davis
Cincinnati should have more options at backup point guard, and this should allow Dixon to play primarily as an off the ball scorer, his more natural role.
While this development should allow Dixon to play more to his strengths, it also makes it unlikely scouts will be any more assured of his potential to run an offense, even if only for brief stretches of a game, going forward. Standing at 6'3" with reasonably long arms Dixon has enough size to play stretches at the off guard position, but if he could show increased comfort running a half court offense it would be easier to find a role for him at the next level.
Dixon is fairly good at running out in transition, and this is where he probably shows the best recognition as a passer. He's a solid defensive rebounder for his size, and has the ball handling and quickness to lead the break.
In terms of driving to the basket, Dixon has an average first step but shows the ability to change direction and speed, with good body control, elevation, and touch around the hoop, although he could do a better job of drawing contact in half court sets, often times avoiding contact with finesse moves around the basket.
Defensively, Dixon can be a pest on the perimeter, playing in up in the offensive players face and possessing quick hands, but his size would be an issue at the next level if he is playing the off guard position as expected. He also tends to get lost off the ball on occasion, losing focus of his man, but this is something that can probably be corrected with the proper attention given to it.
Dixon's biggest problem may be the lack of one definable skill set that makes him stand out as a prospect and succeed despite his lack of a true position. He's a solid athlete, a pesky defender, has good body control and an improved pick and roll scorer, but he doesn't truly excel in any of those areas. Dixon's improvement last year, particularly as a catch and shoot player, has put him on the radar as a prospect. It's going to be imperative that he shows continued consistency as a set shooter, but an improved ability and comfort level running a half court offense, something he has yet to really show, would do wonders in projecting him to the next level.