We continue our look at the top NBA draft prospects in the Big Ten with players ranked 16-20.
Victor Oladipo
,
Maurice Creek
,
Brandon Paul
,
Jordan Morgan
, and
Draymond Green
round out our preseason coverage of the Big Ten's top prospects.
Freshmen have been excluded from these previews, as we'd like to wait and see what they have to offer on the NCAA level before we come to any long-term conclusions.
Top NBA Draft Prospects in the Big Ten, Part One
Top NBA Draft Prospects in the Big Ten, Part Two
Top NBA Draft Prospects in the Big Ten, Part Three
#16 Victor Oladipo, 6-5, SG/SF, Indiana, Sophomore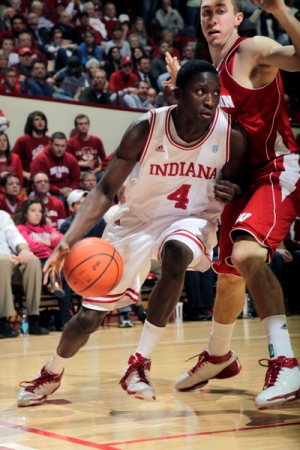 Kyle Nelson
Indiana wing
Victor Oladipo
showed intriguing flashes of production as a freshman, with upside to spare. After a decorated high school career, Oladipo came off of the bench for the rebuilding Hoosiers and emerged as one of the team's toughest players. As a sophomore, Oladipo has the opportunity to impress scouts by building upon the potential he showed as a freshman.
At 6'5 with a solid 210-pound frame, Oladipo has decent size and excellent length for the shooting guard position. He is a very good athlete, as well, and should not have trouble adapting physically at the next level, as he elevates well around the rim and shows excellent speed in the open court.
Despite his physical gifts, he averaged just 7.4 points in just 18.0 minutes per game and he struggled with consistency throughout his freshman campaign. His scrappy play and Indiana's lack of depth allowed him to find minutes, however, despite his lack of polish.
His offensive game is raw, consisting primarily of hustle plays in transition, scoring off of cuts, and crashing the offensive boards. Unlike many freshmen, Oladipo does a good job of moving without the ball, getting into position to score, and consistently aggressively trying to make plays.
He lacks the ball-handling skills, however, to be much of a shot-creator in the half-court. Many of his 3.1 turnovers per 40 minutes pace adjusted came as a result of him dribbling off of his foot, into his man, or simply losing his touch in the paint. Oladipo has the desire to make things happen on the floor, but at the moment, he doesn't always have the skill-level. Learning to change directions with the ball, play at different speeds and improving his basketball IQ will be important for him moving forward.
He also lacks much in the way of a perimeter or a mid-range game, which makes his slashing game even more predictable. His jump shot is a work in progress, as his mechanics are inconsistent, he sticks his left elbow out as he releases his shot, and his range even from the college three-point line is questionable. He attempted just 26 perimeter jump shots as a freshman and converted only 30.2%, showing how much he can and must improve in the future.
He did manage to finish at an excellent rate inside of the arc at 59.3%, especially compared to NCAA prospects at the
shooting guard
and
small forward
positions. He is particularly effective in transition, showing both his quickness and explosiveness in an array of dunks and acrobatic finishes.
He scores off of his teammates misses, as well, exploiting his physical advantages and hustle on the offensive boards. In fact, he
ranks as one of the top rebounders amongst NCAA guard prospects
pulling down 8.5 rebounds and 3.6 offensive rebounds per 40 minutes pace adjusted.
Oladipo also shows promise on the defensive end, where his lateral quickness and length allow him to be a formidable man defender capable of guarding both point guards and power forwards. That being said, he must considerably improve his awareness and fundamentals before he can legitimately project as a lockdown threat at the next level.
Ultimately, Oladipo has a ways to go before being capable of achieving his long-term potential, and must develop his perimeter game significantly to establish himself a legitimate NBA prospect. All indications suggest that he has the work ethic and character to succeed, though. He must continue to excel on defense, make hustle plays, and crash the boards, nonetheless, and should see his stock rise accordingly if he plays a significant role in Indiana's impending rebirth.
#17 Maurice Creek, 6'4, Junior, Shooting Guard, Indiana
Having profiled Creek in 2010 with a comprehensive scouting report, we've elected to wait and see what type of progress he's made in rehabbing his season-ending knee injury when he returns to the floor in a few months.
#18 Brandon Paul, 6'4, Junior, Shooting Guard, Illinois
Having profiled Paul last preseason with a comprehensive scouting report, we've elected to wait and see what type of progress he's made in a new role with a fresh perspective in a few months, rather than rehashing many of the things we said about him a year ago.
#19 Jordan Morgan, 6'8, RS Sophomore, Power Forward/Center, Michigan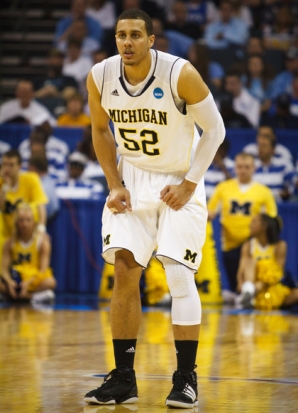 Matt Williams
Jordan Morgan
showed up in Ann Arbor two years ago heavy, out-of-shape, sporting a few bad habits, and rehabbing some lingering injuries. As a redshirt freshman last season, the young big man looked lean, prepared to compete at the Division I level, completely healthy, and seemed to have used his year on the bench getting in the right place both physically and mentally. Returning for his third year with the Wolverines and poised to build on a highly productive freshman campaign, Morgan is a player worth keeping an eye on considering his efficiency and strength for a young big man.
Standing 6'8 with an adequate wingspan, the young center is undersized for the position he plays most regularly for the Wolverines at the NBA level, and has yet to show the skills to warrant consideration as a power forward prospect, but he has plenty of time to do so. The Michigan native weighs in at a fairly lean, and powerfully built, 240 pounds, and is a good but not great athlete. He can play above the rim when he can gather himself, but lacks the explosiveness that would let him rebound outside of his area defensively and dunk everything at the basket offensively.
Last season, Morgan shot a terrific 62.7% from the field, finishing the looks he was spoon-fed by
Darius Morris
very consistently. He also created some opportunities for himself with his hustle on the offensive glass, but did not otherwise show the ability to step away from the basket to score, knock down many short-range jumpers, or create his own look off the bounce or with post-moves.
His post repertoire appeared fairly basic when he was asked to operate with his back to the basket, and he relied on a right-handed hook to score over the top of defenders. At this point, Morgan does not have a defining skill on the offensive end, and he'd be well served to become more versatile and improve his stroke to become a more complete threat and improve on his 56% shooting from the line.
On the defensive end, Morgan showed significant improvement over time, though he remains a bit foul prone. Early in the year he struggled to defend back to the basket scorers, which isn't surprising considering he was getting his first taste of Division I action. Over the course of the season, Morgan showed a knack for using his physical strength to body his man and not give up easy angles in the post.
At this point, his lack of length and leaping ability limits him as a help-side defender, rebounder, and in one-on-one situations on the perimeter, but his growing comfort level in the post seems to indicate that he's capable of making the adjustments to compensate for his weaknesses away from the basket and commit fewer fouls in time.
This 2012 season is going to be an interesting one for Morgan and the Wolverines on the whole. Considering how much time
Darius Morris
spent handling the ball and how many looks he created for his teammates, Morgan will be asked to be more than just a catch-and-finish option for Jim Beilein's squad. How he responds the new demands on his skill set could be a precursor to what we can expect from his a few years down the road as his true NBA potential begins to reveal itself.
#20 Draymond Green, 6'6, Senior, Power Forward, Michigan State
Having profiled Green last preseason with a comprehensive scouting report, we've elected to wait and see how he fares with
Kalin Lucas
and
Durrell Summers
out of the picture, rather than rehashing many of the same comments we made a year ago.