We continue our coverage of the top returning NBA prospects in the Pac-12 with part four, players ranked 6-10:
Kyle Anderson
,
Jordan Adams
,
Josh Scott
,
Devon Collier
, and
Nick Johnson
.
Incoming freshmen have been excluded from these previews, as we'd like to wait and see what they have to offer on the NCAA level before we come to any long-term conclusions.
-
Top 30 NBA Draft Prospects in the ACC
-
Top 15 NBA Draft Prospects in the Big Ten
-
Top 10 NBA Draft Prospects in the Big 12
-
Top NBA Prospects in the Pac-12, Part One
(#1) Jahii Carson
(Scouting Video)
-
Top NBA Prospects in the Pac-12, Part Two
(#2) Spencer Dinwiddie
(Scouting Video)
-
Top NBA Prospects in the Pac-12, Part Three
(#3) Dwight Powell
(#4) Kaleb Tarczewski
(#5) C.J. Wilcox
#6 Kyle Anderson, 6'8", Sophomore, SF, UCLA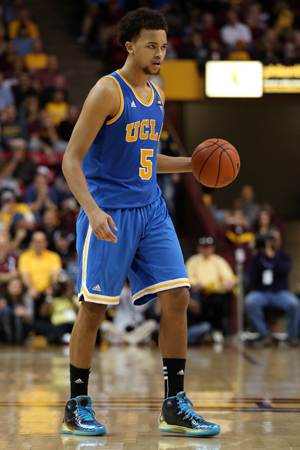 Derek Bodner
Standing 6'8" with a long, wiry frame and a good feel for the game, Kyle Anderson presents much of the same intrigue – and concerns – that he did the last time we profiled.
Anderson measured 6'8.5" with an excellent 7'2.5" wingspan and 9' standing reach at the Nike Hoop Summit, giving him excellent measurables for any wing position, and especially for one who shows the feel for the game and ability to handle the basketball that Anderson possesses. He ended up his freshman season posting averages of 9.7 points, 8.6 rebounds, and 3.5 assists per game in just under 30 minutes per night, while shooting 41.6% from the field.
Anderson is a versatile player, with the size and length to play the small forward position but the ball handling ability to funnel much of the playmaking and ball handling duties through. Not a great athlete by NBA – or even high-level NCAA – standards, Anderson gets by using a series of fakes, misdirections, and spin moves in order to create the separation needed.
He's most comfortable setting up his teammates, where he is able to use his high vantage point to see over the defense, and has the willingness and court vision to use that advantage in order to setup his teammates. His 4.4 assists per 40 minutes pace adjusted was by far the top total amongst small forwards in our top 100 database, and an excellent figure for a small forward, particularly considering the landscape of the UCLA team.
He is not quite as comfortable creating his own offense. He can struggle at times to get all the way to the rim off the bounce, with a below average first step. He is able to overcome this somewhat with his high degree of skill level and feel handling the basketball, but this leads to a lot of contested dribbles, which he can at times struggle to maintain control of the dribble, leading to turnovers. When he does get into the lane, his length does present some opportunities in an ability to shoot over the defense, but this is mostly squandered by his inability to make pull-up jump shots as well as his lack of explosiveness around the rim and struggles finishing at the hoop through contact. Overall, Anderson shot 44.7% from two point range last season, which was among the worst for small forwards in our top 100 database.
Finishing through contact is far from his biggest question mark in terms of scoring the basketball, however, as Anderson struggles as a shooter in all facets of the game. According to Synergy Sports Technology, Anderson shot only 28.6% on jump shots, with his points per possession of 0.623 being worse than more than 80% of players in college basketball. He struggled equally off the dribble (25.9%, 0.519 points/possession) as he did in catch and shoot situations (25.7%, 0.629). His overall form is questionable and inconsistent, not appearing to be all that fluid or repeatable. Being able to show some signs of developing consistency in his jump shot is perhaps the biggest question Anderson faces, certainly from an offensive standpoint.
Anderson's size and length presents some intrigue on the defensive end, and he was able to use these physical tools to contribute 2.2 steals and 1.1 blocks per 40 minutes, pace adjusted. Things become a little bit murkier on the perimeter, however, where his athleticism begins to come into question. Anderson struggles moving his feet on the perimeter and doesn't change direction all that quickly. Furthermore, he could stand to add some upper body strength as well, which should help him both fight through picks as well as defend some of the stronger post scorers he would see when defending the small forward position in the NBA.
One area where Anderson does an excellent job of adding value is on the glass, where his 8.1 defensive rebounds per 40 minutes pace adjusted and 10.8 rebounds per 40 minutes pace adjusted are both the top number among small forwards in our top 100 database, and by a considerable margin. He does a good job anticipating the shot, boxing out, and fighting for the rebound, and in general shows good tracking ability and anticipation. He is able to use his rebounding ability and ball handling skills to push his team out in transition.
Kyle Anderson is certainly one of the more unique – and perplexing – prospects to come around in some time. Anderson ranks among the top in his position in many areas, with a combination of rebounding, shot blocking, and playmaking skills not frequently found in a small forwards body. However his overall athleticism and very under-developed jump shot could greatly limit his overall effectiveness, and thus, his draft stock.
By the time Kyle Anderson returns to UCLA for his sophomore season, they will be with a new head coach after the firing of Ben Howland last spring, with their leading scorer when Shabazz Muhammad left for the NBA draft, and they will have lost their primary point guard in Larry Drew II to graduation. It will be very interesting to see how Kyle Anderson reacts to all of those changes and to his new role at UCLA.
#7 Jordan Adams, 6-5, Sophomore, Shooting Guard, UCLA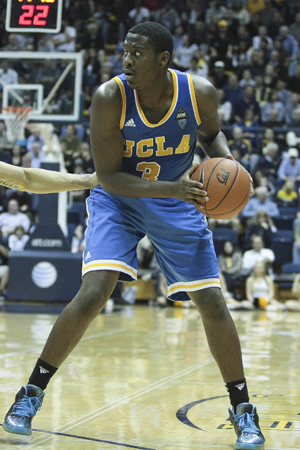 Josh Riddell
Jordan Adams had an impressive UCLA debut, posting 20+ points in each of his first four games before falling into a slump in January and early February. He recovered nicely at the end of the year, scoring 20+ points in four of his last eight games before falling victim to a broken bone in his right foot on the final play of UCLA's victory over Arizona in the semifinals of the Pac-12 tournament. New coach Steve Alford is
bringing Adams back slowly
but all signs point to him being healthy at the start of the season. Entering his sophomore season, Adams will be looking for consistency on the offensive end and a more steady scoring output throughout the season.
Adams has nice size for a shooting guard at 6'5" with a strong frame at 220 pounds but the rest of his physical attributes, including his length, quickness and athleticism are merely average compared to other NBA level shooting guards.
Offensively, Adams relies on perimeter shooting for most of his production, as 70% of his field goals came from jump shots, according to Synergy Sports. His two point field goal percentage is efficient at 54% but he struggled with his outside shooting, as his 3 point percentage was only 30%,
one of the lowest among shooting guards in our database
. One cause for his struggles may be his inconsistent release, which seems to vary with almost every shot. At the same time, many of his shots close to the end of the season fell short which may show he tired during his freshman season.
If Adams' outside shot is taken away, he did show an ability to drive to the rim, staying under control on penetration, although he struggled with finishing at the rim through contact. He does not shy away from contact through, which allows him to get to the line 4.6 times per game. Adams shot 84% on free throws which
ranked 17th
among shooting guards in our database last season.
Adams moves well off the ball, constantly looking to run off screens or cut into open space. He reads the defense well and derives many of his perimeter shots and layup attempts from his constant movement without the ball. He is a tireless worker when he is looking for the ball but this energy doesn't translate to the defensive end.
While Adams' quick hands allow him to create 2.2 steals per game,
sixth
among shooting guards in our database last season, this is really the only defensive area where he shows any commitment. He has a tendency to stand straight up when guarding the ball, which allows him to easily get beat off the dribble. This problem is compounded when he reaches for a steal and misses, putting himself off balance and out of position to defend. He then scrambles to recover and can sometimes make the spectacular play but this style of defense won't work against quicker NBA players.
Adams doesn't work to avoid screens, which puts him in trouble against the pick and roll, as he often runs right into the ball screen. He is then slow to recover after the ball handler gets by him and relies on the help defense to rotate over, which leaves the defense exposed. He sometimes works hard to recover after this lapse but more often than not, he has a lackadaisical approach to defense. Scouts are not going to like a second season of this from Adams and will look for an increased effort on this end, at a minimum.
Going into his sophomore season, Adams has the foundation to attract the eye of draft scouts with his ability to score but he will need to show he can be a more consistent outside shooter now that he is used to the rigors of a full college season. Scouts will also want to see a more concerted effort on the defensive end, even if he still struggles with the concepts. It will be interesting to see how Alford fits him into the offense this season and whether he can hold onto playing time if he continues to give such a poor effort on the defensive end. Adams has the potential to be a nice complementary NBA player but he needs to show some improvement in his outside shooting and defensive effort this season.
#8 Josh Scott, 6-10, Sophomore, Center, Colorado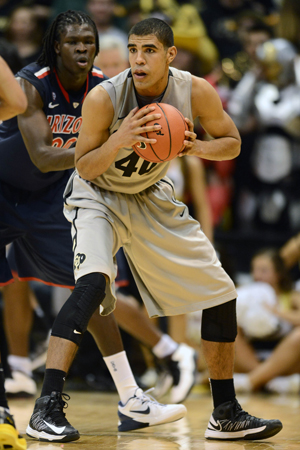 Jonathan Givony
The best high school player the state of Colorado has produced in some time, Josh Scott arrived on campus in Boulder to much fan-fare, as the highest rated prospect (#46 RSCI) to sign with the Buffaloes since former Pacers first round pick David Harrison.
Possessing good height for a big man at 6-10, and now listed at 245 by Colorado this offseason, Scott has nice size for a collegiate center even if he's somewhat stuck between positions by NBA standards. He's also not an amazing athlete, playing largely below the rim, even if he does show solid mobility for a player his size.
Scott started from day one as a freshman, giving Colorado some much needed size inside, playing 28 minutes per game, while averaging a solid 10 points and 6 rebounds per.
Used primarily as an inside threat by head coach Tad Boyle, Scott saw a steady stream of touches in the post all season, even if he was not overly effective there, making just 38% of his field goal attempts with his back to the basket.
His immature frame had something to do with this, as Scott struggled to gain great post-position at times against Pac-12 defenses, lacking a degree of toughness, and does not possess a very advanced back to the basket repertoire. Although he shoots the ball right-handed, Scott is very much a left-hand dominant player, struggling badly when forced to make plays with his right hand.
Despite possessing good hands, soft touch, and solid scoring instincts, Scott is just an average finisher in general, even in non-post up situations, making just 51% of his field goal attempts around the basket, and not drawing a huge amount of fouls to compensate. He does not play above the rim very often, and gets his shot blocked a fair amount, seemingly avoiding contact at times.
As a jump-shooter, Scott does not show the prettiest mechanics with his long, slow release, which noticeably lacks fluidity or rhythm. He did make a handful of outside shots last season, though, hitting 10 of the 26 mid-range jumpers he attempted, so there could certainly be potential here if he continues to work on his form, as he has good touch on his shot. He converted an impressive 75% of his free throw attempts last season.
Thrown straight into the fire of the Pac-12 last season, Scott was overmatched at times defensively last season. His lack of strength was a major issue, as he had a difficult times preventing opposing centers from establishing deep position and backing him down. He is not much of a rim protector either, as he lacks the explosiveness to be much of a factor rotating from the weakside. On the plus side, Scott is a fairly agile big man with relatively nimble feet, allowing him to cover ground and step out on the pick and roll and recover effectively.
With that said, there are some question marks about what position he is best suited to defend long-term in the NBA. Will he be tasked with guarding centers or power forwards? He lacks a bit of size for a traditional 5-man, and he may struggle to keep up with more agile power forwards, as he is somewhat upright in his stance.
Additionally, while Scott did a good job crashing the offensive glass last season (4 offensive rebounds per-40), he was an exceptionally poor defensive rebounder. He ranked last by a wide margin in this category among all returning top-100 centers and power forwards, pulling down a paltry 4.1 defensive rebounds per-40, worse than some of the guards in our top-100.
Some of this might be due to the fact that he played next to one of the best defensive rebounders in college basketball in Andre Roberson, who is now off to the NBA. It will be interesting to see how he fares in this category this season, as he almost certainly is not skilled enough offensively to be such a liability on the glass in the NBA. Oftentimes we see prolific shot-blockers struggle badly in this area as they tend to be out of place when the ball comes off the defensive glass, but Scott averaged a very pedestrian 1 block per-40 minutes,
Nevertheless, Colorado was a very good defensive team last season relative to their slow pace, ranking in the top-25 in defensive efficiency according to
KenPom
. Unlike Andre Roberson, Scott did little to fill up the stat-sheet in terms of blocks or steals, so it will be interesting to track how all that changes now that he's gone.
Few big men played as big a role in their freshman season as Scott did for Colorado last season. While he struggled at times to handle the amount of responsibility that was thrown his way, the experience he garnered will likely reap major dividends moving forward. It will be interesting to see how much he's able to improve his frame, athleticism and skill-level between his freshman and sophomore seasons, which should teach us a great deal about what the extent of his upside is.
#9 Devon Collier, 6'8, Senior, Power Forward, Oregon State
Taking a step back in some areas as a junior, we've elected to wait and see how Collier fares to start his senior year before adding to his scouting report.
#10 Nick Johnson, 6'3, Junior, Guard, Arizona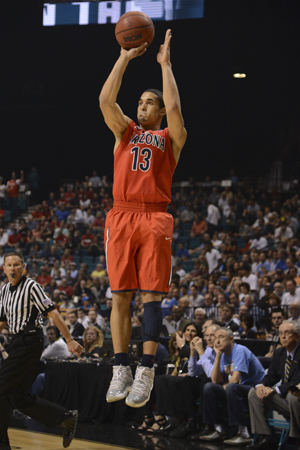 Kyle Nelson
Nick Johnson entered college basketball ranked
#23 in the Recruiting Services Consensus Index
, ahead of lottery picks Michael Carter-Williams, Otto Porter, and Ben McLemore. Yet, he struggled to live up to the lofty high school expectations that followed him to Arizona, even though he was named to the Pac-12 All Freshman Team. He emerged as a key contributor as a sophomore, playing both on and off of the ball while proving himself as a top-notch perimeter defender. He struggled on the offensive end of the floor down the stretch though, particularly in the NCAA Tournament. Now a junior, Johnson is
the veteran leader
on a very young and talented team, but his NBA prospects are decidedly mixed.
Most problematic is his lack of a position. While some project him as a point guard, he will likely play off of the ball as a junior, and is well-undersized at 6'3 with a 6'6.5 wingspan and a 200-pound frame. While he is a very good athlete, with speed and agility to go along with explosiveness around the basket –not to mention a rumored
38" no-step vertical leap
– he lacks the size, length, and strength to play the shooting guard position in the NBA.
Potential aside, another problem is that
Duquesne-transfer T.J. McConnell's arrival
likely means that Johnson's point guard days are behind him for the time being. That said, he shows some legitimate flashes of playmaking ability, particularly his capacity to find open shooters while slashing to the basket and his increasing comfort operating out of the pick-and-roll. That he
ranks among the top-10 shooting guards in our database in assists-per-possession ratio
is not a fluke. Yet, despite his willingness to share the ball and above average court vision, he makes too many mistakes –like when his passes miss his teammates by feet or when he leaves his feet without a plan– to suggest a smooth transition to the position at this, let alone the next, level.
Complicating this projection is the unfortunate reality that Johnson is not a particularly productive player. In fact, he
ranks among the least productive shooting guard prospects in our database
, averaging just 14.5 points per 40 minutes pace adjusted. He finds a majority of his offense in transition and as a jump shooter. His superior athleticism and solid handles, allows him to finish at a solid rate at this level, but his lack of size and strength will likely hinder him at the next.
It is worth noting here that Johnson finished less than 50% of his shots from inside of the arc. Part of this has to do with his inconsistency as a mid-range scorer. While his repertoire includes both pull-ups and step-back jumpers, as well as runners and floaters, he is at his most consistent (not to mention comfortable) as a shot creator while slashing to the basket.
He did improve considerably as a spot-up shooter last season, however, making an impressive 38.1% of his overall jump shots and shooting 39.1% from beyond the arc. His sports fluid mechanics with his feet set and he is able to get his shot off against taller defenders due to excellent lift and a high release point. As he moves to the shooting guard position, scouts will be watching to see if he can differentiate himself as a more prolific and versatile shooter, especially given how he will be expected to produce in a new role.
While he has a lot of work to do on the offensive end, he is an accomplished collegiate defender, usually finding himself guarding the opposition's best perimeter player. His greatest attribute is his intensity, which combined with his lateral quickness allows him to be a very good man and pick-and-roll defender. He also fares well gambling in passing lanes to the tune of 2.4 steals per game, though this tendency oftentimes finds him out of position, which hinders his ability to close out on perimeter shooters.
Yet, his prospects as an NBA player revolve almost completely around whether he can develop into a capable lead guard. His ceiling has never been particularly high, but he will have to evolve into a more productive player if he wants to prove his case to scouts. The good news for Johnson is that the tools are there, and his effort on the defensive end will guarantee him playing time despite Arizona's increasingly improving perimeter rotation. Athletic combo-guards are increasingly becoming fixtures in NBA rotations; therefore it is up to Nick Johnson to prove that he has what it takes to develop into a legitimate prospect on the foundation of a solid sophomore season.