We conclude our evaluation of the top NBA prospects in the ACC with part nine, players ranked 25-30:
Quinn Cook
,
Okaro White
,
Cameron Biedscheid
,
Rakeem Christmas
,
Marcus Georges-Hunt
and
Eric Atkins
.
Incoming freshmen have been excluded from these previews, as we'd like to wait and see what they have to offer on the NCAA level before we come to any long-term conclusions.
-
Top NBA Prospects in the ACC, Part One
(#1) James McAdoo
(Scouting Video)
-
Top NBA Prospects in the ACC, Part Two
(#2) T.J. Warren
(Scouting Video)
-
Top NBA Prospects in the ACC, Part Three
(#3) Rasheed Sulaimon
(Scouting Video)
-
Top NBA Prospects in the ACC, Part Four
(#4) P.J. Hairston
(Scouting Video)
-
Top NBA Prospects in the ACC, Part Five
(#5) Jerami Grant
(#6) Olivier Hanlan
(#7) Dez Wells
(#8) Rodney Hood
(#9) Joe Harris
-
Top NBA Prospects in the ACC, Part Six
(#10) C.J. Fair
(#11) DaJuan Coleman
(#12) Brice Johnson
(#13) Robert Carter
(#14) Jerian Grant
-
Top NBA Prospects in the ACC, Part Seven
(#15) Mike Tobey
(#16) Ryan Anderson
(#17) Devin Thomas
(#18) Daniel Miller
(#19) Boris Bojanovsky
-
Top NBA Prospects in the ACC, Part Eight
(#20) K.J. McDaniels
(#21) Justin Anderson
(#22) Akil Mitchell
(#23) Talib Zanna
(#24) Montay Brandon
#25, Quinn Cook, 6'0, Junior, Point Guard, Duke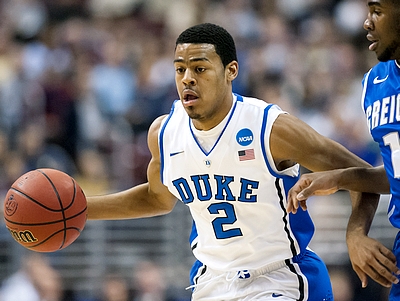 Matt Williams
Last time we checked in on Quinn Cook, he was fresh off an appearance with USA Basketball's U17 National Team prior to his final year of high school in 2010. Earning an invitation to the McDonald's All-American Game and ranking as a consensus top-30 recruit with his play as a senior at Oak Hill Academy, Cook put together a modest freshman campaign in Durham, fighting through a nagging knee injury to average 4 points and 1.6 assists per-game in limited minutes behind a deep guard rotation featuring Tyler Thornton, Seth Curry, and Austin Rivers.
Replacing Thornton in Duke's starting lineup just two games into last season, Cook solidified himself as a key player for the Blue Devils as a sophomore. Averaging 11.7 points and 5.3 assists per-contest, the Maryland native had a breakout year, acting as a facilitator in guiding a veteran roster to 30 wins, an Elite 8 appearance, and being named to the All-ACC third team.
One of two returning starters from last season's team, Cook will likely once again take the reins of Head Coach Mike Krzyzewski's offense as a junior. With McDonald's All-Americans Jabari Parker and Matt Jones the fold, and Mississippi State transfer Rodney Hood becoming eligible, the onus will be on the 20 year old floor general to integrate the program's talented newcomers by continuing to distribute efficiently and improve as a scorer to help this team overcome the losses of Ryan Kelly, Miles Plumlee, and Seth Curry.
If there is one thing the 6'1 guard proved especially adept at last season, it was getting others involved while playing low-mistake basketball. His 6.1 assists per-40 minutes pace adjusted ranked 4th in the ACC last season. On pace to break the career Duke assist-to-turnover ratio record established by Steve Wojciechowski in the late 90's, Cook's 2.6:1 mark over the past two seasons is representative of his reliable play at the point guard position. He is not the type of freak athlete who can put constant pressure on a defense with the threat of his penetration or flashy handle, but he's a savvy passer who reads the floor well, uses his dribble to probe the paint when the opportunity presents itself, creates passing angles, and delivers the ball in a timely manner to open cutters and spot-up shooters alike.
As a scorer, Cook made progress last season, though he gets out of control at times. Lacking elite size and leaping ability to score prolifically around the rim, Cook does most of his damage as a jump shooter. Though his shot wasn't falling consistently for stretches last year, he nonetheless knocked down a solid 44% of his catch and shoot jump shots and 39% of his 3-point attempts overall. He struggled a bit from the midrange after shooting well off the dribble as a freshman, connecting on just 26% of his pull-ups as a sophomore.
On the whole, Cook's scoring efficiency remained steady while using almost three times as many possessions per-game as he did as a freshman. Scoring at a below-average rate around the basket in the half court and transition and forcing some bad shots in the half court, the name of the game moving forward for Cook is efficiency on the pick and roll. Whether he improves his floater or regains his ability to make shots off the dribble consistently, the more of a threat he can be working off ball-screens the more meaningfully he'll be able to contribute as a scorer both next season and down the road.
Though Cook is not a great athlete and lacks great size, he's a vocal, fairly aggressive defensive player in spurts. He showed improvement in his intensity from his freshman season and did a better job keeping players in front of him in the half court as a sophomore. He may not have the physical tools to be a standout individual defender, but if he gets stronger to better deal with ball-screens, he'll have a chance to take another step forward.
While Cook may not be a glamorous NBA prospect, he showed marked improvement last season in a significant role and has a number of traits NBA scouts value in a point guard prospect. If he can continue improving as a scorer and defender, he'll certainly rank among the best point guards prospects in his class and at the minimum will get plenty of looks as a backup point guard from the professional ranks.
#26, Okaro White, 6'8, Forward, Senior, Florida State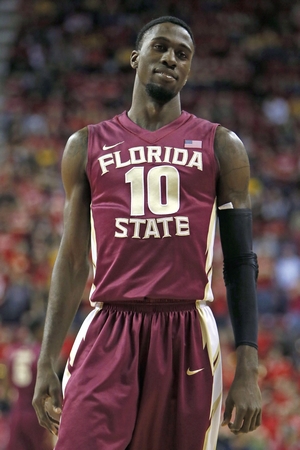 Kyle Nelson
We last wrote about Okaro White before his
sophomore year
, after registering some interest as a freshman starting for Florida State. After a ho-hum sophomore year, White responded with a breakout junior season where he was Florida State's top rebounder and second leading scorer. Furthermore, he posted career high efficiency metrics alongside while both fouling and turning the ball over less than ever before. Now, entering his senior season, White must continue to improve individually while
leading a very young and inexperienced Florida State team coming off a down year
. Regardless of how well he achieves either goal, scouts have quite a few questions about the type of player he can be at the next level.
From a physical and athletic perspective, White looks the part of a prototypical NBA small forward at 6'8 with a 204-pound frame and with a 6'11 wingspan. While he must continue to get stronger, he has added 24 pounds to his wiry frame since his senior year in high school and should continue to be able to fill out his impressive frame, especially given the fact that he is a year younger than many in his class, just having turned 21 a few days ago. He is also an excellent athlete for his size, quick laterally and in the open floor, and explosive around the basket, giving him significant room for growth as his skill-level continues to round out.
The issue, however, is that he is very much stuck between positions at the moment, without one defining skill to really hang his hat on. According to Synergy Sports Technology, nearly 60% of his shots come around the basket though only 13% of those attempts are traditional post-ups. White still doesn't show much in the way of post moves, but he finishes 65% of his shots around the basket, looking particularly good finishing off of cuts and out of the pick-and-roll due to his soft hands and quick feet. Thriving off of the ball, as well, White is also good at putting back his teammates misses, catching lobs, and scoring in transition.
He still struggles as a ball-handler, however, lacking the ability to put the ball on the floor for more than a couple of dribbles and, even then, still is only capable of straight line drives to the basket. For these reasons, he rarely is unable to create his own shot effectively, confined more or less to having his teammates create looks for him.
His offensive limitations, then, present a dilemma worth tracking as he heads into his senior season. As he lacks the bulk to do significant damage in the post and the handles to create offense for himself, he is either forced to rely on Florida State's raw facilitators, scrap for points, or spot up around the three-point line. The latter becomes an issue when he finds himself floating around the perimeter, particularly as Florida State's offense begins to stagnate.
White made 31% of his 82 3-pointers last season, shooting more jumpers than he did in the past, but still being very streaky here. His shooting mechanics are solid, but inconsistent, particularly in terms of his jumper's release point and fluidity in his shooting motion. That said, he is capable in space and with his feet set, hitting a respectable amount of shots of these nature last season, but on a very small sample size. Coupled with his 81.5% FT, this suggests that he could still become a solid spot-up shooter in time, something that would significantly improve his prospects of transitioning to the perimeter at the pro level.
Yet, for as raw as he remains on the offensive end of the floor, White still impresses on defense. His length, lateral quickness, and size coupled with his aggressive mentality -- particularly evident in his quick hands and feet, and his ability to run through screens -- allow him to guarding players inside and outside. While he is at his best guarding face-up power forwards, he is capable of guarding small forwards, as well, and can even do damage in the post thanks to his timing and length. He also ranks as one of the better rebounding combo-forwards in our database. Getting stronger is a must, but his prowess and versatility at this level suggests that he should be able to transition quickly to the NBA.
Thus, White presents scouts with more questions than answers at this point. At 6'8 and 204-pounds, he is both undersized and too slight to play in the NBA post, and lacks a small forward's offensive skill set at the moment.
That said, his intriguing physical profile, defensive potential, and youth suggest that he may still continue to improve, and possibly make another leap as a senior. Early season match-ups against Virginia Commonwealth and Florida, as well as a brutal ACC conference schedule should provide him with myriad opportunities to prove that he is not merely another Florida State tweener and that he can contribute on both ends of the floor in an NBA uniform.
#27, Cameron Biedscheid, 6-7, Sophomore, Small Forward, Notre Dame
Having played a limited role in which he was highly inconsistent as a freshman, we prefer to wait and see how Biedscheid performs as a sophomore before adding to his scouting report.
#28, Rakeem Christmas, 6-9, Junior, PF/C, Syracuse
Christmas was the recipient of an
extensive evaluation
last year in the lead-up to his sophomore season. Unfortunately his progress seemingly stagnated, as not much appears to have changed since then, which is why we would prefer to wait before evaluating him again.
#29, Marcus Georges-Hunt, 6-6, Sophomore, Small Forward, Georgia Tech
After watching Georges-Hunt intently at the USA Basketball U19 World Championship Team training camp this past June, we offered up
the following report
. We prefer to wait and see how he performs as a sophomore before adding to his scouting report.
#30, Eric Atkins, 6-2, Senior, Point Guard, Notre Dame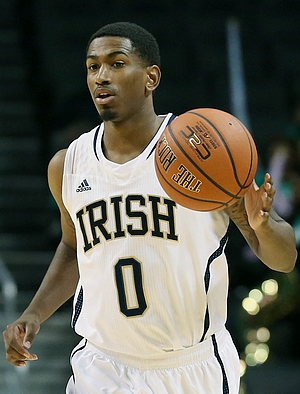 Jonathan Givony
A four year starter at Notre Dame, Eric Atkins barely left the court as a sophomore or junior, averaging 38 minutes per game during those seasons. While his minutes might drop somewhat this season as incoming McDonald's All-American point guard Demetrius Jackson will also need to see some playing time, Atkins will leave college with an impressive legacy, having won close to 100 games as a substantial contributor from day one.
Atkins has decent size for a point guard at 6-2, to go along with a strong frame. He's an average athlete at best, though, not possessing phenomenal quickness or explosiveness.
Solid and steady are the best ways to describe Atkins' game, He's not much of a scorer, taking the seventh highest percentage of shots while on the court for Notre Dame, as his role on the floor is to run his team's slow-paced offense and get everyone around him involved.
Atkins is a very good passer, boasting an impressive 2.61/1 assist to turnover ratio, and a 3.98 pure point rating (9th best in the NCAA among PGs). He executes his team's offense effectively in the half-court, finding the open man spotting up on the perimeter or diving to the basket with a well-timed bounce pass. He feeds the post effectively and keeps mistakes to a minimum, turning the ball over just 2.3 times per-40.
Also an effective outside shooter, Atkins made 41.5% of his 3-point attempts last season. He is frequently used as a spot-up threat alongside 6-6 combo guard Jerian Grant, who often acts as the defecto playmaker for Notre Dame in the half-court. He is very dangerous with his feet set, but loses effectiveness when shooting off the dribble, something he doesn't look to do all that often unless the shot-clock is running down.
While he's a very capable floor general at the college level, there are some doubts regarding how effectively Atkins' style of play will translate to the NBA, where point guards are usually expected to carry a much heavier scoring load and also offer more quickness and creativity that he currently displays.
Atkins struggles to create high percentage shots inside the arc already at the college level, as his first step is average and he is not a great finisher around the basket. He has a difficult time blowing by his defender and creating a clear path to the basket, as he usually has a defender on his hip if he is able to get into the lane, and thus struggles to get off good looks.
Additionally, he does not have great touch on his floaters or layups, as he converted just 46 of his 118 attempts inside the paint last year in the half-court, or under 39%. He doesn't get to the free throw line at a great rate to compensate—just 3.2 times per-40 minutes, which is why Notre Dame often looks elsewhere when they need someone to create a shot late in the offense.
Defensively, Atkins does a solid job, moving his feet well and using his strong frame to try and contain dribble penetration. He is an intelligent defender, rarely committing fouls, which is important considering the amount of playing time he shouldered the past two seasons.
It will be interesting to see how head coach Mike Brey is planning to integrate incoming McDonald's All-American point guard Demetrius Jackson, and whether that affects Atkins' role on the team.
Atkins does not project as a likely NBA draft pick, but a debut season in the ACC could earn him an invite to Portsmouth, private workouts and a summer league invite with a NBA team. If he's able to improve his scoring prowess inside the arc, he could go on to have a good career in Europe, where his steady style of play and unselfish mentality will be appreciated.
Honorable Mention:
Joel James
, UNC
Jake Layman
, Maryland
Marcus Paige
, UNC
Lamar Patterson
, Pitt
Travis McKie
, Wake Forest
Patrick Heckmann
, Boston College
James Robinson
, Pitt
Evan Nolte
, Virginia